Your AR-15 provides you with three main points of contact: the stock, the handguard, and the main pistol grip. The pistol grip on your AR-15 is more important than you might think.
AR-15 pistol grips are your main grip on the rifle, giving you access to the all the controls to operate it. A grip can either make or break your shooting experience. Each grip is different and has its own distinctive fit and feel; with so many available, there are near-countless options that can work for your needs.
Depending on your rifle's purpose and how you want your rifle to feel, there's a lot to look for when checking out different grip options. There's no need to get overwhelmed. We're about to break down the features found in common pistol grips and some great recommendations to get you started: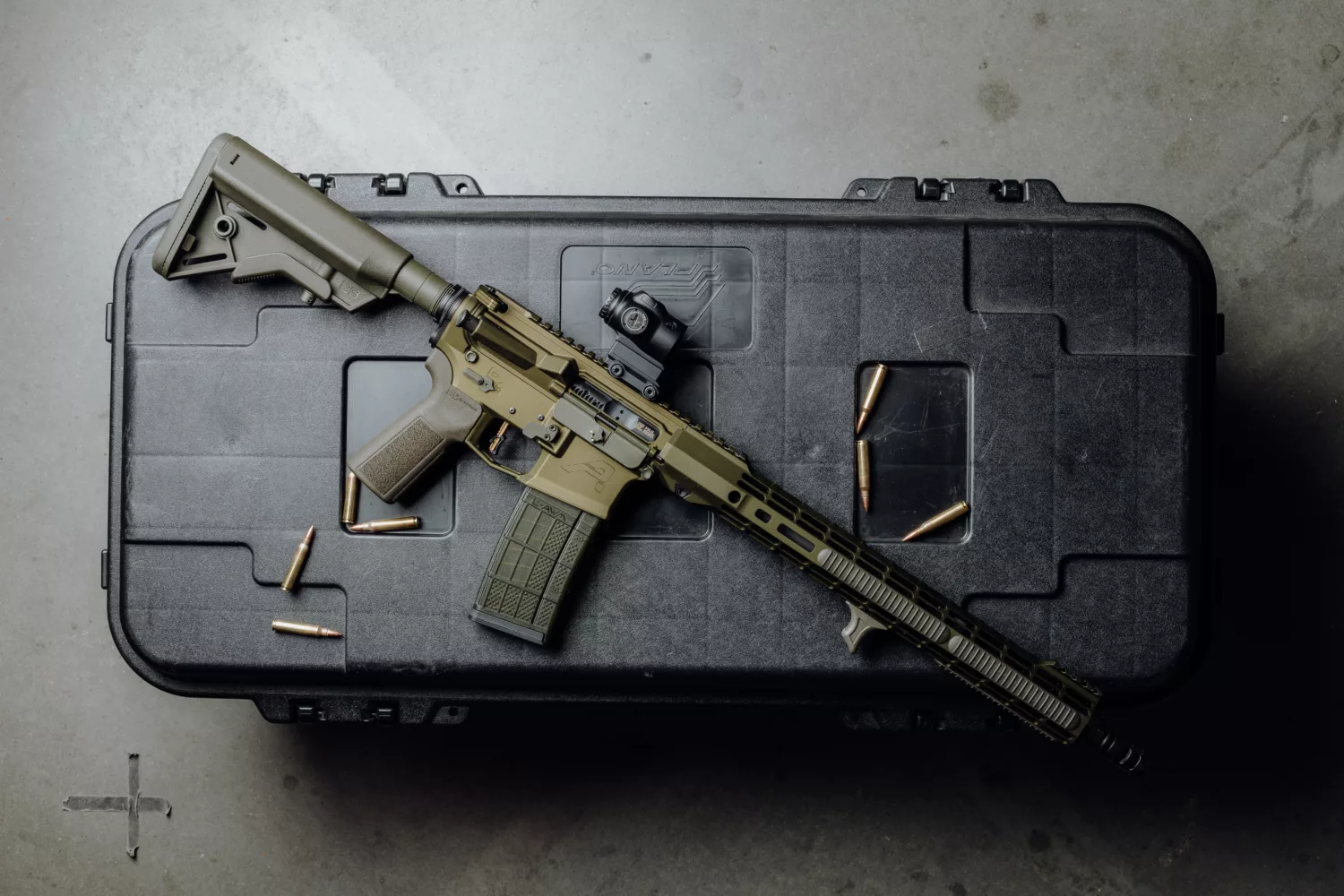 Factors to Consider
Pistol grips are another quick and easy AR-15 upgrade that can take your shooting experience to the next level.
When it comes to pistol grips, no two are identical. Each one is going to have its own distinctive design, giving it a different feel when compared to other models. While there are a lot of grip models available from a bunch of manufacturers, they all cater to different styles of shooting and different rifle purposes like CQB and long distance. Let's go over some features in grips that you should take into consideration:
Ergonomics
Having good ergonomics is one of the most important factors a pistol grip can have. An uncomfortable grip hinders your ability to maximize your efficiency when using your rifle. For example, if you have smaller hands and a wide pistol grip, you likely won't be able to reach the safety selector or bolt release without having to take your hand off the grip.
Ergonomic grips are tailored to different preferences. Some pistol grips have finger grooves, palm swells, and bottom shelves to keep your hand from slipping off the grip. Whether you opt for any of these features is up to you, but it's worth noting that they can be beneficial to you, so long as you find it comfortable to utilize these features.
Texture and Grip Material
Grip textures, and the material the grip is made of, can go a long way in ensuring that you have a solid grip on your rifle. Smooth grips, while comfortable, can be problematic with extended use.
When you're shooting for a long period of time, or when you're shooting outside, for example, you'll start to lose your grip on the rifle as your palms get sweaty. To counter this, manufacturers include textures or grip stippling to aid in grip control. Having grip texture creates more surface area on the grip, making it easier to hold on to when in adverse conditions.
The material of the grip is just as important as the grip texture. Most grips you'll find on the market today are made of synthetic polymer. Sometimes, you'll find wooden or metal grips, but they are more of a niche product comparatively. Polymer grips are lightweight, durable, and can be made in a variety of different sizes and shapes; they'll be the most common and easiest to find for your rifle. Some grips even use an over-molded rubber. This not only gives you a non-slip and comfortable feel, but it gives you a better grip since the rubber conforms to your hand shape. This feature is what separates the Magpul + line of grips from their standard ones.
Additional Features to Consider
The grip angle of your AR-15's pistol grip is one of those features that seems unimportant, but in reality, it is. While up to personal preference, the grip angle of a pistol grip is key for recoil management and mobility. In most cases, a reduced grip angle benefits most enthusiasts, but that isn't the case for all. It's mainly about finding an angle that provides you with the ability to firmly grip and maintain positive control of your rifle.
Another thing you may want to have is adjustability. Some grips, like the MIAD (Mission Adaptable) from Magpul, are completely adjustable. They come with removable/replaceable finger grooves, side walls, and back straps that can be interchanged to fit a wide variety of hand sizes and grip types. While most enthusiasts opt to run non-modifiable grips, adjustable ones can be a great place to start if you don't have a lot of time behind a rifle yet.
We mentioned recoil management, but what is that? Recoil management is the act of quickly returning your sights on target after firing your rifle, and a good grip helps you accomplish this.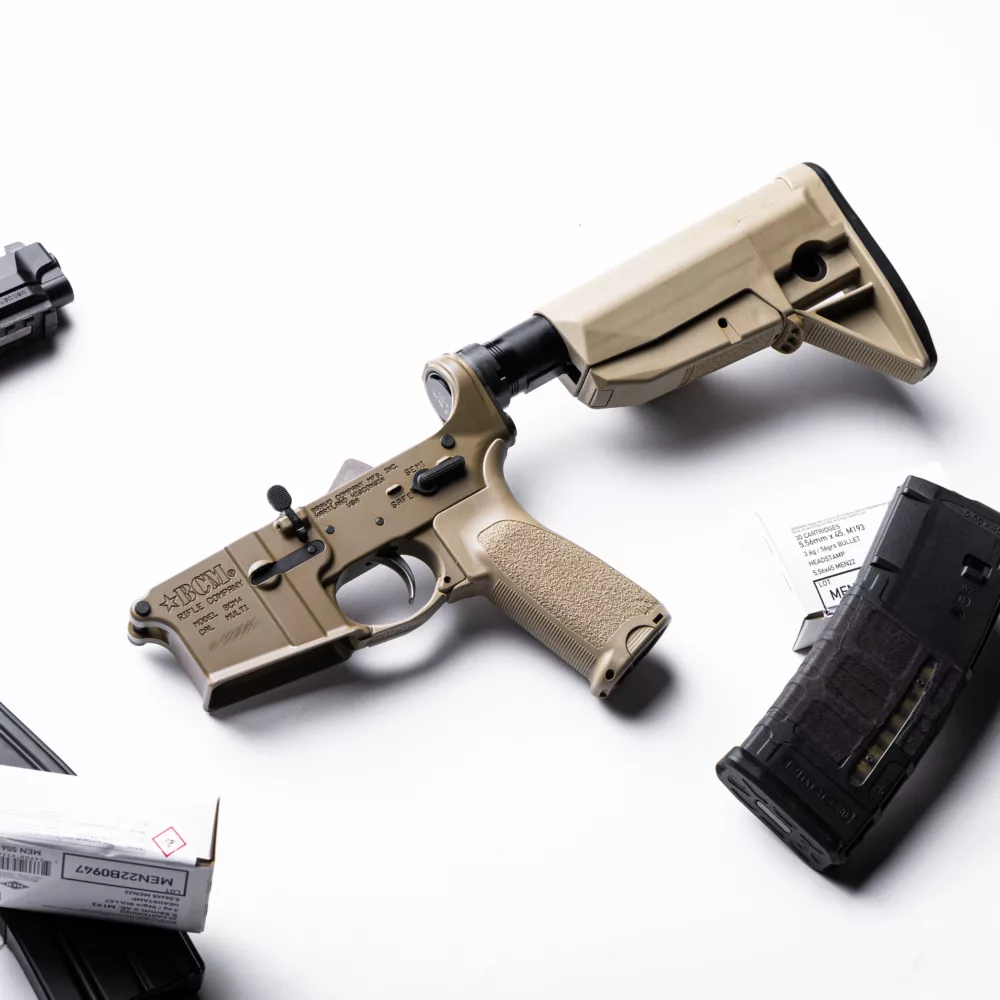 Top AR-15 Pistol Grips
Now, there are a lot of pistol grips available for the AR-15. So many, in fact, that it can be pretty overwhelming when starting your search. It's next to impossible to determine what the best pistol grip is, but we're going to help you find the one that works best for you. Below are some of our recommendations and some of the most popular pistol grips on the market:
Magpul MOE Grip
The MOE Grip from Magpul is, arguably, one of the most popular aftermarket pistol grips available for the AR-15. It's made from a durable synthetic polymer, and features grip texturing on the sides as well as slots on the front and back straps for added grip. The MOE Grip has the same grip angle as the traditional A2 grip that comes standard on most AR-15 models, which is a 25-degree angle.
What sets this grip apart from the A2, besides its design, is the integration of a removable bottom plate. This plate can be removed, allowing you to store other items within the grip. Enthusiasts commonly store gun oil and other cleaning materials in the grip. If you're in the field or at the range, it gives you quick and easy access to all of your vital materials if your rifle ever goes down when in use.
If you're looking for a steeper grip angle, this option may not be for you. One of the major drawbacks of the A2 grip is its grip angle. If you're okay with the A2's grip angle, though, this grip is a great place to start when beginning your search. Keep in mind that Magpul also produces the K2 and K2+ grips; these feature a similar construction but have a steeper grip angle for added comfort and maneuverability on shorter rifles.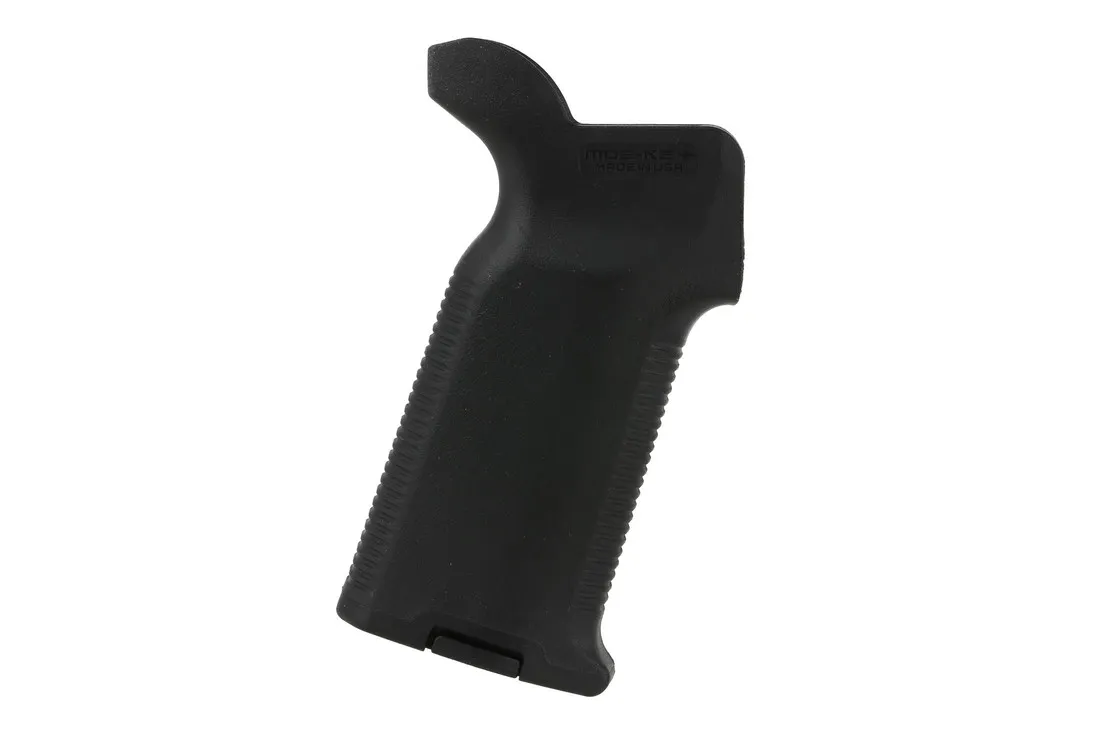 B5 Systems Type 23 P-Grip
B5 Systems have been producing high-quality AR-15 since their inception in 2008, and their Type 23 P-Grip is no exception to the rule. Like the MOE Grip, it's made from a Mil-Spec quality synthetic polymer, but it features a more aggressive grip texture for increased grip retention on both sides and on the front of the grip.
While the Type 23 grip doesn't come with a removable bottom plate, it is compatible with B5 System's bottom battery plug. The plug is made from durable materials, giving it a tight friction-fit and watertight seal. It can store the most common battery types, like the AA, 123A, and CR2032; also, it perfectly fits B5 Systems' MultiTasker NANO Tool.
The grip angle of the Type 23 P-Grip is much steeper than the standard A2 grip. This grip has an angle of 13 degrees, which can give you a much more positive grip on the rifle. If the grip of the A2 is too broad, this grip will put your primary hand much closer to the controls of the rifle, allowing you to better operate the controls of your rifle.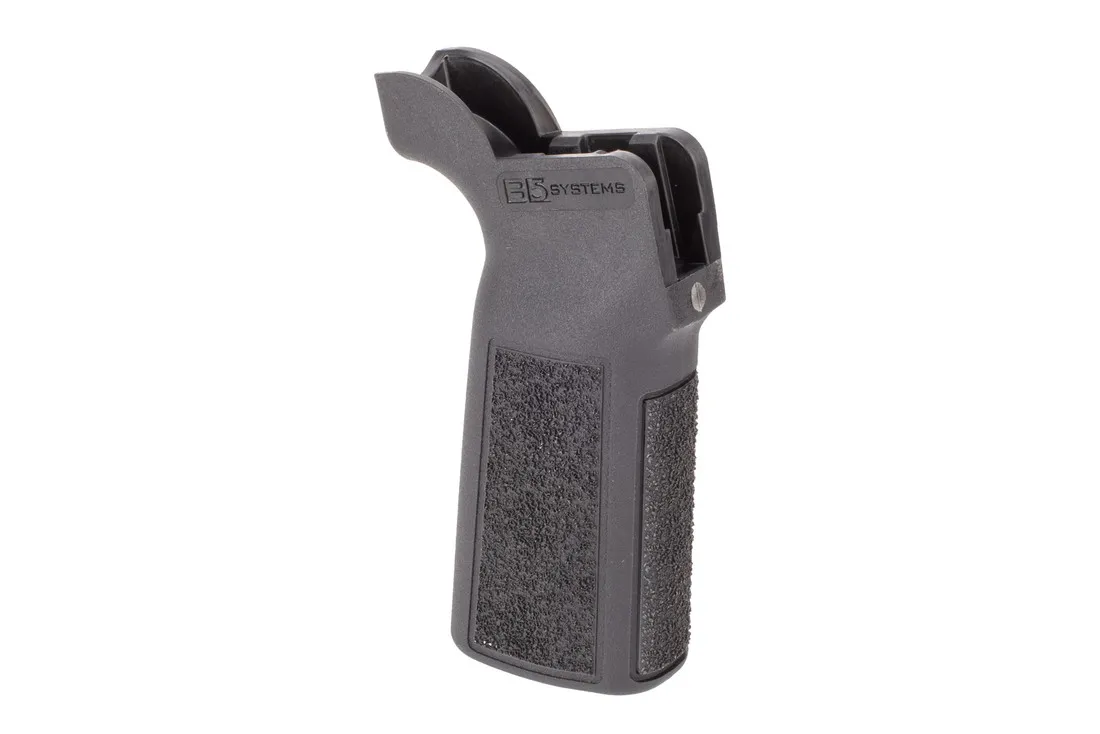 BCM Mod-1
Coming from the renowned rifle and parts manufacturer, Bravo Company Manufacturing (BCM), the Mod-1 pistol grip is a great addition for your rifle. Made from synthetic polymer, it has a lot of grip texture on the sidewalls of the grip, and ribs in the front for positive grip retention. It doesn't have any texture on the back strap, but it has a more pronounced palm swell for a better grip.
Similar to the previous models mentioned, the Mod-1 also has a watertight bottom plate. Instead of being removable, the Mod-1 has a hinging baseplate. There is enough room in the grip to store a small cleaning kit, oil, or light/optic batteries.
Like the Type 23 P-Grip, the BCM Mod-1 has a steeper reduced grip angle to provide you with better ergonomics. The grip angle isn't specified, but it's closest in size and shape to the Magpul K2 grip, which has a 17-degree angle. It's a fantastic grip that provides you with great texture and a comfortable grip angle; it's a solid option to consider adding to your rifle.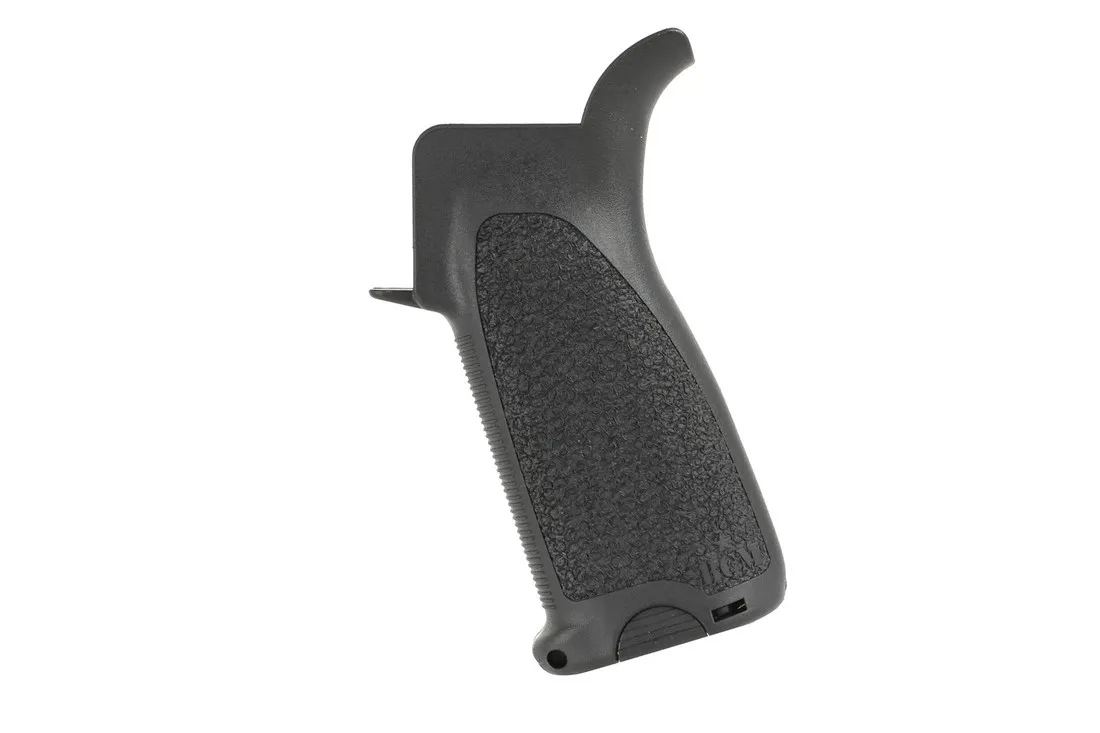 Strike Industries Enhanced AR-15 Pistol Grip
Strike Industries is one of the leading providers of aftermarket AR-15 parts and components. Their Enhanced Pistol Grip is a cost-effective option to consider. Being made of polymer, it has grip texturing on the sides, and ribs on both the front and back strap of the grip.
Just like the other grips in this list, this grip comes with a removable plug that allows you to keep any additional materials secure and dry when using your rifle in adverse conditions. The palm swell of this grip is subtle, making it easy to use regardless of the size of your hands.
The Enhanced Pistol Grip has two different grip angle options, 20-degree and 25-degree. Like the previous grips, it's up to personal preference which you choose. Regardless, Strike Industries has provided the option of maintaining the standard A2 grip angle, or altering it to a more modern grip angle, should you opt to do so.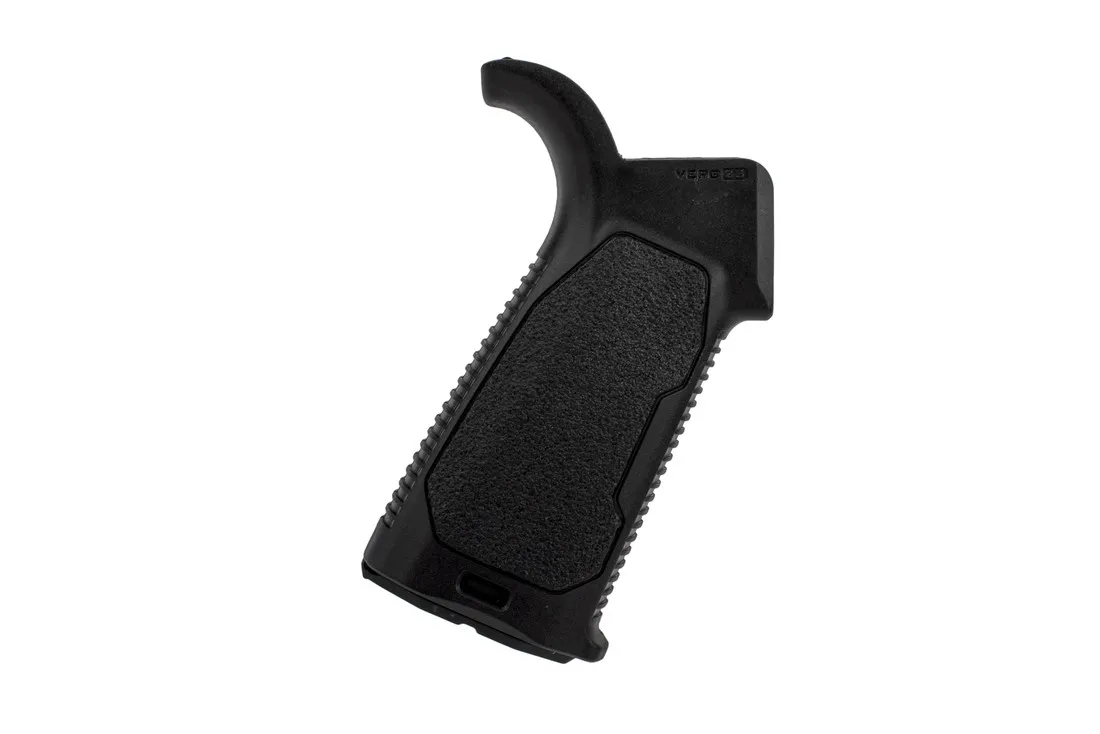 ERGO Tactical Deluxe Grip
The Tactical Deluxe Grip from Ergo is another great pistol grip you could add to your rifle. ERGO grips have been developing high performance gear and parts since their inception, and this grip is one of their most popular available. It's over-molded with their SUREGRIP material and has additional grip texturing on the sides. What sets this grip apart from the others on this list is that it has finger grooves on the front section of the grip.
While it has more features than other grips on this list, it doesn't come with any type of base plate. You can purchase a grip plug that works similarly to the battery plug from B5 Systems. Using this plug gives you the ability to securely store materials in the pistol grip. Like the B5 Systems plug, it is also press fit.
If you're interested in having a rubberized grip on your rifle, this is an excellent option. This pistol grip provides a great deal of positive grip retention, and with the added finger grooves and ambidextrous palm swells, you can operate the rifle with ease. The grip angle is like the A2, albeit slightly steeper by a few degrees. Because of the size of this grip, however, it is best to use it if you have small-to-medium sized hands, as per manufacturer instructions.
Competition Grips
Competition shooting often requires the use of specialty components to better help you in gaining an edge against your opponents. Different competitions require different parts, though.
If you're just competing in a short-range match like a three-gun competition, you can choose any grip that's lightweight and comfortable. That could be any of the grips we've mentioned here already.
For precision shooting, the best grips will have enlarged palm swells, steeper angles, and palm shelves. Palm swells provide more surface area to grip on, while palm shelves prevent your hand from slipping off the grip after. A palm shelf helps to stabilize your hand while also providing upward pressure to maintain positive grip contact. While not completely necessary, they can aid you in making consistent shots at further distances.
ERGO has a version of their Deluxe Tactical that comes with an included palm shelf. Some other options available are the Hogue AR-15 Over molded grip, Larue Tactical A-PEG grip, and the Luth-AR Chubby Grip.
Something to note: most of the grips designed for competition have very steep grip angles, with some even featuring a fully vertical 0-degree grip angle. These grip angles lend themselves towards precision shooting styles, where you typically don't hold the entire grip (a floated-thumb grip for example).
While you can easily install a grip at home with basic tools, it's important to know how to properly assemble a lower receiver. Our guide will get you up-to-speed to make sure you're more than prepared to upgrade your rifle.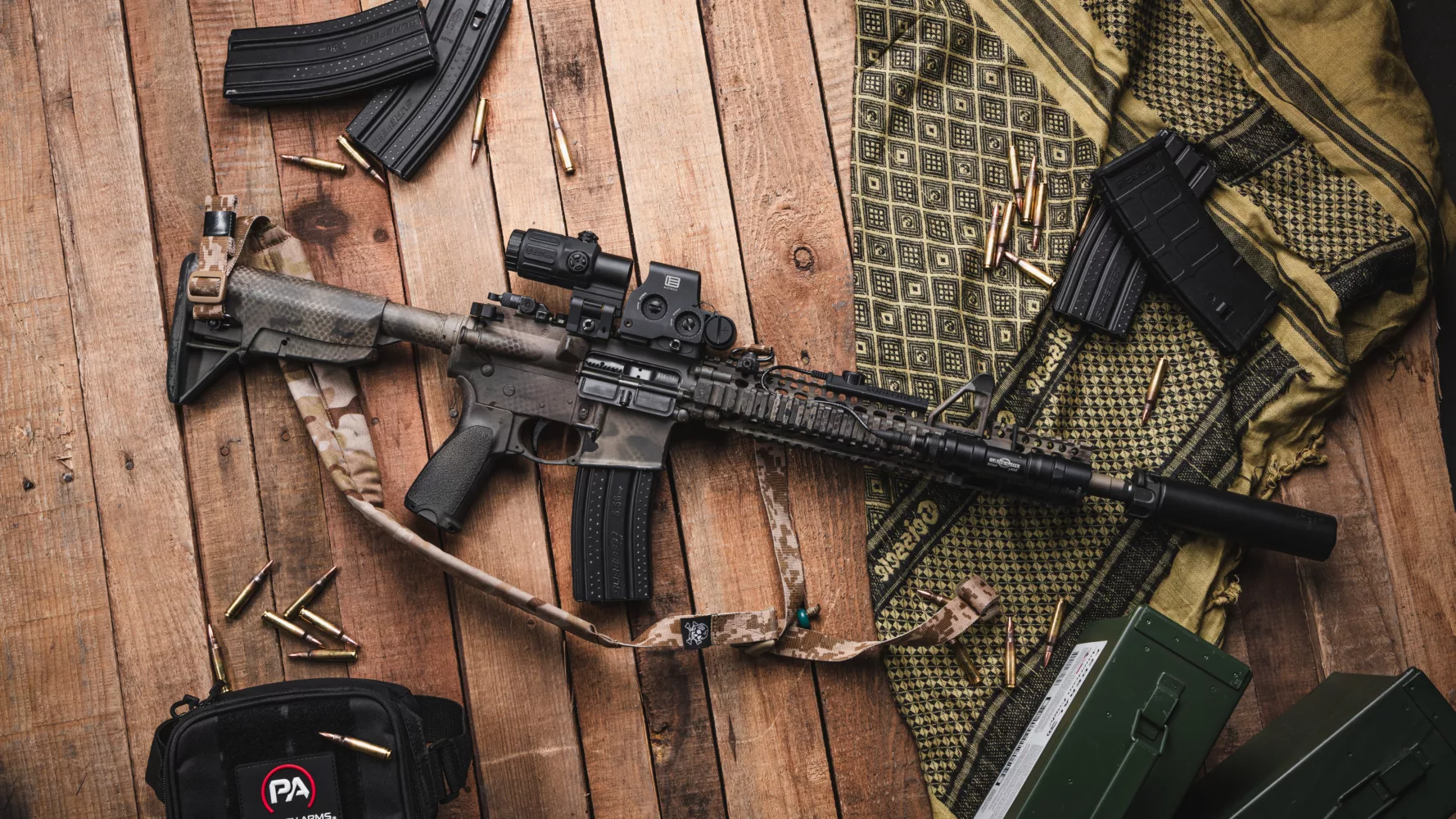 Wrapping it Up
Your AR-15's pistol grip is one of your three main points of contact on the rifle, so it should be a priority to make sure that you have a good one. It's important to make sure that you can properly access the controls of your rifle, as well as comfortably and securely hold on to it. This is exactly why you need a good grip.
Though we mentioned some fantastic options that could serve you well, don't forget to consider your own shooting style and preferences before buying. Your needs are going to determine what works best for you on your rifle, so be sure to continue your research to see what works best with your style. It may even be worth considering adding a foregrip to your rifle. We even have a guide all about that too.
Of the grips mentioned, the top 3 are a great place to start. They're affordable, easily interchangeable, and some of the most popular grips available on the market today. If you're interested in making more upgrades to your rifle, our guide on accessorizing your rifle goes over all the best AR-15 attachments you can find at Primary Arms.