When we set out to update our PLx® 1-8x24mm FFP Rifle Scope, we asked ourselves: how can we make the best rifle scope for the 1-8x range? Some might call it a lofty goal—but you don't get far by chasing second place.
Today, the first PLx 1-8x24mm FFP Compact Rifle Scopes are available for pre-order, and what started from ambition has become the new face of our premium optics line.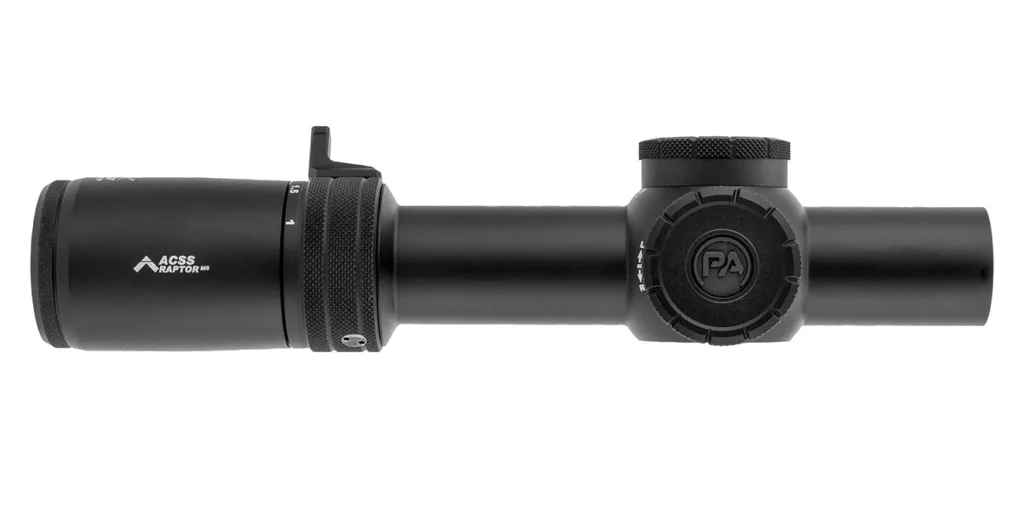 Primary Arms Compact PLx-1-8x24mm FFP Rifle Scope – Raptor M8Pre-Order Now
Without a doubt, this scope is one of our most bold projects yet. We have been perfecting this design for years, and for much of that time, it was a closely guarded secret.
Of course, when you look at its specs, you can understand why.
The PLx 1-8x24mm FFP Compact Rifle Scope is shorter, lighter, and faster than many of the market's best rifle scopes. It is also the most feature-rich optic that we have ever released.
What really sets PLx optics apart, though, is value.
At $1499.99, the PLx 1-8x24mm FFP Compact Rifle Scope isn't cheap. This is a super-premium optic, sparing little expense in its pursuit of precision. But when compared to optics of similar quality, the PLx 1-8x24mm FFP Compact Rifle Scope still reflects our commitment to value.
Its closest competition costs $100s (if not $1000s) more.
Even then, we think the PLx can best them.
To explain our confidence, we want to tell you more about its development—and how we came to this design.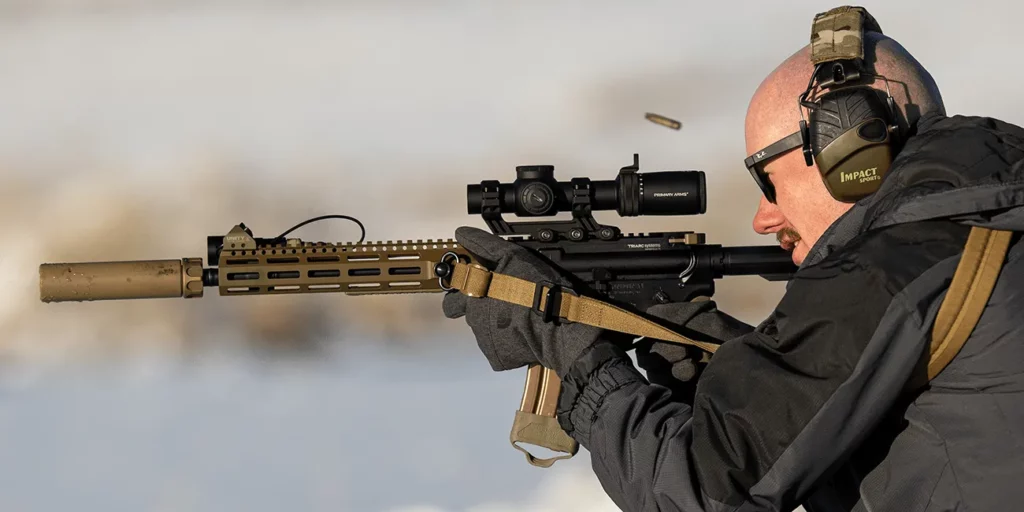 What Defines the 'Best Rifle Scope'?
The PLx 1-8x24mm FFP Compact Rifle Scope started with a challenge: make the best 1-8x rifle scope.
But what really is the 'best scope' for 1-8x?
As always, we do a lot of research before starting a new project. We pour through the market, read over all your comments and forum discussions, and then ask the experts: what's missing here?
Primary Arms Compact PLx-1-8x24mm FFP Rifle Scope – Raptor M8Pre-Order Now
For super-premium 1-8x rifle scopes, that question is its own challenge. At the high end, scopes can become so impressive that it becomes difficult to find major flaws to improve on.
There is one area, though, where scopes can always improve: size and weight. Coincidentally, these features are especially important for duty rifles, which must balance close-range agility with mid-range precision. For 1-8x, the best rifle scope would offer reflex-like speeds in close quarters but with the full precision of a magnified optic at longer distances.
This became the central concept behind the new PLx 1-8x24mm FFP Compact Rifle Scope. We wanted an optic to be as nimble as possible without compromising in optical performance or technology.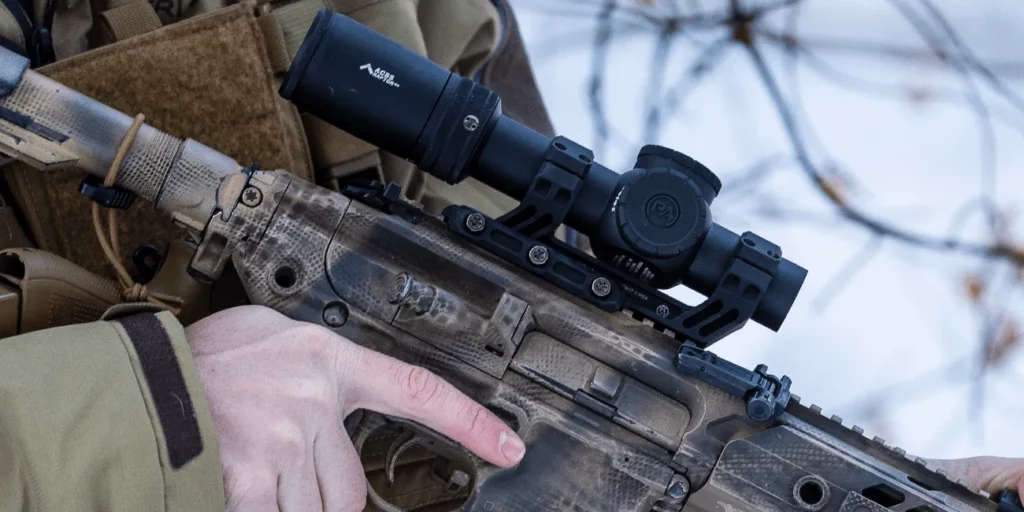 Features of our Best Rifle Scope
With the core concept established, we created a list of must-have specs and features. This list included items like…
1) Less than 9.5-inch Overall Length
2) Less than 17-ounce Weight
3) Premium Extra-Low-Dispersion Lenses
4) Enhanced Illumination with AutoLive®
5) Ultra-wide Field of View
6) Fast-Acquisition Eyebox
We felt these items were essential in creating the best rifle scope possible, as they would define both our close-quarters and long-range performance. Had we reduced the magnification to a 1-4x or 1-6x, we could have met our size and weight goals with ease. But to achieve that size in a 1-8x, we needed an entirely new optical design.
Primary Arms Compact PLx-1-8x24mm FFP Rifle Scope – Raptor M8Pre-Order Now
And the result was our best rifle scope so far. The new PLx 1-8x was simpler, stronger, and smoother than its predecessor, and with new Japanese-made ED lenses, its optical clarity was vastly improved. Those weren't our only upgrades, though.
We also redesigned the turret system to be user-configurable, so users could swap between capped and exposed settings with ease. This meant that users could get the exact turret profile of their preference without compromising on weight or aftermarket modifications.
We also made minor updates, such as the dovetail throw lever for the magnification ring. This unique dovetail design makes it easy to swap to a different throw lever, such as our optional flip-style lever.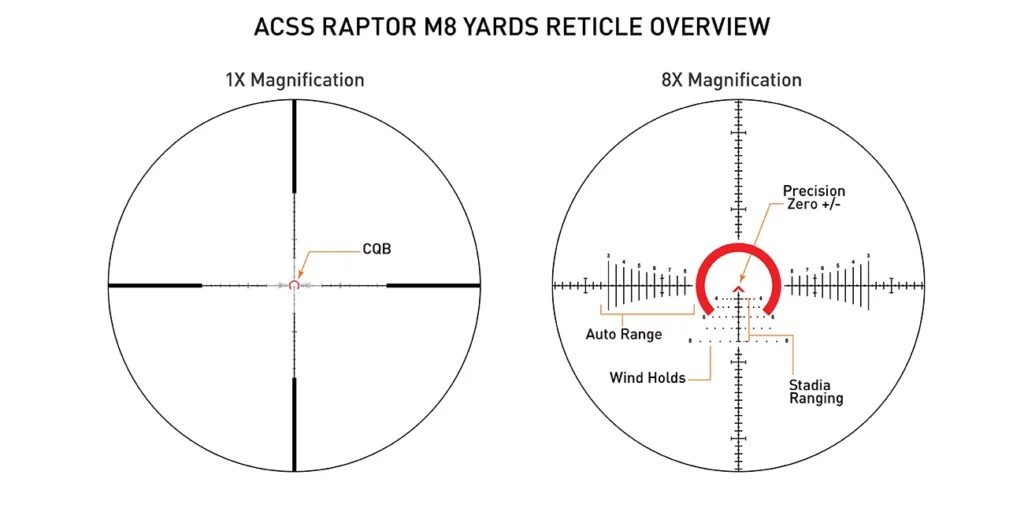 NEW PLx 1-8x24mm FFP Compact Reticle
To help users get the most from the new rifle scope, we updated the scope's reticle as well. The ACSS Raptor M8 Yards is a yard-based BDC reticle, featuring auto-ranging crosshairs with a bold center horseshoe and ballistic holdovers.
At 1x magnification, the illuminated horseshoe draws the eye for quick target acquisition at close quarters. At 8x magnification, you can use the auto-ranging, BDC stadia, and variable wind holds to hit targets out to 800 yards. The BDC is optimized for 5.56, 5.45, .308, and similar cartridges. The outer crosshairs also feature standard MIL subtensions for MIL-based ranging.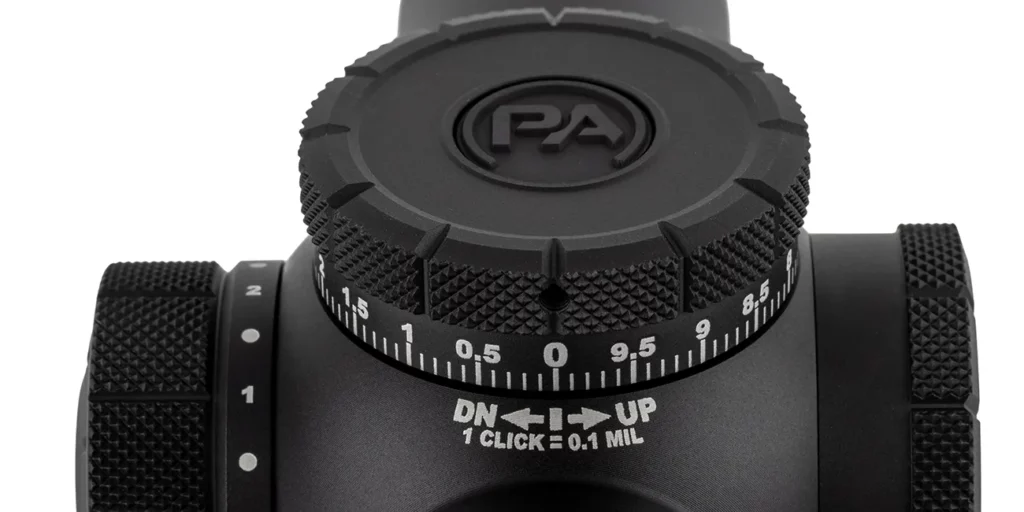 Value: What Makes Our Best Rifle Scope Worth It
Value is a personal prescription. At $1499.99, the new PLx 1-8x24mm FFP Compact Rifle Scope is an investment. While it offers many advantages compared to similarly priced optics, you might wonder how super-premium optics prove their value.
To describe optics as 'complex' is an understatement. When manufacturing super-premium optics, you're using advanced glass lenses from some of the world's highest quality manufacturers, cut to the most extreme standards to guarantee optimal light transmission. Optical engineering is a challenging field, and the best rifle scope is more sophisticated than the rifle it adorns.
Optics are also developing at a faster pace than rifles—especially in the last two decades. Technology that was once innovative is now standard in budget-friendly optics. Professionals have recognized the importance of optics as force multipliers, and sometimes, a quality scope can even be lifesaving.
Primary Arms Compact PLx-1-8x24mm FFP Rifle Scope – Raptor M8Pre-Order Now
For this reason, you should not think of your optic just an accessory. Instead, think of it as part of a complete system. Your rifle's potential is not just determined by the quality of the barrel, but also the ammunition, the optic, the mount, and all other features.
In short, each part of your firearm contributes to its true effectiveness. Better optics make better rifles.
We won't say super-premium optics are necessary for every setup. Our SLx® and GLx® product lines prove you can find quality features in affordable optics. But when you want to build the best rifle possible—when you want absolute certainty in your weapon system—PLx is the right choice.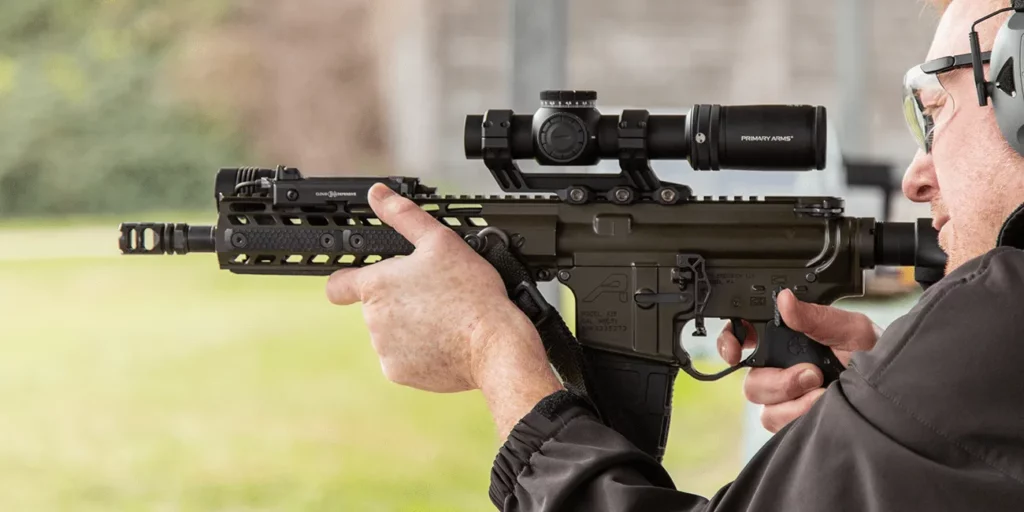 Conclusion
We're excited to bring the new PLx 1-8x24mm FFP Compact Rifle Scope to market and look forward to reading all your reactions. This scope is a product of our passion, and we're certain that you'll sense that from the moment you open the box.
We have learned a lot from developing this optic. We deployed new techniques and technologies, which we can now incorporate into future optics products. While the PLx 1-8x24mm FFP Compact Rifle Scope is a significant achievement for Primary Arms, it's also a launching point for future projects. And while we can't say yet what those projects may be, you can bet we're still shooting for our best.