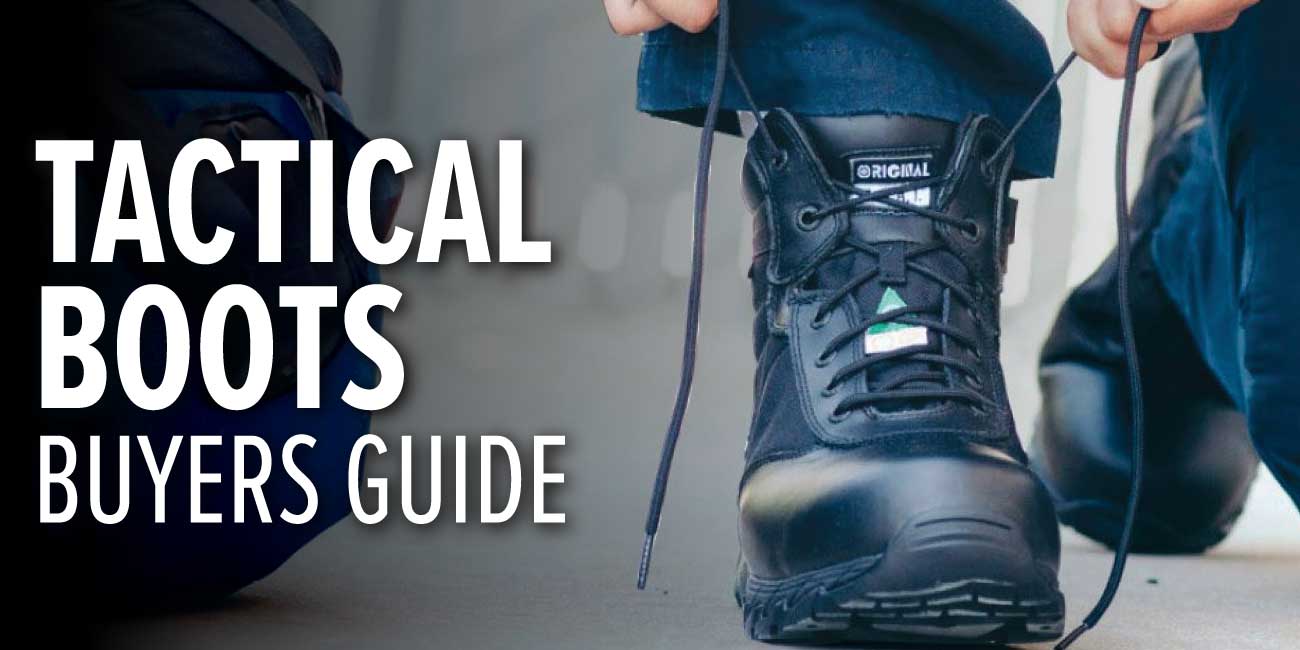 Tactical boots are one of those pieces of gear that, if they're good, never really get thought about. You tie them on, go about your patrol, hike, or match, and never contemplate just how much they do for you. A bad pair of boots, on the other hand, can leave your feet blistered and battered, your back tired and sore, and you, ultimately, out of the fight.
It's hard to overstate the importance of taking care of your feet. Whether it's a competition stage, a trek to a hunting blind, or a firefight, if you can't walk, you can't do it. Quality tactical boots protect your feet and minimize fatigue without limiting your mobility.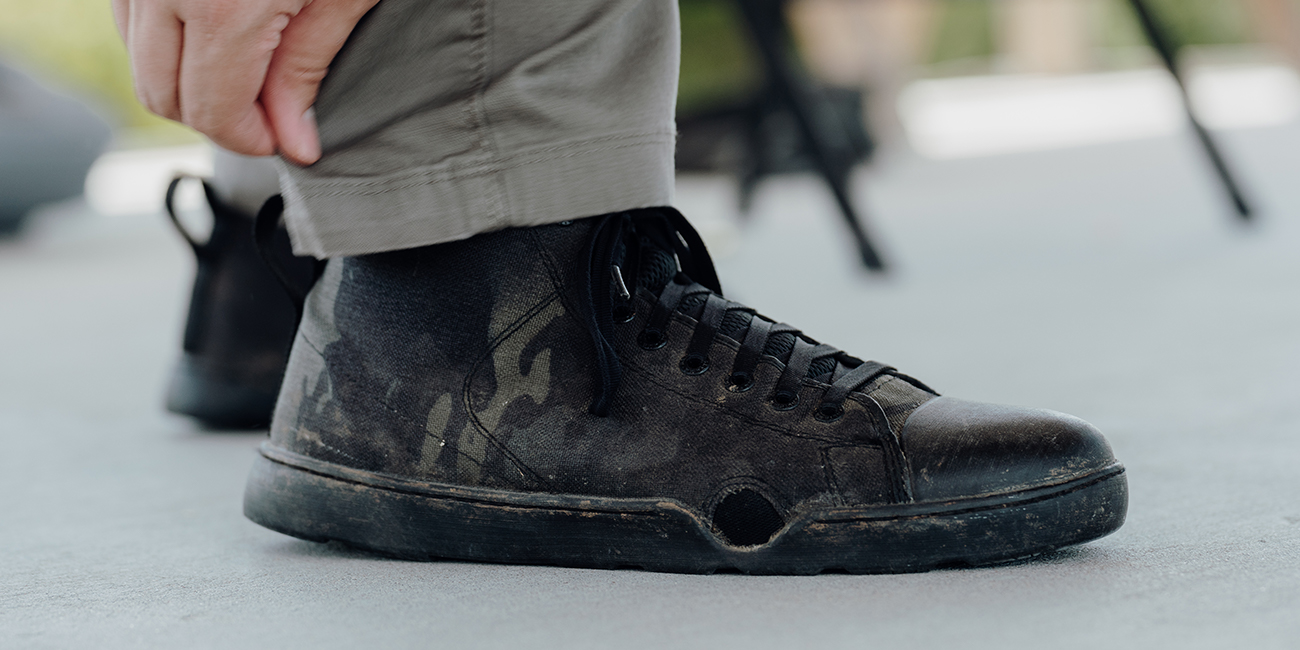 WHAT TO LOOK FOR IN A TACTICAL BOOT
If you already own a pair of Timberlands or hiking boots, you may find yourself wondering if you really need tactical boots. The answer is yes, you probably do. All boots are pretty similar and perform roughly the same function, but tactical boots have a combination of features that make them uniquely qualified for their job.
Like most footwear, the primary job of tactical boots is to protect your feet. A fairly thick sole made out of a durable material protects the underside of your foot, while a tall, semi-rigid shaft prevents you from rolling or hyper-extending an ankle. In work boots, these attributes tend to be exaggerated: thicker soles, sometimes steel toes, unyielding full-grain leather for the shaft of the boot. While these do an excellent job at protecting the wearer, they also limit your agility. There's a reason no one runs in work boots.
Tactical boots, on the other hand, have to strike a balance. They need to be substantial enough to protect your feet, but light and flexible enough not to slow you down. Synthetic materials tend to be more common in tactical boots and shoes than leather due to their higher strength-to-weight ratio. Some manufacturers do still use full-grain leather for sections of the boot, usually in concert with synthetics like nylon to find the perfect mix of flexibility and protection.
The next big difference between tactical boots and common work boots is the tread. Whereas most work boots are designed to offer secure purchase in outdoor settings, tactical boots need to provide solid traction in a broader range of environments. Mud, dirt, concrete, gravel, tile; a good pair of tactical boots should ensure decent footing everywhere, all the time.
Most boots also don't take water into account; for work boots, it's largely a non-issue, but you never know where a hunt or a patrol will take you. Good tactical boots are designed with this in mind. Some use waterproofing to prevent your feet from getting wet, while others use drain holes and moisture-wicking materials to dry your feet off as quickly as possible. Both strategies have their place, but good tactical boots ought to have been designed with at least some thought given to how to handle water.
Other nice-to-have features in tactical boots or shoes include things like rapid on-off capability and integrated holsters. They're convenient but aren't strictly required for tactical boots unless your particular circumstances demand them.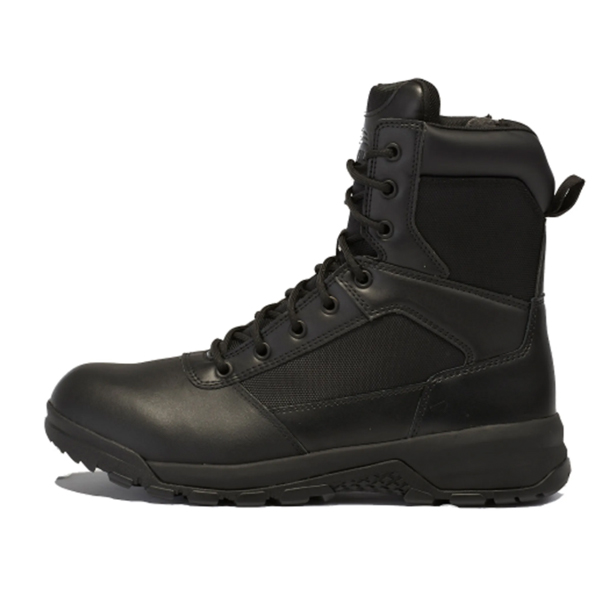 ALL-PURPOSE TACTICAL BOOTS
The debate between Belleville and Altama goes back decades, and we certainly aren't going to try to render a verdict. Both make excellent footwear, and after years of supplying tactical boots to the U.S. Military, both have earned their place in this category.
On the Belleville side, we favor the Spearpoint Lightweight Side-Zip. It's a classic eight-inch high design, offering plenty of ankle support, and crafted out of full-grain leather, ballistic nylon, and slip-resistant rubber. Belleville boots are well known for their quality craftsmanship, and the Spearpoint boot is a great example.
This tactical boot uses a waterproof liner to protect the wearer's foot from moisture and bloodborne pathogens, a factor that is especially important for police, military, and first responders. The side-zipper feature is a nice touch, cutting down on the time required to don the boots. It's just a convenience for most users, but anything that cuts down on the time required to respond to an emergency is a win in our book.
For Altama, we like the Vengeance SR8 boot. Similar to the Belleville, Altama's Vengeance boots use a hybrid of full-grain leather and nylon mesh to achieve just the right amount of rigidity. The Vengeance boot also features a gusseted tongue to help seal the boot against dirt and debris. Instead of waterproofing, this tactical boot uses a moisture-wicking design, lining the inside of the boot with mesh treated with AEGIS anti-microbial technology to speed the drying process and protect your foot from infection.
The Vengeance SR8 also incorporates a YKK zipper, like the Belleville Spearpoint, so it's just as fast to put on or take off. The soles are anti-slip, non-marking rubber, equally at home in the field or in the precinct.
You may notice that despite the similarity between these two top-tier boots, they handle water very differently. The Belleville Spearpoint opts for waterproofing, while the Vengeance SR8 is quick-drying instead. Neither is a bad solution, but they do lend themselves to different scenarios.
Waterproofing is great if you're only dealing with a moderate amount of water. If you get properly dunked, though, it won't do you any good. No boot is truly waterproof, nor can it be; no matter how well sealed the material is, there will always be an opening at the top for your foot. As long as the water you encounter is no higher than the top of the boot, waterproof models like the Spearpoint will keep your feet dry and comfortable. Should you have to wade through a stream or pool, though, your feet will get wet, and will likely stay that way until you have a chance to remove your boots and dry them.
Boots like the Vengeance SR8 use a different strategy. They make no attempt at waterproofing. Instead, they choose to focus on dealing with the water after it's already entered the boot. With a wicking design like the Altama boot, as soon as you exit the water, your boots begin draining and drying. If your feet get soaked one hour into a day-long shift or patrol, you'll be awful glad for that feature.
So how do you know which to choose? Basically, it comes down to how you anticipate encountering water. A police officer in an urban environment is unlikely to deal with more than puddles or possibly a shallow stream. For them, a waterproof boot is perfect. A game warden who lives by the bayou, on the other hand, is almost guaranteed to get their feet wet from time to time, so they'd be better served by a boot designed to drain and dry.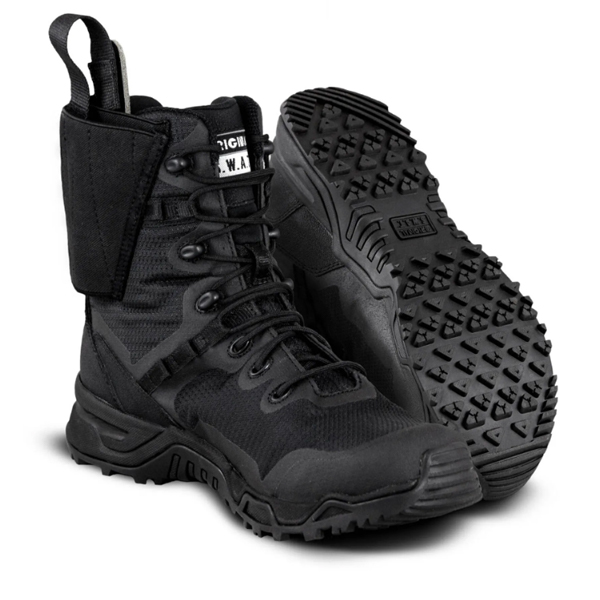 INTEGRATED HOLSTER TACTICAL BOOT
Want to pack a backup piece on your ankle? A dedicated holster built into your boot will do it a lot more comfortably and securely than most ankle holsters. For that, the Original S.W.A.T. Alpha Defender is exactly what you're looking for.
The Alpha Defender tactical boot is a fairly typical 8″ high boot in most respects. It's durable and lightweight, and features a gusseted tongue like the Altama boot to protect your foot from debris and particulates. Where it really sets itself apart is the discreet, integrated holster.
Built directly into the outside of the boot, this holster hides and secures most common single-stack 9mm backup guns. It's one-size-fits-all, so you don't have to worry about picking out your backup gun before your boot, and has a thumb strap to ensure your pistol stays in place until you need it.
Like any good tactical boot, the Alpha Defender has slip-resistant soles. Special attention is paid to comfort, though, with a jersey fabric Achilles cushion and Original S.W.A.T.'s Ufit lacing system.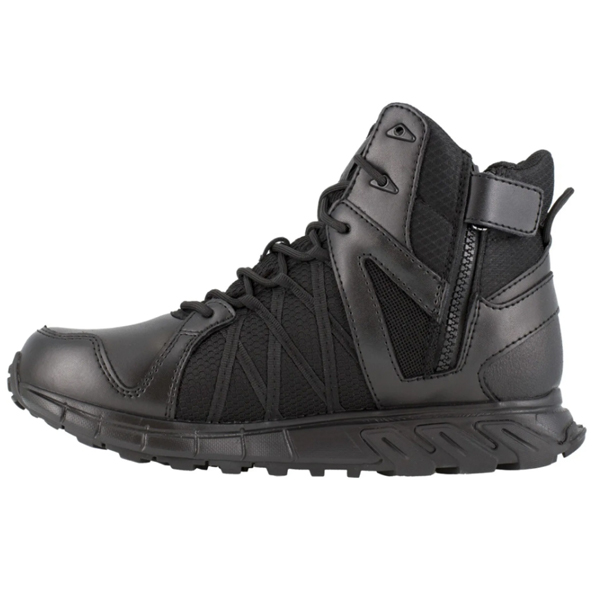 MID-RISE TACTICAL BOOT
Not every job requires a boot with an 8″ high shaft. Sure, it does a great job of protecting your foot and ankle, but you do give up a certain amount of agility in exchange. A mid-rise tactical boot like the Reebok Trailgrip Tactical 6" offers a little more flexibility, while still maintaining the other features we prize in a duty or combat shoe.
Shop All Reebok Boots and Shoes
The Trailgrip Tactical 6" boot rises just high enough to give support to your ankle, protecting you from rolling it on uneven terrain, but goes no higher. The upper portion of the boot is made from ballistic nylon and leather that has been specially treated to make it weather resistant.
It's a waterproof boot, like the Bellville Spearpoint, and places a greater focus on comfort and maneuverability. Reebok's MemoryTech foam insole and DMXRide midsole work in concert to mold the shoe to your foot, increasing comfort, but also allowing for a more secure fit.
Together with the MicroWeb lacing system, these features ensure that the boot stays firmly in place as you move, which is important if you want to be quick on your feet. A less secure boot may slip if you try to pivot or change directions quickly, especially when your momentum is increased by the weight of a fully-loaded plate carrier.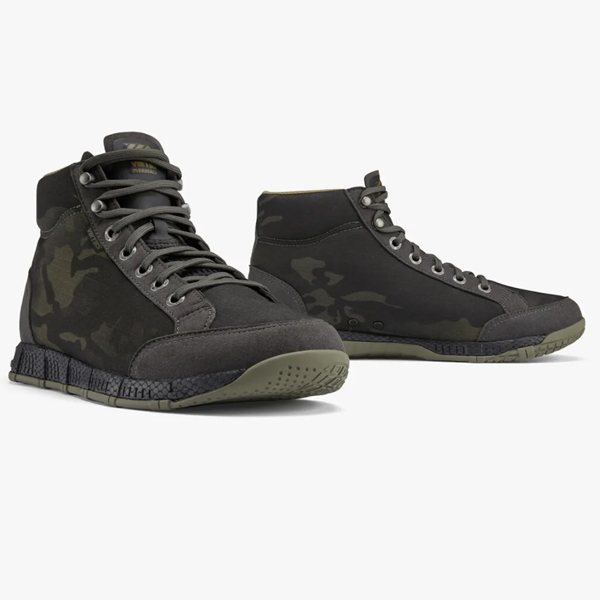 LOW-PROFILE TACTICAL BOOT
Sometimes, duty calls for discretion. Undercover work, executive protection, and general security roles often require a more subdued wardrobe, and that goes for your footwear as well. If you're trying to blend in, big combat boots are rarely the way to do it.
For that, you have the Viktos Overbeach shoe. Technically, this one is not really a boot, which is exactly what you want if the goal is to fade into the background. The Overbeach shoe offers the appearance of a sneaker with some of the benefits of a tactical boot. The high design of the shoe offers some protection for your ankle, though not as much as a true boot. Similarly, it's equipped with a high-traction rubber sole, although the tread is geared more towards urban environments.
The body of the shoe is made with ripstop nylon for durability, so unlike a regular shoe, the Overbeach will take a beating. It's treated to be water-resistant as well.
Unlike the previously mentioned tactical boots, this shoe is designed with maximum mobility in mind. Since the shoe has to be more discreet than a boot, it can't provide the same level of protection. Instead, the Overbeach shoe offers unrestricted agility. Viktos' Mobility Bottom helps reduce the impact on your feet when running, while the high-flexibility forefoot shifts with your foot as you move, even when doing high-load activities like lifting weights.
If you need a tactical shoe that won't turn too many heads and won't slow you down, the Viktos Overbeach is the one to buy.
SUMMARY
Tactical boots are one of those pieces of gear that aren't fun to shop for, but once you get out in the field, you'll be glad you did.
For most uses, a good tactical boot from Belleville or Altama will accommodate users well. Not all scenarios allow for an 8″ ruggedized boot though, and so for that Reebok and Viktos have got you covered.
And of course, if you really just need a place to stash your backup gun, the Original SWAT Alpha Defender should be your go-to.