Now that we're looking at February in the rearview mirror, it's time for another Primary Arms Optics Update! This month brought with it several brand-new products as well as updates to familiar favorites.
As always, we've split our update into four categories:
– Latest NEW Optics
– Upcoming Releases
– 'Eye-Opener' Mini-Blog
– Upcoming Events
As always, we hope you'll send us your thoughts and feedback on our Facebook or Instagram. Our team will be standing by to answer all your questions (or at least those we can!)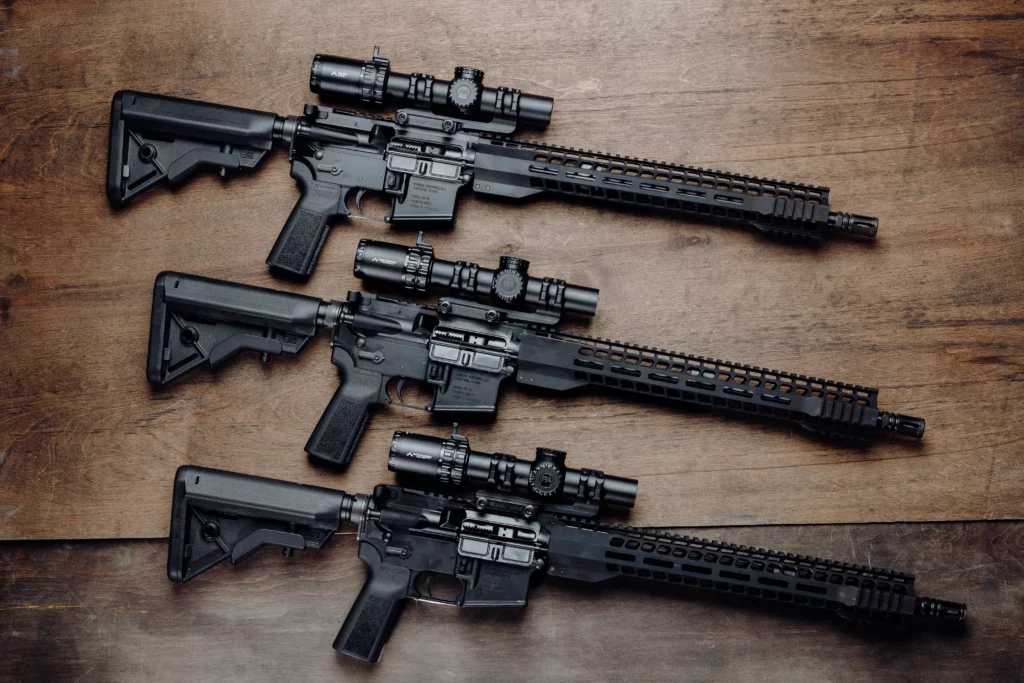 Latest Releases
February brought us three exciting new releases; binoculars in both our SLx® and GLx® lines and a new generational update to our ever-popular MD-25.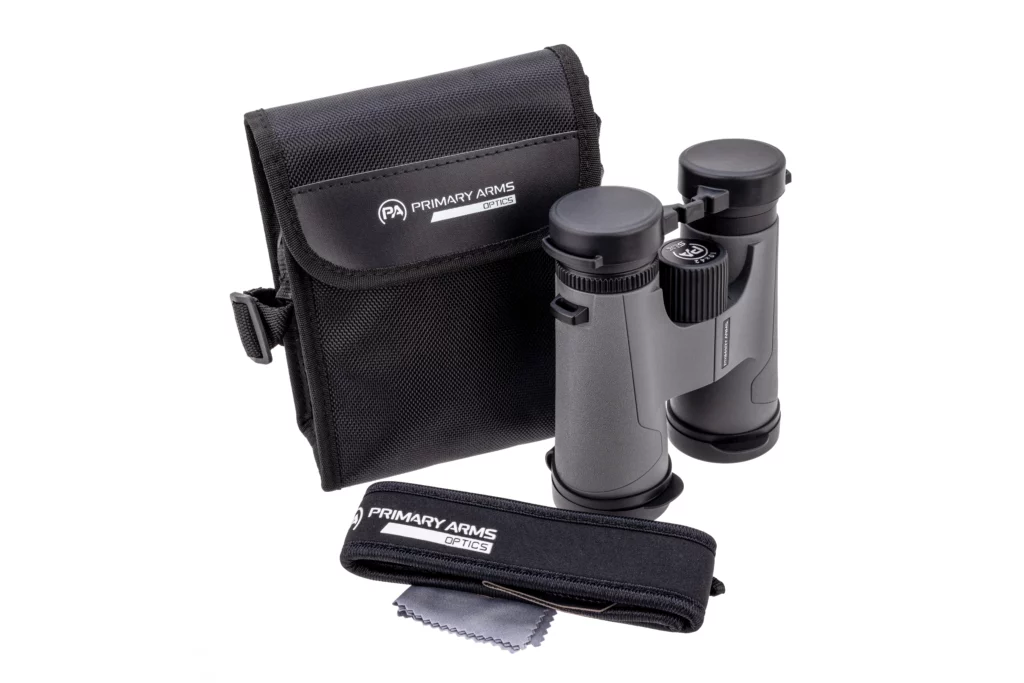 Primary Arms SLX 10x42mm Binoculars
The latest addition to our SLx line, these 10x42mm binoculars deliver performance way beyond their price point.
It all starts with the glass. Quality glass lenses are a huge determinant of optical performance, so we went with the best lenses possible while maintaining this price point. That means fully-multicoated glass, premium edge-to-edge clarity, and enhanced color definition, all of which work in concert to provide the best possible image.
10x magnification offers a versatile balance between field of view and level of detail. It's enough magnification for most applications requiring a high level of detail, such as checking targets at the range, but not so much as to hinder you when scanning fields or forests for game. With a 309-foot field of view at 1000 yards, you won't have any trouble scanning large areas or tracking movement.
Since these binoculars are designed for use in the field, durability is paramount, but we couldn't simply overbuild the body to achieve it. Binoculars get used in a lot of high-mobility activities, like hiking or hunting, so weight is nearly as important as resilience.
To achieve the right balance between the two, we opted for a fiber-reinforced polymer body with a rubber overmolding. This combination provides exceptional shock resistance and the fully sealed polymer body is waterproof, so you can use them in any weather conditions without fear. Thanks to the lightweight materials, the binoculars still only weigh 20.7 ounces.
The SLx 10x42mm Binoculars come with a soft case and carrying strap included, so they're ready for duty right out of the box.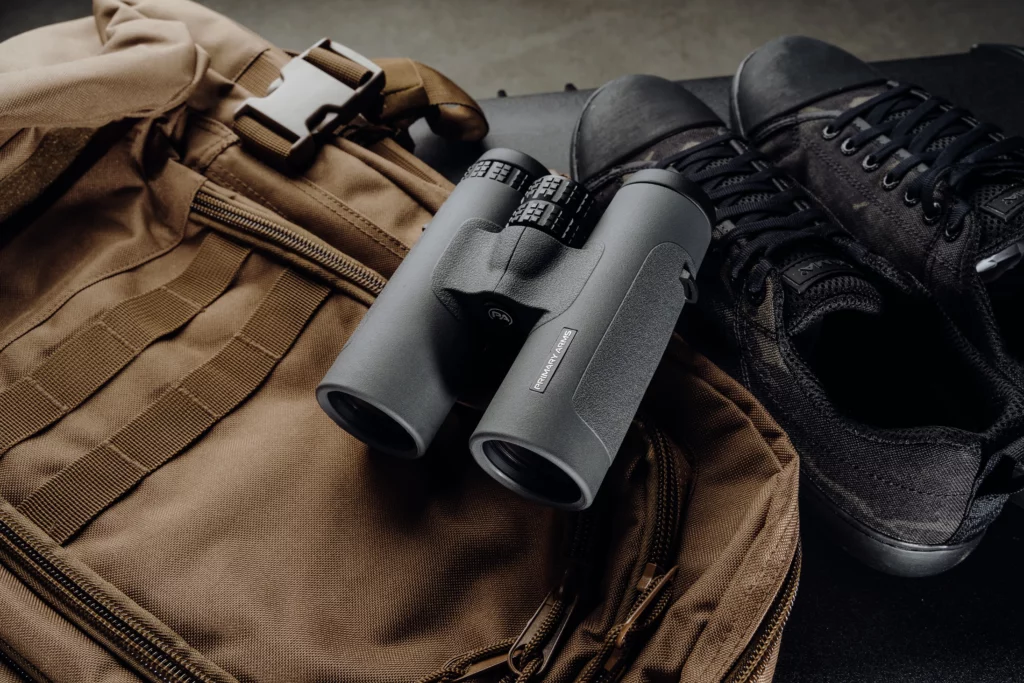 Primary Arms GLX 10x42mm ED Binoculars
Our second set of new binoculars has joined our GLx line, offering improved materials and incredible performance at an affordable price.
Our GLx 10x42mm ED binoculars feature an upgraded housing machined from a magnesium alloy for even greater rigidity and ruggedness. Magnesium weighs slightly more than polymer, leading to a total weight of 23.74 ounces, but provides significantly greater shock resistance. Combined with the protective rubber overmolding, the upgraded housing ensures these binoculars can take a beating.
The GLx binoculars also offer an increased field of view of 341 feet at 1,000 yards so users can see more and scan faster.
The biggest difference between our SLx and GLx binoculars is the ED lenses. Like the SLx binoculars, the GLx 10x42mm lenses are fully multicoated and designed for maximum performance within their price point. The GLx binoculars use our Extra-Low Dispersion glass, though, delivering stunning clarity, color, and light transmission. The resulting image is brighter and clearer, even around the edges, and makes it much easier to spot elusive objectives in low-light conditions such as dawn and dusk.
The GLx binoculars feature the same versatile 10x fixed magnification and include a soft case and carrying strap.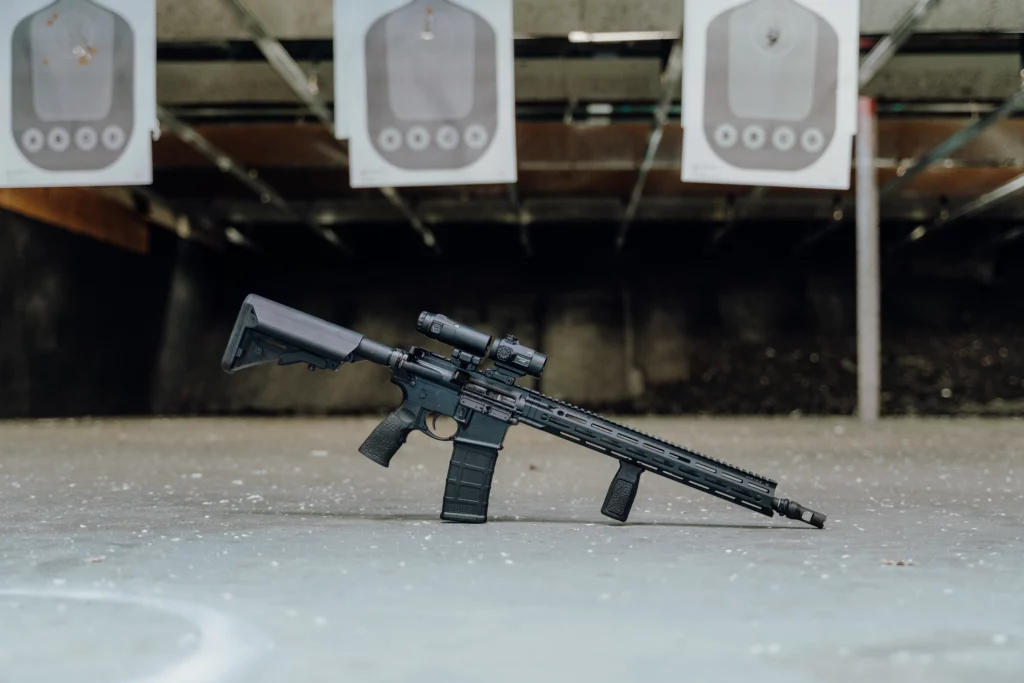 SLX MD-25 Rotary Knob 25mm Microdot Gen II with AutoLive®
New and now better than ever is our Gen 2 MD-25 red dot sight. Our original MD-25 was one of our most popular red dots ever, so we decided to update it with our latest and greatest technology to make it even better.
The Gen 2 update of the MD-25 maintains all the things you loved about the original. It still uses a common microdot mount footprint, still has twelve brightness settings with both Daylight Bright® and night vision compatible options, and still features an uncommonly wide field of view for a red dot of its size.
In addition to all that, the Gen 2 MD-25 now features our AutoLive technology. AutoLive is a motion-sensing battery-saving feature that automatically deactivates your sight after 3 minutes of inactivity but immediately reactivates it upon sensing movement, such as your firearm being picked up or drawn from a holster. This allows users to preserve their battery while still keeping their optic ready for immediate use at all times.
The MD-25 comes with a full complement of mounting hardware, including multiple spacers to allow for a variety of mounting heights. It's available with either a standard 2 MOA dot reticle or our more sophisticated ACSS® CQB reticle.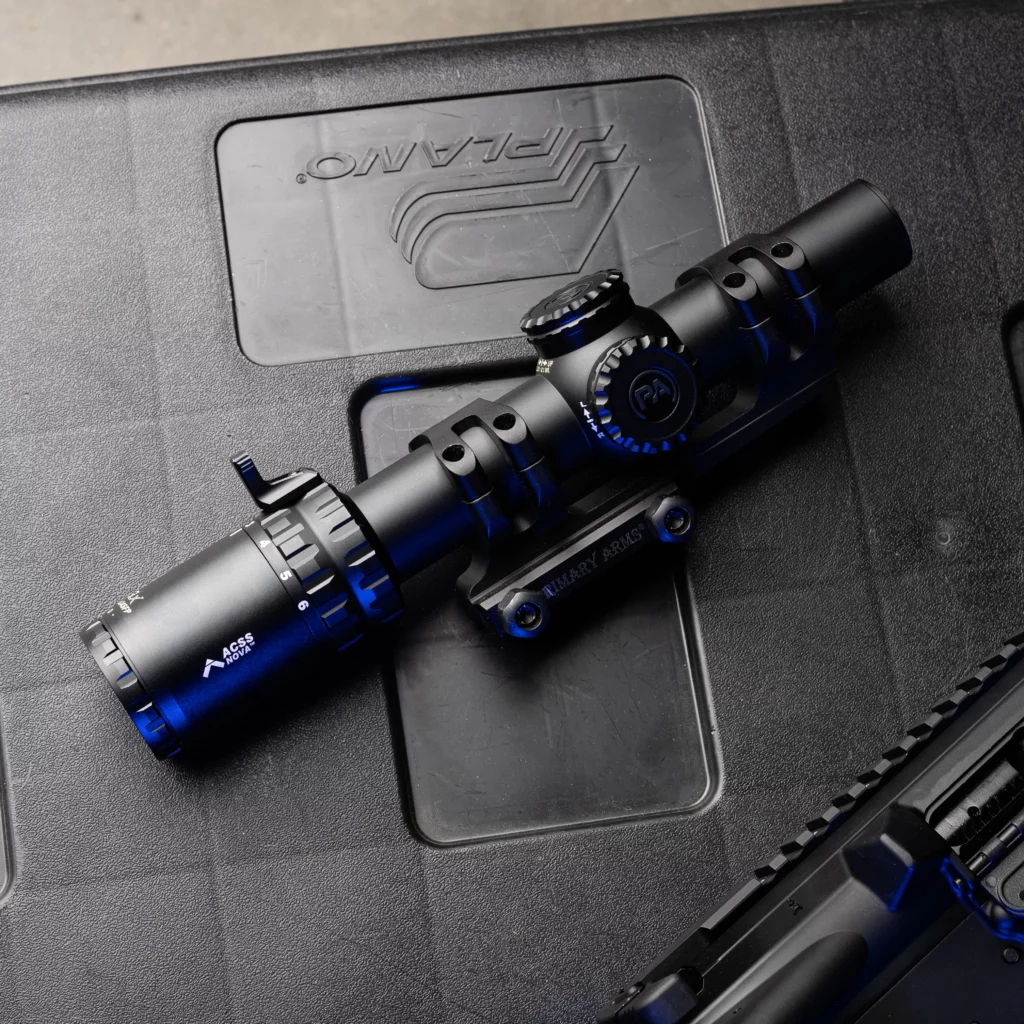 Upcoming Releases
Now available for preorder, the new Gen 4 SLx 1-6x SFP riflescope now features our cutting-edge ACSS NOVA™ Reticle.
The Gen 4 SLx 1-6x features a complete overhaul of the optical system, improving nearly every component to deliver a better, clearer image. The chief upgrade is found in the glass lenses, which now deliver greater edge-to-edge clarity and color fidelity. We've also updated the magnification ring to our newest design, complete with an interchangeable and removable adjustment lever.
The Gen 4 SLx 1-6x is available for preorder now with 4 different reticles, including our brand-new ACSS NOVA reticle. Unlike our previous reticle offerings, the NOVA uses fiber optic wire technology to deliver brighter illumination levels than are possible with traditional methods. This allows the NOVA to achieve a Red Dot Bright™ aiming point strong enough to stand out even against strong daylight, making it easy to acquire a sight picture no matter the atmospheric conditions.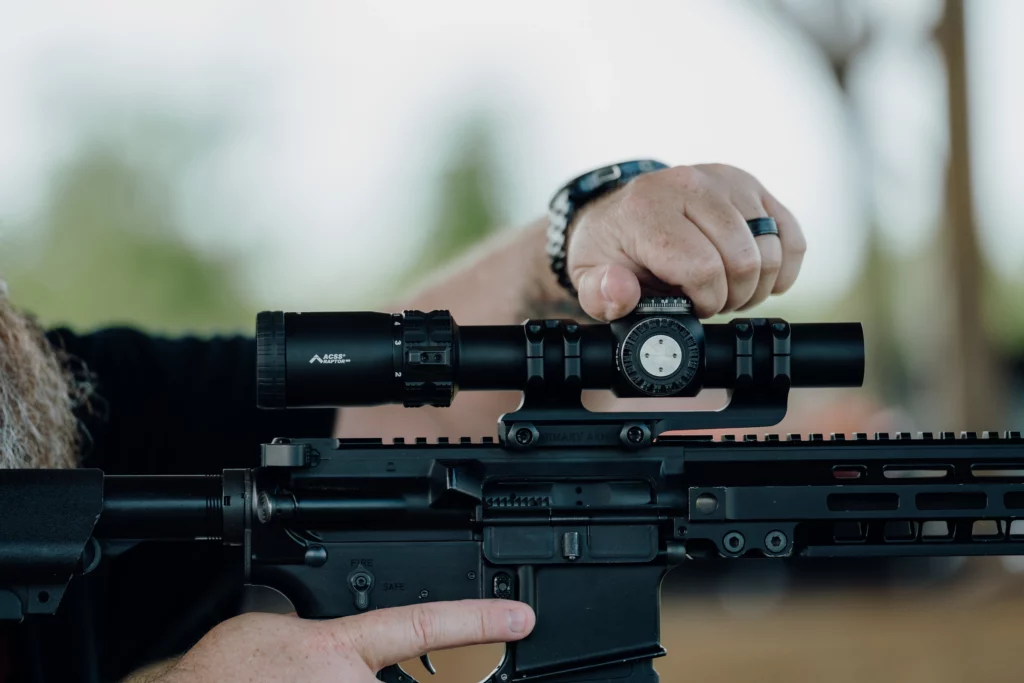 Primary Arms Optics News
As some of you may know, we've been working towards our goal of providing American-made products assembled right here in Texas for some time now. This month, we're happy to report significant progress on that front.
We've added several new testing machines and fixtures to our Houston location, expanding our in-house quality assurance and prototype testing capabilities significantly. We're also well underway with the building process for a clean room for assembly and testing.
Lastly, we've added new rapid prototyping hardware and capabilities to our research and development facilities, further building on our in-house capacities. These new additions will help shorten the amount of time it takes us to develop and test new products, allowing us to bring you more optics and accessories, faster.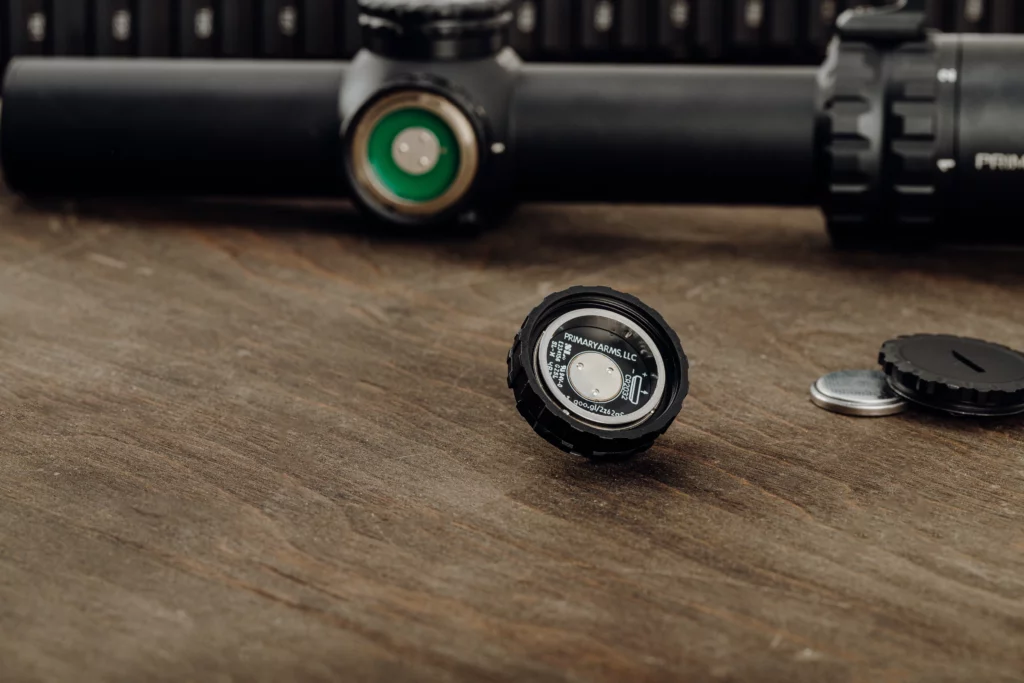 "Eye-Opener" Mini-Blog: AutoLive®
This month, we wanted to bring you a little more information on our AutoLive technology, since it tends to be one of the less-understood functionalities we offer in our optics.
The core function is simple—AutoLive detects movement and lack of movement. When a prolonged period with no movement is detected, such as your firearm being stored in a safe, AutoLive greatly reduces power to your optic to conserve the battery. Then, when any movement is detected, AutoLive immediately reactivates the sight.
To understand how useful AutoLive can be, it's important to understand how seamless it is. AutoLive is capable of detecting even the slightest movement, such as the light touch of a fingertip or even a nudge against a neighboring surface. Unless you set your AutoLive equipped optic down somewhere, wait for it to deactivate, and then look through the optic without touching it, you'd likely never know AutoLive is even there. That's how quick the reactivation is; by the time you bring your firearm up to a shooting stance, the dot is fully on. You'd never even know it was turned off.
Because of how fast the activation is, AutoLive is an excellent tool for any kind of defensive application, from home defense to duty use. AutoLive allows you to leave your optic on in perpetuity, keeping your optic and firearm ready for duty at a moment's notice while preserving your battery as much as possible, minimizing the need for maintenance.
For some red dots, this may seem redundant—if your dot already lasts 50,000 hours or more, then you're only going to be changing your battery once every few years anyway. Further preserving your battery life may seem like a moot point.
However, most red dots with that kind of battery life only offer very simple reticles—and only at medium brightness. More sophisticated reticles with multiple aiming points tend to drain a battery much faster. Likewise, if you leave your reticle on max illumination, you probably won't get the quoted runtime. With AutoLive-powered optics, you're not forced to choose between battery life and reticle capability—you can have both.
Take our new Gen 2 MD-25 red dot for example. With a simple 2 MOA dot reticle, it can deliver 50,000 hours of battery life, but with our ACSS CQB reticle, which offers a chevron aiming point, a large surrounding horseshoe, and drop-compensation dots, that battery life is reduced to 12,000 hours. That's still 500 days of straight runtime, but thanks to AutoLive, you can greatly extend that battery life without compromising on any performance.
This technology is even more valuable for those who rely on more power-hungry optics, such as scopes, for duty or defensive use. Leaving an LPVO on for even a week can be enough to fully drain a battery in some cases. One of our AutoLive-equipped scopes, on the other hand, can be left on and ready for months on end without requiring a battery change.
This function is in such high demand for rifle scopes that we've even developed a battery cap to add the capability to scopes that don't have it. The AutoLive battery cap is due to be released later this year.
While AutoLive isn't strictly a necessity for a defensive firearm, there are few optics that don't benefit from the battery-saving technology. If the battery life of your optic is measured in hours rather than years, you should seriously consider making the switch to an AutoLive optic.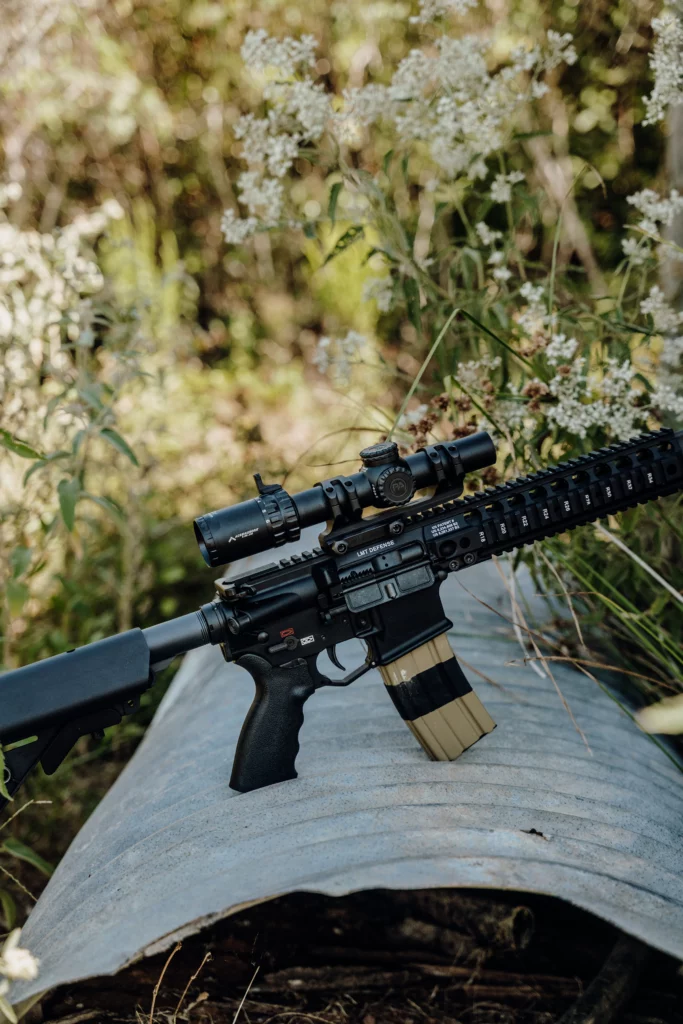 Wrap Up
That concludes our Optics Update for the month of February, but be sure to check back next month for another update. We'll have new products and the latest news for you.
If you haven't already, be sure to follow us on Facebook and Instagram! That's where we get to hear your feedback and implement it for all our future updates (and releases.)