When Primary Arms began selling red dot sights over a decade ago, our mission was simple: to offer the best quality optics to our customers at the best possible prices and back them up with outstanding customer service. That mission has never wavered. The result of that mission for you, our valued customer, is unmatched value for your dollar. That value has made Primary Arms one of the fastest growing optics manufacturers in the world. We love what we do, but truth be told, we do it all for you. Bringing you the best in quality and value is what drives us, and when we make something you love, we've accomplished our mission.
We've come a long way from those early days selling red dots. In the years since, we've added a complete lineup of riflescopes, prism scopes, and more to our brand of optics and we are proud to offer free shipping on your entire order when you purchase any Primary Arms optics including scopesred dot sights or red dot magnifiers from primaryarms.com. Many of the fan favorite scopes are built around the ACSS reticle system, which helps our optics outpace the competition in many practical and tactical shooting applications. We listen to the needs and wants of our customers who shoot with our scopes and we continually innovate to make the products you love even better. We want to shine the spotlight on a handful of our most popular products, each backed by loyal and vocal fans like you that truly believe in the power and precision of Primary Arms Optics.
Riflescopes
Low power variable optics (LPVOs) are some of the most popular scopes on the market today. Fast and accurate at low power, this style of scope can give you target acquisition speeds akin to red dot sights. At high power, you get enough magnification and visibility to engage targets out to 800 yards or more. Our most popular low power variable optics come from our Silver Series of scopes, the heart of our lineup. They are the 1-6x24mm First Focal Plane (FFP) scope, 1-6x24mm Second Focal Plane (SFP) scope, and the 1-8x24mm Second Focal Plane scope.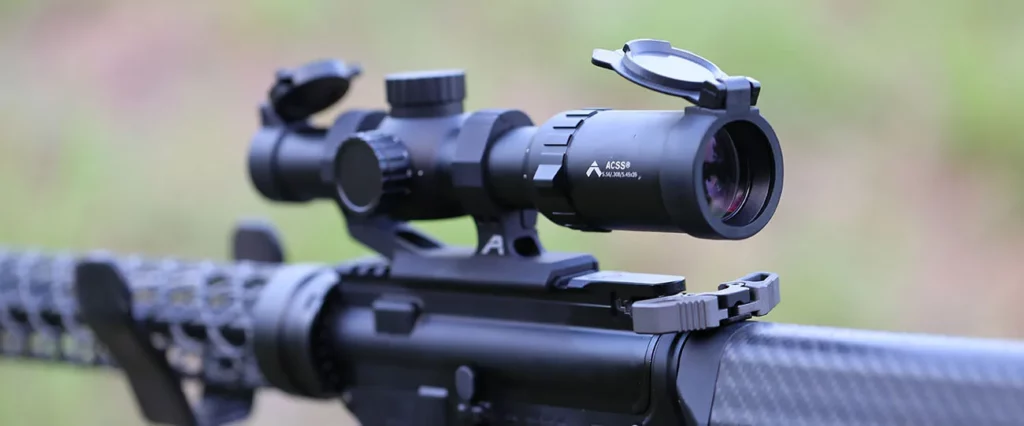 A large part of what has made these scopes so popular with our customers is the ACSS reticles with which they are equipped. The 1-6x SFP and the 1-8x SFP scopes feature the ACSS 5.56/5.45/.308 Reticle and they are packed with the advanced features that have made ACSS one of the most popular reticle systems on the market. The ACSS reticle's innovative and intuitive design gives you the ability to range targets at unknown distances and get an accurate bullet-drop-compensating holdover point of aim out to 800 yards without the need to adjust your turrets at all. The reticle also provides moving target leads to take more accurate shots when your target is on the move. Wind holds help you to easily compensate for crosswinds and achieve hits when weather conditions are less than ideal. The heart of the reticle is a bold horseshoe surrounding a center chevron tip. The chevron is more precise than traditional crosshairs because the tip provides an infinitely small point of aim that never obstructs your view of the target. The bold horseshoe naturally draws your eye and gets you on target for quick snap shooting.

The Silver Series 1-6x FFP scope features the ACSS Raptor Reticle and it was one of the most anticipated optics releases we've had so far. Taking full advantage of the first focal plane design, the Raptor reticle is an optimized version of the ACSS system, designed to be fast to acquire at low power, while still maintaining all the advanced features of other ACSS reticles at higher magnification. The same bold horseshoe and center chevron make up the heart of the Raptor reticle, but instead of being a small, central portion of the system, the horseshoe encapsulates the entire reticle. This allows for a sight picture and acquisition speed like a red dot or holosight when the magnification is set to 1x power. The wide field of view, clear glass, and FFP-optimized reticle combine to make one of the most capable LPVOs on the market.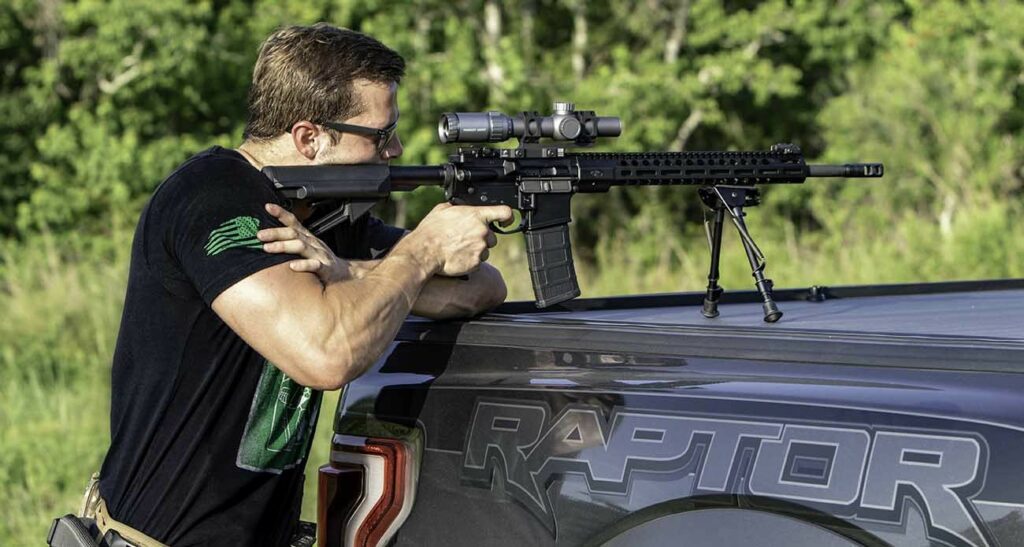 Being able to quickly go from red-dot-like speed at 1x magnification to 6- or 8-power magnification for precision in one optic is what people love about LPVOs. For these popular scope models highlighted here, as well as nearly 20 others we offer, our engineers have developed a custom magnification throw lever that interfaces with the magnification ring's integral "fin" and enhances your ability to transition from 1x power to the maximum magnification setting with speed and ease. We call it the Mag-TightTM Throw Lever. It's machined from 6061-T6 aluminum, Type III hardcoat anodized, and comes with a limited lifetime warranty. Never worry about finding a magnification lever that fits your favorite Primary Arms LVPO ever again – we've made you a custom solution.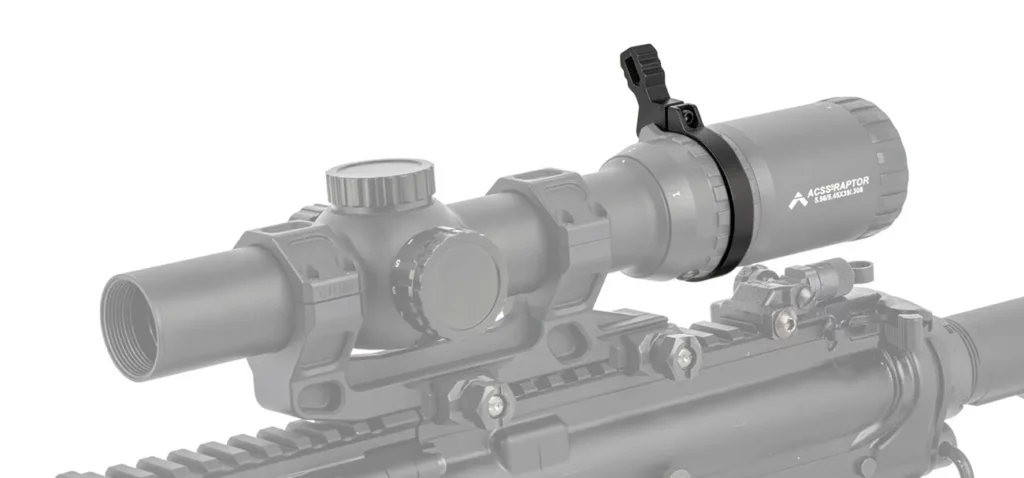 Red Dot Sights
We built our name and reputation on red dot sights. These Primary Arms red dots are optics you can count on, proven by hundreds of torture tests and customer reviews. The Silver Series Advanced Micro Dots, available in models with either rotary knob (MD-RB-AD) or push-button (MD-ADS) illumination control, are each top-sellers and are packed incredible value. They feature 50,000 hours of illumination at medium brightness settings and they are daylight bright at the highest setting. They are nitrogen purged, waterproof, and shockproof, so you can trust them to perform for years to come.

Our Classic Series Gen II Micro Dot (MD-RBGII) is a favorite for those who want the best bang for their buck and it proves once again that a great value doesn't mean you have to make compromises. It comes right out of the box ready to mount to any standard 1913 Picatinny rail and the removable base allows for compatibility with industry standard micro dot mounts for cowitnessing with iron sights. Add a Primary Arms absolute cowitness mount (LHM-2AC) or lower one-third cowitness mount (LHM-2L13) and you're good to go. Over 150 five-star reviews just serve to prove that this micro red dot is a crowd-pleaser. For less than $90, it's no surprise as to why.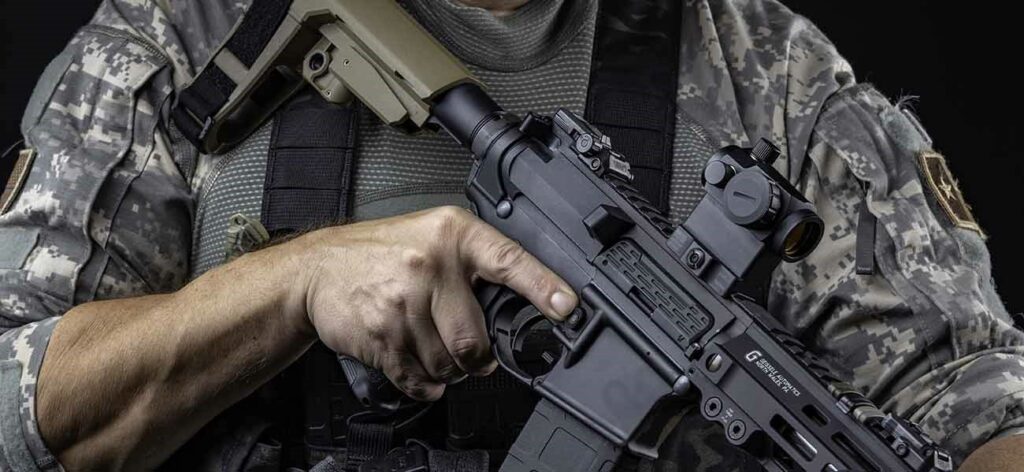 Prism Scopes
Prism scopes offer many advantages. The fixed magnification gives you a consistent sight picture and the ease of operation is preferable for many shooting applications. Additionally, prism scopes are one of the most compact and lightweight optic solutions for your rifle. They're generally more robust and rugged for shooters who want to run their rifles hard and know their optic will hold up, such as on a duty rifle or in a tactical application. Prism scopes feature reticles etched into glass, so even if your battery were to fail or if the illumination is turned off, a high-contrast black reticle is always there – crisp, clear, and ready to perform.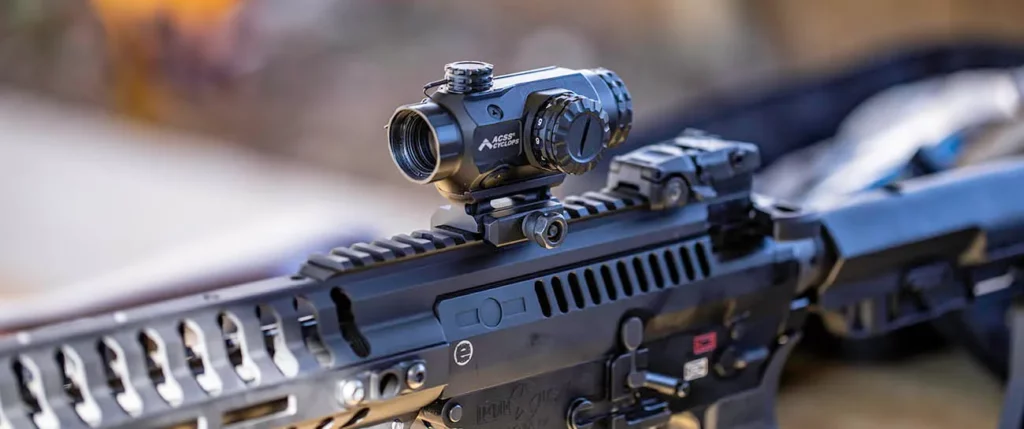 Primary Arms has prism scopes with many magnification settings to choose from. The Silver Series Compact 1×20 Prism Scope with ACSS Cyclops Reticle (PAC1X-ACSS-CYCLOPS) was another highly anticipated release from Primary Arms. For shooters who want the speed and large field of view of a red dot sight but have an astigmatism or other eye issues that make red dot sights imprecise and hard to use, the etched reticle and 1x power make this prism scope an ideal choice. The ACSS Cyclops Reticle is simple yet retains advanced features that can be found in all the other ACSS reticles. With a dual-purpose ranging ladder that allows for vertical or horizontal target ranging out to 400 yards, the familiar CQB horseshoe, and the ultra-precise chevron center, this 1x power prism scope is more versatile than a red dot sight while retaining the speed and a large field of view. The 1×20 Prism Scope is protected by a lifetime warranty, so if anything were to ever happen to the optic, you can have confidence knowing our in-house customer service team will be there to resolve your issue.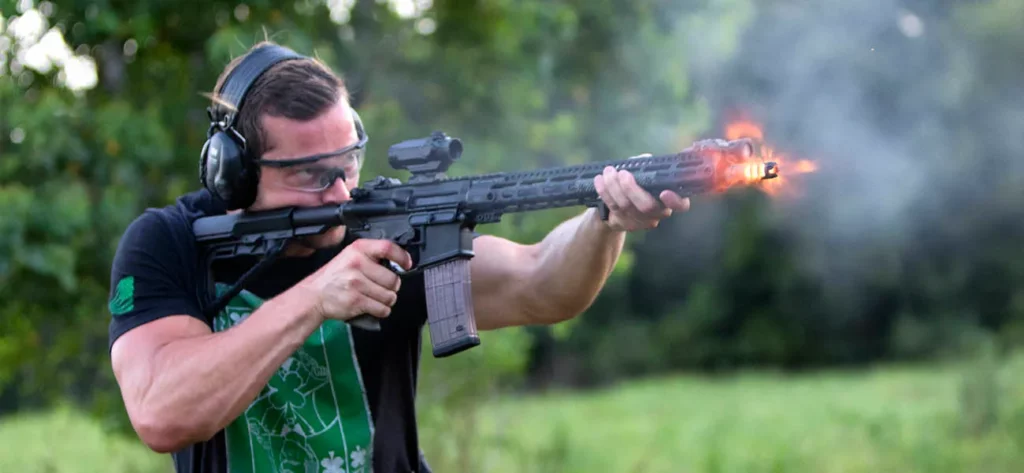 The Primary Arms Silver Series Compact 2.5×32 Prism Scope with ACSS-CQB-M1 Reticle (PAC2.5X) gives you the ideal amount of magnification for medium range engagement. The outer horseshoe incorporates ranging ladders that can be used vertically or horizontally to range estimate a target's distance afield. The inner horseshoe serves as a CQB point of aim to get on target quickly, accompanied by an inner dot for more precise shots. Bullet drop compensation is built in below the center dot and is compatible with many different types of ammunition to take fast and accurate shots out to 600 yards.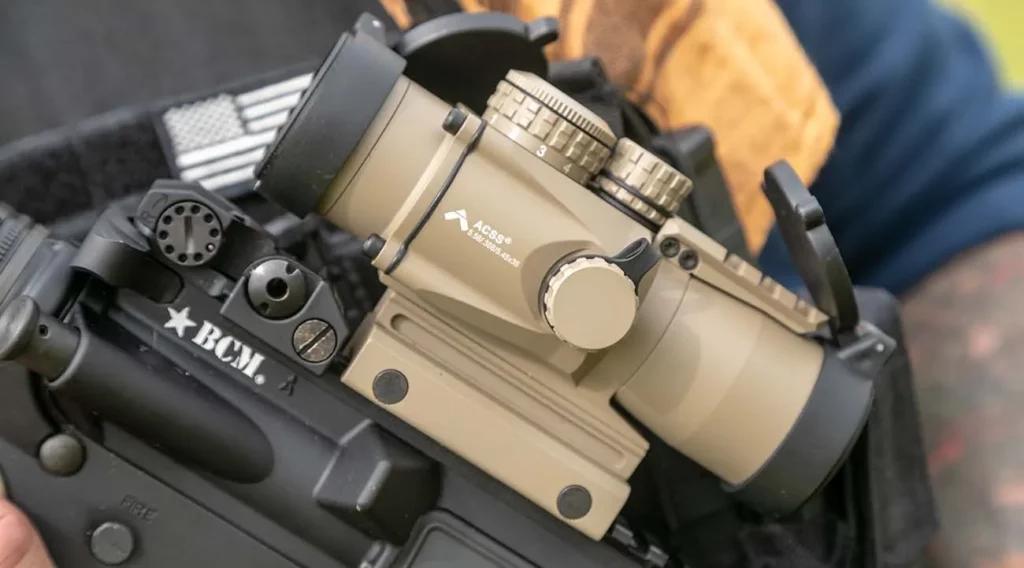 Stepping up in magnification to the Silver Series Gen II 3×32 Compact Prism Scope with ACSS-5.56-CQB-M2 Reticle (PAC3X-GENII-ACSS-5.56) gives you even more capability to reach out and record hits at long range. The CQB M2 variant of this ACSS reticle retains all the features found in the M1 version but it adds another method of ranging built into the bullet drop compensation below the center point of aim. Horizontal bars across the BDC ladder correlate to an 18-inch wide target at the given distance. Beside each ranging bar, holdover dots give you the ability to adjust for crosswind at that distance and achieve a higher first-hit probability in suboptimal weather conditions. If you're the kind of shooter who wants the best capability in all circumstances, the Gen II 3x prism scope features a removable section of Picatinny rail on the top of the body, so you can add a mini reflex sight for CQB and still use the prism scope for shooting at distance – an all-in-one solution on your rifle. The Gen II 3x prism also carries our lifetime warranty.

All our prism scopes feature removable bases, so whatever your mounting needs or preferences are, for an AR-15, AK-47, or even rifles with carry handles, you can make use of these powerful scopes. All are built tough, shockproof, waterproof and fog resistant with super clear glass and forgiving eye boxes to accommodate shooters of all styles and body types.
Our Primary Arms Optics best sellers could only achieve that status because of shooters like you who use them, love them, and sing their praises. Thank you for putting our products to the test. We're proud of how hard they work for you and the value they bring to your shooting experience. If you ever have any questions or concerns with your Primary Arms optic, our world-class team of in-house product specialists and customer service representatives are always here, standing by to assist you. Simply give us a call at (713)-344-9600 or send us an email at info@primaryarms.com, and we'll be glad to help. Thank you again for choosing Primary Arms!