How many times have you looked at a new rifle and thought about how you'd upgrade it? Most of the time, people opt to switch out the grips and stock, but sometimes it goes beyond that, and they want a whole slew of accessories to make it more versatile. We've all been there, and companies like Magpul make the process as easy as possible.
Magpul is one of the industry's leading manufacturers of aftermarket firearm components. From rifle stocks to slings and sights, they are considered by many to be the one stop brand for all your needs.
Even better than having what you need, with the holidays just around the corner, Magpul products are going to be priced low. Merry Magpul everyone! There's no better time than now to upgrade your favorite firearms. But what products from Magpul are we going to have on sale? How will their addition benefit your firearm? Come find the answer right here:
Magpul Black Friday Deals
We all know that Black Friday is the day you'll find some of the best deals possible from nearly every brand in every industry. We are no exception and we're slashing prices for a ton of our products. While we have a lot of products on sale, Magpul is a great brand to look at when looking for the best prices possible. Their popularity has made Primary Arms the ideal home base for all of your Black Friday and Holiday shopping.
Magpul Stocks and Grips
When you're checking out a new rifle, what's the first thing you look for? Nine times out of ten, one of the first things you notice is what type of furniture it has. If your rifle isn't comfortable, you will not have a good time shooting it. So whenever you're shooting, you want to have the most comfortable grip and stock.
For rifles, you have three main points of contact. Two of these main points are the stock and the grip. Magpul has fantastic grip and stock options that upgrade your rifle, taking your experience to the next level.
Magpul Stocks
Ergonomics are key whenever you're shooting, and Magpul provides some of the most ergonomic and affordable stocks on the market. Made of lightweight yet durable reinforced polymer, they have a variety of different stocks that can perfectly work with any of your AR rifles.
Built with comfort in mind, their AR stocks like the CTR, MOE SL, and MOE Carbine stock, for example, are sloped to provide a slimmer overall profile that allows you to get an optimal cheek weld when acquiring your target. Do you prefer wider cheek welds? Don't worry, they have those too; they offer a wide range of stocks with slim and wide cheek welds so no matter what your preference is, a Magpul stock will work for you.
As if they couldn't get any better, some of their stocks have additional side mounting slots integrated into them, meaning you can add cheek risers if you have higher sitting optics or just want some extra height.
Some stocks, like their ACS, STR, and SL-S, have storage compartments integrated into the cheek weld or come with a trap door for storing supplies. The storage tubes in the cheek weld are waterproof so you can confidently store spare batteries or dry-cleaning cloths, and the trapdoor storage compartment can easily fit a cleaning kit or other supplies.
Regardless of which one you go with; each stock has removable rubber butt pads. If you want more cushion when shooting or a longer length of pull, you can easily swap them out with one of the many sized pads Magpul has available.
Say the AR platform isn't your style; Magpul has stocks for your Kalashnikov rifle, too. Their MOE AK stock works with most traditional AK pattern rifles, so long as it has a fixed tang rear trunnion. It's fixed triangular design provides the same length of pull as traditional AK stocks but gives you the ability to mount slings and add additional butt pads or cheek risers for maximum versatility.
Want a folding stock instead? The Zhukov-S stock turns your fixed AK stock into a folding one while simultaneously giving you the same benefits as the MOE AK stock. It's also adjustable, with five adjustable positions for length of pull.
Something else to look for, Magpul produces lightweight stocks for your favorite recreational and bolt action rifles. Whether it's the Ruger American, Remington 700, Savage Axis, or Savage 110, Magpul has a stock for you. Their hunter stock has a fully adjustable length of pull and comb, and it even has M-LOK too for other accessories like bipods or additional sling mounts. They even have stocks for the Ruger 10/22, Charger, Shotguns, and the MP5. No matter what your firearm of choice, there's an option for you.
Magpul Grips
"All grips are the same… right?" Not particularly, think of it like this: your hands are unique. They're not the same as your range buddy's. If one grip works for them, it may not work for you. Fortunately, you have a lot of options available from Magpul, each one providing its own unique feel to give you an optimal angle, texture, and grip confidence for maximizing your shooting experience.
Just like with stocks, your ergonomics, and comfort are key when shooting. Your grip is one of the most important points of contact; without a good grip, you might not enjoy shooting your rifle. Maybe the stock grip doesn't have enough texture to keep your hand from slipping, or there may not be enough contours to naturally grip onto. Whatever the case may be, Magpul's got you covered.
Magpul's AR grips come in different shapes and sizes, have different textures, and other features too. If you like slimmer grips, the MOE-K and MOE SL grips are thinner than standard AR pistol grips while providing optimal stippling for grip. Keeping in line with standard grips, their MOE, MOE K2, and MIAD grips each maintain the same relative size of the standard AR grip, while implementing different grip angles and finger grooves per user preference.
Something to note: the MIAD grip comes with adjustable back straps and finger grooves, so if you want to have one AR lower for multiple uppers, you can adjust the grip as you swap out uppers for different purposes.
Just like their stocks, they also make grips for the AK platform as well. MOE AK, MOE SL, and MOE-K2 grips are all available for the AK, keeping the same benefits as the ones mentioned prior. Besides the AK, they make grips for the CZ Scorpion, the HK G3/MP5/HK94, and even grip panels for 1911s.
For added recoil control, Magpul's foregrips are an excellent choice to maintain positive control of your rifle. Their angled and vertical foregrips have always been a popular option and have the option to be mounted via M-LOK or M1913 picatinny rails. Which foregrip is best though: angled or vertical? We have a guide to choosing AR foregrips that goes in-depth on that.
Most of the grips made by Magpul come standard with their TSP texturing. While it works great for maintaining positive weapon control, they also offer some of their grips with rubber over molding instead of standard grip texturing. This rubber over mold has a little give to it, so it will conform slightly to your grip. This is a great option if you want more than just the standard grip texture, but like all upgrades, it's completely up to user preference.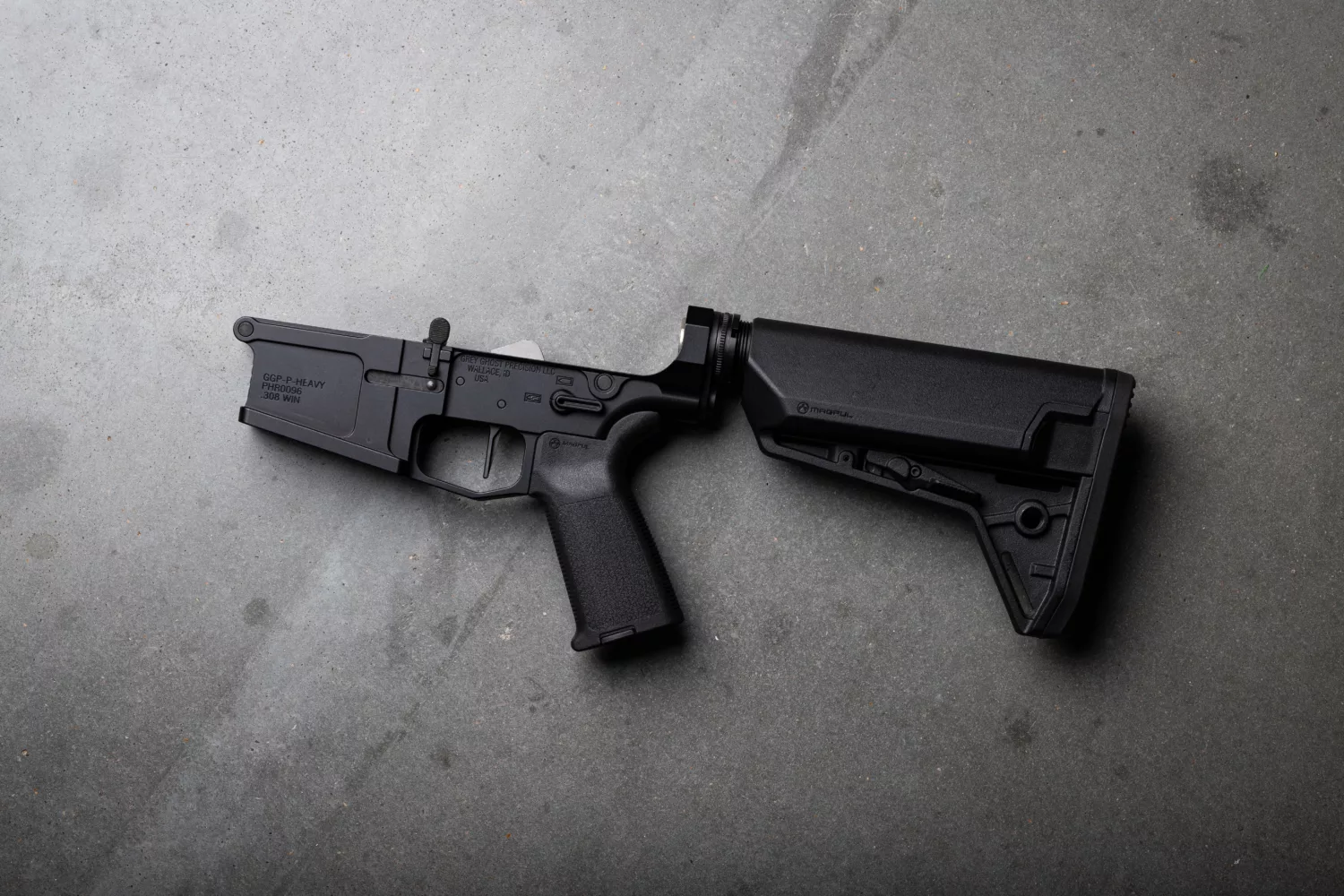 Magpul Slings and Accessories
Just like how good stocks and grips can give you better control over your rifle, so can a good sling. Simply put, slings are awesome. More than just another comfort item, slings allow you to stow your rifle close to your body in a variety of positions that keep it ready for when you need it. It's like having a good holster for a pistol—no great rifle is complete without it. So, whether you're hunting, competing, or shooting recreationally, a good sling can go a long way.
One of the best slings on the market is made by our friends at Magpul. Offering different slings with different padding, mounting systems, and colors, we guarantee you they'll have a sling that fits your needs. Before we get into how their slings improve your experience, let's look at some benefits of using them.
Slings primarily give you support when carrying your rifle. If you're in a situation where you need to carry your rifle for a long distance (like when hunting), your arms are going to wear out quickly. Using a sling takes the weight off your arms and puts it on your upper body and core. This not only gives your arms some rest, but it's also a much more energy efficient way to carry your rifle on your person.
Slings also allow you to quickly and more safely transition from rifle to pistol when shooting. More used in duty and competition purposes, having the ability to quickly stow your rifle to the side to use a pistol without having to drop or set down the rifle is a major plus.
As we mentioned before, Magpul has a wide variety of slings. Their MS1 sling is a dedicated two-point sling that can be configured to use either QD or paraclip sling swivels. They're built with reinforced polymer hardware, snag-free 1-1/4' wide nylon webbing that's wear-resistant and comfortable to use. Besides the standard MS1, they offer a padded version that includes more cushion for added comfort.
Besides the MS1, they also offer the MS3 and MS4 slings. The MS3, like the MS1, is a multi-configuration sling that can be adapted to fit any situation. Constructed similarly, it differs from the MS1 in that it can be both a two-point and a single-point sling with no alteration. The MS4 is the same as the MS3, but instead of coming with paraclip mounting hardware, it features two push-button QD sling swivels.
Magpul accessories like their sling mounts and hardware can be used to take your sling setup to the next level. Each sling from Magpul can be adapted to fit multiple roles thanks to the plethora of adapters they have available. They even make mounts for slings as well. Depending on the mounting surface on your rifle, you can add additional sling swivels or QD points on your rifle via its M-LOK sections or M1913 picatinny rail.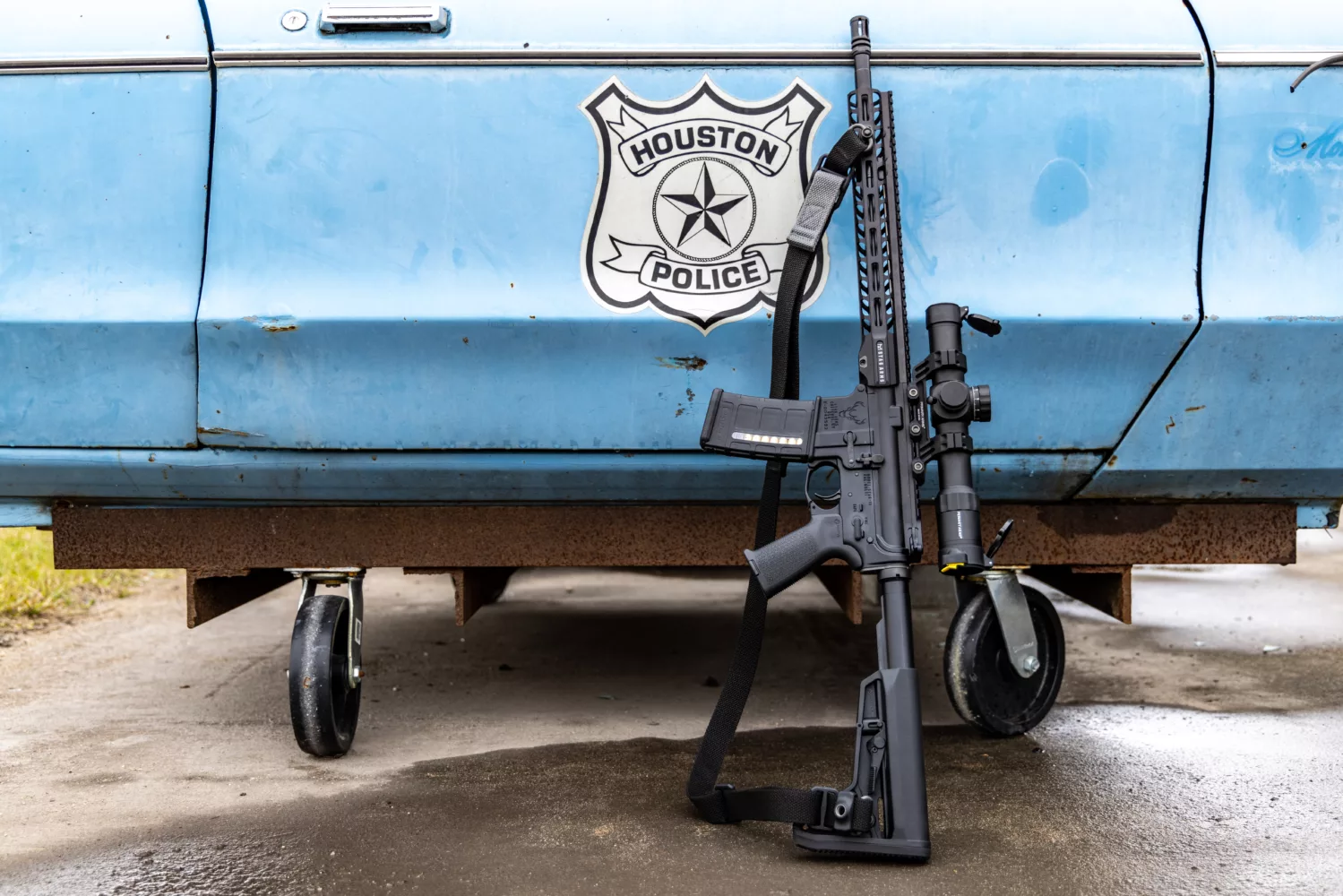 PMAGs and Bipods
Likely the most popular item produced by Magpul, the PMAG has been a staple product in their lineup. Originally made for just the AR-15, they now have magazines for a variety of firearm platforms including the AR-10, AK, Glock pistols, Bolt Action Rifles, the CZ Scorpion, MP5, G36, and even the Steyr AUG.
Built with reinforced polymer, they are lightweight and durable enough for strenuous use. With enhanced springs and followers, they are built to last and stand strong with competing magazines like Hexmag and Lancer. A good magazine is crucial to ensuring the functionality of your firearm. With the enhancements found in the PMAG, your chances of magazine related issues are minimized, and when maintained regularly, they will serve you well for many years to come.
Some great options to go with are the gen M2 and the gen M3. There are a lot of different magazines to choose from, check out our buyer's guide on magazines to learn everything you need to know about aftermarket magazines.
Each magazine type has different sizes available, ranging from 5-round magazines to 60-round drum mags, and it never hurts to have a stockpile of good magazines. Depending on your needs for your rifle, shorter magazines may be worth looking into since they work better with the range of bipods that are also available from Magpul.
Magpul's MOE Bipod is a lightweight, all-polymer alternative to standard bipods on the market. Constructed from the same reinforced polymer, they can be easily attached and detached from your rifle, with the option for either picatinny, M-LOK, Sling stud, or 17S style mounting systems. The legs adjust in .5-inch increments and can fully extend to 10-inches. Each leg can be adjusted on its own, ensuring you can adequately rest your rifle on a multitude of surfaces. If polymer isn't your thing, the Magpul Bipod keeps the same benefits while utilizing 6061 T-6 aluminum. While it is heavier, the legs can be easily switched out with most Atlas pattern bipod feet; it keeps the same benefits as the MOE Bipod.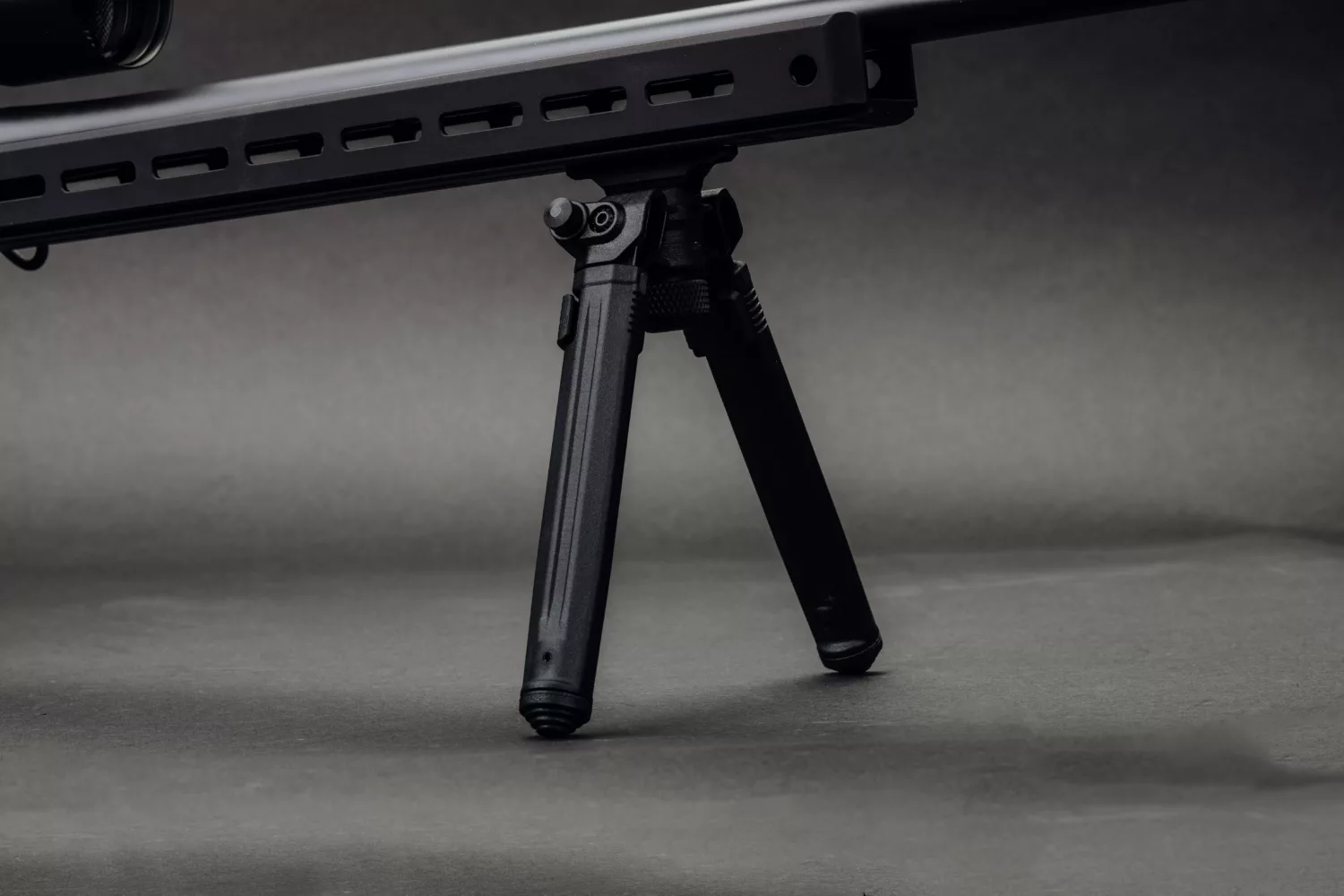 Magpul Handguards and Rails
Magpul handguards do a lot to upgrade your rifle. Though they only work on rifles that have fixed front sight gas blocks, they are certainly an upgrade from the standard clamshell handguards that come on most AR-15s with fixed sight gas blocks.
Made of rugged polymer, they are as versatile as possible. They have M-LOK slots integrated into each model handguard, giving you the opportunity to customize your rifle with a multitude of different accessories. Handguards get hot when firing multiple rounds in succession, so Magpul included an integral aluminum heat shield that pairs nicely with its heat resistant polymer construction.
No matter what gas-length your rifle is, Magpul has a handguard to fit it. Their standard MOE M-LOK handguard comes in carbine, mid, and rifle-length. Available in a multitude of colors, just like their other products, you can fully coordinate the look for your rifle while maximizing its versatility.
Besides the standard handguard, Magpul also has the MOE SL. The MOE SL still has all the same features as the other handguard, but it has a slimmer design. If you're looking for a slimmer handguard, this is a great option. Just keep in mind that they currently don't make the SL handguard for rifle-length gas systems.
If you're interested in picking up one of these handguards this holiday season, we're sure you'll be pleased to know that they are incredibly simple to install and can be done entirely at home. Just like how a standard clamshell A2 handguard is mounted, so too are Magpul's handguards. Their handguards split into two pieces; the bottom half is mounted first into the delta ring and handguard cap. Once installed, you're all clear to secure the top half the same way. Being that they are so easy to install, they're a perfect gift for someone looking to upgrade their rifle.
While their handguards are a great option for rifles with fixed gas blocks, they can't be used on ARs with low-profile gas blocks. That said, Magpul does have some products that work on the popular freefloat handguards already on the market. For example, if you're looking for a little more grip and comfort when shooting your free-floated AR, Magpul's rail covers can solve your problems. Able to attach to either M-LOK, Keymod, or Picatinny rails, Magpul rail covers can freely attach to your handguard, providing extra grip, control, and comfort for your rifle.
For those with AK pattern rifles, handguards are available for different AK types. Whether you have a standard pattern AK or a variant with a shorter barrel, Magpul has options to fit your needs. The installation is easy too, as the handguard simply replaces the stock furniture.
For shotguns, they have handguards for both Remington 870 and Mossberg 590/590A1 models.
And to round it out, they even make aftermarket handguards for the HK MP5 and MP5K, which fit most semi-auto variants and clones.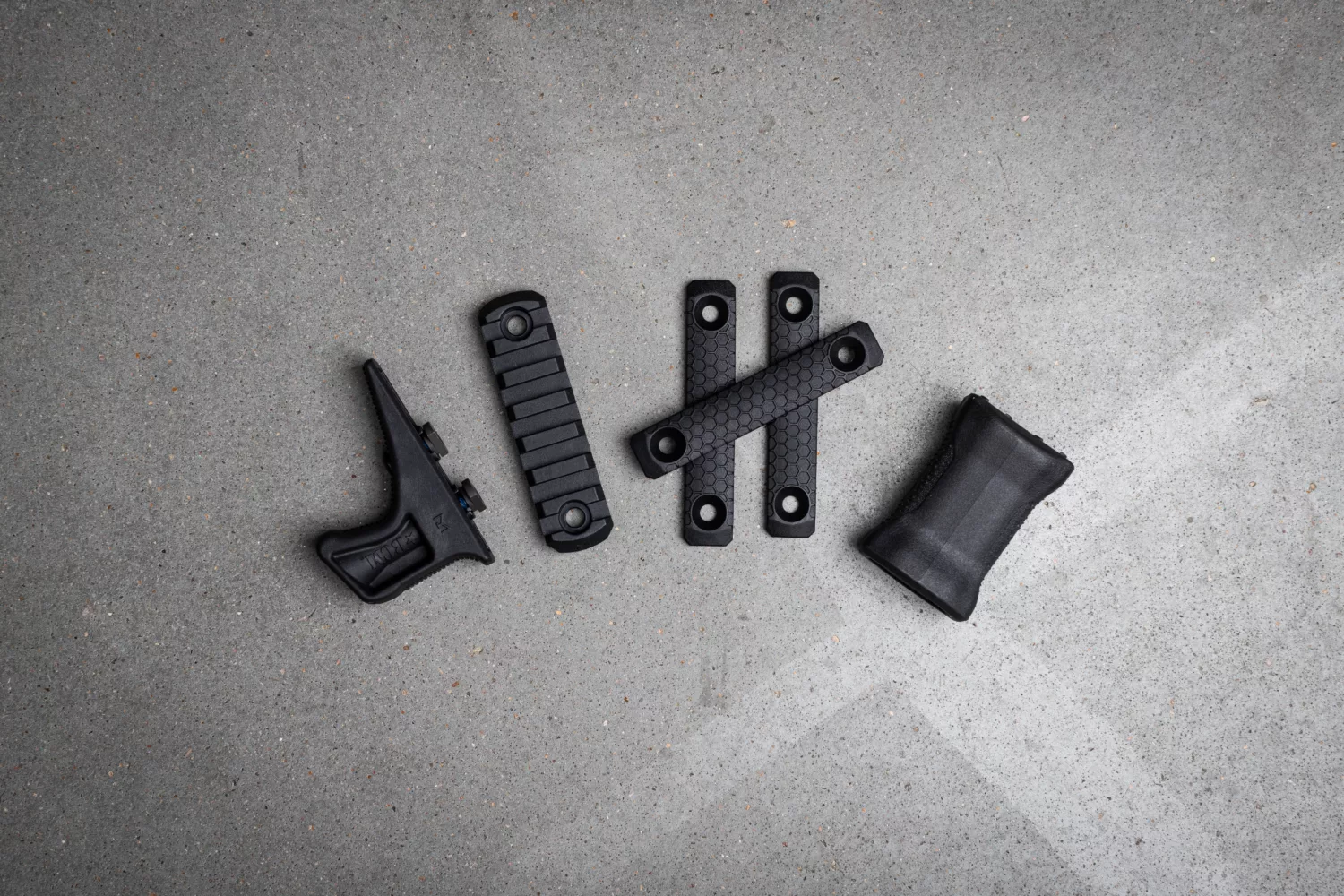 Black Friday Gun Accessory Deals
As we mentioned before, Black Friday is a day that is always highly looked forward to, especially for gun enthusiasts. Guns and gun accessories commonly go on sale for incredibly low prices. There isn't a better time of the year to pick up all the wares you've wanted.
With everything available and on sale, you may be overwhelmed and not know where to look when shopping for AR accessories. Fortunately, our guide on accessorizing your AR-15 provides some guidance on different parts and their uses.
With all the Magpul parts and accessories going on sale, you can rest assured knowing you're finding the prices available on the products you love. The holidays are rapidly approaching at Primary Arms, so be sure to look out for our Black Friday deals before the big day.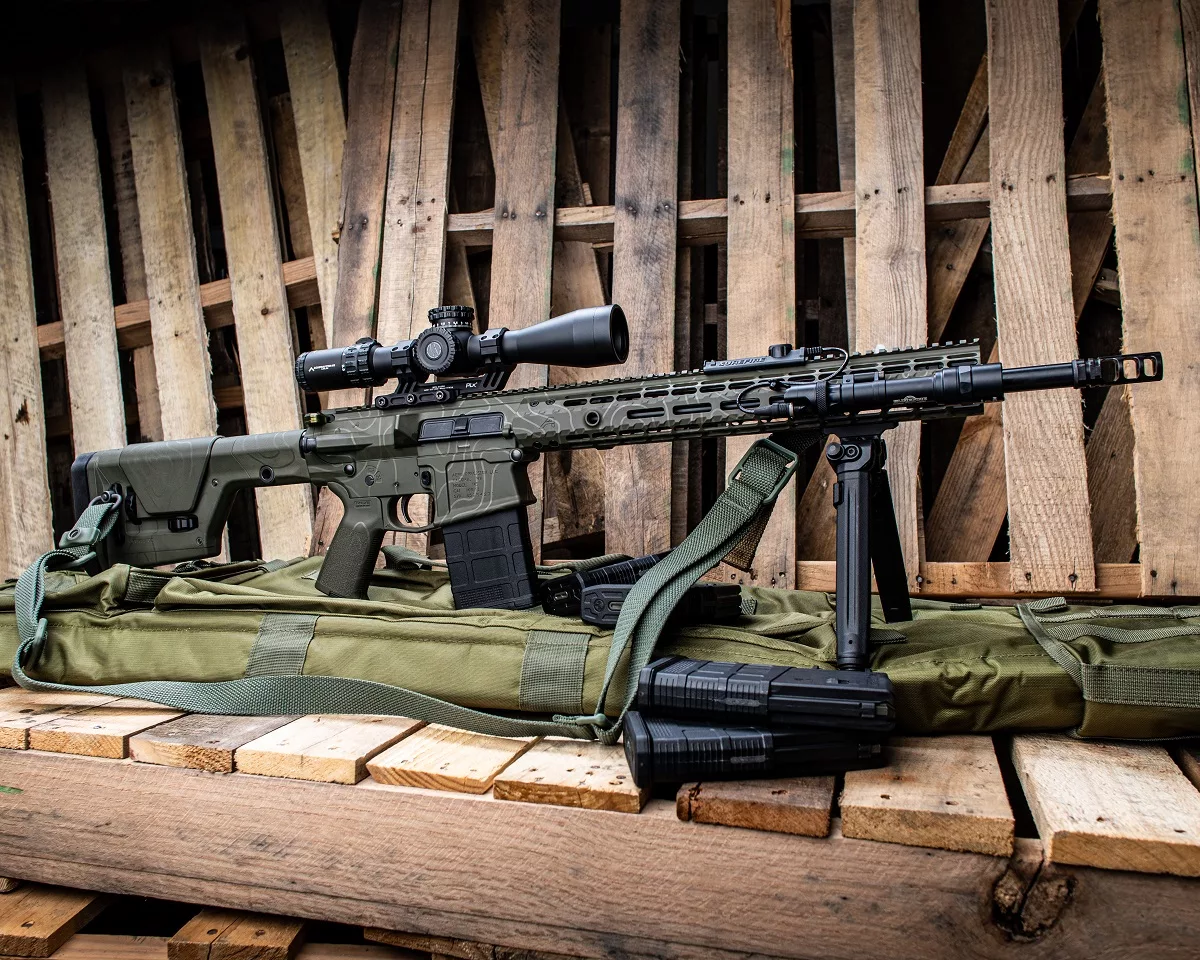 Conclusion
Magpul produces a slew of products for a variety of different firearm platforms, and they'll soon be available for great low prices on Black Friday. Every item of theirs, from stocks and grips to handguard accessories, will be on sale, making this the best time of the year for those in need of upgrades.
If you have plans on using an entirely new furniture set for your rifle, you just need something as simple as a sling mount. Magpul has you covered on that front, and we here at Primary Arms got your six with great holiday deals.
There's more than just Magpul products available on our site for Black Friday this year. There are going to be a lot of firearms, accessories, optics, and more on sale. Check out our website to stay up to date on all the deals that are coming up this holiday season.