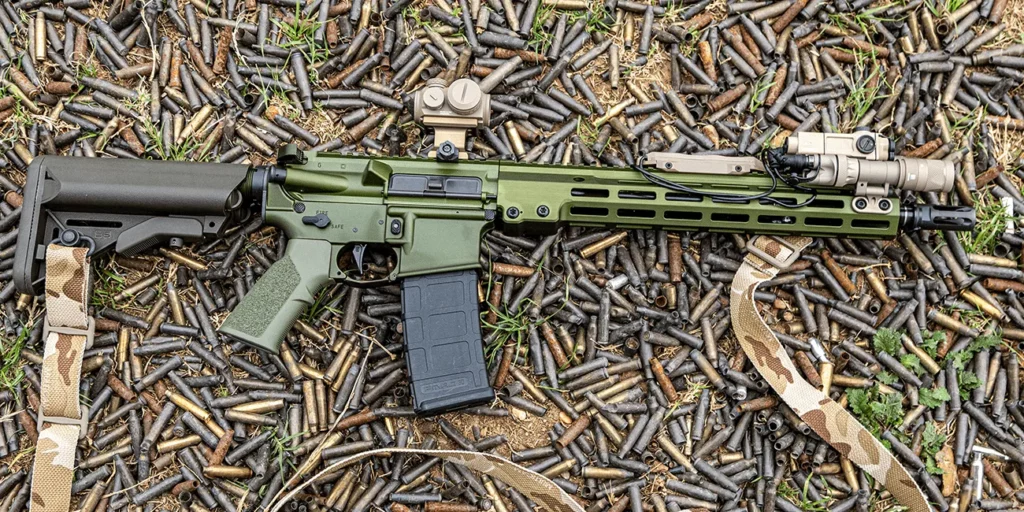 Stacking Magazines: Hexmag, Lancer, PMAG
One of the biggest advantages of the AR-15 is its ubiquity. It's America's rifle; one supported by hundreds of manufacturers and thousands of aftermarket products. But the problem with so many options is that it's easy to get analysis-paralysis. With dozens of options for every part and accessory, how do you even know where to start?
When it comes to magazines, we've got you covered. We've rounded up three of the most popular magazines on the market: Hexmag, Lancer, and PMAG.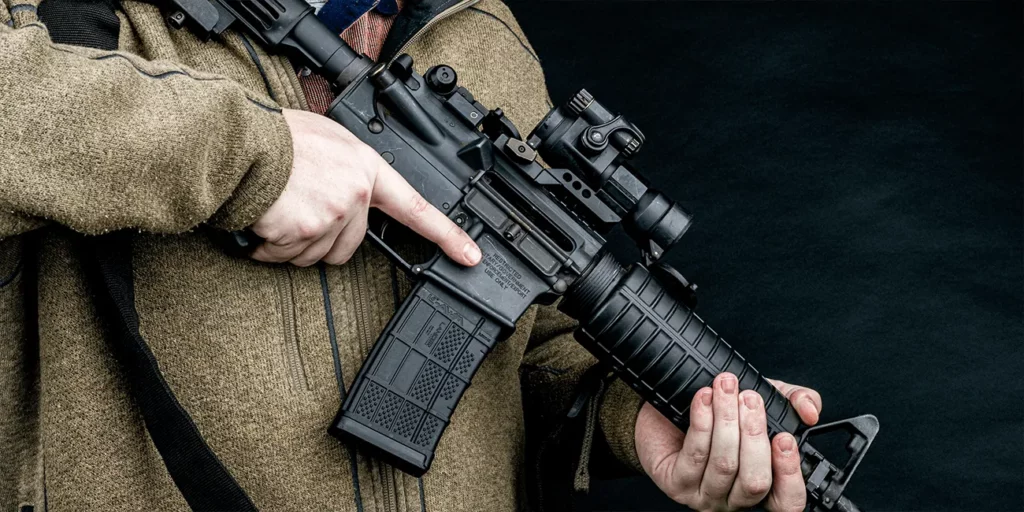 Hexmag, Lancer, PMAG: Materials
Both the Hexmag and PMAG are pure polymer designs; the magazine body, feed lips, baseplate, and follower are all polymer, with only the spring itself being metal. Lancer, on the other hand, utilizes a hybrid design, with a polymer magazine body and baseplate, but metal feed lips attached to the magazine body by a collar.
The debate of metal vs polymer is an old one; some users believe the steel construction in the feed lips offers better durability and longevity compared to polymer. On the other hand, the military now issues Magpul Gen 3 PMAGs for both training and combat. If it's tough enough for the Marines, it's probably tough enough for you.
Hexmag, Lancer, PMAG: Compatibility
Any of these magazines will be compatible with the vast majority of AR-15s on the market, but they do each have some particular quirks buyers should be aware of. Some rifles which take AR-15 magazines, such as the SCAR 16, have a history of being picky with different materials and designs. Older Gen 2 PMAGs, for example, could cause premature wear in the SCAR 16 and HK416/MR556 both.
Sentry Tactical states that their Hexmag is compatible with the SCAR 16 and most other AR-15 alternatives, including the IWI Tavor and CZ Bren. It does not, however, mention the HK416, so users of that rifle and its variants may be better served by a different mag.
PMAGs have some similar limitations. Compatibility with the SCAR 16 and HK416 was solved by the M3 PMAG, but the overtravel stop on the M3 can cause issues with certain aftermarket trigger guards or billet lowers. If the section of your trigger guard nearest your magwell protrudes down more than normal, you may want to avoid Gen 3 PMAGs.
When it comes to ammo compatibility, Hexmags and Lancers have a slight advantage. Magpul PMAGs are designed specifically for use with 5.56×45 NATO and .223 Remington ammunition and feature a polymer rib down the front of the inside of the magazine. This helps bolster durability, but it also doesn't play nice with certain types of .300 Blackout ammo.
Hexmag, Lancer, PMAG: Color Availability
It's not the most crucial attribute, but who doesn't want their rifle to look nice? Color options and availability vary significantly between the three magazines.
Hexmag offers 4 different colors, in addition to a carbon fiber version. They're the usual rifle colors: black, tan, gray, and green. It's not a ton of diversity, but there are enough options that you should be able to find one to match your rifle build.
Magpul doesn't play around with colors; you can have black, or brown. They've offered other color options in the past, but their extensive research and large-scale testing eventually revealed that altering the dye in their polymer could affect its durability, so they now limit themselves only to colors they can produce while maintaining the strongest possible magazine.
Lancer's Advanced Weapon Magazines, though, really give you options. For solid colors, they have black and flat dark earth, but they also offer translucent options that give you a direct view of the ammo inside. Their translucent magazines are available in red, purple, dark earth, clear, and their ever-popular smoke color.

Hexmag, Lancer, PMAG: Reliability
Any of these mags will provide solid performance; there are really no losers on this list. Of the three, though, Magpul is the only manufacturer to be selected as a US Military supplier. They've been proven thousands of times over in combat, so you know they'll perform through anything you can through at them.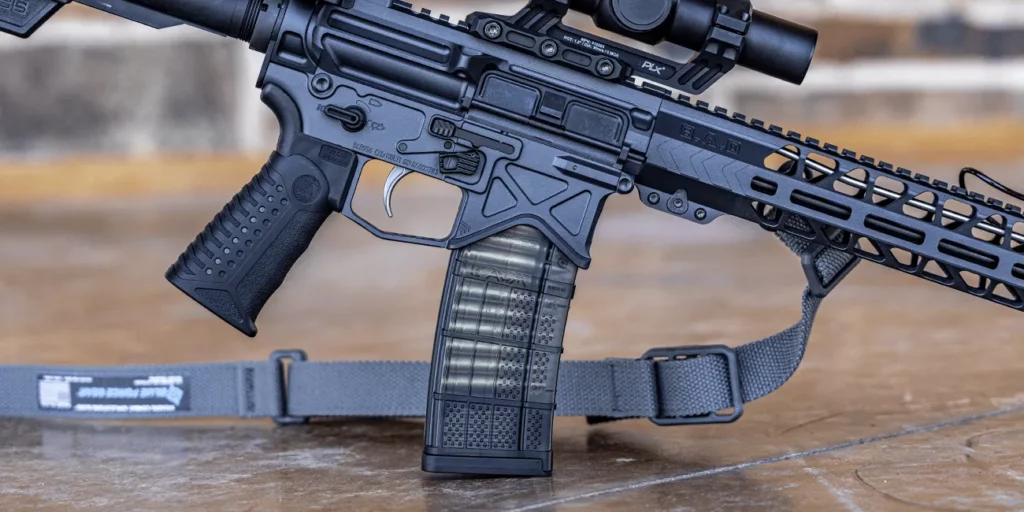 Hexmag, Lancer, PMAG: Features
This is perhaps the area where these three magazines differ the most.
Hexmags feature their signature hexagonal-pattern texturing around the body of the magazine, with standard ridges on the front and back for grip. Some users are particularly fond of the hex pattern, which offers good friction without being overly aggressive. They also integrate stripper-clip guides into their design, which could be convenient if you shoot a lot of surplus ammo.
The AWMs from Lancer of course have their signature steel feed lips, but they also have a good anti-slip texture on the body. It's not quite as visually obvious as the Hexmags, but it does a good job of fighting slippage during reloads.
Lancer's translucent color options also offer a very convenient way to keep track of your remaining ammo; with the magazine being see-through from any angle, a quick glance is sufficient to get an estimate on how many rounds you have left, regardless of your shooting position. If for some reason you're planning on doing some target practice in a maritime environment, they offer special baseplates with drainage holes for that exact purpose.
Magpul may have the most feature-rich magazine on the market with their M3 PMAG. Aggressive serrations on the front and back of the magazine and wide ribs on the sides work in concert to make sure your hand isn't moving an inch once you get a grip on them. The baseplates are slightly flared, offering a more secure gripping surface, but have been toned down compared to their Gen 2s to sit flatter in magazine pouches.
The Gen 3 PMAG has an overtravel stop built into the rear spine. No matter how hard to ram one of these mags home, you don't have to worry about the feed lips. As we mentioned before, this can cause some conflict with certain trigger guards and lowers, but for most users, it's a great feature to protect your mags.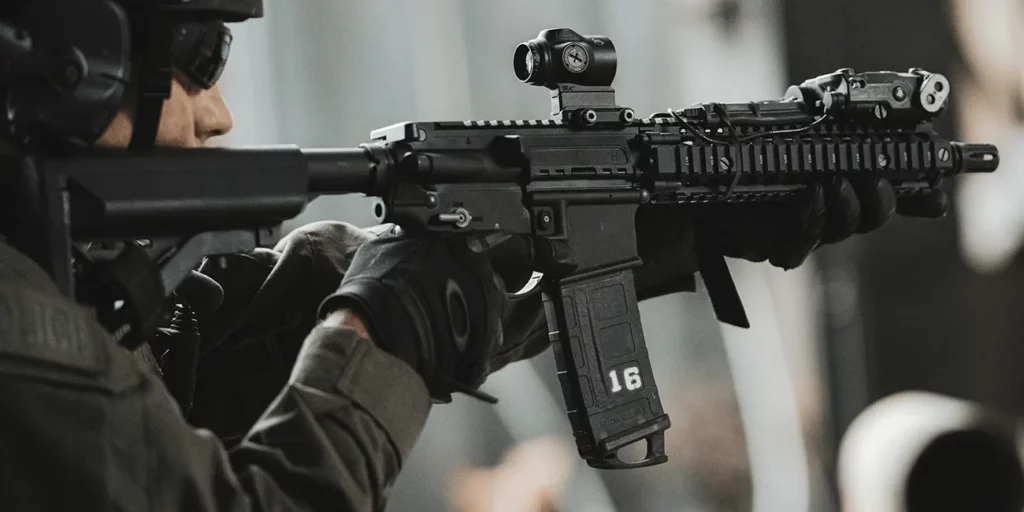 Magpul PMAG 30 AR-15/M4 GEN M3 5.56Buy Now
The Gen 3 PMAG has an overtravel stop built into the rear spine. No matter how hard to ram one of these mags home, you don't have to worry about the feed lips. As we mentioned before, this can cause some conflict with certain trigger guards and lowers, but for most users, it's a great feature to protect your mags.
Snap-on impact and dust covers are also available to protect your magazines during storage or transport. Lastly, Gen 3 PMAGS come with a dot matrix on each side of the body to make them easier to label. This is a great feature for users who keep separate sets of magazines for training, competition, or duty use.
Hexmag, Lancer, PMAG: Aftermarket
Most people don't give much thought to the available aftermarket when buying magazines for their AR-15, but it's something worth considering.
Hexmags, for example, are a relatively new kid on the block. They offer a few in-house accessories, such as custom-cut grip tape for those looking for a more aggressive texture on their magazines, but don't have a great deal of aftermarket support yet.
They do, however, offer an innovative follower and latch plate kit that allows users to customize their magazines. These kits feature color-coded parts that can be used to differentiate between magazines, which is handy if you use AR-15 magazines for multiple calibers. Being able to tell .300 Blackout from 5.56 NATO just by glancing at the baseplate can prevent a costly mistake.
Lancer magazines offer several OEM upgrade options, such as the aforementioned maritime baseplates. In addition, they have capacity limiters for hunters or those in restricted states and magazine couplers, all designed specifically for their magazines.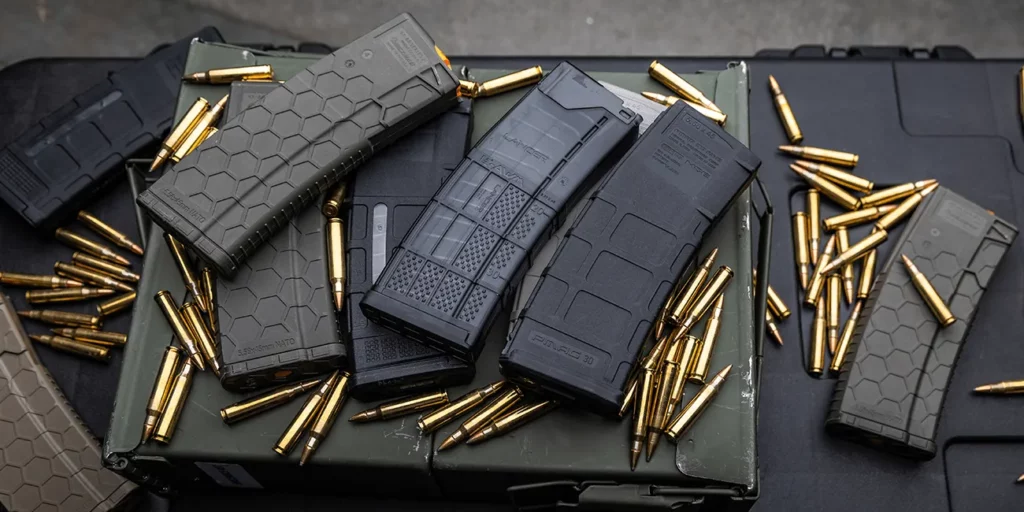 Shop Magazine AccessoriesBuy Now
If competition is more your speed, you'll want to check out their aluminum extended baseplates. This upgrade offers an extra six rounds of capacity for your magazine, in addition to adding weight to help it drop free faster and more consistently. Several third-party companies make baseplates of various sizes and materials as well.
When it comes to aftermarket though, Magpul really can't be beat. Directly from the manufacturer, users can get magazine couplers, capacity limiters, impact/dust covers, and their unique Ranger baseplates. These plates add a polymer loop to the bottom of your magazines, increasing impact resistance and making them much easier to fish out a mag pouch.
Third-party support spans dozens of companies. Extended baseplates are available in polymer or metal in all manner of capacities. You can also find baseplates to convert your magazine into a monopod, or add a clip to allow it to be hung from a belt without a mag pouch. Grip tape inserts, upgraded lock plates: if it exists for an AR-15 mag, someone is making one for PMAGs.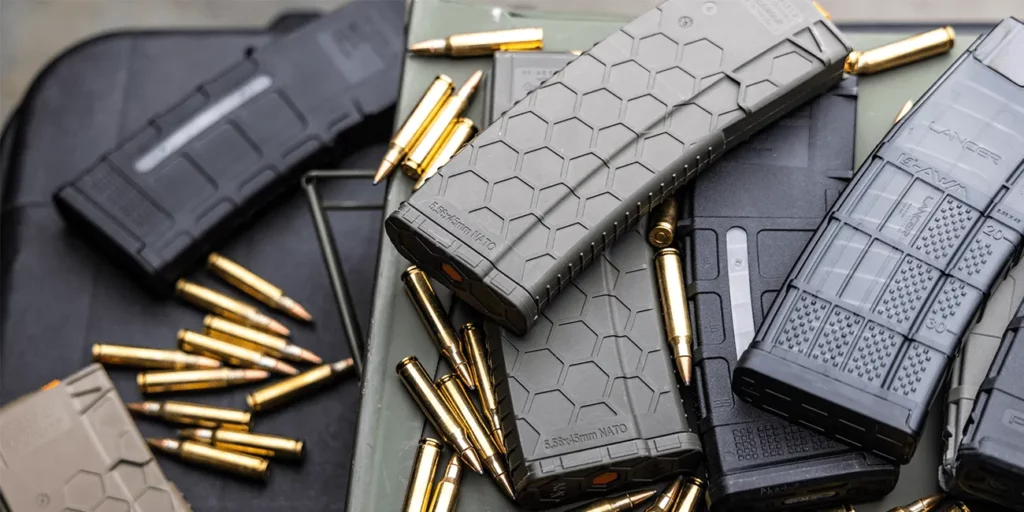 Hexmag, Lancer, PMAG: Price
Price is perhaps the easiest attribute to compare. At the time of this writing, a standard black Series 2 Hexmag will run you $13.59. A classic black Lancer comes in at $16.99, while the Magpul Gen 3 PMAG settles between the two at $14.20. For the more feature-heavy versions, though, such as carbon fiber Hexmags, transparent polymer Lancers, or windowed Gen 3 PMAGS, you can expect to pay a few dollars more.
As you can see, Hexmags are the most affordable, but Magpul isn't too far behind. Lancers, on account of their hybrid polymer-metal construction, are naturally a bit more expensive.
Conclusion
It depends. All three magazines are great in their own way and ideal for different use cases.
Hexmags make a great training or general-use magazine. They're affordable enough to buy in bulk and their color-coded follower and lock plate system makes them convenient to use with a wide range of different ammo. They also have a unique aesthetic and look downright cool in a good rifle.
Lancers are highly versatile. If you have a billet lower, a SCAR, or you shoot both 5.56 and .300 Blackout, Lancers will offer full compatibility and run without issue. They also have solid aftermarket support, making them a great choice for competition.
If what you're ultimately looking for is the most battle-proven magazine out there, the PMAG is probably what you want. All three magazines are reliable, but PMAGs are proven daily by soldiers and police officers. Combined with an aftermarket that borders on excessive, PMAGs are everything you need for a battle belt or duty loadout.