Magazines are some of the most underappreciated and overlooked firearms accessories. They don't improve precision or speed like optics and triggers do, nor do they garner clout like fancy rail covers or rifle furniture.
But without them, your gun is not much more than a wall decoration. Rifle and handgun magazines are consumable products—they don't last forever. They have a certain service life, often quite long, but never indefinite, after which they need to be rebuilt or replaced. Most of us have the good fortune to live in a world where that process is as simple as going online and ordering a few new ones straight to your door.
Sadly, in this era of politics and polarization, not everyone has this option for standard capacity magazines. Many of us may be running out of time to buy mags, staring down the possibility of indefinite bans.
For others, time has already run out, but as we saw in California a few years ago, new opportunities do present themselves every now and again.
Whether you're finding yourself in one of these scenarios or you just want to be prepared for whatever may come down the road, keeping a stockpile of spare magazines is never a bad idea. To help with that, we've put together a brief guide on how to shop for, store, and maintain your trusty rifle and pistol magazines.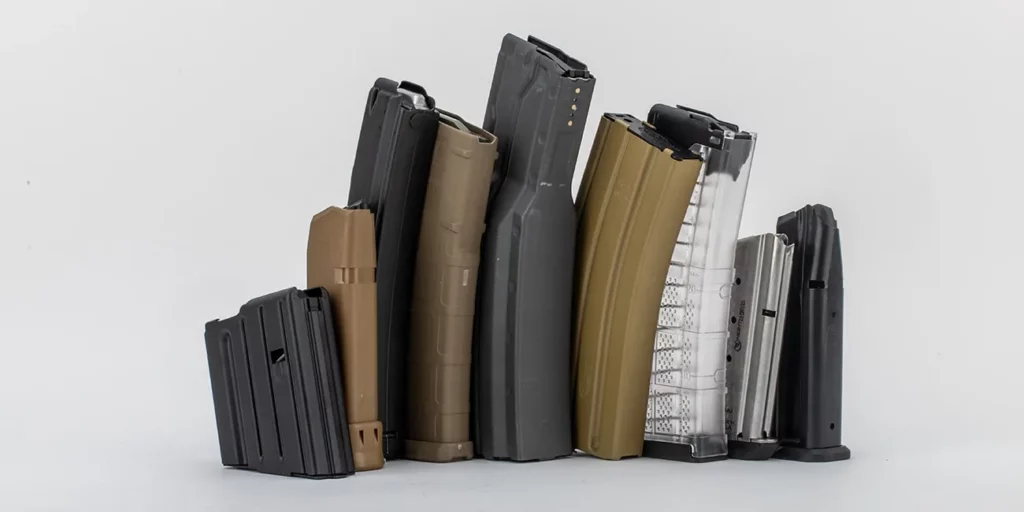 Buying Magazines
If you're looking to be prepared over the long haul, it's important to start by buying the best magazines you can afford. When getting a new magazine is as easy as popping down to your local sporting goods store, it's easy to justify buying cheap, especially for training or plinking mags.
But should there ever come a time when new mags are harder to find, you may wish you bought the best. When bans are a real possibility, service life is everything, and you shouldn't hesitate to drop an extra couple bucks if it means the mag lasts four times longer.
For these reasons, we recommend buying the best magazines you can afford. For handguns, this usually means buying magazines made by the original manufacturer of your firearm, but there are cases where aftermarket mags surpass OEM ones. A quick Google search can usually tell you which is the case for your specific firearm.
Shop all Handgun Magazines Buy Now
For common rifle magazines, such as those for an AR-15 or AK-pattern rifle, "best" is harder to define. There is a plethora of top-quality magazines available for both platforms, often at a variety of price points. For these firearms, it's not so much about buying the best as it is about buying the best for you.
Most high-quality rifle magazines will feed reliably and last for years. Unless you're looking for specific features like windowed sides, the primary difference between magazines comes down to the material.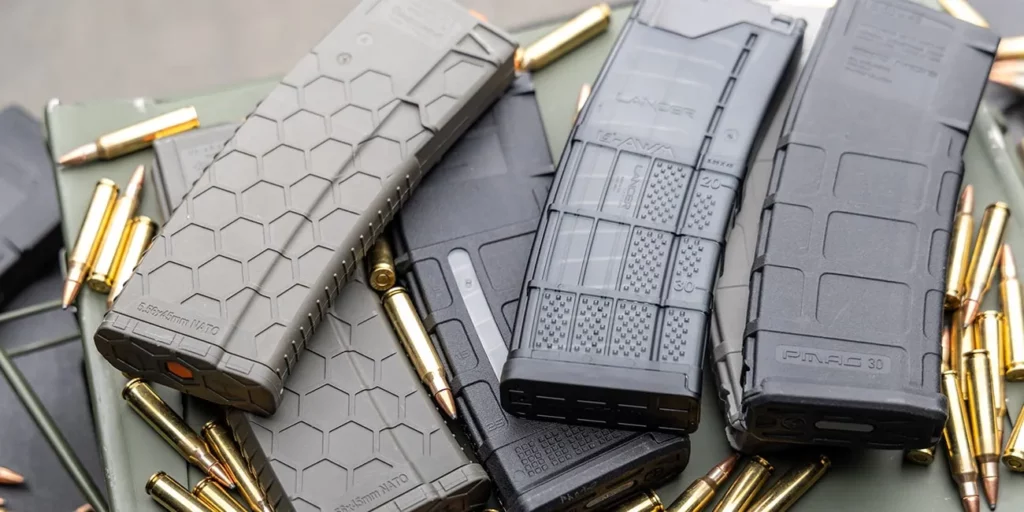 Polymer mags are the most popular option for most users. They're lightweight, extremely durable, and very resistant to environmental factors. However, if you break a polymer magazine, it's usually irreparable.
Aluminum magazines are more flexible. The weight difference between aluminum and polymer is negligible, and aluminum mags are plenty resistant to corrosion and heat. However, aluminum magazines are substantially more likely to suffer from feed lip bending if dropped on the ground repeatedly and can develop reliability issues if allowed to suffer dings and dents to the body. Should these things happen, though, you can usually bend the aluminum mag back into shape.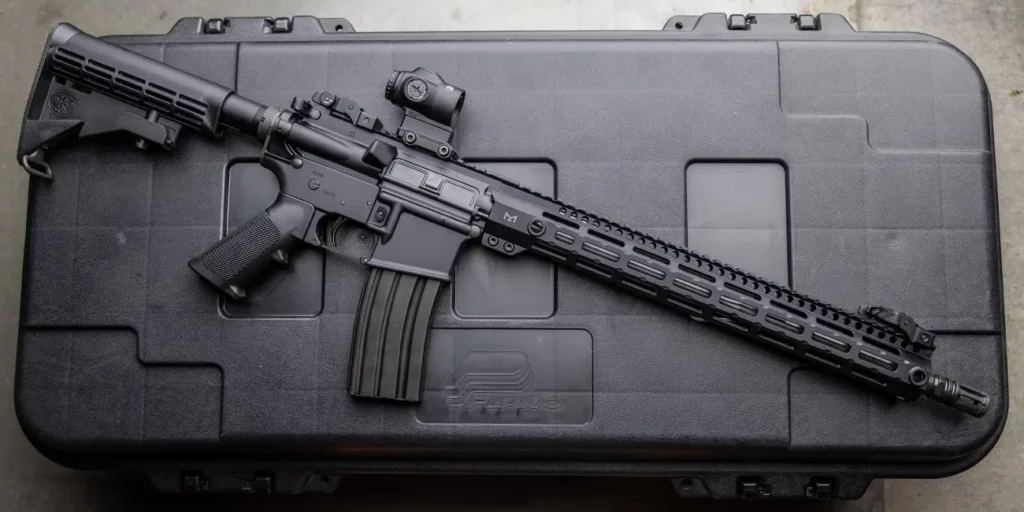 If you're looking for something heavier still, steel magazines are the very definition of 'rugged'. Steel magazines are extremely tough, and in the rare event that they are damaged, you can usually repair them. This durability comes with trade-offs though.
Steel magazines are more susceptible to rust, which makes them a riskier investment in wet climates. Steel mags are also considerably heavier than either polymer or aluminum, and at a time where everyone is streamlining their kit, steel magazines are falling out of favor. That said, you'll have no problem finding steel surplus magazines for AK platforms or rifles like the FAL or HK G3. For AR15s, we recommend checking out E-Lander or DURAMAG for newly manufactured steel mags.
Shop all DURAMAG Magazines Buy Now
At the end of the day, which magazines are best for you will come down to your individual needs; users in Arizona may be fine with steel mags in the dry heat, but those same magazines might fare poorly in the Pacific Northwest unless carefully preserved.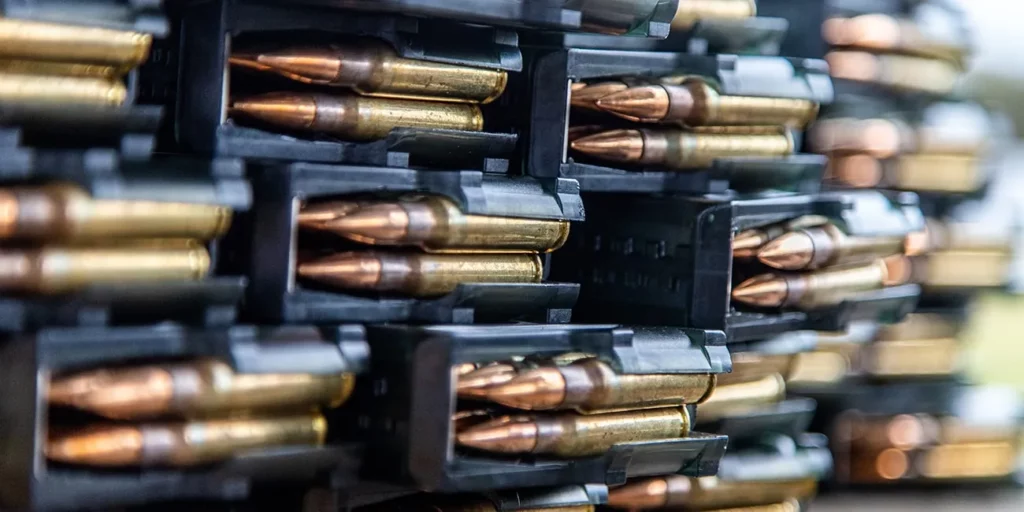 Storage
This brings us to storage. If you're planning to pack a few magazines away for a rainy day, it's important to make sure they'll still be functional when you unpack them.
The biggest enemy of magazines is rust. For steel surplus magazines, this is obvious, but even polymer and aluminum mags are vulnerable to rust with their stainless-steel springs. Stainless steel does a pretty good job of fighting corrosion on its own, but if left in an inhospitable environment, rust is very real possibility.
For this reason, you'll want to do some prep on your magazines before putting them away for more than a year. First and foremost, find a proper storage container. We recommend MIL SPEC ammo cans, but anything that seals out environmental moisture will do.
Shop all AR-15 Magazines Buy Now
It doesn't need to be waterproof—anything capable of keeping the moisture in the air away from your mags is fine. In a pinch, even a plastic bag will work for short-term storage, but that shouldn't be more than a stopgap.
Next, you'll want some desiccant. Silica gel is the most common form; you've probably seen little packets of it in bags of beef jerky.
Desiccant is important because when you seal your magazines inside an ammo can or plastic bag, the moisture in the air is sealed in with them. The desiccant absorbs that moisture, drying out the air and reducing your chances of corrosion.
Lastly, if you're going to be packing your mags away for a long, long time, we recommend a coating of grease on the springs, or on the entire magazine for steel mags. Oil can be used but tends to drip off or dry out over time. Grease stays in place and provides an extra layer of defense against rust.
Shop all Cleaning Supplies Buy Now
If you do grease up your magazine springs prior to storage, remember you'll need to degrease them before use. Grease does a great job at preventing corrosion, but it also acts as a magnet for dirt, sand, and gunshot residue during use.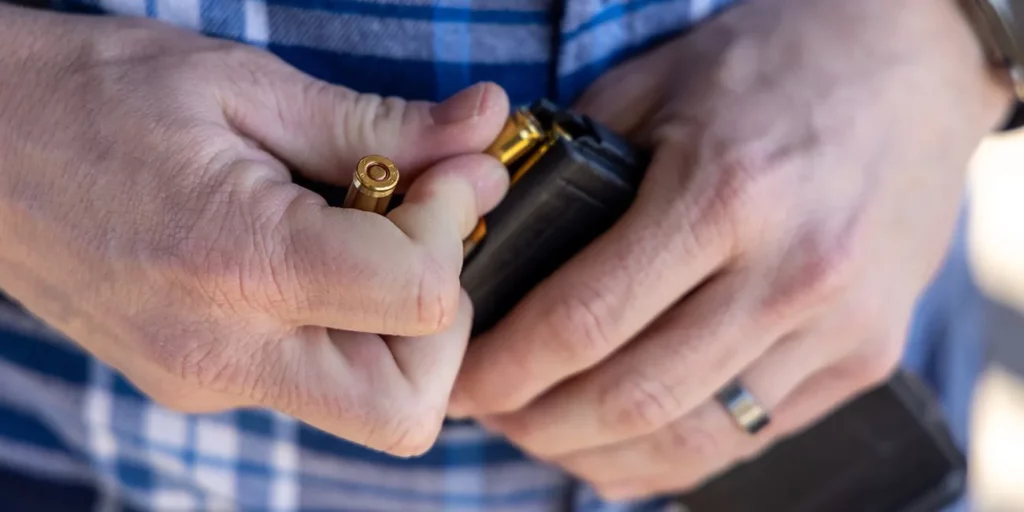 Maintenance
For magazines in storage, the only maintenance you'll really need to do is to check on them every year or two to make sure rust hasn't set in, and maybe change out the desiccant. Magazines you're actively using are a different story.
Proper maintenance can go a long way towards maximizing the service life of your magazines. The biggest contributor to premature magazine wear is the practice of "rotating" magazines; that is, unloading your mags and reloading the ammo into a different set of magazines periodically.
The rationale behind this practice is to take the strain off the springs and allow them to rest. Theoretically, alternating between two sets of magazines in this manner should extend the life of all the mags. In practice, though, it does the opposite.
Leaving magazines loaded does not place any additional wear on the springs, but constantly unloading and reloading the springs does. Each time the spring is compressed, a small amount of wear is incurred by the metal, but leaving it loaded does not create additional wear in high-quality modern springs.
Similarly, some users raise concerns about feed lip damage in polymer magazines left loaded for too long. Evidence for this is limited, at best, in older generations of magazines, and completely non-existent for modern, quality magazines.
The short and long of it is this: whether you prefer to store them loaded or empty, your mags will be fine, as long as you leave them be. Repeatedly loading and unloading them without purpose does nothing but wear them out.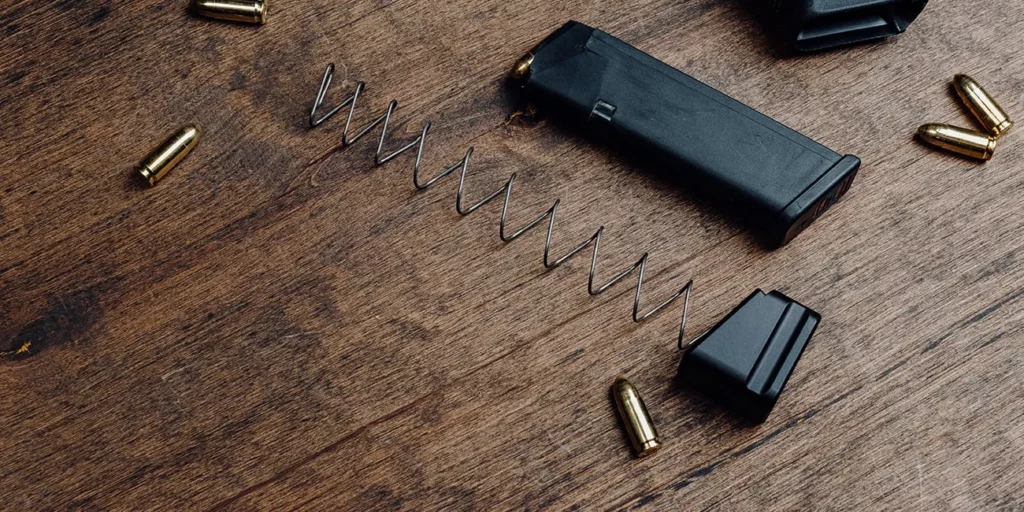 Still, even if the only time you load your mags is to shoot at the range, magazines are a consumable good. They will wear out eventually. For most magazines, components such as the body and floor plate will outlive the firearm they feed.
Springs and followers, on the other hand, can wear out over time. Luckily, even in jurisdictions with more restrictive laws, replacement parts such as these can usually be ordered online and shipped to your house without hassle.
Nonetheless, if you have a set of magazines you use particularly frequently, a couple spare springs and followers certainly aren't going to hurt.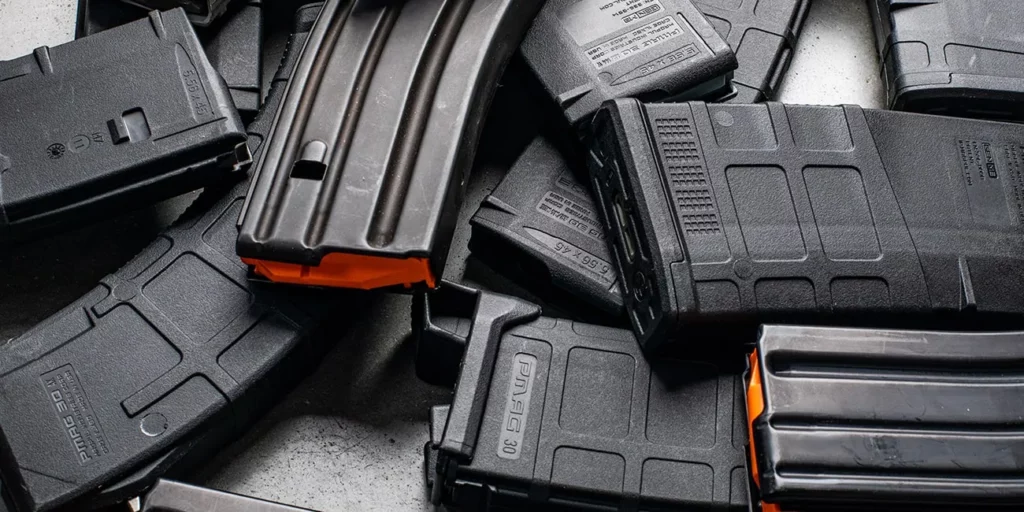 Summary
Following these tips will help you make the most of your magazines and keep you shooting for a long, long time. We live in uncertain times, and the freedom to buy a new magazine whenever you happen to need one might not always be available for all gun enthusiasts.
If you're thinking of stocking up, whether to prepare for upcoming legislation or just to take advantage of good prices, add some proper storage and maintenance materials to your cart to protect your investment. When you open your boxes years down the road to find your mags looking shiny and new, you'll be glad you spent the few extra dollars.