Glock pistols are some of the most popular handguns in the US, renowned for their reliability and performance, even in harsh conditions. This revolutionary polymer-framed pistol set the stage for today's striker-centric market, and Glock pistols still see heavy use with military, police, competitors, hunters, and hobbyists alike. Out of the box, every Glock pistol is a capable sidearm worthy of its acclaim—but what if you could make it even better for just a few extra dollars? That's when choosing the right Glock trigger comes into play.
The factory Glock trigger is adequate for most purposes, but aftermarket trigger upgrades can greatly improve your speed and precision with reduced pull weight and overtravel. In this blog, we'll detail the most important aspects of your Glock trigger, including key components, part prioritization, and top-rated brands for your consideration.
First, let's take a look at the parts that most affect your trigger's performance.
Parts of the Glock Trigger Assembly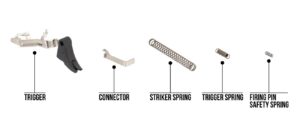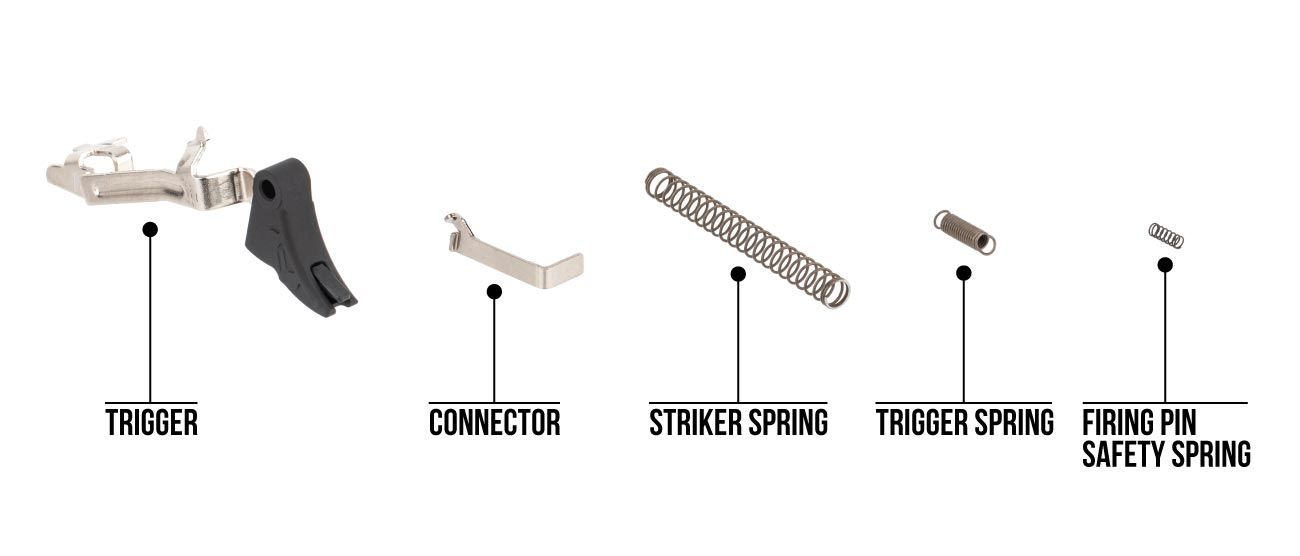 Your Glock trigger is affected by several components, some of which can be replaced and upgraded with a minimal budget.
The main component is the trigger and trigger bar. These two components are most frequently sold together, making it more convenient for quick replacement. In general, the trigger and trigger bar are the most expensive components to replace, but an aftermarket upgrade will give you the most tactile improvement.
If you want to improve your trigger without spending much money, start by replacing the connector. The connector is a small bar that regulates the weight and staging of your trigger pull. Depending on the design, connectors can be tuned for greater or reduced pull weight.
Your springs also play an important role in the trigger pull. Your trigger spring, firing pin safety spring, and striker spring can be configured to add or reduce trigger weight. Many enthusiasts prefer to keep factory springs though since these springs affect the handgun's overall reliability. If the springs are significantly off-balance, the pistol may become unreliable.
Shop All In Stock Glock Trigger Upgrades
NOTE: Parts compatibility will differ between Glock models and generations. Large frame pistols like the Glock 20 do not use the same trigger assembly as the Glock 19, and single-stack pistols like the Glock 43 will use different parts as well. You should always verify compatibility with your pistol before you order. Otherwise, you may experience significant frustration while attempting installation.
Glock Trigger and Trigger Bar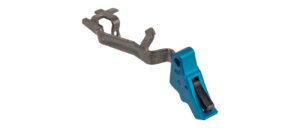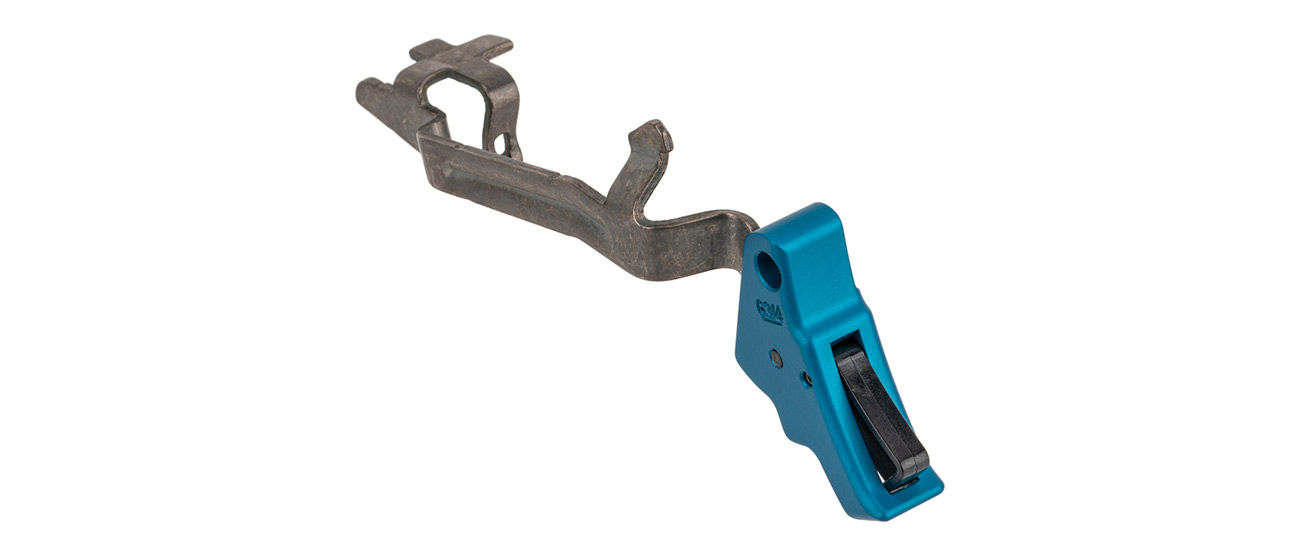 If you want a complete overhaul of your trigger's feel and performance, you'll need to purchase an aftermarket Glock-compatible trigger. Triggers are usually sold with the trigger bar attached, though some include the trigger housing and connector as well for a more convenient installation process.
When choosing your new Glock trigger, you'll have to make two major decisions: trigger face and color pattern.
Nowadays, triggers come in a wide variety of shapes and designs. Traditional curved triggers remain a favorite among many marksmen, but over the last few years, flat-faced triggers have surged in popularity as well. Both designs have their benefits, and enthusiasts will hotly debate the mechanical advantages. Curved triggers have a contoured contact surface, making it easier to establish consistent finger placement when drawing and shooting under duress. On the other hand, flat triggers direct the entire trigger pull directly rearward, so some people feel that it offers superior leverage. Ultimately, there is no clear winner by objective evaluation, so the choice between flat and curved trigger is mostly personal preference.
Once you've decided on a trigger shape, then you have to choose a color option. For self-defense and duty handguns, black triggers will always be the most popular choice, but if you'd like to add some flair to your pistol, you can choose an alternative color, such as red, blue, or FDE. Not every trigger is offered in multiple colors though, so if you find a design that you love, we recommend that you prioritize function over flavor.
That said, no matter which trigger you choose, you can't get the best results without a high-quality connector.
Glock Trigger Connector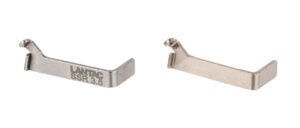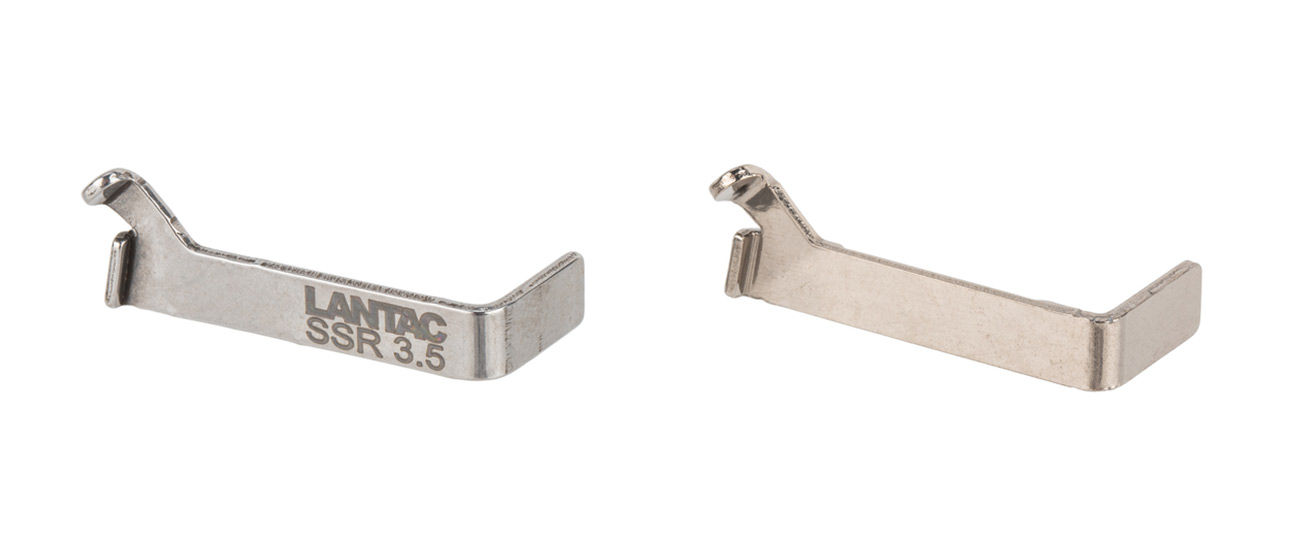 If you want the most cost-effective improvement for your factory Glock trigger, start with a new connector.
To understand why the connector is so essential, you need to know how it interacts with the trigger during the firing process. When you pull the trigger, the trigger bar runs against the connector. As the connector's ramp pushes the trigger bar downward, it reaches a 'break', where the trigger bar releases the striker. By modifying the connector, we can increase or decrease the pull weight while reducing grit and overtravel.
Despite their importance, new connectors are very affordable, and you can choose from a wide selection of top manufacturers like Lantac, Taran Tactical, and Ghost Inc. Glock also offers their OEM 'Minus' connector, if you prefer to stick with Glock's factory parts.
Glock Trigger Springs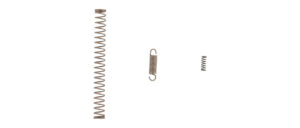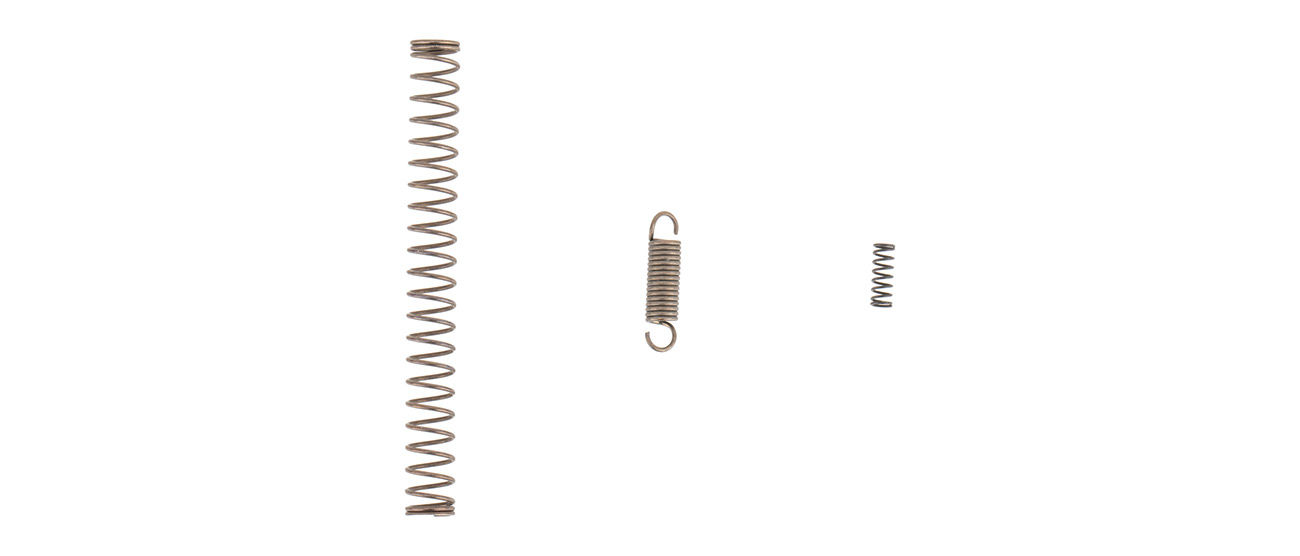 You can also improve your trigger by changing three springs, though modification of these springs can affect reliability if done improperly.
When swapping springs, most Glock-owners will start with their trigger spring. For the trigger spring, spring weight is inversely proportional to pull weight, so if you want a lighter trigger pull, you should choose a slightly heavier trigger spring. A 6lb trigger spring will give you a comfortable reduction in pull weight without compromising heavily on reliability.
The firing pin safety spring can also be replaced to help lighten the trigger pull. By reducing this safety spring weight, you'll have less resistance when overcoming the firing pin safety. Still, if you want to maintain the safety at the factory function, though, you are best leaving this unmodified.
Finally, the striker spring can be lightened for a softer trigger pull, but we often advise against this for self-defense handguns, especially if you're already modifying your trigger spring. If the spring balance is too light, your striker won't have enough force to ignite cartridge primers—a malfunction known as light strikes. Unless you are comfortable with experimentation and reduced reliability, the striker spring is best left at factory settings.
Best Aftermarket Trigger Brands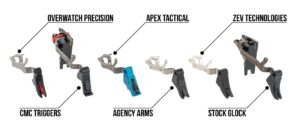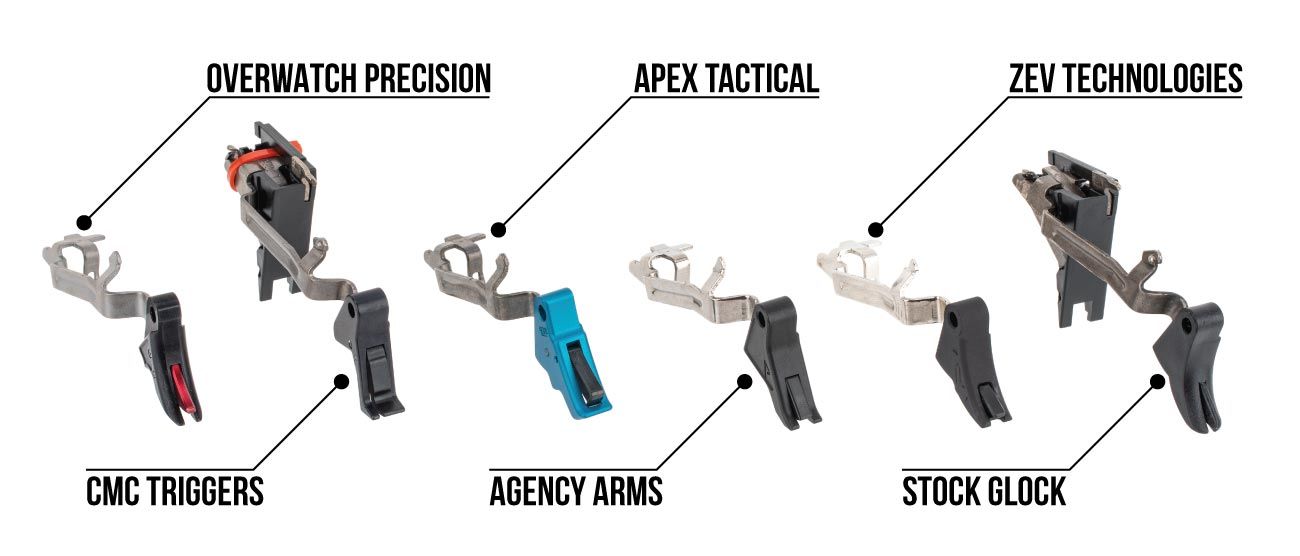 When choosing new trigger components for your Glock pistol, a few notable brands have earned popularity within the firearms community:
CMC Triggers
CMC Triggers are known for their quality triggers, and their Glock triggers live up to the same standard. Available in a wide variety of colors and compatibilities, CMC Triggers' Glock triggers are a solid choice for any build. Unlike other brands on this list, most CMC Triggers Glock triggers come pre-installed with a connector, trigger spring, and trigger housing. If you don't have much experience assembling Glock pistols, this setup will be much more convenient during installation, which can be completed in mere minutes with minimal tools.
Shop All In Stock CMC Triggers
Apex Tactical
Apex Tactical's Glock triggers offer great performance at an even greater value. Priced around $100, these triggers come in a variety of colors and configurations. You can even purchase these triggers without the trigger bar, though we recommend against it for novice builders. If you want to get the best bang for the buck, Apex Tactical also offers a basic kit that includes a trigger and connector together, ensuring you get stellar performance without ever adjusting spring weights.
Shop All In Stock Apex Tactical Triggers
Overwatch Precision
If you're looking for variety, Overwatch Precision offers a great selection of both curved and flat trigger faces. With their comprehensive color options, Overwatch Precision can match any pistol or preference with ease, and the quality of their parts is well-known throughout the firearms community.
To understand the differences in their main three product lines, here's a basic summary:
DAT: Polymer trigger with a flat-face design. One of the best values on the market for a flat trigger.
TAC: Aluminum trigger with a flat-face design. Anodized with NP3 trigger bar for an ultra-smooth trigger pull.
FALX: Aluminum trigger with a curved-face design. Anodized with NP3 trigger bar for an ultra-smooth trigger pull.
Shop All In Stock Overwatch Precision Triggers
Agency Arms
Agency Arms established their name by creating some of the best Glock-compatible parts on the market, and triggers are among their most popular categories. Agency's triggers are a popular choice for those seeking only the finest materials and craftsmanship, though their Syndicate line brings that same innovation with a more affordable polymer design.
Shop All In Stock Agency Arms Triggers
Zev Technologies
Zev is another top name in Glock products, known for constant innovation and peerless engineering. Like Overwatch, Zev offers a wide variety of trigger designs to match any preference, including their 'ultimate drop-in kit', which includes a trigger, upgraded trigger housing, and match connector for a truly comprehensive upgrade right out of the box.
Shop All In Stock Zev Tech Triggers
Conclusion
When upgrading a Glock, the trigger is a common starting point. While the factory design is plenty adequate for self-defense, an aftermarket trigger can enhance every aspect of your firearm's performance, allowing for faster shots with greater accuracy.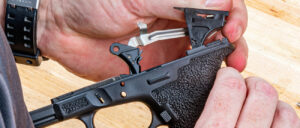 If you'd like more information about pistol triggers, feel free to reach out to us via email or on social media, including Facebook, Instagram, and Twitter. We'll be more than happy to answer any questions you have, so you can find the right trigger upgrade for your favorite sidearm!