A high-quality pair of binoculars can be a handy tool, improving and magnifying your ability to see. You don't need to be a bird watcher to find many everyday uses for binoculars, but how else would you use them? Here we will dive into common uses for binoculars and some that you may not have thought of.
Binoculars are perfect when you have an "I wish I could see this up close" moment. The ability to magnify your sight by ten can improve your experience whether you are watching some wildlife in a nearby field or just taking in the views.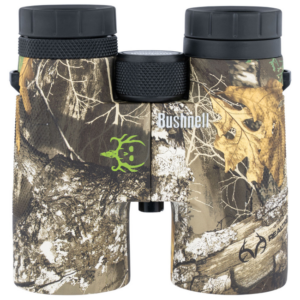 Hunting
If you have ever been hunting, you can see the usefulness of a pair of binoculars in aiding your hunting experience. No matter what you are tracking, it always seems that the animals invariably have better camouflage than the hunter.
Binoculars allow you to see greater detail when glassing the area to identify animals much more effortlessly. Identifying your game can be pretty challenging, especially past 100 yards. With the bare eye at a distance, it can be hard to tell the difference between a spike buck and a doe, so binoculars can come in handy.
Binoculars are especially helpful when trekking through the trees or mountains to find your game. With an easily spooked game, the last thing you want to do is unexpectedly walk up on them, ruining your hunting trip simply because you couldn't see them ahead.
Besides spotting games, binoculars are a great safety tool for providing PID or positive identification. Getting a closer look at an animal or a source of movement without pointing a rifle at it is crucial for safety. If you're unsure if that brown lump in the distance is a dog or a coyote, it's a good idea to determine that before putting crosshairs on it.
It's even more critical if you're trying to get a closer look at some indeterminate thing stirring up the brush since it's entirely possible that it could end up being a hunter that neglected to wear their orange.
When hunting, you are often in less-than-ideal weather conditions, so getting a good quality pair of binoculars is crucial. A good pair of binoculars for hunting will be made with water-tight seals and lens coatings that can withstand adverse weather.
Most hunters also like to stay at or under a magnification of 10x. This allows you to spot animals and objects effectively while having a wider field of view. An important feature when looking for a pair of binos with a larger field of view is how good its edge clarity is.
Shop All In-Stock Primary Arms BinocularsBuy Now
Look for a pair that offers excellent light transmission and edge-to-edge clarity, meaning the image quality does not suffer around the edge. Lower-quality options often have a fuzzy or blurry ring around the center, making it harder to see around the edges.
We highly recommend the Primary Arms GLx 10x42mm ED Binoculars. The GLx Binoculars offer amazing clarity and durability with a 10x magnification power. This is achieved by using high-definition ED glass and the use of a Magnesium housing that is rubber over-molded.
Bird Watching or "Birding"
When it comes to birdwatching, binoculars are like wrenches to a mechanic; you can't get the job done without them. Most species of birds can be tiny, fast-moving, and tend to fly away as soon as you get close enough to see them clearly. This is where the magnification provided by binoculars plays such a vital role.
Instead of chasing birds around to get a good look up close just for them to fly away again, you can save yourself some frustration by staying further out. Staying away ensures you don't disturb the animal, meaning you can watch them longer.
Most birders prefer lower magnification binoculars for an increased field of view, making it easier to track the movement of birds.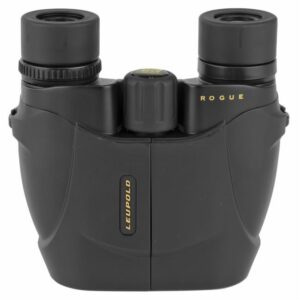 Taking in the View
The same features and benefits that make binoculars such an effective tool for observing wildlife make them great for admiring the scenery. While hiking in the mountains, around lakes, or through the forest, there are many beautiful sights to see. The downside is that often the most scenic spots are far away or hard to get to; that's where binoculars shine in their role.
Binoculars allow you to see a level of detail that is just not possible with the unaided eye. Suppose you are out on a hike with beautiful scenery all around or just looking out the window of your house at a neighboring tree line. In that case, binoculars will undoubtedly add to your experience.
By allowing you to search the surrounding area in greater detail and see what the naked eye cannot, binoculars can also help you find your way to help if you are injured or find your way back to civilization.
We recommend a lightweight and compact pair of binoculars for hiking. A common phrase is "ounces equal pounds, and pounds equal pain" this is especially important when hiking. The last thing you want to do is weigh your pack down if you have a long trek ahead.
Live Sporting Events
Sports stadiums seem to be getting bigger and bigger. Not just professional stadiums but some high school stadiums as well. These large stadiums are great for allowing a lot of fans to watch their favorite team, but if you are late or can't find a seat, you may have to sit much further away from the action than you would want.
Even if you get to the event early and get a good seat, you can still be far away from the action. This is especially true in car racing, horse racing, Polo, boating events, and airshows.
Being so far away can cause you to miss essential details such as player names or numbers, passes, or penalties. Missing out on these could decrease your engagement and overall enjoyment of the event.
Shop All In-Stock BinocularsBuy Now
With high ticket prices, you want to be sure you get the most out of the game. If you bring a pair of binoculars, you can be sure you won't miss a thing.
Star Gazing
If you are not the type to get out into the wilderness as required for past examples, you can also use binoculars to get a closer look at the stars above. While some binoculars can boast a pretty high magnification level, it is still hard to beat a telescope.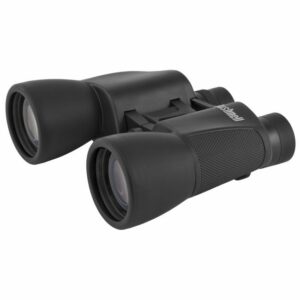 For most, however, telescopes are not something they would invest in. With the high price tag and the amount of space they take up, it is hard to justify the purchase. This leaves people unable to get a close look at these beautiful stars.
On the other hand, binoculars can be found at a more affordable price and don't take up much space. We recommend looking for a model that offers good light transmission.
Even with great Binoculars that have excellent light transmission allow for better stargazing because they can more easily capture the light given off by stars at night, greatly improving your experience. While high-end telescopes are the end game for most start-gazing aficionados, the compact size and accessible price point of a quality pair of binoculars will undoubtedly scratch that itch and possibly open the door to a whole new hobby you never thought was possible with equipment that is less specialized yet great for a huge variety of hobbies.
Bushnell Marine 7×50 BinocularsBuy Now
Summary
There are so many uses for binoculars, even some that you may not have thought of. Binoculars can improve your experience no matter what you do in your everyday life.
If you need a good pair of binoculars, give them a try and take advantage of the fine details of life.