At Primary Arms, our love and appreciation of firearms goes well beyond the AR-15 platform. Like you, we like pistols, rifles, and shotguns of all shapes and sizes. In light of that, it's not out of the ordinary to stroll through the PA office or storefront, to see a whole a lot of Perfection walking around.
Glocks, that is.
Regardless of your personal opinion on Glock pistols, they have unquestionably achieved world-wide notoriety and widespread adoption by civilians and professionals alike. Since the introduction of the Glock 17 in 1982, many other companies have sought to improve upon the polymer frame design and offer their own versions of the idea first set forth by Gaston Glock. But many still stand by the original, and their reasons are numerous.
Today we're taking the Builder's Corner series in a bit of a different direction. The Glock platform has been described as the "AR-15 of handguns" due to the simplicity of the design and the immense volume of aftermarket parts that allow you to make your Glock truly unique and tailored to your needs. We are going to take a look at a Glock build that takes full advantage of that, customized to the exact specifications the builder wanted. This is Will's Glock 17. Will is a close friend of ours here at Primary Arms so follow along as we break down his rationale behind the upgrades selected – or left out – and hopefully inspire you to take your own Glock to the next level of Perfection.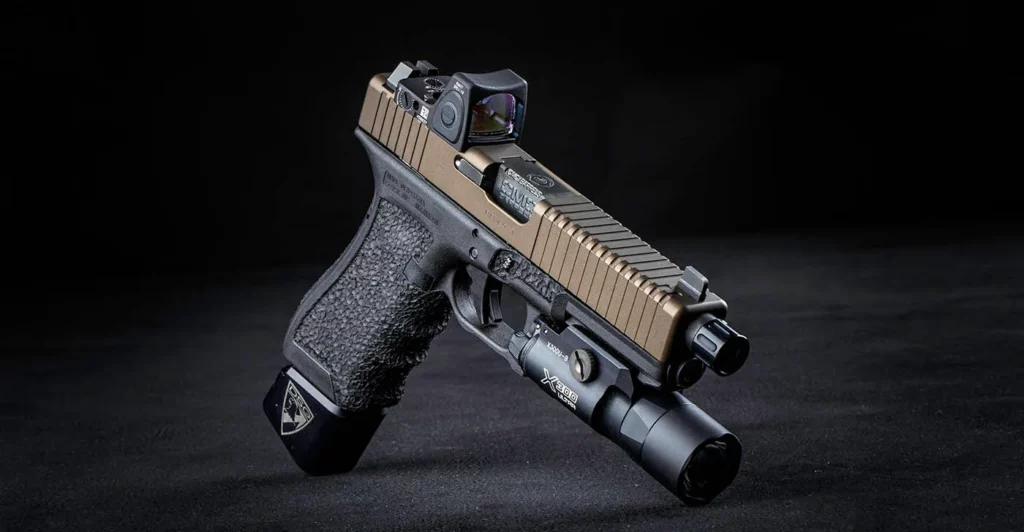 Nothing Like a Glock
Builder: Will H., Magpul Industries, Austin TX.
I bought my very first Glock in 2011. It was actually a Glock 19, and over time I added modifications until it started to look more like a lot of Glocks you see on Instagram – what you might call a "Gucci Glock". It had pretty close to the whole package. A custom Jagerwerks slide with front and top serrations, a full stipple job by StippGrips, a threaded match barrel from S3F Solutions, a trigger from ZEV Technologies, and Trijicon sights. It was a good gun. People at the range thought it looked cool, and I was happy with it at first. Until I had a "Come to Jesus" moment and realized I had spent all this money on upgrading and modding this Glock instead of putting that money towards ammo and training courses to get better at shooting it. This was a defining moment for me as a gun owner.
I realized that my decision to own and shoot guns centered on my desire to be prepared and capable of defending myself in a worst-case scenario. So I stopped with the upgrades and enrolled in some pistol classes.
I immediately felt embarrassed at my "Instagram Glock" running thorough courses with these guys who had duty-ready Glocks – just meant to get the job done and not look fancy. At the same time though, I liked the enhanced performance I was getting with my modded G19, but I knew if I prioritized ugrades for performance and not looks, I could get even more out of a Glock than I already was. So, I did what anyone would do. I bought another Glock.
This Glock 17 was going to be different. I wanted to upgrade it specifically for training, taking pistol classes, and self-defense. About this time, some forums on the internet had started talking about the "Roland Special". It's a souped-up Glock conceptualized by a legitimate Tier 1 Operator – a special forces guy. The original Roland Glock looked a little ridiculous in most people's eyes, and the backstory on it is nearing folklore status, but suffice it to say that the purpose was to take a Glock and "give it a soul" according to the man himself. With that in mind, I set out to build my G17 into a something I could put to serious use on the range, in classes, and something I could trust with my life in the direst situations. Here's how I did it…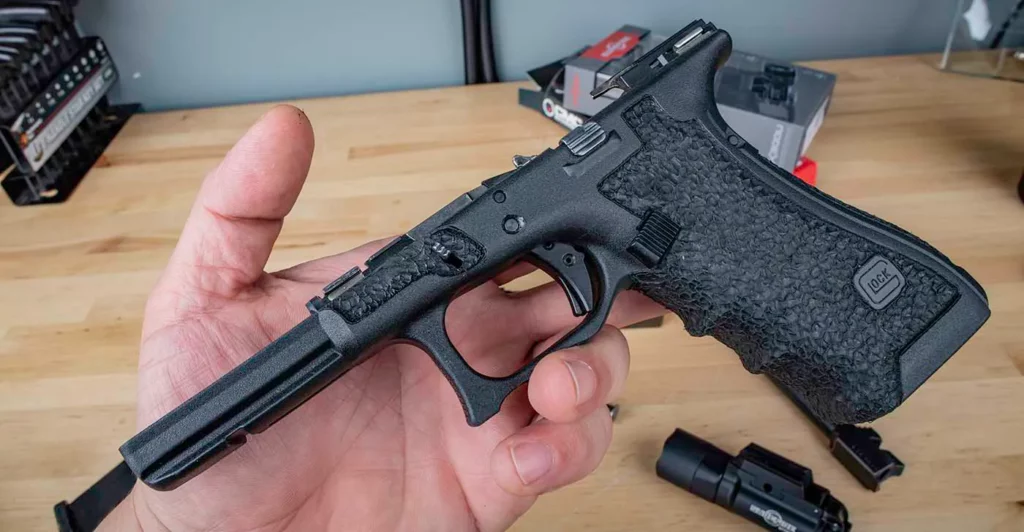 The Build
Every Glock build has to start somewhere. Nowadays, incredibly enough, it's possible to build a Glock from the ground up that has practically zero Glock brand parts on it or in it. Custom slides, do-it-yourself polymer frames, and third-party parts and accessories are all insanely popular. For my build, though, I started with a stock Glock 17 – original Perfection. I went with the 17 for this build – as opposed to the traditional G19 for those who are emulating the true "Roland Special" look – for a number of reasons. For one, I really like the longer slide for sight radius, weight, recoil control, and accuracy. Secondly, the larger frame allows for better overall control of the pistol. The grip is longer which fits my hand better, and I can get even more out of the G17 in terms of capacity. Anytime you start adding upgrades, it might look like a "Gucci Glock" to some people. But to me, it's just a more specialized tool for the job and there's nothing Gucci about that.
The Lower
Stippling is a must, if you ask me. You shouldn't compromise on your ability to get the best possible grip on your firearm. Stippling lets you take full advantage of the frame's polymer material and add touches that make your grip your own. For the stippling on the Glock's lower half, I opted to send my pistol back to StippGrips, who had done my G19 previously. StippGrips is a subsidiary of Allegiant Rifleworks, based just northeast of Dallas, Texas. This time with my stippling I wanted something that had more functionality to it above just the texturization that a stipple job offers. Stippling is great for a more secure and slip-free grip on your gun, but if you get too aggressive or intense with it, the pistol can rub against your skin or stick to clothing and material when you're carrying. I went with StippGrips' "Presidential Velvet" pattern, which is a little more subtle, won't snag on fabric or material, but still gives me enhanced control. I also had them add shooters' ledges at the stippled finger pad points, which allows me to apply some forward and downward pressure with my support hand's thumb to help control recoil and muzzle flip. StippGrips also gave my Glock a double undercut. "Double" meaning there are two areas where some material was removed from the point under the trigger guard where my shooting hand's middle finger rests, as well as some more material along the length of the underside of the trigger guard. This lets my hands get a higher purchase on the pistol, and a more secure grip, reducing my hands' distance from the bore line and providing even greater control.
The Trigger
An upgraded trigger for your Glock is one of the best – and highest priority – Glock mods you can do. Right up there with ditching the plastic factory sights. I like the concept and feel of Glock triggers, but an adjustable option gives you more flexibility and versatility. For example, I use this Glock for personal and home defense, where I want a little heavier trigger pull. But I also may want to run this pistol in an IDPA or 3-Gun competition one day, in which case I have the flexibility to lower the pull weight for better speed. I replaced my stock Glock trigger with the ZEV Technologies Fulcrum Ultimate Adjustable Kit on both this G17 as well as my G19. I think this trigger is one of the best I've ever shot.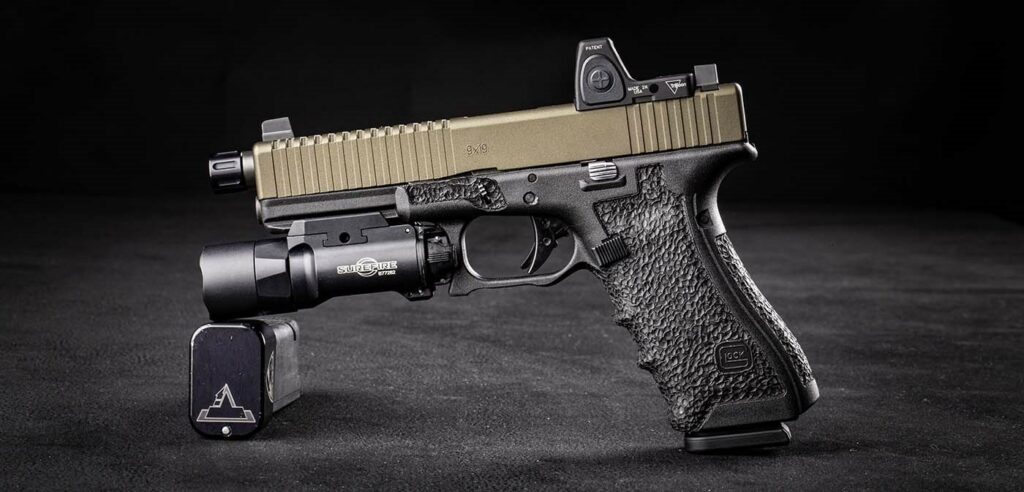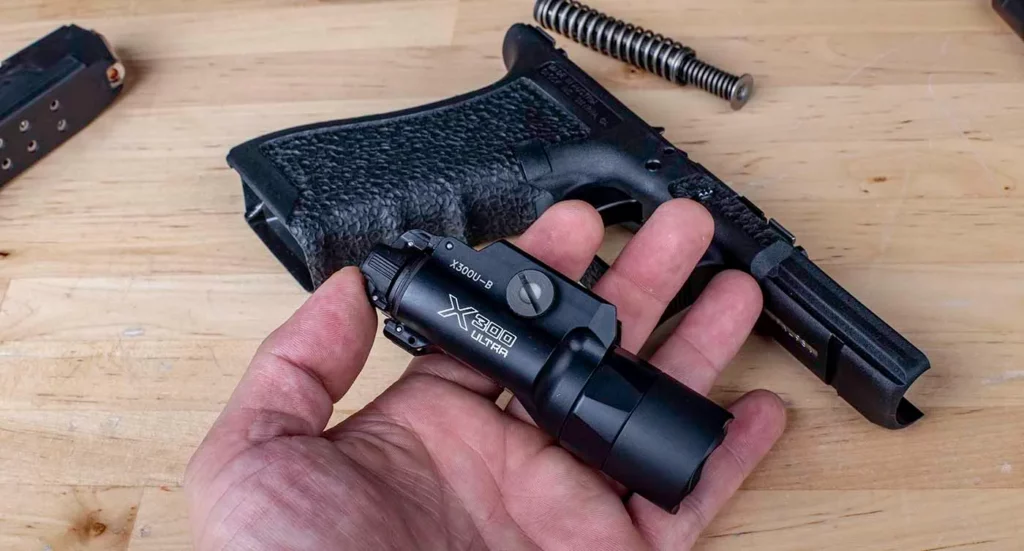 The Weapon Light
I'm a pretty big proponent of weapon lights. Basic firearms safety tells us to always identify what we point a gun at – day or night, period. If I am going to know my target and what's behind it in a worst-case-scenario and still be in full control of my firearm, I need a weapon light. For this build I wanted something proven and powerful, so I went with the Surefire X300 Ultra. It's 1000 Lumens, which is a 400 Lumen upgrade over the previous version of the X300, and in my opinion it's the best light on the market. The center spot is intense and bright, and the surrounding spill light can illuminate a significant amount of space, all while being bright enough to really disorient and potentially dissuade a potential threat. If you need more convincing about whether or not a weapon mounted light is an absolute necessity, check out this post from the PA Blog.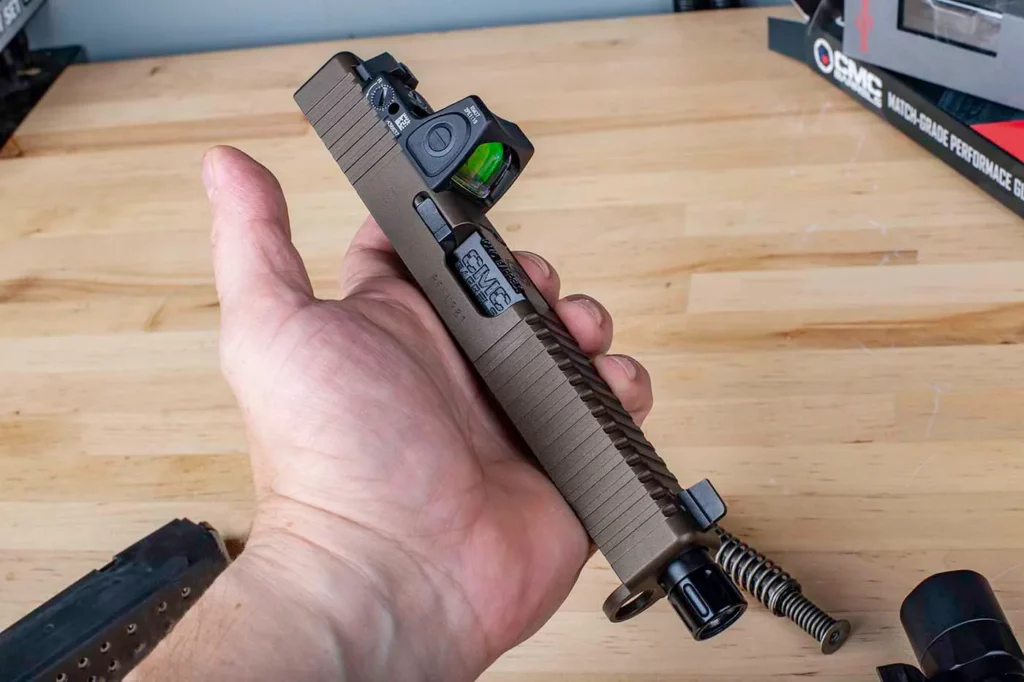 The Slide
For the slide, I wanted some customization. But, as with the rest of the pistol, I wanted it to be for a purpose and not just for aesthetics. I sent my slide off to Slide Works Engineering in Magnolia, Texas, and they did a spectacular job. This cut design is their Combat cut. As you can see, the design included the RMR cutaway, but in addition it has front serrations that completely wrap the sides and top of the slide from ejection port to muzzle. It's a clean look — a lot less going on than some of the more exotic options. But, the large serrated surface area does exactly what it's designed to do, which is give me the ability to manipulate the slide under sub-optimal conditions — even one-handed. Slide Works also gives you the option to choose a Cerakote color or pattern, and I chose their Midnight Bronze. I liked this because it's a less-common color than "burnt bronze" or other earth-tone colors while still giving a darker and more tactical appearance.
The Barrel
For the longest time on this build I had a stock Glock barrel and I really like the performance they provide. You can get stock replacements for relatively cheap and they are accurate enough for defense applications. But along the way I decided to buy a threaded barrel to keep around just in case I ever got a wild hair and wanted to buy a suppressor or compensator. More than likely a suppressor will end up on this Glock at some point just for fun, but I like having the option to swap back in my stock barrel for carrying every day, taking classes, or just training on my own. The threaded barrel I chose was the black CMC fluted barrel with diamond-like PVD coating. I really like the understated look of the black barrel in my slide for this particular build, rather than stainless or TiCN Bronze or some of the other more conspicuous options CMC offers.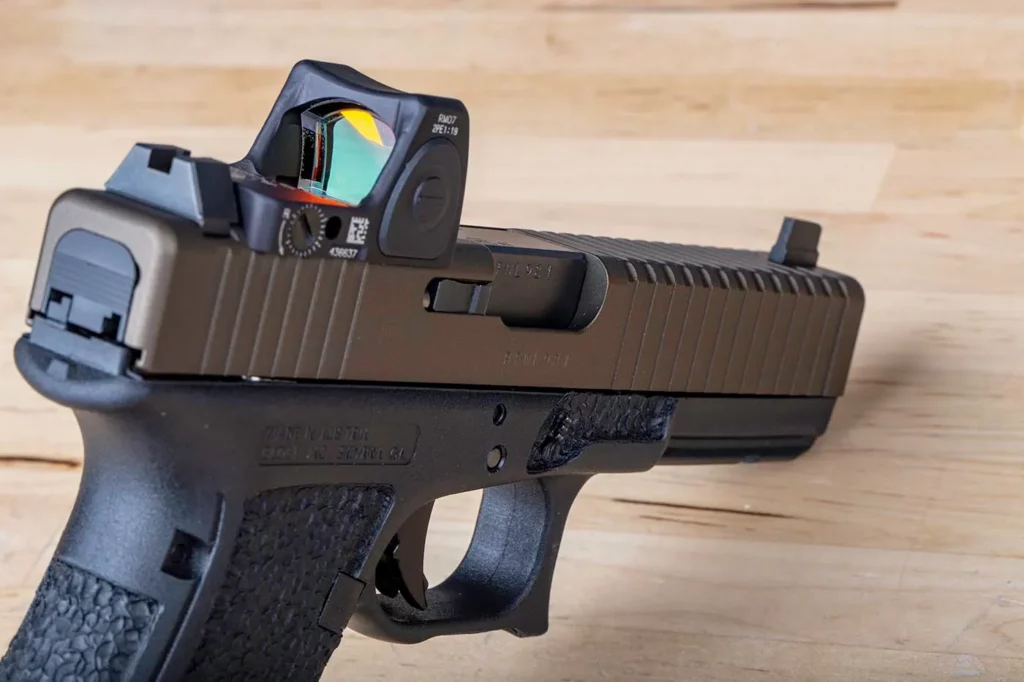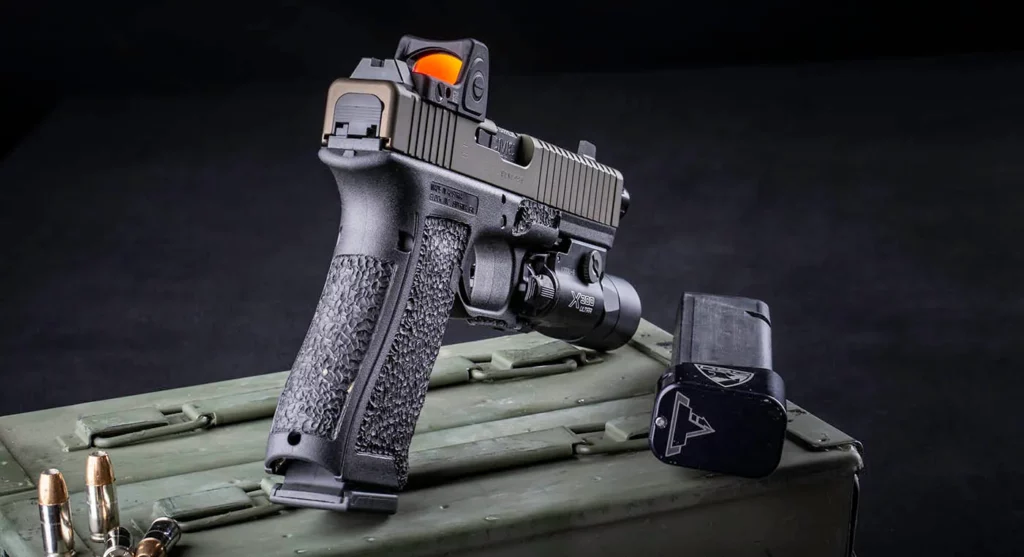 The Sights
Knowing from the beginning that this build would feature a red dot sight on top and a threaded barrel to give the option to run a suppressor, upgrading the sights was never a question. Like a new trigger, I think upgrading Glock sights is one of those non-negotiable Glock mods. The AmeriGlo suppressor height sights were a perfect fit for this build, and I went with the blacked-out option so that nothing on the front or rear sights will distract my sight picture from the red dot sight. Suppressor height sights also allow for co-witnessing should the red dot break or fail.
The Optic
There's a lot of awesome reflex sights on the market today. For this build I had my options narrowed down to two: the Leupold DeltaPoint Pro and the Trijicon RMR Type 2. Both are battery powered and come with an option for a large MOA point of aim. I ended up going with the Trijicon with a 6.5 MOA dot. This being a defensive pistol, I'm more concerned with fast target acquisition and effectively placing critical hits on target at close range than I am about ringing steel at 100 yards. The Trijicon RMR Type 2 is probably the toughest optic out there for a pistol. All Trijicon products are renowned for being tough, but the open-style reflex sight needs to be really ruggedly constructed. The RMR has been put through tons of torture tests, just search YouTube and you can easily spend hours watching the videos. Some people think that a red dot on a pistol is unnecessary. In a lot of cases, you're spending as much on the optic as you are on the stock pistol – if not more. But the benefit is significant. Just like putting a red dot on a rifle, shooting with a mini reflex allows you to keep both of your eyes open and acquire your sight picture faster than you ever could iron sights. Shooting with iron sights requires resolving three planes into one sight picture, but using a red dot allows you to focus on your target – one plane. However, shooting with a red dot on a pistol requires a lot of training to become consistent and fast.
The bottom line with this build is that it's a defensive pistol. I want this Glock to be at its best when the situation is the worst. But that also requires me to be at my best, prepared for every possible defensive situation. So, here's my advice to you… Train, train, train, and then train some more. You can have the coolest, most modded-out Glock on the block but if you're not also spending some of your hard-earned dollars on ammunition and training courses, it won't make a lick of difference. That was the realization I had to come to for myself, and I hope you take it to heart as well. Owning, carrying, and being proficient with a firearm is about being an empowered individual who's capable of sustaining their own well-being. There's more to that than carrying a Glock. At the end of the day, though… Perfection is still the ultimate advantage. Maximize that advantage by utilizing the extensive offering of upgrades available to you and make the pistol into something that will never fail you. You're trusting it with your life, after all.
Thanks for reading, I hope you enjoyed it and I learned something, or at least got some ideas for how to take your every-day-carry to the next level of Perfection. If you ever have any questions about firearms, or any of the products discussed in this article, the Primary Arms customer service team in Houston, Texas is standing by to help you out. Give them a call at 713-344-9600, or send them an email at info@primaryarms.com.