BUILD #2 – "Artemis" Lightweight 6.5 Creedmoor Precision Rifle
Builder: Colin D.
Department: Marketing
Build: Precision Rifle
Caliber: 6.5 Creedmoor Barrel
Length: 20"
Weight (empty): 9 lbs 15 oz
Weight with optic: 12 lbs 13.6 oz
Overall Length: 42″
Hi! My name is Colin, and I name all my guns. You see, when I bought my first gun – A Remington 700 ADL in .30-06 — a wise man told me I should name it. The idea was that if you name something you'll personify it and so take better care of it. I don't know how well that second bit holds true, but once Endellion had a name (Just Deliah for short), I knew I was going to end up naming every gun I picked up from there on. Plus it makes me feel like I have a collection of unique items from a role playing game, and that makes the D&D loving nerd in me happy. Today we'll be looking at the crown jewel of my collection: Artemis.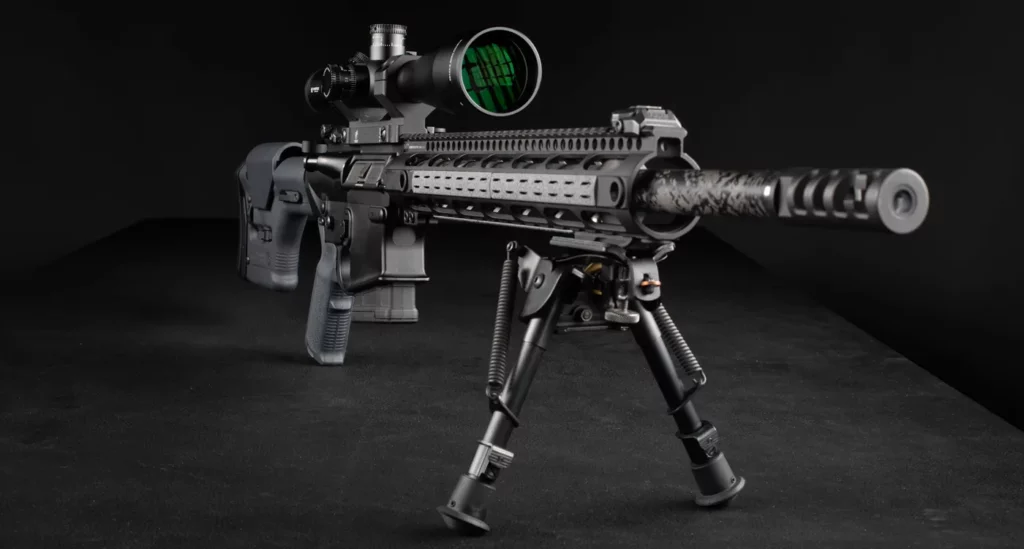 My Artemis build began when I realized I was at a point where my marksmanship was being held back the two rifles I had at my disposal. My bolt action has trouble printing anything smaller than "Minute of Mule Deer" groups, and my go-to rifle — while capable of printing 3/4 MOA under perfect conditions with perfect ammo — simply wasn't capable of the consistent precision I wanted for target shooting beyond the 100-yard line. I needed to step up my rifle game.
So, from the very beginning I had intended Artemis to be a precision rifle, though it took me three years to settle on the parts I wanted to use and the caliber I would end up with. In the end, I wound up with a 20″ barrel chambered for the popular 6.5 Creedmoor. Despite the heavy contoured barrel, heavy PRS stock, and solid billet receivers, Artemis wound up being very well balanced and surprisingly lightweight at just shy of 10 pounds unloaded without glass, and right at about 12 pounds with optic, mount, and level. Not bad at all for an AR-308 target rifle. She's lived up to my expectations, and so I am happy to name this rifle after a goddess of hunters and marksman.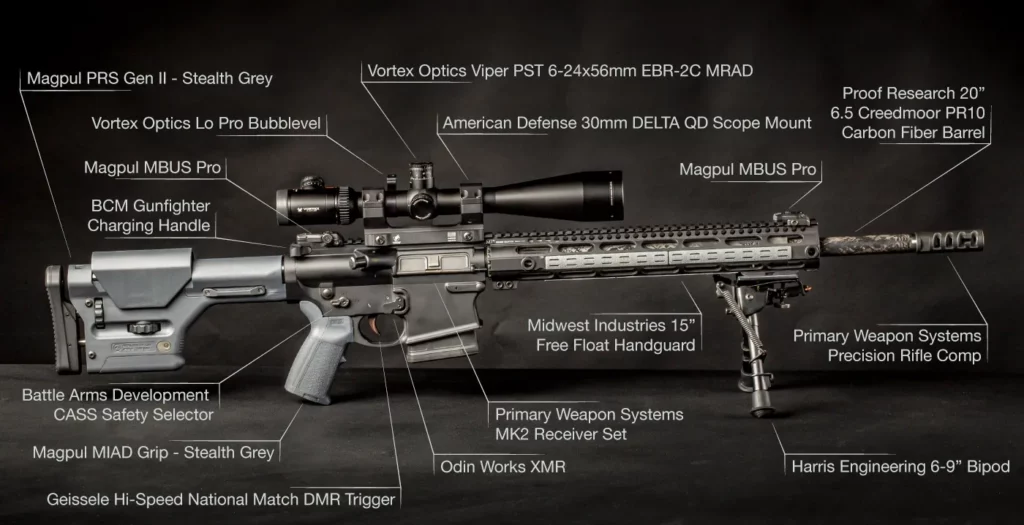 Shop AR-10 Rifles
The Custom Parts
Builder's Corner is not only about letting you see cool builds from other shooters, but also to explain why the builder chose to put this particular combination of parts together. To help you with your build, all parts referenced (or similar replacements) in this article that are carried by Primary Arms are linked below the descriptions.
The Lower
Primary Weapon Systems MK2
The very first component I picked up to start building my large frame rifle was the PWS MK2 receiver set. I had seen the quality of the PWS Mk2 matched receivers when we first brought them into the warehouse here at Primary Arms, and instantly knew I had found my starting point. The fit and finish of the upper and lower are phenomenal, and I really dig the understated, clean aesthetics they provide. Plus, the PWS logo just looks cool.
Magpul PRS Gen II – Stealth Grey
The Magpul Precision Rifle Stock is a rock solid fixed stock with some excellent features built into it. The length of pull and comb height can be adjusted using the ambidextrous thumbwheels and, once in place, feel exactly as solid as the rest of the stock with no wobble, wiggle, or rattle. The toe of the stock conceals a section M1913 Picatinny rail for use with monopods. Multiple sling loops are in place, and Magpul offers a replacement that includes a sling swivel socket if you prefer a quick detach sling. I wound up with Stealth Grey as the new Magpul PRS Gen III had just hit the shelves and this was one of the very last Gen IIs we had available. I prefer the aesthetics and wanted the weight of the older stock, so that's what I've got.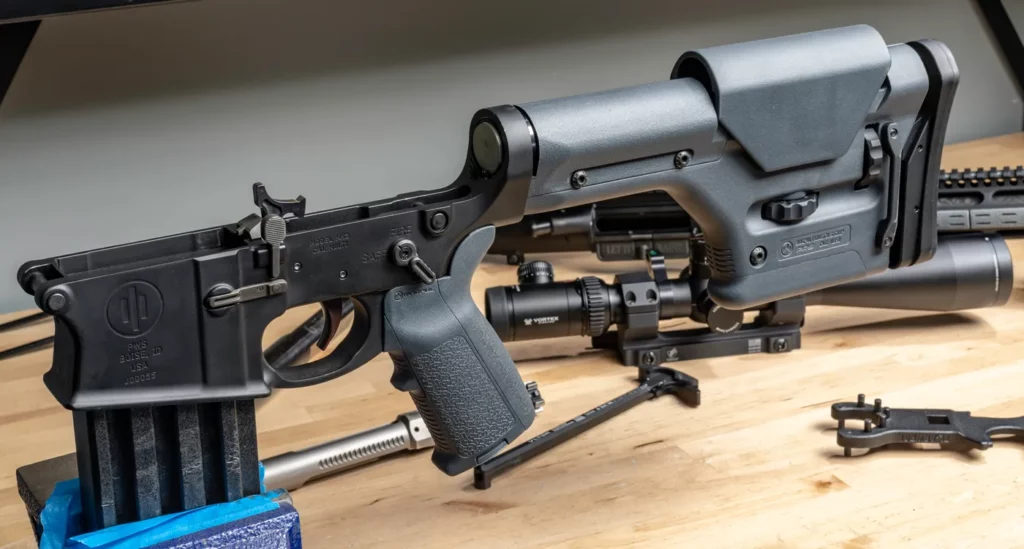 Geissele Automatics Hi-Speed National Match DMR Trigger
Any proper precision rifle needs a good trigger, and to that end I'm using a Geissele Hi-Speed National Match trigger with the DMR spring set. This is by far my favorite trigger, offering a predictable first stage take-up and a second stage break akin to a glass rod. The two-stage design lets me hit that wall at the end of the first stage and really double check that the shot is exactly where I want it before I add the extra half-pound of force necessary to send the round down range. Total pull weight with my configuration is right around 3.2 pounds, with the first stage taking up the bulk of that. This allows me to have definitive trigger stages, while only needing very minimal additional effort to break the shot when I'm ready.
Battle Arms Development CASS Ambidextrous Short Throw Safety Selector
My all-time favorite safety selector, used on both my ARs, that I recommend for everyone's build, ever, always. The BAD-CASS uses a dove-tailed drum cut from hardened steel that the levers slide onto and then screw into place for ridiculously strong and secure mounting. There are several options for the levers as well, which allowed me to mix and choose the set up that works for me. The short 60-degree throw can be manipulated quickly and easily. Since it's ambidextrous, I can run my rifle off either shoulder using my thumb or my trigger finger to manipulate the safety. The short throw safety is designed to be used with specific receivers. It can be modified to work with any standard lower, but this is not suggested by the manufacturer and will void the lifetime warranty.
Shop Battle Arms Safety Selectors
Odin Works XMR Extended Magazine Release
Odin Works now offers three versions of this magazine release button in a dizzying array of colors, but the original is still my preferred option. I can drop magazines without shifting my firing grip, and the sloped contour makes it a comfortable finger rest when I'm off the trigger.
Strike Industries Magazine Catch
The magazine catch is a part that most people overlook, but — as was the case with a lot of my choices for this build — the Strike catch just looks cool. Done, and done.
CMMG Lower Parts Kit LPK for AR10 / .308
I like the CMMG kits. The color-coded bags help keep you organized when you're putting a lower together, and they've got solid quality to boot. That said, with the nature of this build I used very few of the parts from this kit, as almost every component was chosen and assembled a-la-carte.
Shop All AR10 Lower Parts Kits
The Upper
Primary Weapon Systems Mk2
As mentioned above, this stripped upper came as part of a matched set. The fit and finish are fantastic — exactly what you'd expect from PWS. Like the lower, the upper has a smooth, clean look to it without the boxy feel or excessive milling you'll find on a lot of other options these days. It isn't the lightest, and it is not T-marked, but those are not really negatives in my book.

Proof Research 20″ 6.5 Creedmoor PR10 Carbon Fiber Barrel
This barrel is a big part of what took me so long to finish this build. They are painfully expensive (I was seriously debating just buying a Ruger RPR at their original introductory price and saving a few bucks), but I don't think Artemis would be half the rifle she is if it weren't for this barrel. Proof made a very, very thin stainless-steel barrel and then reinforced it with a carbon fiber wrap. The end result is a surprisingly lightweight and exceptionally rigid barrel that also happens to look really, really cool. Since most of the mass of the barrel is in the area around the chamber and barrel extension, the rifle ends up being quite handy.
I chose 6.5 Creedmoor for several reasons. It is well suited to long range shooting, offering flatter trajectories and significantly better ability to shrug off wind than .308 Winchester, as well as more retained energy outside of 400 yards. Best of all, it does this with roughly 30% less felt recoil than the old short action standard. The fact that I can keep using standard .308 bolt components and magazines just sweetens the deal.
Primary Weapon Systems Precision Rifle Comp
The Precision Rifle Comp is a heckuva brake. Four ports, with a more open top, work to pull back a lot of the felt recoil and help keep the muzzle flat without a ton of concussion or dust kick up. The PRC working with the already light recoiling 6.5 CM makes calling and spotting your hits a breeze.

Midwest Industries 15" .308 Free Float KeyMod Handguard – DPMS High Profile
Midwest Industries makes some excellent handguards, and this one is no different. Lightweight, aesthetically pleasing, and matches quite nicely to the top rail on my receiver. The large lightening cuts also give a nice view of the carbon fiber barrel it's covering, which certainly doesn't hurt matters! There are multiple QD sling swivel sockets at the front and rear of the rail should I ever decide to add a sling to this build. It is also one of the smallest diameter .308 handguards available, so I find it quite ergonomic.
Magpul MBUS Pro Sights
Magpul MBUS Pro Sights are extremely lightweight, very low profile, and truly excellent set of iron sights that are entirely for looks on this build. They are zeroed, but if I'm down to using irons with THIS rifle, something has gone very wrong.
Black Rain Ordnance "LET IT RAIN!!" Port Cover
Originally, I had tried to custom fit a first-generation Strike Industries .308 port door cover but ended up having to admit defeat. With what we had available at the time, the Black Rain Ordnance port cover was my only option. I'll probably replace it at some point, I'm not a fan of the "LET IT RAIN!!" tag line marring my otherwise beautiful rifle, but other than the goofy laser etching it's a solid part that does what it's supposed to.
BCM Gunfighter Mod 3 Charging Handle
I had originally picked up a Mod 4 with medium latches, but quickly realized that I would need longer latches to work around the large optic. BCM's charging handles are very well built and intelligently put together. If you want a fast, relatively inexpensive upgrade to your rifle, swapping the charging handle with a BCM Gunfighter is a great option.
Vortex Optics Viper PST 6-24x56mm FFP EBR-2C MRAD Rifle Scope
At the time I put this rifle together, the Vortex Viper PST was the go-to option on the market for a long-range precision first focal plane optic that was more affordable than similar scopes from Nightforce or Schmidt and Bender. These days there are a lot more options in that space, but the Gen 1 Viper PST is still a fantastic optic with some great features. It gets a little hazy at 24x, but nothing that's ever hindered my ability to hit a target. Most of my shooting is done around 20-22x to minimize scope wobble from my breathing and heartbeat.
Vortex Optics Lo Pro Bubblevel – 30mm
Ensuring your rifle is level when you break a shot is just as important as your breathing and trigger control when shooting at long range. This bubble level fits around the body of the scope and is easily visible from my support eye when I'm behind the scope.
American Defense 30mm DELTA Quick Detach Scope Mount – 20 MOA
Artemis is a big gun, so I break her down into three pieces for transport by splitting the receivers and removing the scope. The DELTA quick-detach scope mount is a beefy mount that doesn't push the scope forward so I can get optimal eye relief. The 20 MOA cant just makes reaching out to extended ranges easier by mechanically adding 20 minutes of angle to my scopes adjustment that I don't have to count in clicks. It has also been entirely flawless with return to zero, despite numerous mounting cycles every time I bring Artemis to work or hit the range.

Patriot Ordnance Factory USA Ultimate Bolt Carrier Group .308 (with JP Enhanced Bolt)
The Ultimate Bolt Carrier Group offers some interesting upgrades over a traditional style of BCG. The gas key is an integral part of the bolt, rather than a screwed and staked on addition, so it can never come loose. The nickel phosphate finish is very easy to clean, and the roller cam pin reduces wear and friction in the receiver. Due to some growing pains when I first finished this build, I ended up replacing the bolt assembly (unnecessarily it turned out) with a JP Enhanced .308 Bolt Assembly, which offers radiused locking lugs and improved materials to reduce wear and significantly extend service life. Treated with Chromium Nitride PVD finish, it's even easier to clean than the POF carrier.
Shop AR 308 Bolt Carrier Groups
Harris Engineering 6-9" Notched Leg Bipod with Swivel
Harris bipods are pretty standard for shooters wanting a dependable bipod without adding a ton of weight. The legs are spring loaded to can be extended with the press of a button, and notched so a desired height can be selected quickly with no worry of adjustments sliding once set. The swivel model lets you level your rifle even if you're shooting on uneven terrain or wobbly shooting benches. It folds up out of the way when you don't need it and installs to sling swivel studs. The rubber feet provide good traction on dirt and concrete, so you can preload the bipod to better control the rifle under recoil. The 6-9" height is optimal for my shooting which is almost exclusively prone or off a bench. If you're shooting in less conventional positions or off particularly uneven ground, you may want a taller option.
Odin Works K-POD KeyMod Bipod Mount
With a slick KeyMod (or M-LOK) handguard, there are a few options for mounting a bipod. You can use a Picatinny rail section with a Picatinny adapter, which adds height and bulk you might not necessarily want, or you can get a direct mount. I went with the Odin Works K-POD mount, which is low profile, and designed specifically to support Harris bipods. It locks in solid and installs via two KeyMod locks, so it's a super-strong mount as well. With the bipod off, it hugs the rail and offers no snag points. It's a great way to add a bipod to your rifle.
Bravo Company KeyMod Rail Covers (Wolf Gray)
BCM's KeyMod rail covers install easily and are extremely low profile which is awesome. BCM's wolf gray isn't a perfect match for Magpul's Stealth Gray, but that's not surprising. I've been doing this long enough that even different batches from the same manufacturer can have noticeable differences in color, so color matching has never been a huge priority for my builds.