Picking the Best Shooting Glasses
Firearms safety doesn't stop with muzzle and trigger discipline. To be safe on range day, you need a set of protective glasses to prevent injury from malfunction or mishaps. The best shooting glasses go beyond simple protection, offering performance improvement through enhanced visual contrast and glare reduction.
Not all eye protection is the same, though, so to help you find the best shooting glasses for your needs, we've developed this handy blog, which will detail some of the chief considerations for any set of protective eyewear.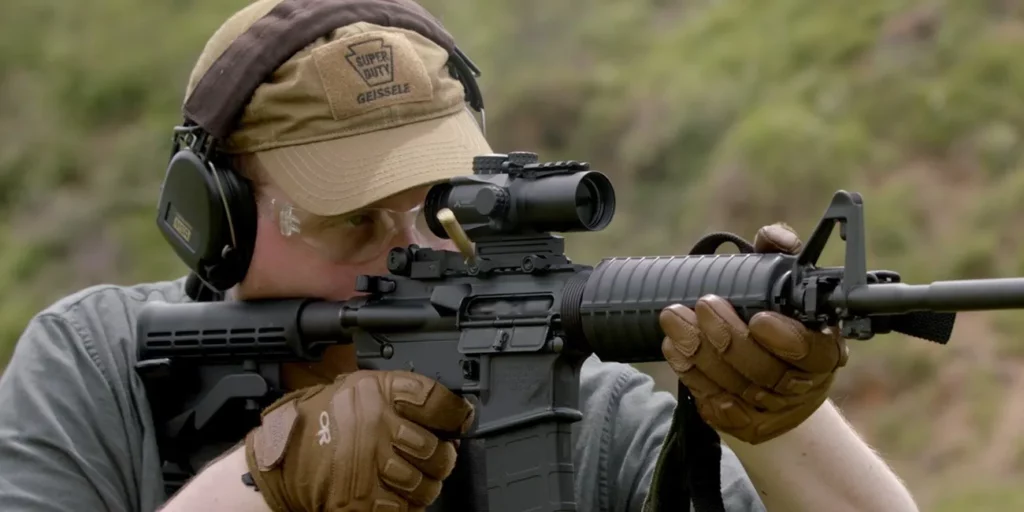 Why Eyewear Comes First
The main purpose of shooting glasses is eye protection from shrapnel, fragments, and hot gasses.
Unfortunately, many enthusiasts gravely underestimate the risk that comes from shooting without eyewear. A large percentage of range-day injuries are eye related, and many of these injuries can be permanently blinding.
Many of these injuries are completely unpredictable, and if you've been shooting for a while, you've probably seen similar close-calls—especially if you shoot steel targets.
Shop All In Stock Eye Protection
Years ago, I shot a steel target with a 9mm handgun from 20 yards away. Even though the silhouette was angled safely downward, a fragment of the jacket bounced back and hit me square above the brow. Harmless as it was, that jacket landed only an inch from my eye, and if I wasn't wearing protective eyewear, it could have done serious damage.
If you ask around, you're sure to hear plenty of similar stories. Out-of-battery ignition, pierced primers, and parts breakages are among the most common hazards to a marksman's eyes. If you're shooting alongside others, you have flying brass, which can easily cut an eye if it hits at the right angle.
With all that said, it only takes one mishap to cause permanent damage, so it's never worth the gamble. Whenever you're at the range, eye protection is an absolute necessity.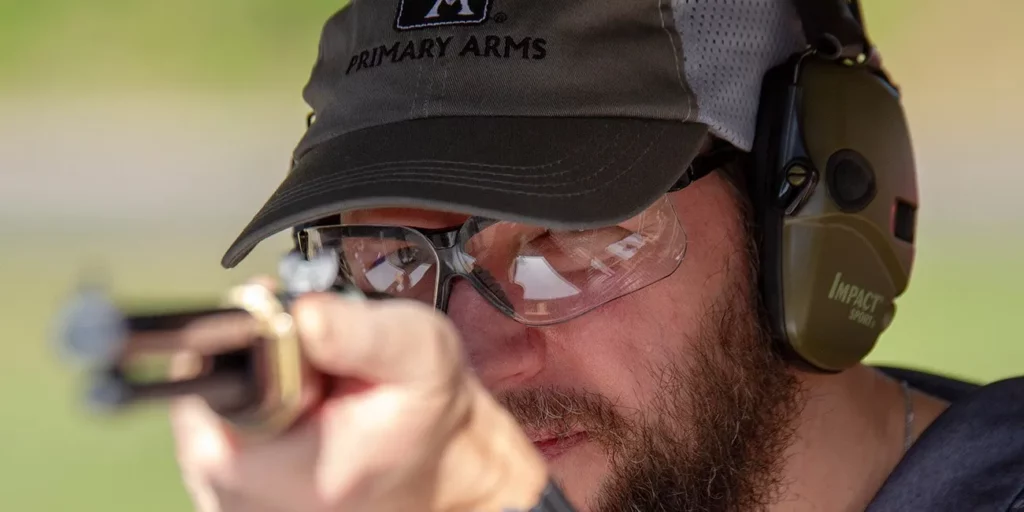 What Features are Important?
Protective glasses will perform slightly different depending on their design features. These features include protection rating, lens color, lens shape, and arm width. The best shooting glasses will optimize these design characteristics to achieve the best results on range day, whether that's for general use, target shooting, or tactical applications.
Protection Rating
Safety glasses have to adhere to a strict set of standards when meeting government contract demands. As a result, there are a few established 'ratings' for shooting glasses, which you can use as a guideline for your shopping. The most common standards come from the American National Standards Institute (ANSI), the Occupational Safety & Health Administration (OSHA), and the US Military. In most cases, you should skip eye protection that fails to meet any of these standards, especially if they are made of a material other than polycarbonate. Standard plastic is likely to shatter on sharp impact, and the resulting fragmentation could create an even larger injury.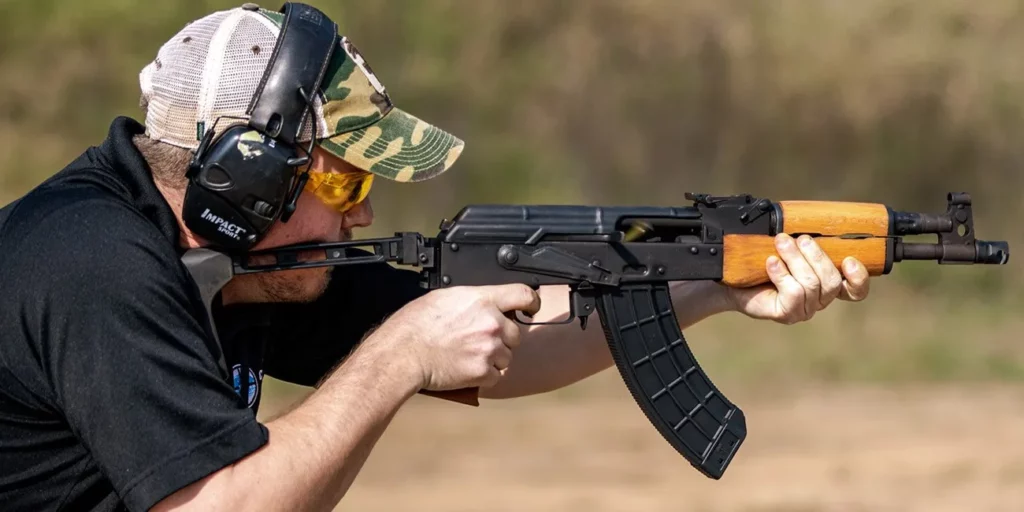 Lens Color
Your lenses' color will not affect protection, but they can provide a distinct advantage when shooting targets downrange. Clear lenses are the most versatile, but if you're shooting in bright sunlight, a polarized lens or gray lens will greatly reduce eye strain and fatigue while eliminating glare. For competitive target shooting, yellow lenses are a top choice because they block blue light, improve the user's color clarity in any light setting.
Lens Shape
Lens shape plays an important role in versatility, accessibility, and style. Some lenses are designed as one-piece with a fixed frame, like the Pyramex Drop Zone Safety Glasses. This allows the user to configure their glasses to match the environment, so you always have the best light exposure.
Shop Pyramex Drop Zone Safety Glasses Interchangeable Lens Kit
Lens shape can also determine accessibility for those who have to wear corrective glasses. If contacts are not an option, you'll need safety glasses that are large enough to fit outside your normal lenses.
If it matters to you, style can dictate the lens shape as well. Most traditional safety glasses are not particularly stylish, but that isn't always the case. Magpul's eyewear line is proof that the best shooting glasses don't have to be gaudy.
Arm Width
One key aspect of eyewear design is the arm width. If you're wearing over-ear hearing protection, a wide arm will press tighter against the sides of your head, quickly leading to discomfort. At the same time, if the arm is too thin, the glasses might sit loose without support, sliding back and forth with every movement. The ideal arm width will be a balance that ultimately depends heavily on your preferred hearing protection.
Shop Howard Leight Eye Protection
Best Shooting Glasses for Novices
If you're a new gun-owner, you should start with a capable all-arounder that can perform well in any environment. We recommend that you start with a polycarbonate clear lens, which will give you adequate protection with the most natural view of the target. A medium-thickness arm will ensure that the glasses are comfortable with any hearing protection, though a thin arm might be preferable if you like over-ear hearing protection.
Howard Leight's Lightweight Genesis Uvex Eyewear is a good match for these requirements. It's a basic design that can fit well with any purpose. The lightweight construction and medium-thin arms make them comfortable for long-term wear, while the clear polycarbonate lenses balance visibility with protection.
Shop All Walker's Eye Protection
Best Shooting Glasses for Target Shooting
If you're getting more serious about target shooting, you may have additional considerations when picking eyewear. Yellow or amber-tinted lenses are a lot more popular for target practice because they saturate and sharpen colors, making it easier to see fine detail—especially in low-light or hazy conditions. These lenses also filter out blue light, which is known to cause eye strain under intense focus.
Depending on your hearing protectors, you may also prefer a thicker arm width. For long-range rifle shooting, many competitors prefer in-ear hearing protectors, since they allow you to get a more consistent cheek weld without worrying about a broken seal. Thicker arms will also be slightly stiffer, so you won't need to deal with slippage or movement, even if you're quickly changing shooting positions.
For this category, we recommend Walker's Sport Glasses with Interchangeable lenses. This kit will allow you to use a yellow/amber lens for target shooting without sacrificing a clear or dark lens for normal wear. These glasses are also compatible with corrective prescription glasses, so they are highly versatile for any user.
Shop All In Stock Pyramex Venture Eye Protection
Best Shooting Glasses for Tactical Use
In tactical applications, true-color and durability are top priorities. For that reason, you should prioritize clear lenses with a Military-grade protection level, such as MIL-PRF 32432. Dark or polarized lenses may be preferable for operations with high glare under direct sunlight, but in general, clear lenses will give you superior awareness in a wider spectrum of lighting. Long-term comfort is also a high priority since most uses will demand long-term protection and wear with heavy physical exertion.
As a dedicated tactical eyewear, the Pyramex Safety Venture Gear Tactical Howitzer glasses are a great choice. They are highly durable, low profile, and come with military-grade protection to keep you safe from splinters and shrapnel.
Best Shooting Glasses if you Wear Glasses
If you wear prescription lenses, you'll want a set of protective eyewear that isn't obstructive. Most manufacturers will specify if their glasses are compatible with prescription eyewear, but it's often safer to go with a dedicated design, which will give you the most clearance and comfort.
For example, Peltor's Over The Glass Safety Eyewear makes specific protective shields to keep your prescription glasses safe from damage. It also adds additional clearance to make sure that your glasses aren't clinched.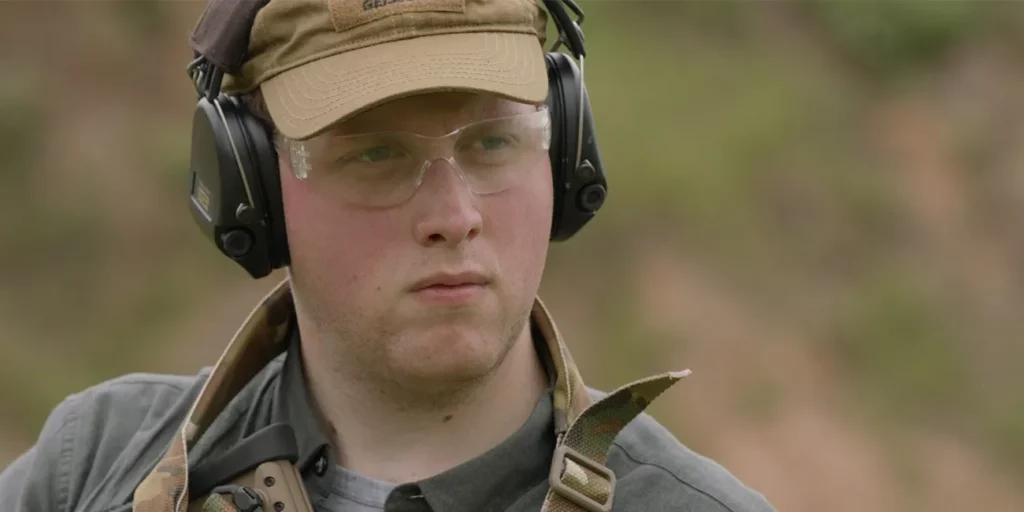 Conclusion
When it comes to safety, your eyes are a top priority. By considering your use-case, you can usually determine the best shooting glasses to match your needs, whether they're tactical, sporting, or casual.
If you have any questions or thoughts on eyewear, we'd like to hear them! Feel free to reach out to us via social media, including Facebook, Instagram, and Twitter. We'll be more than happy to answer any questions you have, so you can find the right eyewear for your next range trip!