At 800 yards, a 5.56×45 bullet takes over 1.2 seconds to reach its target. The subtle pop of a gunshot arrives a second later. Even with crosswinds, this hit is repeatable—with the right rifle, of course. If you've got a Special Purpose Rifle (SPR) build like this one, you've already secured the advantage.
Many folks underestimate the strength of a precision-built 5.56 rifle. While heavier cartridges deliver more energy downrange, 5.56 has the versatility to thrive in transitional environments; offering the speed and capacity of short-range carbines all the way out to specialized long range rifles when needed. These long range benefits are how we got the beloved (and heavily cloned) Mk12 Mod 0.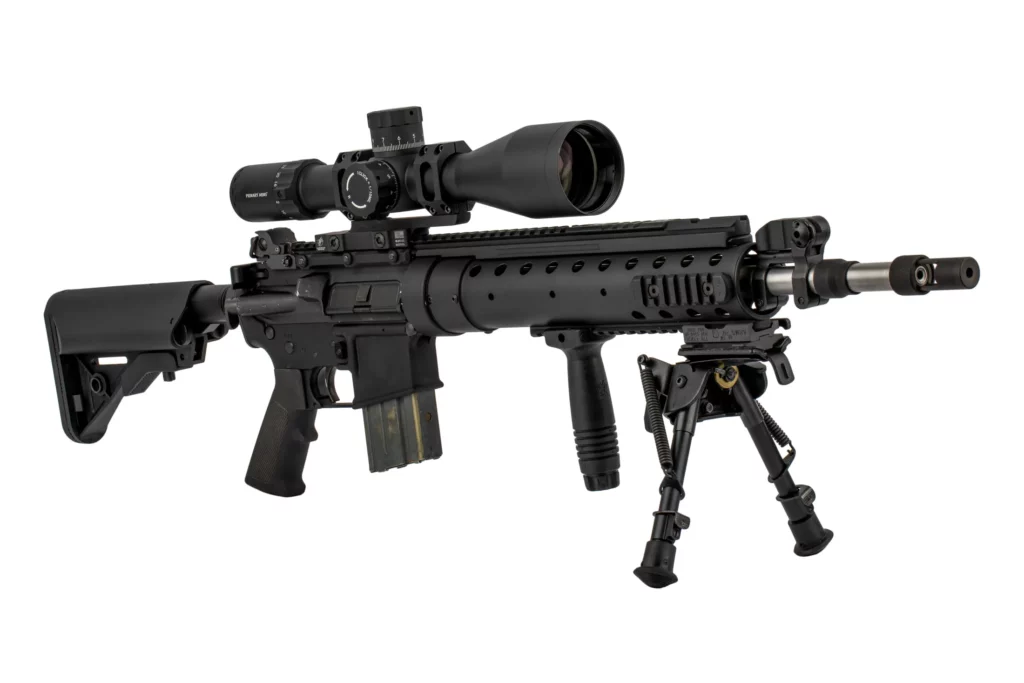 MK12 MOD 0
In the early 2000s, SOCOM needed a lightweight precision rifle for designated marksmen, acting as a middle ground between the M4 carbine and the M24 sniper rifles effective range. By building off the AR platform, the MK12 had many advantages over a unique system like the concurrently developed Mk14. For military administrators, the appeal of the MK12 was its parts compatibility. Since the MK12 is just a specialized AR, it uses all the same small parts and pins as the existing service rifles, making it easier to learn and maintain. In addition, squads could share magazines out in the field, so a marksman could stay outside the wire without running dry. Administrators weren't the only fans, though. In the field, the MK12 earned a reputation for its effectiveness and value in a squad.
Shop All In-Stock AR-15Buy Now
MK12 DEBATE: 5.56 VS 7.62
In terminal ballistics, 7.62×51 NATO (and .308) always had the edge for range and impact. However, this came at the cost of weight, capacity, and volume-of-fire. Until the SCAR 17, most .30-caliber marksman rifles weighed near 10lbs. When you added optics, a bipod, and other accessories, a marksman rifle could weigh over 14-15lbs. On top of the rifle weight, 7.62 limited a marksman's ammo reserve, as the 20-round 7.62 magazines were even heavier than standard 5.56 30-rounders. Where a 7.62 setup might be 5+1 magazines, a 5.56 setup could bring 7+1 magazines and still have plenty room for more. With larger ammo reserves, the 5.56 marksman could engage targets more aggressively, taking advantage of the reduced recoil and flat trajectory for greater performance in urban and suburban environments.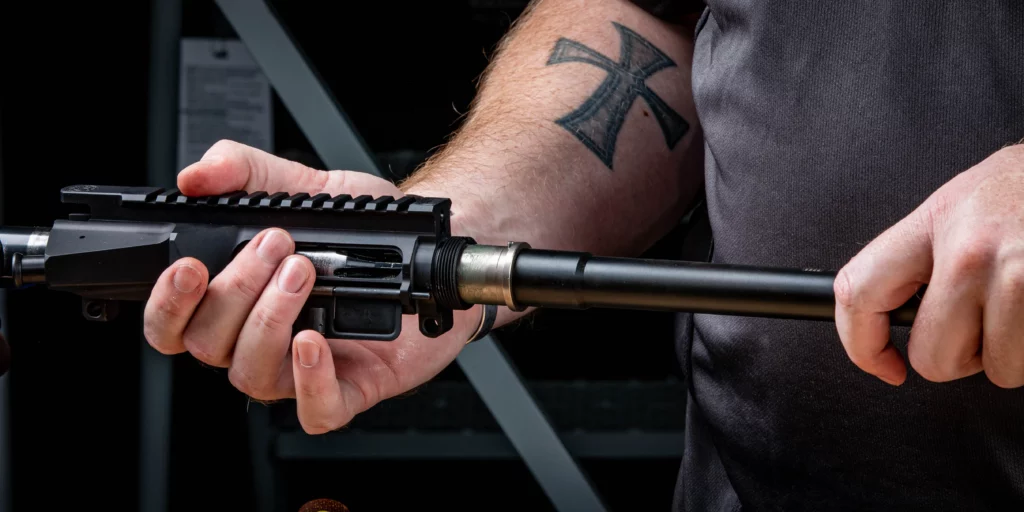 After years of service with various SOCOM elements, the Mk12 SPR became a household name within the firearms community. Some builders clone the rifle with complete dedication to original parts, even to the point of buying surplus rifle cases, but anyone can replicate the performance of the Mk12 in a more modern form. With this build, we wanted to capture that precision with a contemporary spin. If you'd like to learn how, keep reading: we'll detail every part of the build process for you.
Modern MK12 UPPER RECEIVER
Since we are using a billet lower, the upper choice is easy. We match the upper to the lower, ensuring that the fitment between the two billet receivers is as close as possible. With a quality upper receiver parts kit from Expo Arms, we've got everything we need to start the barrel install. The barrel selection is a defining characteristic of any SPR build. For the best balance of mobility and accuracy, a match-grade 18" barrel will give us fantastic groupings and a smooth recoil impulse because of the rifle-length gas system. Sons of Liberty Gun Works is renowned for their custom grade rifles, and their barrels are one of their best offerings. With a Sons of Liberty Gun Works Match Grade .223 Wylde Rifle 18" SPR Barrel, our SPR build will boast impeccable accuracy, even at those extended distances, where shorter barrels would struggle. To complete our barrel assembly, we add a Low-Profile Gas Block from Expo Arms and a Rifle-Length Melonite Gas Tube from Aero Precision.
Shop All AR-15 Upper ReceiversBuy Now
Modern MK12 HANDGUARD AND MUZZLE DEVICE
This barrel is even more impressive when it's combined with a high-quality handguard, so we recommend a Geissele Super Modular Mk4 16" M-LOK Handguard. This handguard has a rigid rail and barrel nut design for superior harmonics, plus the integrated rail sections make it easy to attach lights and other important accessories, such as a bipod. Muzzle devices are a tricky subject for SPRs, as flash suppression and recoil compensation are equally important. The Precision Armament AFAB Hybrid 5.56 Muzzle Brake helps with both, as it features an advanced hashed design that eliminates most felt recoil with reduced flash and concussion.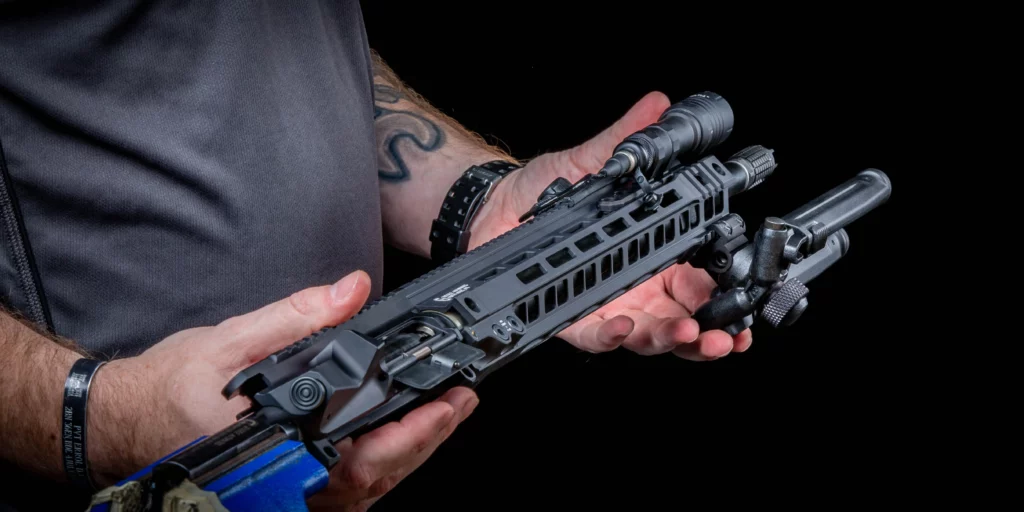 BOLT CARRIER GROUP AND CHARGING HANDLE
Shop All AR-15 Upper PartsBuy Now
With the upper complete, all that's left is the BCG and Charging Handle. Made in the USA, the Expo Arms 5.56 NATO Complete MIL-SPEC M16 Bolt Carrier Group carries all the best features of a traditional BCG with excellent component quality. The hard chrome finish and domestically sourced 8620 steel ensures a long lifetime and consistent lubricity, while the MPI-inspected Carpenter 158 steel bolt resists the corrosion of heavy use. Paired with the proven Geissele Automatics Super Charging Handle, our SPR is ambi-ready and primed for reliability in harsh environments.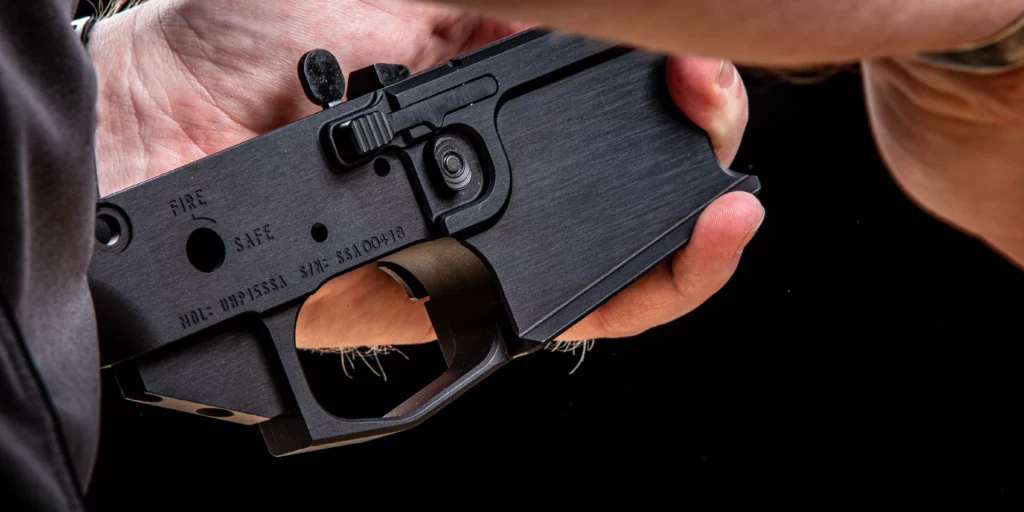 Modern MK12 LOWER RECEIVER
There's nothing wrong with MIL-SPEC, but AR15 receivers have come a long way since the early '00s. Billet receivers offer tighter tolerances and open new features, such as ambidextrous controls. The Cross Machine Tool UHP15-SSA Billet AR-15 Ambidextrous Stripped Lower Receiver brings all the great ergonomics of a traditional lower but adds a few conveniences, including an ambidextrous mag release, ambidextrous bolt release, and a flared magwell for quicker reloads.
Shop All AR-15 Lower ReceiversBuy Now
After completing the lower with a Sons of Liberty Gun Works Blaster Starter Kit AR-15 LPK, we install a Geissele Automatics Super Dynamic Enhanced SD-E Two Stage AR-15 Trigger .154" for a reduced pull weight and smoothness that allows for exacting precision at those extended distances. While you can hit the target with a standard military trigger, nothing beats a fine-tuned match alternative—especially when it's from Geissele.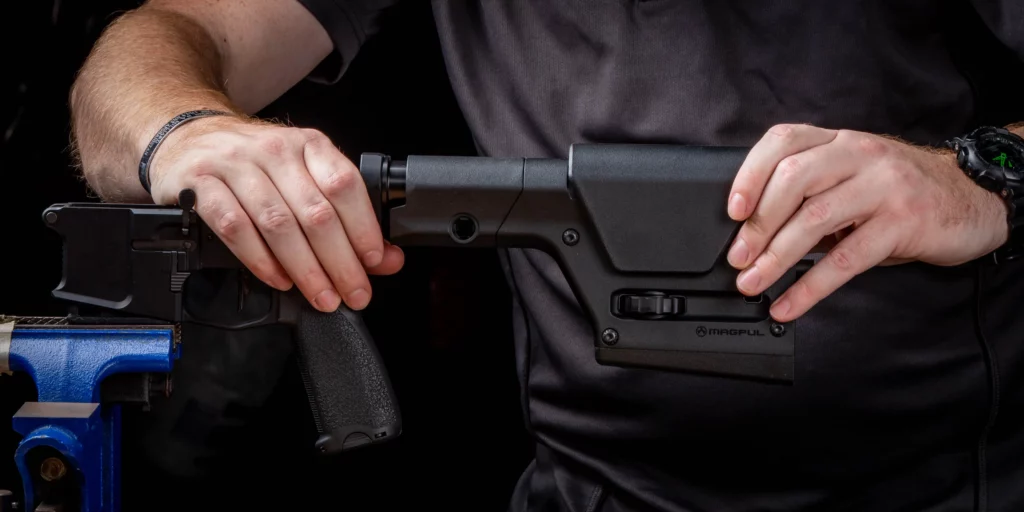 Furniture is another important aspect of any SPR build. Most precision-oriented grips are bulky, undermining the value of having a lightweight SPR. In an ideal world, this rifle is mobile when moving and stable when shouldered. BCM's Gunfighter Grip Mod 0 is always a top choice, as the generous palm space and reduced angle offer great support in any application.
Modern MK12 STOCK
For the stock, we want to focus on the long-range performance, so we prefer the Magpul PRS Gen 3 Precision-Adjustable Rifle Stock. This SPR stock is the current standard of adjustable AR15 rifle stocks. The user can easily extend or retract both the cheek rest and recoil pad, ensuring you always get perfect eye relief behind the scope. Plus, you can add a monopod to the bottom with the existing M-LOK slots. Note: this stock needs a rifle length buffer system. Any MIL-SPEC option will work fine. We use the Luth-AR .223 Buffer Body Assembly.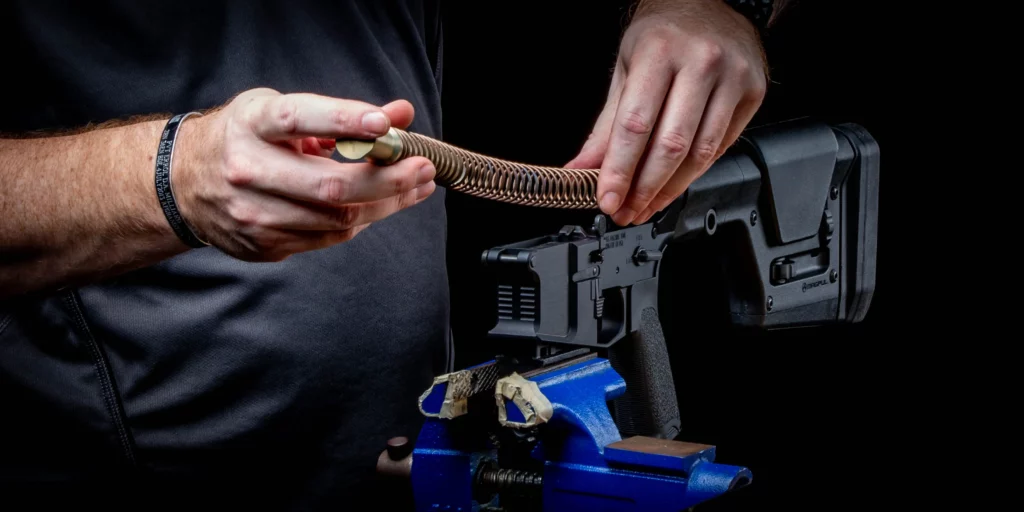 Modern MK12 RIFLE SCOPE
Shop All In-Stock Primary Arms ScopesBuy Now
SPRs aren't just about the base rifle, though. An SPR is only as effective as its accessories, which increase the range and precision in the rifle. Rifle Scopes have come a long way since the Mk12's original adoption, and our SLx 3-18x50mm FFP Rifle Scope ensures that users can engage targets at any distance with superior accuracy. The excellent glass clarity and rich feature set of this scope is further enhanced by the ACSS® HUD™ DMR 5.56/.308 reticle. This reticle provides the user an intelligent holdover system to engage targets out to 1000 yards with ease—perfect for an SPR.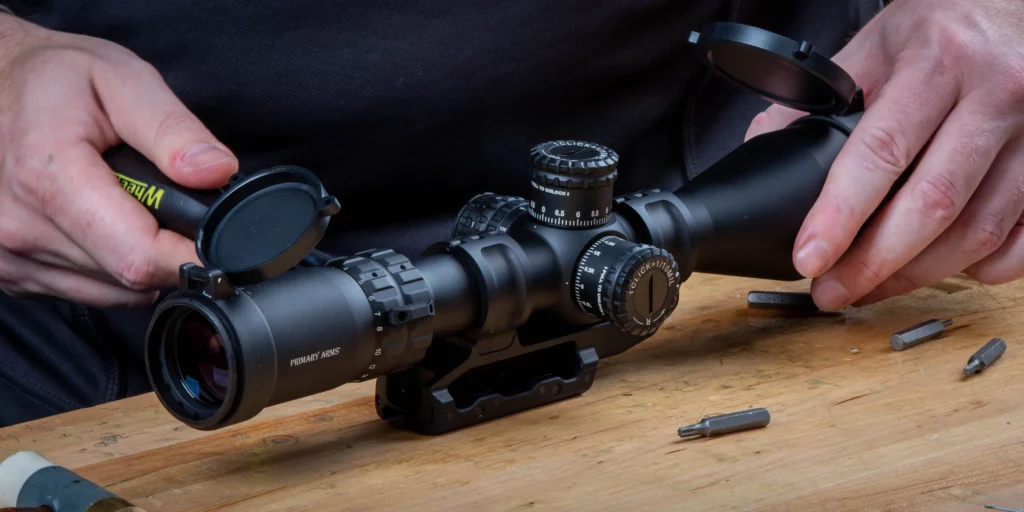 QD SCOPE MOUNT
Our scope mount is a Scalarworks LEAP 30mm 1.57" Ultra Light QD Scope Mount. This system abandons traditional throw levers in favor of a patented thumb wheel design, greatly reducing weight compared to other QD mounts. In addition, the tubular boom and I-beam bridge improve the mount's resistance against impacts, making it one of the most durable options anywhere. As if the mount wasn't good enough, it even includes a built-in leveling screw, making it easy to guarantee the accuracy of our reticle's holdovers.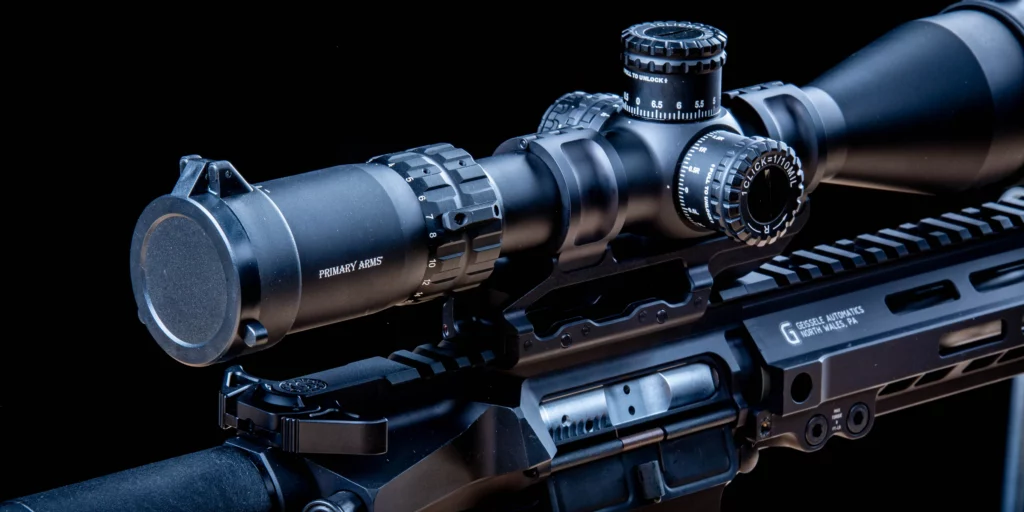 Modern MK12 RIFLE LIGHT
Illumination is another major factor with any SPR. Given the versatility of SPRs, our MK12 build should have an answer for the darkness of twilight or early morning. Here, there's no answer better than a Modlite OKW. The OKW is a 69,000-candela light that reaches further than any other weaponlight on the market (as you'll see in the upcoming flashlight comparison). Combined with an Arisaka inline mount and Surefire pressure switch, the user can control their flashlight for optimal visibility in low light.
Shop All In-Stock Weapon LightsBuy Now
Modern MK12 BIPOD
To complete the build, we add a lightweight bipod from Magpul. Most bipods are anchors at the front of the rifle, but Magpul's minimalist design strikes the perfect balance of weight and adjustability.