Hate them or love them, the Glock platform is ubiquitous. Try as they might, no other polymer framed striker fired semi-automatic pistol has been able to unseat the Glock.
The reasons? There are certainly a few. One of them is the vast amount of aftermarket support in parts, mods, and upgrades available to Glock shooters. Taking advantage of the platform's simple and modular design, some companies have built their entire reputation by selling parts designed to improve Glock pistols. Zev Technologies in particular has been so successful selling Glock platform parts and accessories that they're now making pistols of their own to compete directly with Glock. Will this drive to innovate mean we see a new king on the throne soon? Maybe. Maybe not.
What we can say for sure is that, when you buy a Glock, the power is totally in your hands to make it what you want it to be.
We're going to cover some of the most popular Glock mods and upgrades out there today – from the must-have essentials to the super-fun head-turners and all that lies between. Let's get started.
Upgrade the Sights
Step one for most Glock owners is to upgrade the sights
The stock Glock sights feature a now-iconic U-shaped rear sight with a dot on the front sight post, both colored white. They're also made of plastic — which some people don't mind at all; the entire lower half of the pistol is made of plastic and no one bats an eye. But to some, the combination of being made of polymer and the non-traditional sight picture is enough to merit an upgrade.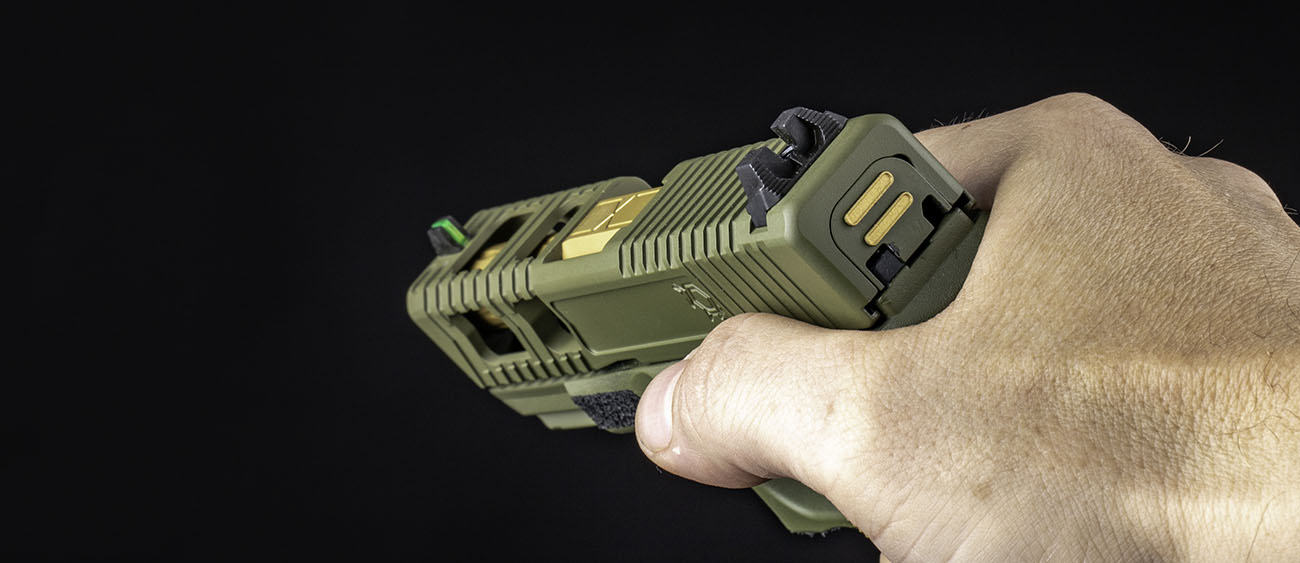 Upgrade your Glock sights based on what your needs are. There's no shortage of options.
Tritium and fiber-optic sights provide a high-visibility and high-contrast sight picture in a variety of applications like home defense, low-light situations, or competition shooting.
Don't like the traditional 3-dot aiming system, but still aren't sold on the OEM sights either? Try some other options like those from XS Sights, which feature a tritium and white painted front sight and their unique V-Notch rear sight for fast target acquisition and a snag-free, low-profile design.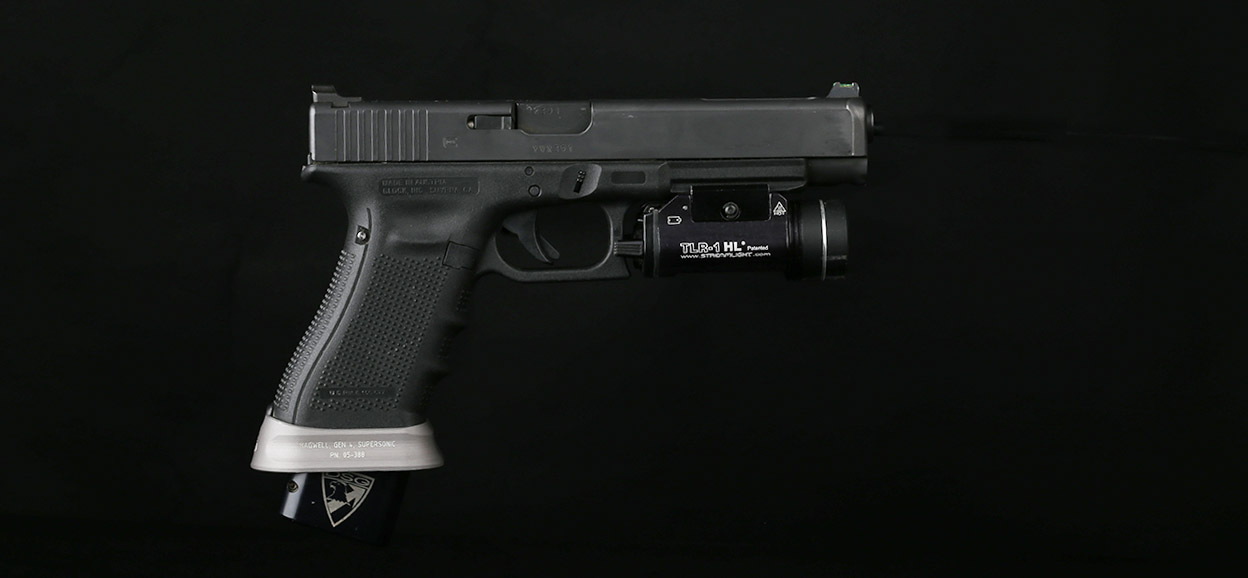 Upgrade the Trigger
Step two when you're talking must-have Glock upgrades is to do something about the trigger.
When the Glock 17 first hit consumer markets in the early 1980s, the trigger was unique. Now more than three decades later, many other manufacturers have innovated on this original design, both in their own pistol models and in units designed to replace the stock Glock trigger.
Again, here you have options.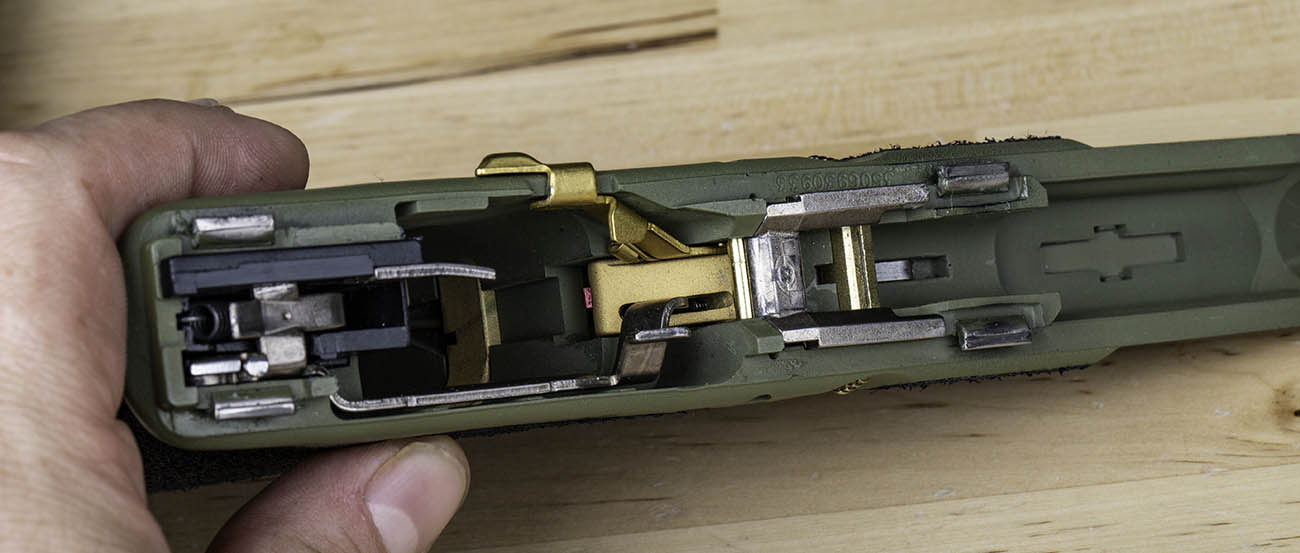 Drop-in, whole-shot replacements for the Glock trigger system are easy to install and can provide upgraded operation far beyond the OEM system. If you want more custom-tailored performance, replacing individual parts such as the springs, shoe, or connector will allow you to get the precise solution you're looking for.
Extend Upgrades
Step three to getting the most out of your Glock is to… extend some things.
When Glock came on the scene in the 80s, their products were considered a revolution in ergonomics. In the decades since, tons of other polymer frame pistols have caught up and — in some peoples' opinion — even surpassed them. They point to two key components on stock Glock pistols that have long been upgraded by shooters using aftermarket parts from other companies.
The factory Glock magazine release button has seen some changes over the years, getting a size upgrade with the release of their Gen4 pistols, to the pleasure of most Glock fans. But many shooters like to go even bigger. In a similar vein, the slide release lever has basically never changed in form or function in the decades gone by.
At first blush, these may seem like nitpicky things to get bent out of shape about to the degree that one would choose to spend even more money to change them. But hear me out. In a life-or-death situation – in which stock Glock pistols have found themselves more than a few times over the decades, undoubtedly, and admittedly have performed well — these small components can become difficult to manipulate as your body surges with adrenaline and your brain diverts processing power away from your fine motor skills to more pressing matters. This could be a serious problem. So, the market provided alternatives.
Extended magazine releases from companies like ZEV Tech, Vickers, and Ghost Inc. extend the release button even further, allowing a shooter to make a magazine change without ever adjusting their firing grip. This could save crucial seconds in a worst-case scenario. The same can be said for the slide stop lever. Putting just a little more meat on this component might mean your pistol isn't quite as sleek and slender as it may have been out of the box. However, you will never have to struggle for leverage using your dominant hand's thumb to drop the slide and bring your Glock into battery ever again.
These upgrades may not be for everyone. If you have no issues with these two functions on your stock Glock, or you've trained so hard to operate them that it wouldn't feasibly save you any time or reliability on your reloads, then by all means, go about your day. Nevertheless, they're good upgrades to consider if you want to get the most out of your Glock.
Grip Upgrades
Next, get a grip.
The polymer frame of a Glock pistol is like a blank canvas. Stippling your Glock frame not only enhances your grip ability – especially helpful in stressful situations or sub-optimal weather – but it gives your pistol a unique style as well. You get to make it what you want it, just like the rest of the pistol.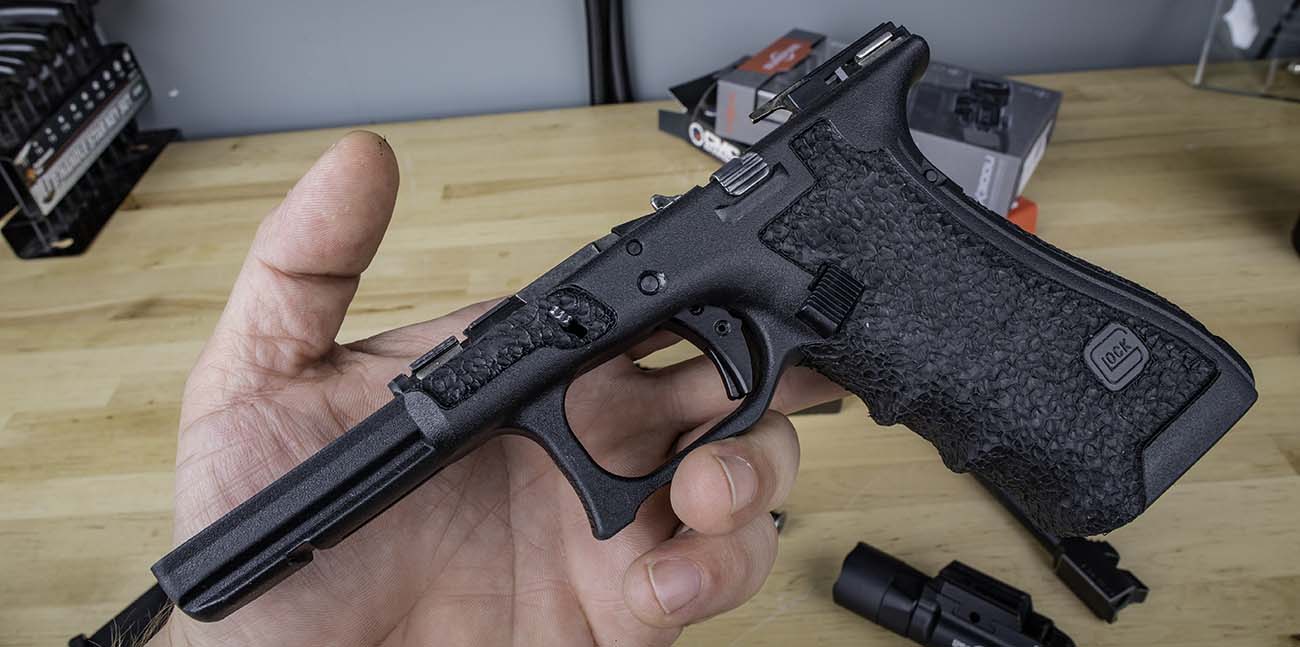 There are a lot of companies out there today that will stipple your Glock frame for you. Send it in, wait a while, and you'll have an awesome-looking stipple job that is functional too. But many people like to do things themselves, and this is no different. With a soldering iron, some practice, and some patience, you can really take a hands-on approach to customizing your Glock. If you want to take a less permanent route, one that would allow you to return your Glock grip to its original factory design anytime you want, then stippling isn't an option. Luckily, you still have choices. You can utilize adhesive tactile enhancements like talon grips, or rubberized sleeve grips that fit snugly over your Glock grip. In addition to these, flared magazine well inserts can make reloading your Glock faster and easier.
Upgrade to a Weapon Light
Lastly, light it up.
If you're going to use your Glock as a home- or self-defense firearm, this one should be considered a non-negotiable upgrade. Read more about why here, but suffice to say, more bad stuff can happen in the dark. So bring light along with you. There are a lot of awesome options for pistol-mounted weapon lights, and you can find many models that pack some serious power at affordable prices. A couple of our favorites are the Steamlight TLR-1 HL, the Inforce APLc Glock Model, and the Surefire X300 Ultra. These units are proven, tested, and tough. When the sun goes down, you need to see what may be posing a threat to you and you need to be able to do it without compromising your good shooting grip. So let your light ride along on the pistol itself.

THE HEAD-TURNERS – COMPETITION AND CUSTOMIZATION UPGRADES
The incredible amount of options out there for Glock upgrades means you can really squeeze every last ounce of capability out of the platform for competition-level performance if you need to.
Upgrade The Barrel —
Glock has made some improvements to their barrels over the years, but nothing is going to be better for your accuracy than dropping in a quality match barrel. These will usually have traditional rifling rather than the hexagonal rifling that comes standard in Glock OEM barrels, so you can shoot softer lead bullets without so much fouling, increasing the lifetime and the performance of your barrel.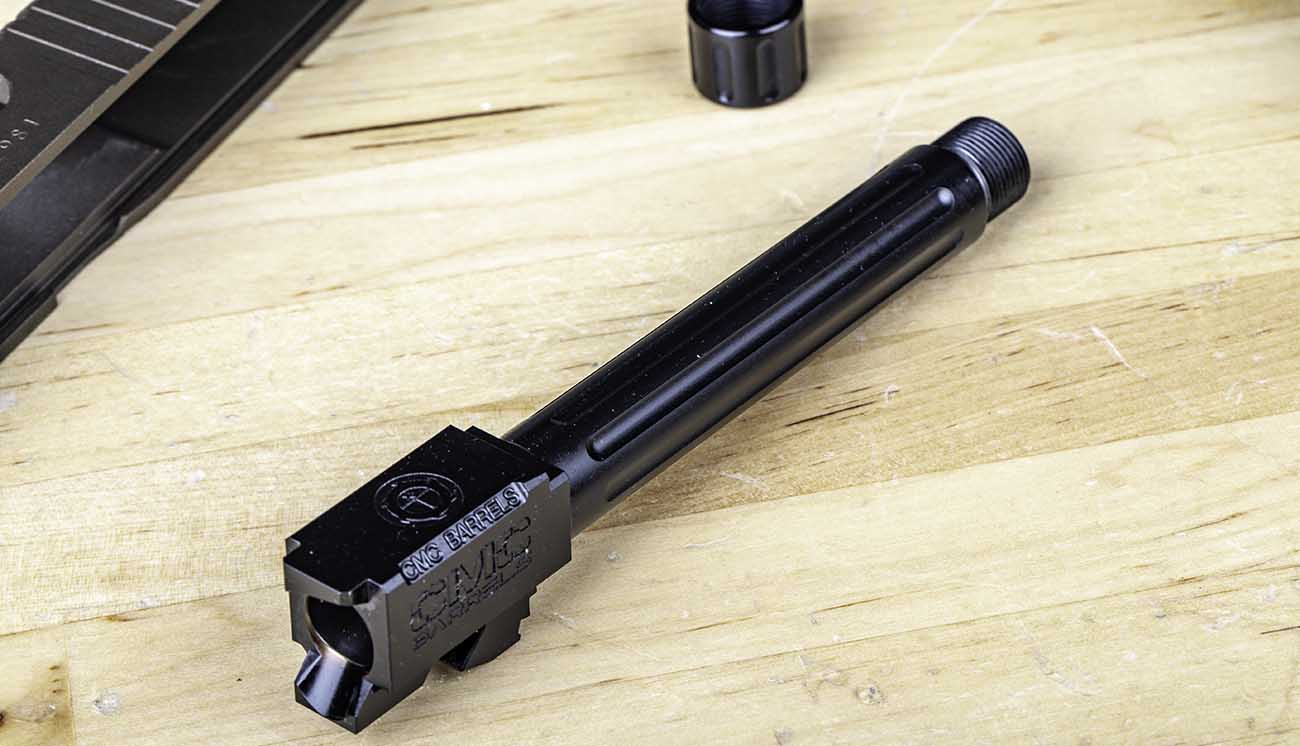 Add a Reflex Sight —
For the fastest possible sight acquisition and the best in low-light shooting, you're going to want to attach a mini reflex red dot sight to your Glock, like the Trijicon RMR or the Leupold DeltaPoint Pro. In competition, nothing gets you on-target faster and shots at greater distances have never been easier than with a red dot-equipped Glock. Most models run off of battery power, so to make sure you're always covered, pair your red dot with suppressor height iron sights to give you the ability to co-witness through the red dot. Or, invest in a model that runs on tritium and fiber optic like a Dual-Illuminated RMR, and you won't have to worry about dead batteries.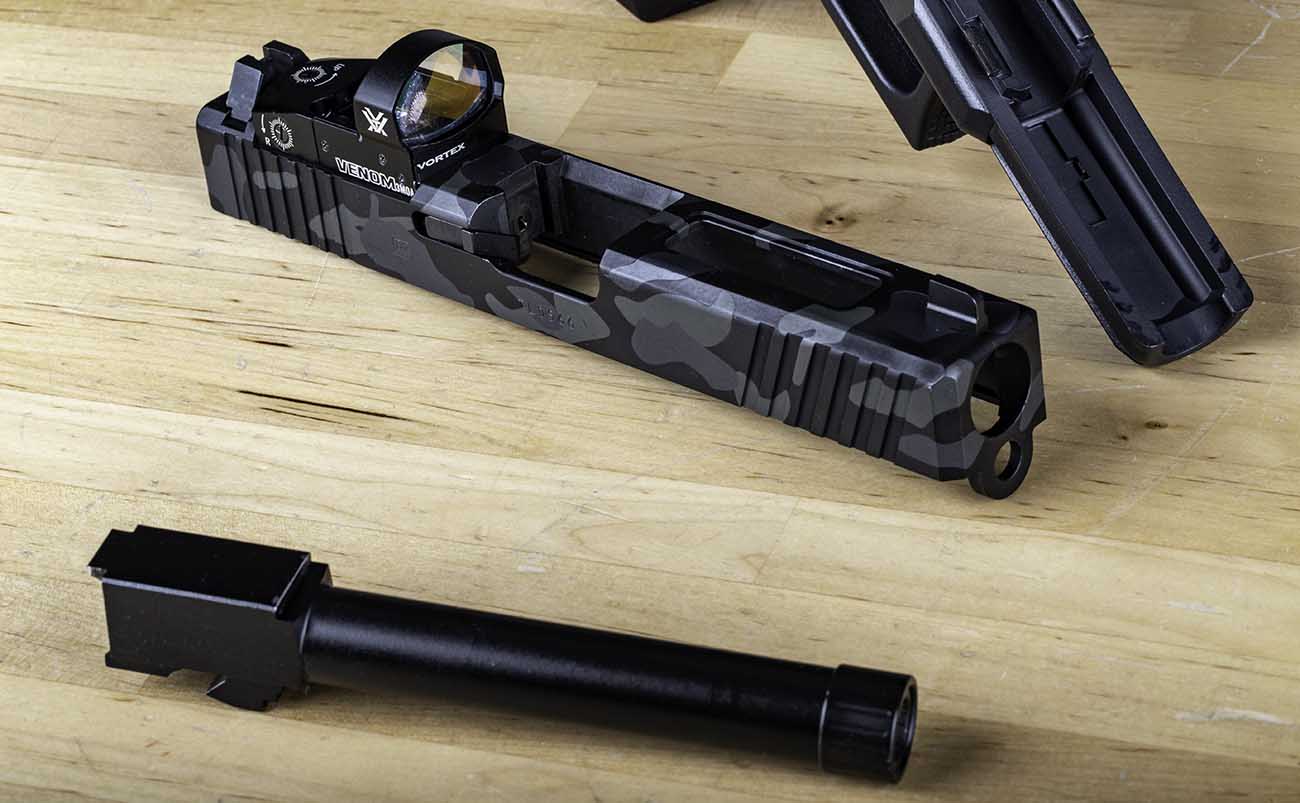 Custom Slide Work —
There's a practical purpose to this beyond just a customized, cool-looking pistol. Having your pistol's slide milled with additional serrations on the muzzle end makes press-checking your chamber for a round a lot easier. Some types of slide work can dramatically reduce the weight of your pistol or make it possible to rack the slide with one hand in a worst-case scenario. All told, this is again an opportunity for you to make your Glock what you need it to be. Customize the slide to your needs and potential uses, and any challenge you may believe you'll encounter, and prepare your pistol as well as yourself to overcome them.
The Glock is the AR-15 of pistols. Totally customizable, able to achieve fine-tuned performance, built to your specifications. More companies are selling parts and accessories for Glock platform pistols every year, so don't hesitate to dive in and make your pistol something unique to you.