Why You Should Consider a Single Stack 9mm Pistol
Maybe you want the protection, safety, and sense of security that comes with carrying a handgun, but you really don't want anyone to know you're armed. Yet you want to make sure that, if you ever need to use this weapon, it will get the job done. How do you balance these competing interests?
The single stack 9mm sub compact pistol.
People choose this style of semi-auto handgun because it can be small, lightweight, thin, and easy to conceal. Single stack 9mm pistols shoot a range of ammo capable of passing the FBI's minimum ballistic standards.
Like any firearm, trade-offs are involved, but there are some major advantages as well. We'll tackle all that ahead.
First, let's get some confusion out of the way.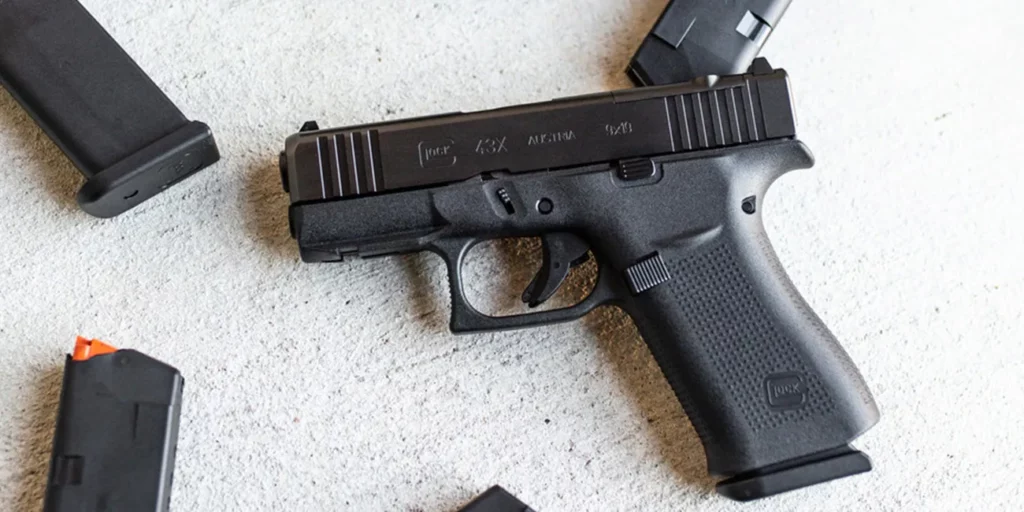 Shop All In Stock 9mm Pistols Here
What Does Single Stack 9mm Pistol Even Mean?
A single stack pistol's magazine holds the cartridges in one column. That means the mag can be thinner and a thinner magazine means an easy to conceal grip. However, it also means the magazine will hold fewer rounds.
A double-stack magazine holds two columns of cartridges. Because the ammunition is round, they nest together in a zigzag-type pattern. This results in a wider magazine with a higher capacity than single stack.
In recent years, a new hybrid style of magazine has emerged that tries to combine the best of both worlds. The semi-single stack magazine allows for higher capacity in smaller handguns. For example, the Sig P365 and Springfield Hellcat are similar in size to many single stack 9mm pistols, but they hold more rounds. Semi-singles do this by using steel-walled magazines that blend double- and single stack geometry.
There are fewer options on the market for semi-single stack pistols, but their increasing popularity means that new offerings are always just around the corner. Keep in mind that the magazines often cost more, and the increase in ammunition also means an increase in weight.
For this article, we'll be focusing only on single stack 9mm pistols. A wider variety of single stack models are available — many of them at a lower cost than semi-single — and you'll have access to a broader array of aftermarket accessories.
Ultimately, you have to choose the tool that is right for you.

Advantages of a Single Stack 9mm Pistol
Handguns are popular because they're small and easy to carry. Rifles are more effective at stopping a threat, but you can't always have an AR slung over your shoulder.
For some handgun carriers, concealment is the top priority. That's where the single stack 9mm pistol shines.
A thinner grip prints less, doesn't take up as much space, and is easier to tuck inside the waistband. If a pistol is more comfortable and easier to conceal, you're more likely to have it when you need it.
A single stack 9mm pistol allows you to carry the smallest possible platform that fires the round most relied upon by law enforcement agencies across the United States and elsewhere.
After years of practical experience, gunshot wound analysis, and ballistic testing, the FBI developed ammunition requirements that have become the gold standard for terminal performance.
One of those requirements is that a projectile must penetrate through 12 to 18 inches of ballistic gelatin after passing through several layers of fabric designed to simulate heavy clothing. The 9mm jacketed hollow point round has become widely adopted by law enforcement because it can meet those standards. Sure, you could shoot a larger .45 ACP, but that carries more recoil, which means less control and slower follow-up shots.
Some people prefer single stack 9mm pistols because of the ergonomics and depending on the size of your hands, you might find the thinner width of a single stack 9mm pistol easier to grasp and more enjoyable to shoot than double-stacks like the Glock 19.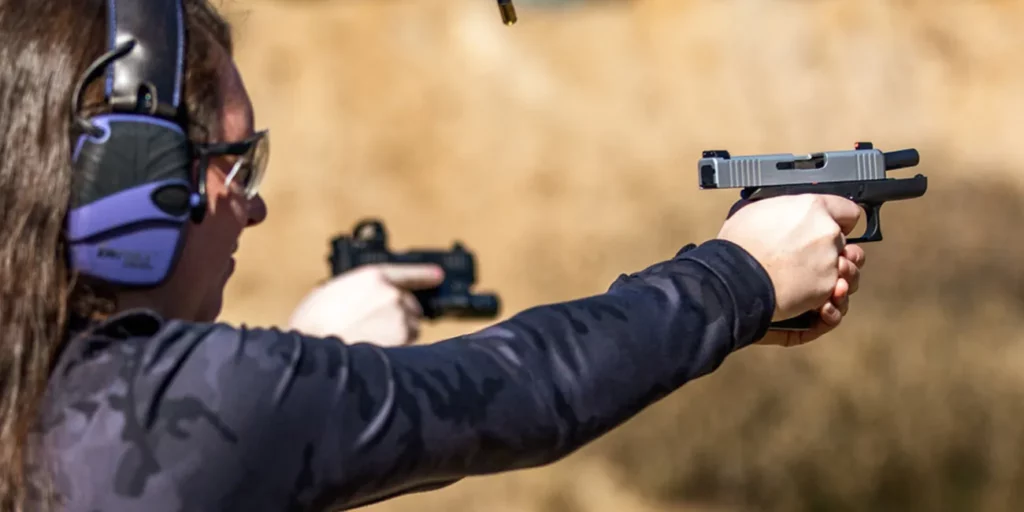 Disadvantages of Single Stack 9mm Pistol
Capacity is probably the biggest weakness of single stack 9mm pistols. Most have a capacity of ten rounds or less. Full-frame double-stack duty pistols can carry 17 rounds in the magazine or more.
However, the small amount of empirical data available on defensive shootings suggests most don't require much more than ten rounds. The conventional wisdom among many firearms trainers is the average gunfight is three shots at three yards in three seconds.
FBI statistics on law enforcement officers attacked with a firearm indicate a more complex reality. For most of the last decade, the average number of rounds fired by a victim officer who was able to draw their weapon was just under nine. While police are often confronting the same criminals that armed civilians have to deal with, the circumstances are not identical.
Some firearms trainers have found beginners may be slower to draw a single stack 9 because it's smaller than a double-stack and harder to grip reliably. Handling the recoil of a smaller pistol can also be more difficult, especially if the gun's frame is so short you can't wrap your pinkie finger around the grip.
Regardless, proper training can overcome the shortcomings of a single stack 9mm pistol. Make sure whatever firearm you use that you are regularly practicing, both by dry firing in a safe environment and with live fire on the range. Seek out a reputable trainer, especially if you are planning to carry a loaded firearm in public.
If you find that a single stack 9mm is too hard to control, consider stepping down to a .380 ACP single-stack. A wide range of .380 handguns are available in even smaller footprints, but many .380 ACP cartridges are too weak to meet the FBI's minimum ballistic standards, so you'll want to do more research on your ammunition.
Some of the top Single Stack 9mm Pistols on the Market
Now let's take a look at your options with the single stack 9mm. All of these are polymer-framed, striker fired pistols for a reason. The polymer frames make them less expensive and lighter weight. The striker firing action allows for fewer moving parts, more internal safeties, and lighter trigger pulls than hammer fired handguns.
GLOCK 43
For a long time, the GLOCK 43 was king in the world of single stack 9mm pistols. GLOCK's world-famous reliability, coupled with the small footprint of this pistol, helped it explode in popularity. The large number of after-market accessories available for this pistol adds to its appeal. For a long time, people were labeling this "the best carry pistol ever" because it was lighter and smaller than much of the competition.
Complaints about the 43 include its shorter grip. People with even medium-sized hands might have a hard time getting their pinkie finger on the grip without it slipping off.
Many accessories exist to resolve this problem, such as pinkie extensions and extended magazines that increase the capacity of the GLOCK 43.
The popularity of the GLOCK 43 prompted a boom in the number of aftermarket parts. For example, Crimson Trace makes a compact laser for the 43 — no rail required — and allows you to point the laser at the target to verify your point of impact.
In fact, one of the most appealing things about GLOCKs is the breadth of aftermarket accessories available, giving you a near-endless number of possible configurations. From enhanced triggers to connectors to milled slides, you'll have a lot of fun customizing the gun to suit your exact needs.
The specs for the GLOCK 43 include:
Capacity: 6+1 rounds
Weight with empty magazine: 17.99 ounces
Barrel length: 3.41 inches
Overall length: 6.26 inches
Height including magazine: 4.25 inches
Width: 1.06 inches
Shop GLOCK 43 9mm Sub Compact Pistol Here
GLOCK 43X
The GLOCK 43X is a larger variant of the GLOCK 43, offering a longer grip and higher capacity of 10+1 rounds. That longer grip is harder to conceal, but some shooters accept the tradeoff in exchange for a better purchase on the weapon and additional capacity.
One advantage of the GLOCK 43X is the possibility to increase capacity to 15+1 rounds with a third-party magazine developed by Shield Arms. Shield used a similar approach to the semi-single firearms—a steel magazine allowing for thinner walls and a modified geometry—to pack 15 rounds into the same space as GLOCK's 10-round OEM magazine.
However, Shield also makes magazine extensions for the 43X as does Strike Industries, Ghost Inc., and a host of other manufactures. This allows you to replace the floor plate of your factory mag with a longer piece that adds length but also increases your capacity.
A wide variety of enhanced magazine releases are available for the 43X if you want to upgrade to sleek aerospace-grade aluminum while retaining the functionality of the OEM mag release.
The specs for the GLOCK 43X include:
Capacity: 10+1 rounds
Weight with empty magazine: 18.7 ounces
Barrel length: 3.41 inches
Overall length: 6.5 inches
Height including magazine: 5.04 inches
Width: 1.1 inches
Shop GLOCK 43X 9mm Sub Compact Pistol Here
Ruger LC9S
The Ruger LC9S drives some hard competition against GLOCK's single stack 9s when you compare features and price.
The "S" in LC9S stands for "striker-fired." Earlier versions of this popular pistol were hammer fired, which tended to result in a longer, heavier trigger pull. The LC9S has a shorter, lighter, crisper pull. Hitting targets is easier when you're not pressing on the trigger as hard and potentially shifting the pistol.
The LC9S is less expensive than the GLOCK 43 and holds one additional round with a slightly longer grip. The factory sights that come with the LC9S are wind adjustable, marking an improvement over GLOCK's non-adjustable plastic OEM sights.
The LC9S barrel is slightly shorter than the GLOCK 43, resulting in slightly decreased bullet velocity. But the 0.29-inch difference is probably negligible.
Nothing beats GLOCK when it comes to the number of accessories available. But Crimson Trace does make a compact red laser for the LC9S that's activated by a pressure switch when you grip the handgun.
If the 7+1 factory capacity winds up not being enough, Ruger offers a 9-round magazine for the LC9S that includes a grip extension to give you more rounds without sacrificing the factory feel of the pistol.
The specs for the Ruger LC9S include:
Capacity: 7+1 rounds
Weight: 17.2 ounces
Barrel length: 3.12 inches
Overall length: 6 inches
Height including magazine: 4.5 inches
Width: 0.9 inches
Shop Ruger LC9S Sub Compact Pistol Here
Smith & Wesson M&P9 Shield
The widely loved Smith & Wesson M&P9 Shield is another strong competitor in the world of single stack 9mm pistols. The popularity of this firearm means you'll have access to numerous after-market accessories, including triggers, night sights, grips, and even threaded barrels in case you want to add a suppressor or muzzle device.
The S&W Shield is offered in a ton of different configurations. You can go for the classic version at the most affordable price or you can grab the updated 2.0 model with a lighter trigger pull, aggressive texturing, and other new features. Newer shooters may prefer the Smith & Wesson M&P9 Shield EZ 2.0.
The "EZ" model is designed for people with weaker hands who may have trouble racking the slide. The magazine is also easier to load thanks to built-in tabs that stick out the side of the magazine to help you pull down the follower. The grip safety gives an extra level of assuredness for shooters who may be less confident in their ability to make sure the gun only goes bang when they want.
If you are interested in a semi-single stack pistol, the new 'M&P Shield Plus' uses a staggered magazine design for a 13-round capacity. This is comparable to increasingly popular carry pistols like the SIG P365 or Springfield Hellcat.
The specs for the original M&P 9 Shield include:
Capacity: 7+1/8+1 rounds (Both Included)
Weight: 20.8 ounces
Barrel length: 3.1 inches
Overall length: 6.1 inches
Height: 4.6 inches
Width: 0.95 inches
Shop Smith & Wesson M&P Shield 2.0 9mm Sub Compact Pistol Here
Springfield XD-E
If you're looking for a single action 9mm pistol that is a bit different, the Springfield XD-E has an external hammer and is single-action/double-action (SA/DA) with an external ambidextrous safety that also functions as a decocker.
The SA/DA means you'll have a slightly heavier initial trigger pull with much lighter subsequent trigger pulls. This can be tricky for people to master. Some trainers advocate beginners stick with a double-action only striker fired handgun to have a consistent trigger pull from shot to shot. But if you're willing to invest the time learning the SA/DA, it can be fun and rewarding.
The Springfield XD-E comes with nice perks right out of the box. They include two different magazines, an eight-round flush magazine and a nine-round extended magazine. The pistol also ships with additional magazine base plates. The included fiber optic front sight is highly visible to help with rapid target acquisition.
The XD-E comes with Springfield's "Low-Effort-Slide" which requires 27% less effort to cycle compared to leading striker-fired pistols.
The specs for the Springfield XD-E include:
Capacity: 8+1/9+1 rounds (Both Included)
Weight: 24.9 ounces
Barrel length: 3.3 inches
Overall length: 6.75 inches
Height including magazine: 5 inches
Width: 1 inch
Shop Springfield XD-E 9mm Sub Compact Pistol Here
FN 503 Sub Compact
FN's new hotness is their 503 subcompact that comes with a metal trigger — a rarity in the world of polymer-framed, striker-fired, single stack 9mm pistols. The handgun also includes two magazines: a 6-round flush-fit mag for maximum concealment and an 8-round magazine if you want a higher capacity and longer grip.
The FN 503 has some other interesting features, including witness hole on the barrel to visually confirm if there is a round on the chamber. Unlike some competitors, the FN 503 has durable all steel sights.
The FN 503 has no rail, so accessory options are limited, but the gun came out in 2020, so more add-ons may be available soon. The FN 503 also lacks front slide serrations. Some people may care about that. Others will not.
The specs for the FN 503 include:
Capacity: 6+1/8+1 rounds
Weight: 21 ounces
Barrel length: 3.1 inches
Overall length: 5.9 inches
Height including magazine: 4.6 inches
Width: 1.1 inches
Shop FN 503 Sub Compact 9mm Pistol FDE Here
Choosing the Best 9mm Single Stack Pistol
Handguns are like food. What one person loves another may hate. But if you want to be able to defend yourself with a highly concealable handgun that chambers powerful-enough cartridge, the single stack 9mm should be on your menu of options.