Arguably one of the most popular handguns created in recent years, the SIG Sauer P320 has become one of the most prolific firearms in the modern era of firearm development.
It was the first handgun to have the serialized portion of the firearm be the fire control unit. Capable of near endless customization, the FCU can easily be swapped into different grip modules, either from SIG Sauer or other brands like Wilson Combat and Icarus Precision. For enthusiasts, this design makes the P320 one of the most easily customized pistols available today.
With such a design, there are near limitless options for what you can do with your P320. Let's break down what makes the P320 such a utilitarian pistol.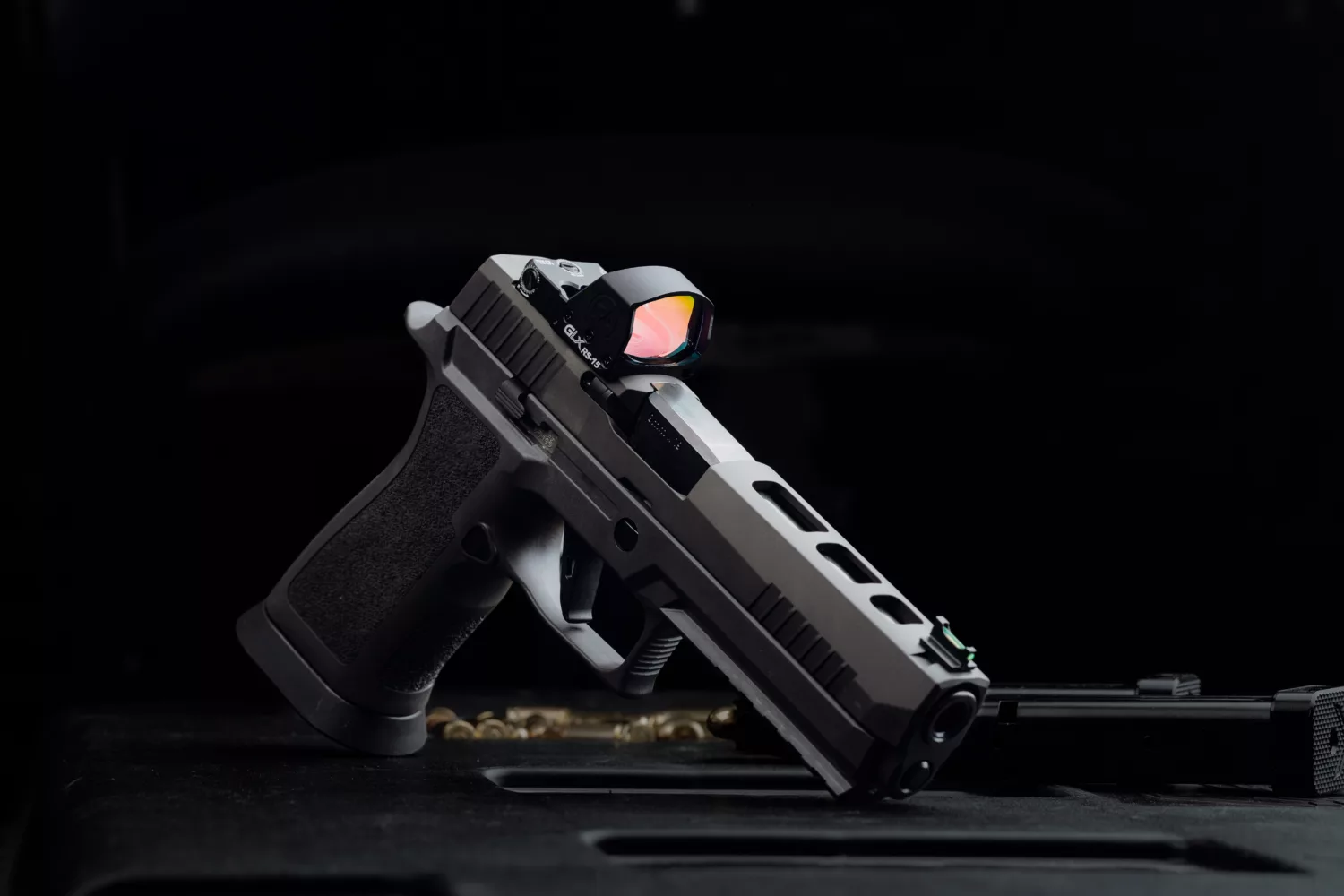 Understanding the P320 Grip Module
Just like we mentioned before, part of what makes the P320 such a unique pistol is its grip module. Unlike other handguns where the serialized part of the gun is in the frame, the serialized portion of the SIG P320 is the Fire Control Unit (FCU) itself. The FCU also makes it easy to swap out the grip module on your pistol.
Grip Modules 101
Grip modules are the frame/grip of the pistol. Whether you want a grip module that is slimmer, more textured, heavier with tungsten infused polymer, or made of aluminum instead of polymer, there's an option for you. If you're new to firearm ownership, take a look through our new pistol owner guide to get up to speed on what you'll need to know.
Deciding the size of the grip module you want is entirely up to user-preference. The beauty of the FCU's design shines in that the same FCU can be used for each grip module size. For example, if you have a full-size P320 and buy a compact slide and carry-sized grip module, you can take the FCU out of your full-size pistol and use it in the carry sized one.
While it's nice being able to quickly change the size of your pistol, SIG's grip modules do more than just change the size. Depending on which one you opt for, it can come with a slimmer grip width, added stippling texture, or it could be made with a different material. There are a lot of options to look at when choosing a P320 grip module:
Grip Modules Available
You can find a wide variety of different grip modules available, but they aren't all the same. As we mentioned before, some have different weights, textures, and shapes. Some grip modules are made by other companies like Wilson Combat and Mirzon. Below is a breakdown of what to expect from each type of grip module:
X-Series Grip Module–SIG X-Series grip modules feature are slightly thinner than the standard ones and also have additional grip stippling added to them. These grip modules also have the option to have SIG's more aggressive laser engraved stippling. If you want a slimmer grip with some additional grip texture, it's a great option. Keep in mind, this grip module is not compatible with any fire control units that have a manual safety. If you want to use this FCU, you'll need to get a safety delete bar from SIG Sauer. You can get this grip module in other colors as well, like black, gray, and FDE, and coyote.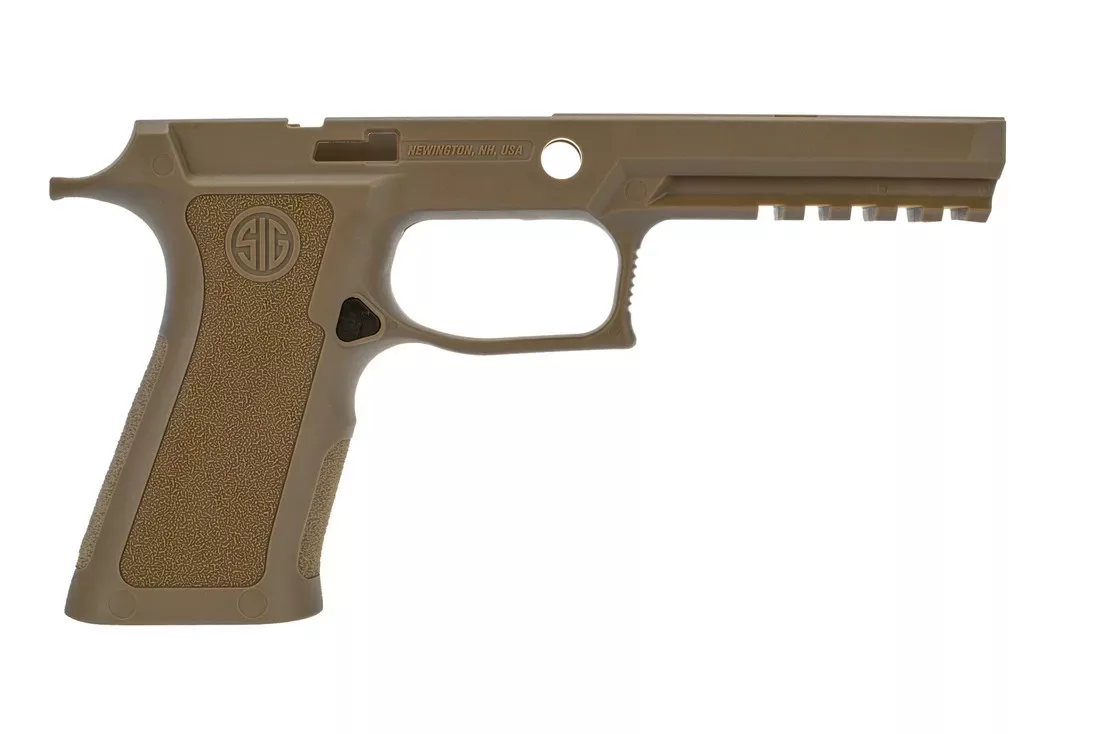 X-Series TXG Grip Module–The TXG has the same shape and stipple texture as the standard X-Series grip modules, but instead of being made of standard polymer, it's made of tungsten infused polymer. This was first used on the P320 X-Legion, which was designed primarily for competition shooting. While a great option for keeping your pistol steady when shooting, the added weight can make it slightly cumbersome when every day carrying; pairing it with a good holster and belt combo can provide support to tame the weight. Like the standard X-Series grip, it is not compatible with manual safety FCUs.
Heavier pistol weights reduce felt recoil and can be used in a competition setting with some opting for this grip module, or the SIG P320 X-Legion, as their competition handgun. In competitions like 3-gun, this added weight from the tungsten goes a long way in helping you get a good time. If you're interested in learning more, we have a guide for getting started in 3-gun that's perfect for beginners.
SIG AXG Grip Module–SIG Sauer's AXG line of grip modules are the only ones by SIG Sauer that are made of aluminum instead of polymer. These modules are only available in the carry size, so you can only use them if you have the compact slide. Since they're made of aluminum, they don't have any stippling on the grip. Instead, you can mount interchangeable grip panels to enhance the grip. SIG makes their own wood, brass, and G10 grips that come in a variety of color configurations. As for the grip module itself, it's available in black, flat dark earth, and titanium gray cerakote.
Icarus Precision A.C.E.–Milled from 7075 aluminum, the Icarus Precision P320 grip module blends the look of the traditional P320 grip module with upgraded ergonomics and other enhancements. It has an elevated finger notch that allows you to have a higher grip and it comes with an extended beavertail to aid in recoil management. Also, it comes with a custom A.C.E. cut trigger guard and enlarged finger notch for your dominant hand. Grip texturing is present on the frame, making it a fully billet alternative to the standard polymer P320 grip module.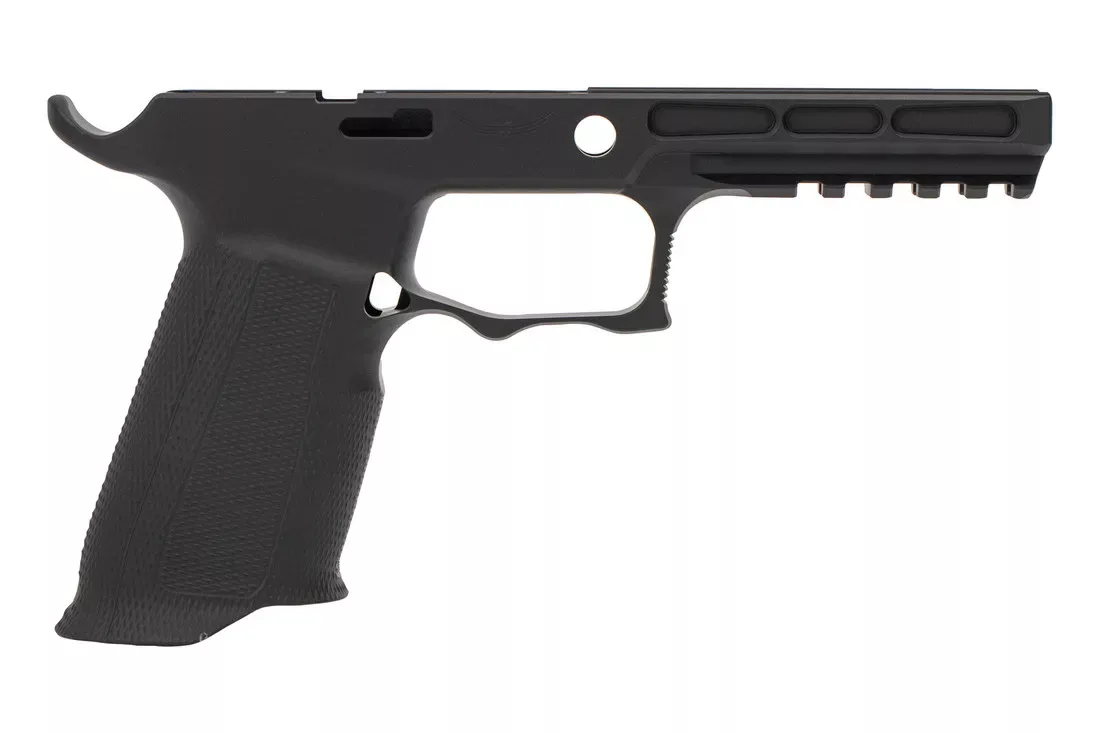 Mirzon XCarry Grip Module–Built from the standard X-Series grip module, Mirzon has partnered with SIG Sauer to create this grip module for the P320. Keeping the same profile as the X-Series modules, this grip features a rubber overmolded grip and backstrap. In the grip, there are additional finger grooves, as well as a lower beavertail to help with recoil control. Another cool feature is its reversible magazine release. If you're a left-handed shooter, you can flip the release button to make reloads easier and feel more natural.
Wilson Combat Grip Module–Wilson Combat produces a grip module for the P320 that has increased grip stippling and redesigned ergonomics to improve your grip and control of the pistol. With the legendary quality of Wilson Combat, this grip module has a 1911 style high-cut beaver tail and comes in different sizes that can be fitted to each P320 size. It's even compatible with all standard holsters for the P320. Also, it has slots integrated into the frame that allow for rod-style tungsten weights. Perfect for everyday carry, competition, or just for the range, it's a great option for upgrading your pistol. Also, keep in mind that the Wilson Combat P320 is often sold complete.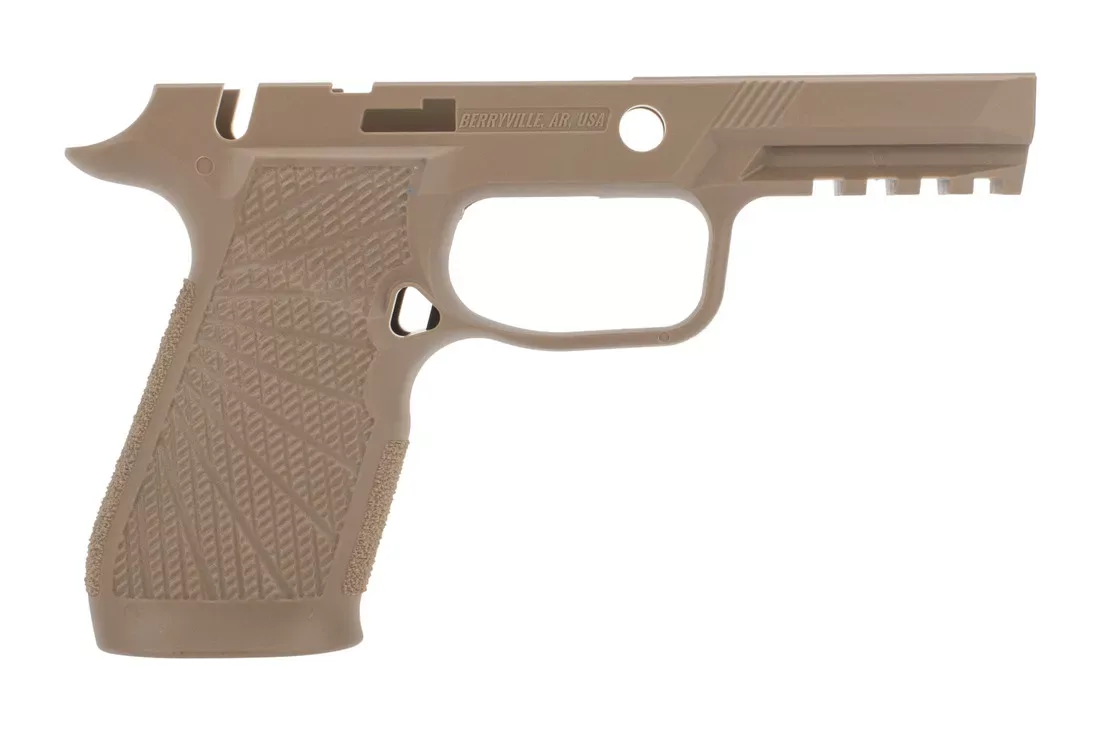 There isn't anything wrong with the standard grip module for the P320, but at times, it leaves something to be desired. Fortunately, with such a wide variety of grip modules available, there's sure to be one that best fits your needs.
Now that you know what's available, you'll need to know how to remove the FCU from your pistol so you can install it into the new grip module.
Changing your SIG P320 Grip Module:
Swapping grip modules on your P320 isn't as hard as it sounds. It can be done at home, usually under an hour. While you can remove the FCU with basic tools, we recommend using proper punches and tools when necessary as to prevent any accidental damage to your FCU. Keep in mind that if you feel uncomfortable in your ability to change the grip module, we recommend you take your handgun to a gunsmith to ensure proper installation.
Swapping Grip Modules: Step by Step
Before you switch out the grip module on your SIG Sauer P320, be sure to check and see that your firearm is clear. Drop the magazine out of the pistol by pressing the mag release button, then pull the slide back to check if there is a round in the chamber. Once you have seen and felt that the chamber is empty, you're ready to disassemble your pistol. Now, follow the steps below:
Remove the slide
Now that you've cleared your P320, lock your slide open by pulling back on it while simultaneously pushing up the slide catch. Once locked open, rotate the takedown lever downward. Keeping a firm grip on the slide, depress the slide lock and your slide will come off of the grip module.
Removing the FCU
With the slide removed from the stock grip module, you're ready to remove the FCU. Start by removing the takedown lever by rotating it. It needs to be twisted from left to right in order to come out. Once removed, you can remove the FCU.
The FCU is removed by pushing on the back of the trigger. It should pop out with a little pressure, but remember to be gentle when handling internal components on your pistol.
Installing a Safety Delete Bar (Skip to Step 4 if your FCU doesn't have a Manual Safety)
If you have a P320 model that has a manual thumb safety, you will need to remove it unless your new grip module allows for the safety to remain. Make sure you have a safety delete bar, or else you won't be able to reassemble your pistol properly.
To remove the safety, it needs to rotate backwards. There is a detent that prevents the safety lever from moving backwards; using a flathead screwdriver or a flat prying tool, push the bar in. Rotate the safety lever back, and it will come out of the FCU in two pieces. Be sure to hold on to the safety lever firmly as there is a spring locking mechanism attached to it. Removing it could cause it to accidentally get launched off the lever, and if it's lost, it will make the safety unusable if you were to ever reinstall it.
With the safety removed, use your flat prying tool to push the pin back into its original position. Now, push the delete bar in place of the safety lever until it clicks into position. Once secured, it has been successfully installed.
Installing the FCU
Installing the FCU into your new P320 grip module is just as easy as taking it out of the old one. Insert the FCU so that the guide ears for the slide are seated snuggly. You may need to apply slight pressure on the trigger to get it to seat into place. Once in place, pull the trigger slightly to set it firmly in place. You could use the soft end of a gun mallet to gently tap it into place.
Take your takedown lever and insert it into the new grip module. This will lock the FCU in place and keep it from moving when putting the slide on the grip module.
Put on the slide
You're on the home stretch. To reinstall the slide, rotate the takedown lever to the down position. While holding it in place, pull the slide onto your new grip module and lock it in place. If you're having trouble reattaching the slide, double check that your FCU is fully seated in the grip module and if your recoil spring is properly aligned on your slide.
Once in place, work your slide and dry fire the pistol to make sure that the trigger is resetting when pulling the slide back. Now you're ready to use your P320 with its new grip module.
A simple process, swapping your grip module can be done quickly at home with minimal or no tools. To make the process as easy as possible, make sure you're on your stable flat surface, like a workbench or table, and though it isn't necessary, a gun mat can keep any parts or tools from shifting on your table.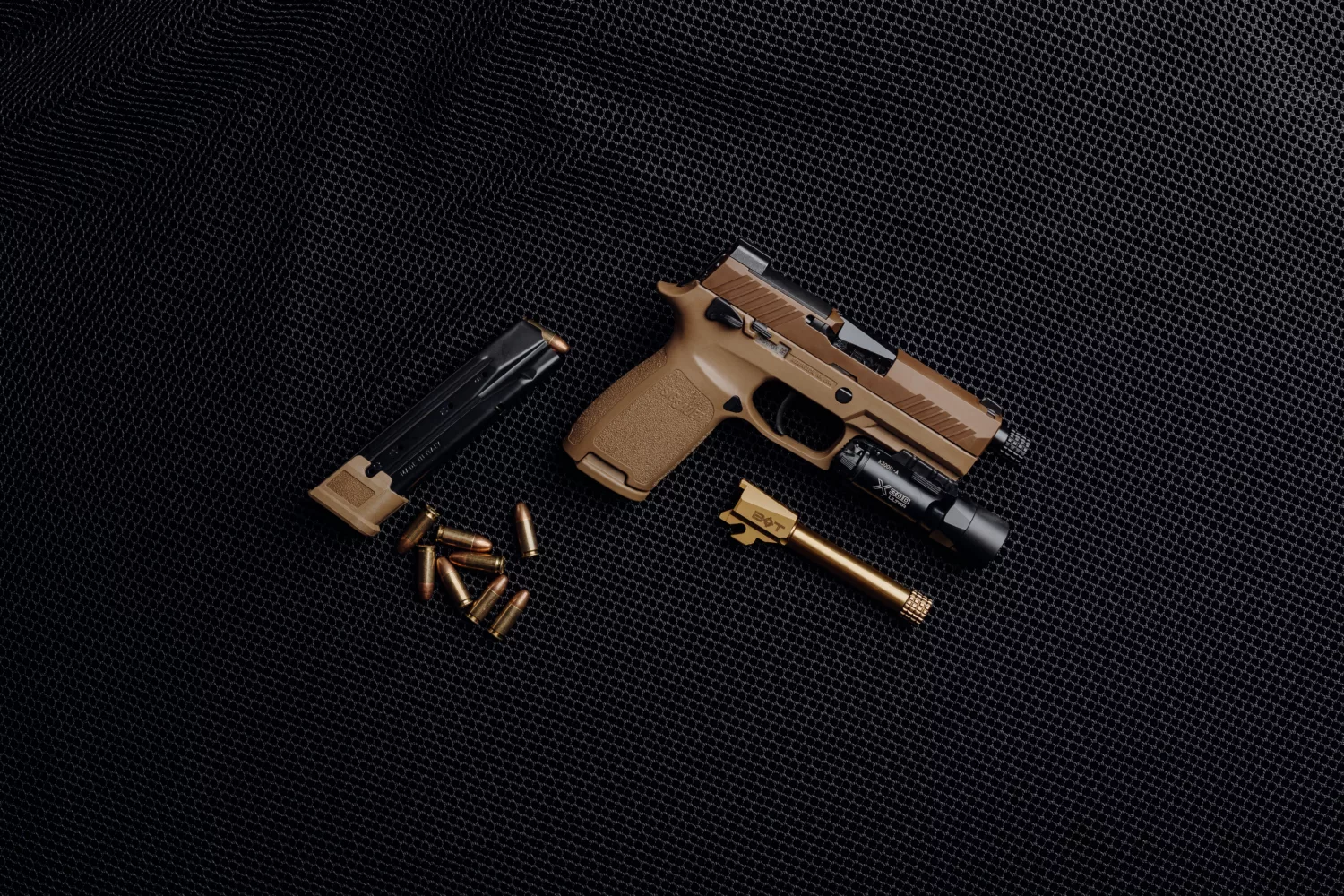 P320 Size Differences
We mentioned earlier how the SIG Sauer P320 comes in full, carry, compact, and compact sizes. But what are the differences between them? They actually change the look and feel of the firearm quite a bit. Allow us to break down the specifications of each available size of the P320:
P320 Full Size
The largest option available in the P320 lineup, the full-size variant has a full-length grip and comes standard with a 17-round magazine. With an overall length of 8-inches, it has a 4.7-inch barrel and a standard 1913 light rail. It can be a successful option for concealed carry if you're comfortable carrying a full size firearm and works great as a home defense pistol.
P320 Carry
SIG's P320 Carry features the same grip as the full-size variant but has a shorter slide. Using the compact slide, you get the shorter length (7.20-inches) of the compact model while still having the capacity of the full-size one. Depending on how you carry, it can be easier to carry handguns with shorter lengths. Especially for IWB carrying, since it doesn't have to sit as deep in your waistband.
P320 Compact
The P320 Compact uses a shorter slide and grip. It has a 7.2-inch overall length with a 3.9-inch barrel, and it also has a standard capacity of 15-rounds. The overall size of this pistol is akin to a GLOCK 19 and other compact pistols, making it a good choice for concealed carry if you want a smaller form-factor.
Choosing one of the different sizes of the P320 is going to be up to you. It's all up to user preference. Consider what your handgun's purpose is going to be. If you want to just keep it in the house and take it to the range occasionally, the full-size P320 is a great option, giving you a longer sight radius and higher capacity. If you're wanting a new handgun for concealed carry, the carry and compact sizes are more manageable to carry every day.
While the P320 is a great option for defense, there is a lot to consider when starting your search. Check out our guide going over the best handguns for self defense to learn more.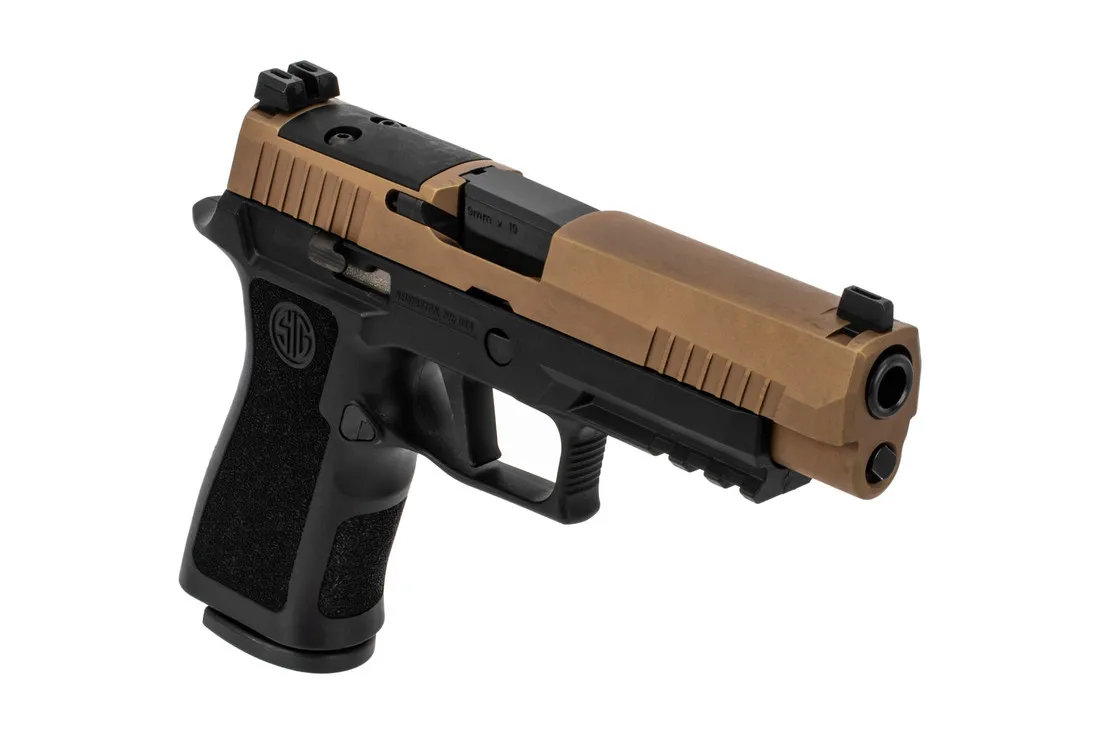 P320 X-Series
One topic that we touched on previously was the X-Series, specifically the grip module for it. However, SIG's X-Series is more than just a grip module change. X-Series P320 pistols also have an upgraded match trigger. This trigger has a lower pull weight, shorter reset, and slightly less travel than the stock P320 trigger. This makes the X-Series a well-rounded pistol, great for defense or recreation.
It's worth mentioning this variant of the P320 because it's more than a grip change. Just buying the X-Series grip module will not provide you with the enhanced trigger and performance of a complete X-Series pistol.
Fortunately, you can purchase an X-Series FCU with the upgraded trigger, meaning all you'd need is a grip module and a slide to complete your P320. Going this route means you can fully customize your P320 experience without having to miss out on any potential upgrades.
If you have defense in mind when you're purchasing a pistol, check out our guide on guns for self-defense, and buying a personal defense gun to know what to look for in your search.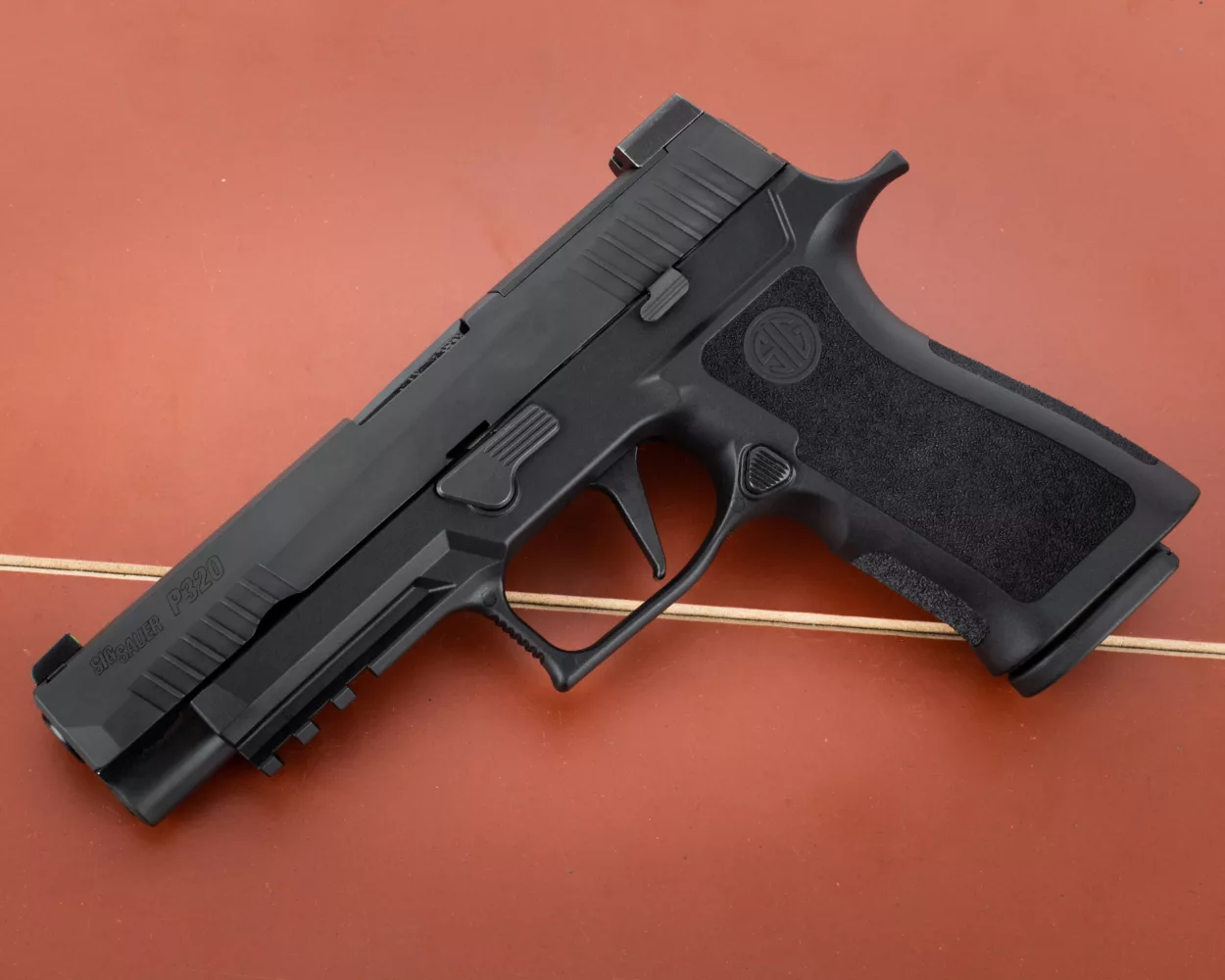 Conclusion
SIG Sauer's P320 pistol has changed the game since its release. With the unique design of the FCU and multiple grip modules available, the options for customization are nearly limitless for the pistol.
For enthusiasts, collectors, or anyone looking to get a utilitarian pistol, the P320 is an excellent option since it is easily modified and comes in multiple configurations. If you plan on getting a P320 and are intent on modifying it immediately, it might be worth it to get a standalone FCU so you can build your pistol without having to buy one complete.
The beauty of this platform is that even if you have an older P320, you don't have to settle for older performance. Shop our online gun store to find all you need for your SIG Sauer P320 and more.