If you're trying to shop for your first red dot in 2023, the number of options can be daunting. Even if it's not your first dot, it's easy to start delving into the details of dot sizes, mounting systems, illumination types, and more and get struck with analysis-paralysis.
To help with that, we put together this cheat sheet for anyone looking for a new red dot in 2023. For simplicity's sake, we've split it into separate categories for pistol and rifle dots, since the two typically have little in common, then broken it down by use case.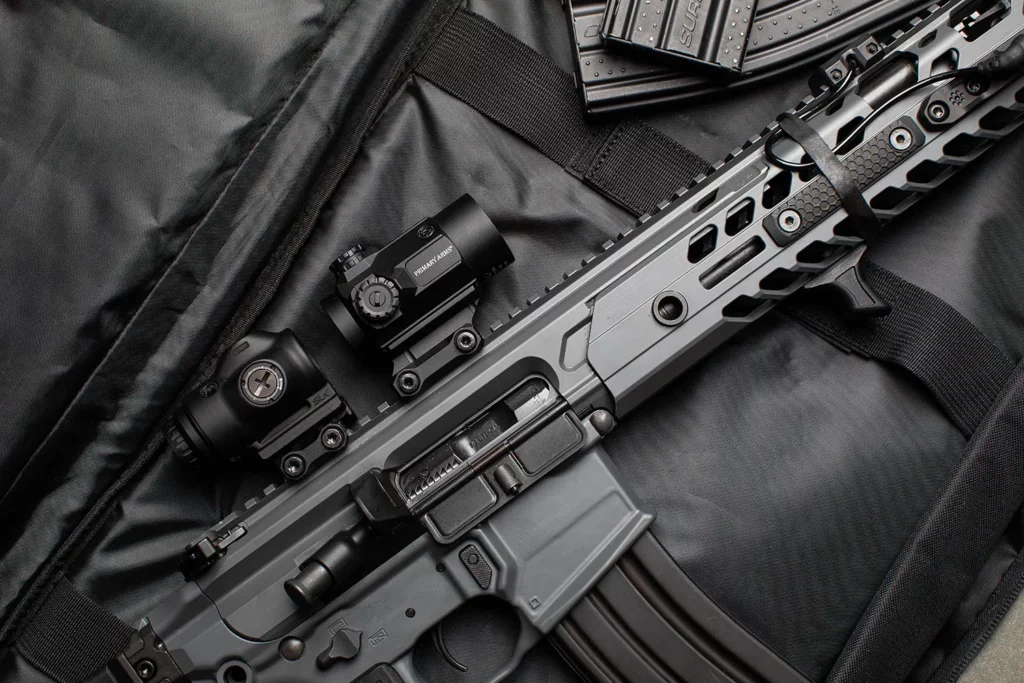 2023 Red Dot Buyer's Guide: Rifle Red Dots
We're lucky to live in what could be considered the golden age of rifle red dots. Once a delicate accessory relegated to competition and plinking rifles, the technology has slowly matured over the last quarter-century to become rugged and effective. Thanks to red dots' overwhelming popularity, even high-quality sights have gotten relatively affordable.
Duty Red Dots
In a duty red dot, the primary quality we look for is durability. Whether your rifle is going with you on patrol or sitting with you in a guard station, it needs to be tough enough to handle anything life can throw at you and as many of us know, life gets creative.
After ruggedness, duty red dots should prize battery life and versatility. The utility of battery life is self-evident; you don't want your battery dying during a firefight. Luckily, there are a plethora of dots on the market at all price ranges that offer battery life measured in tens of thousands of hours, so finding one with sufficient battery life shouldn't be an issue.
Versatility mostly boils down to dot size. Other factors matter too—you want a dot that's compatible with your NODs, if you use them, and one that has sufficient brightness settings for a wide range of scenarios—but the primary concern is dot size.
You'll want a dot that splits the difference between speed and precision. If the dot is too small, you might have a hard time acquiring it quickly at close range. Too large, and it might obscure the target too much at distance to be useful.
Shop All Primary Arms Red Dots
A good example of a duty red dot is our MD-25 sight. It's available with either a classic 2 MOA dot or our ACSS® CQB Reticle and is well-respected for its durability and value. In 2021, the MD-25 was awarded "Red Dot of the Year" in the Industry Choice Awards. It's even night vision compatible and can run for up to 50,000 hours without a battery change.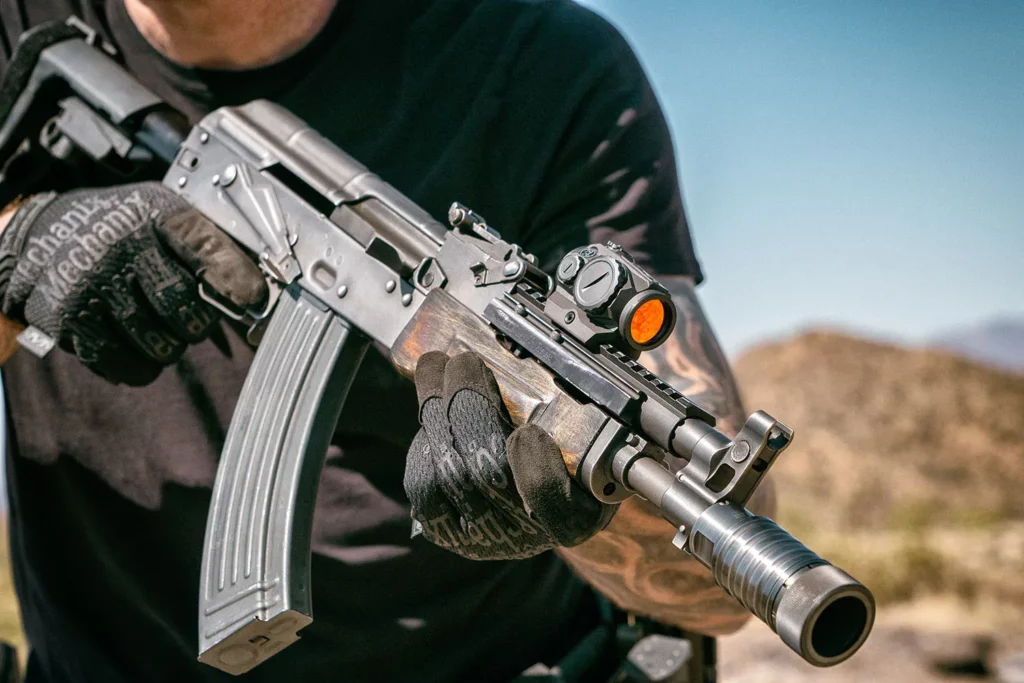 Micro Red Dots
If you're trying to keep your rifle light, red dots like the MD-25 will be better than a scope, but there are lighter options on the market. Or, maybe you're just looking for a slim, snag-free profile.
In either case, what you're after is a microdot. This sub-category of red dots features sights designed to be as small as possible. Typically, these dots weigh in at 6 ounces or less, making them ideal for a lightweight build.
They also tend to be fairly minimalist—when you're trying to shrink a red dot as small as possible, there's not a lot of extra room for frills and fancy tech. There are a few exceptions, but if you're shopping for a microdot, expect simple reticles and straightforward feature sets.
The original microdot is the Aimpoint T2. It demonstrated the utility of a small, light reflex sight and set the standard for mounting patterns, proliferating wide range of aftermarket mounts and accessories. It's also about as simple as dots can be; it turns on and off, adjusts for brightness, and not much else.
Our SLx Microdots, like our SLx MD-20, are a more contemporary option and offer a similar feature set at a fraction of the cost. They offer 50,000 hours of battery life, a 2 MOA dot, and night vision capability. They can even use the same mounts.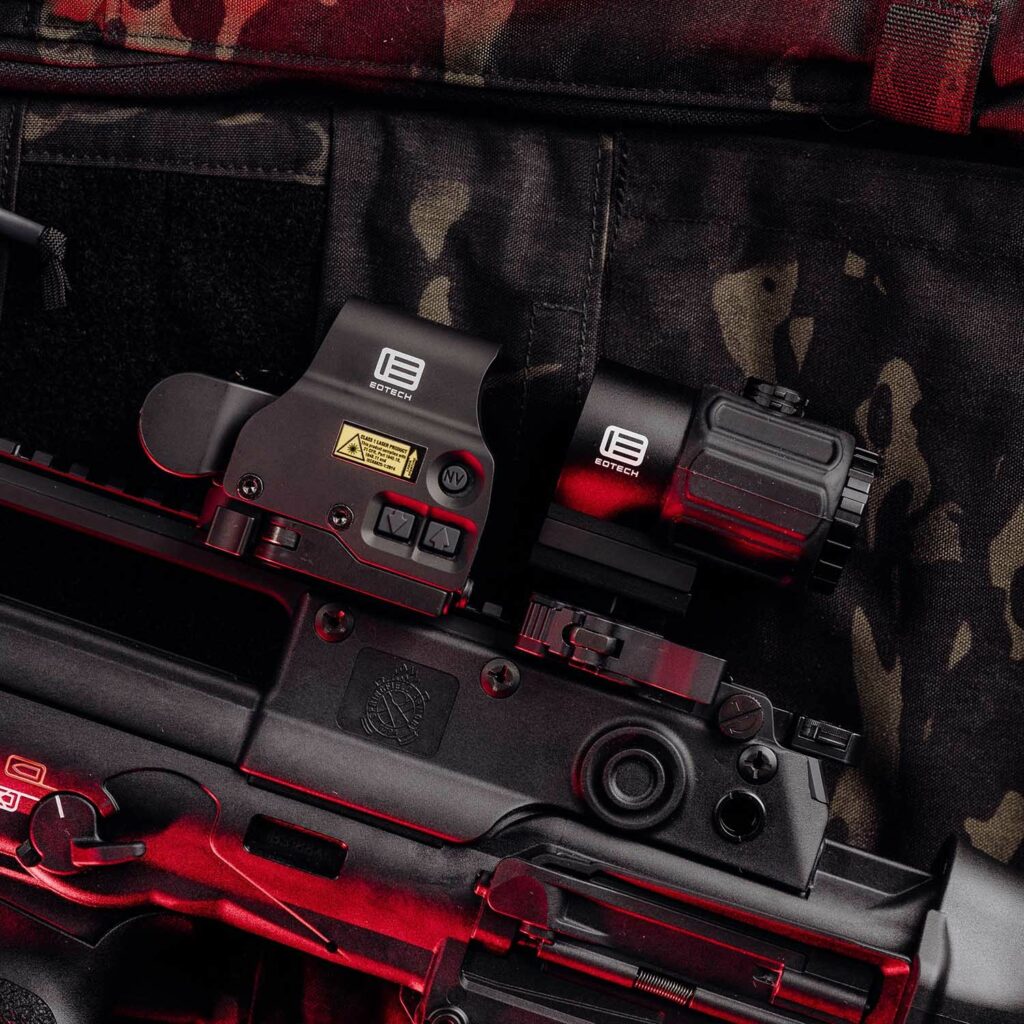 Holographic Red Dots
While not technically 'red dots', holographic sights are another subcategory of reflex sights. Traditional red dots use a simple, energy-saving LED emitter to generate their reticle, holographic sights use a more complex system of emitters and lenses to create their image. This system allows for more complex reticles and in some cases can be easier on those with astigmatism, but at the cost of lower battery life.
The best-known manufacturer of holographic sights is EOTech, in part because, for a significant time, they were essentially the only manufacturer of holographic sights. While they offer several models, we would consider the EXPS3 to be the flagship. It features night vision compatibility, a quick-detach mount, and a smaller footprint than their earlier designs.
Many users find EOTech's dot-and-ring reticle to be exceptional for close-quarters use, offering faster speed than a single large dot could without sacrificing precision for long-range engagement. The large outer circle can be used as a secondary aiming point for ultra-close-range marksmanship as well.
In recent years, a second holographic sight has entered the market—the Vortex AMG UH-1. This sight uses the same core technology as an EOTech, using a system of lenses to create a holographic image, but features a slightly different reticle and longer battery life.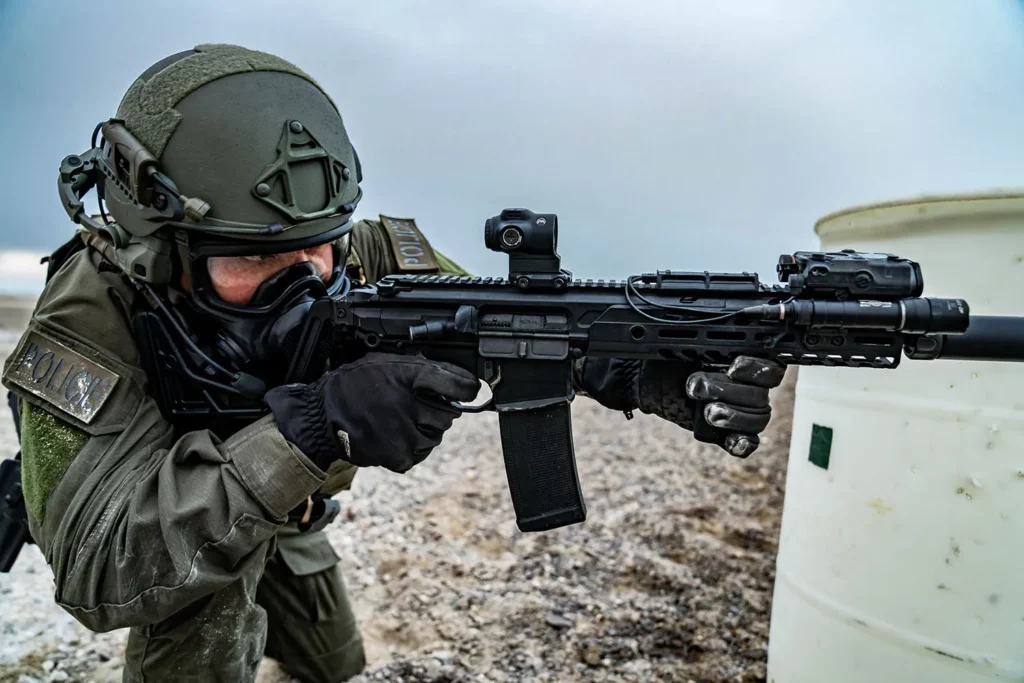 Red Dots for Astigmatism
Holographic sights have long been hailed as the solution for those suffering from astigmatism, but they're not a universal cure. Many users still find holographic sights to produce an unacceptable level of bloom or blur.
Now, there is another option: our SLx® 1x MicroPrism.
Technically, it's not a red dot, but the functionality is similar enough for it to be included on this list. Like red dots, the MicroPrism offers generous (though not unlimited) eye relief, forgiving head positioning, and extremely fast target acquisition. Because it uses an etched reticle, though, it's much less likely to cause problems for those with astigmatism.
Shop All Primary Arms MicroPrisms
The MicroPrism also has the benefit of an auto-ranging bracket, a chevron reticle with an infinitely small aiming point, and magnifier compatibility. If you're struggling to find a red dot on account of your astigmatism, we really can't recommend the MicroPrism enough.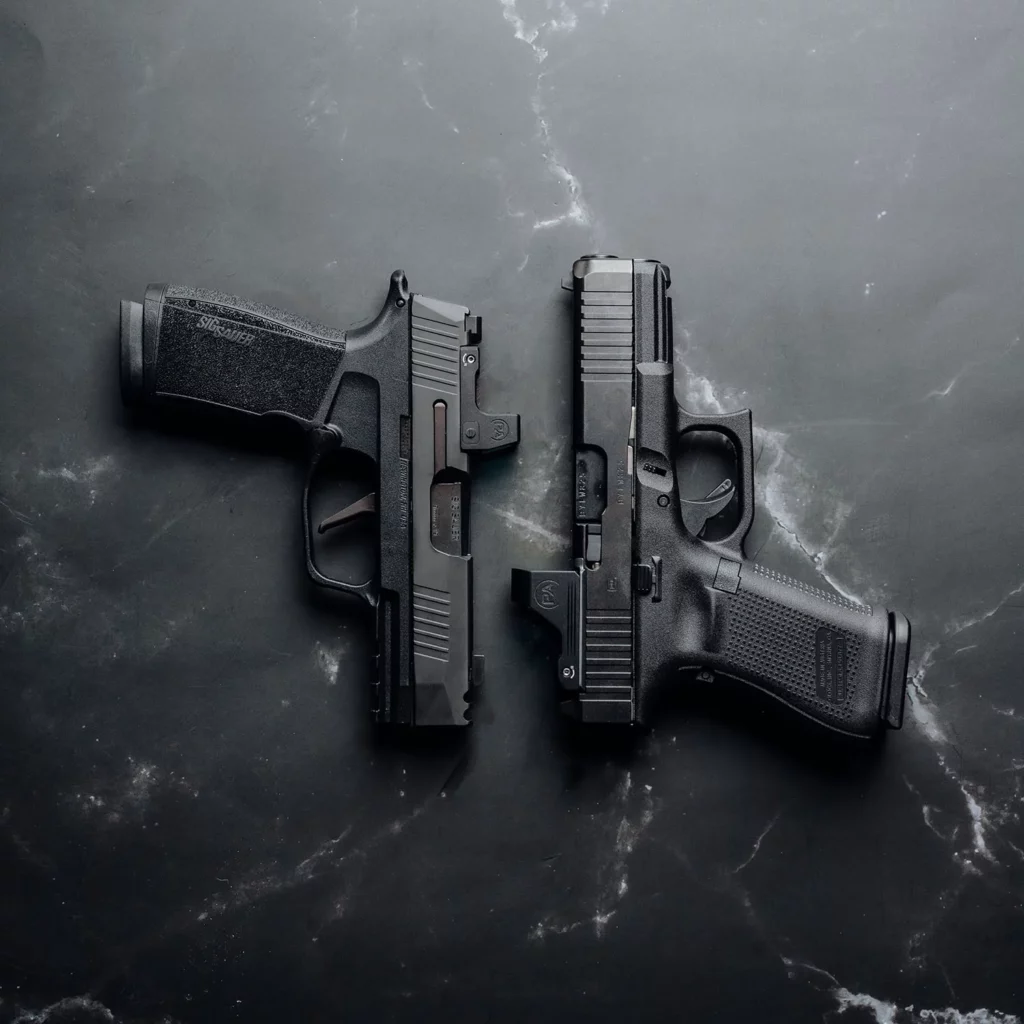 2023 Red Dot Buyer's Guide: Pistol Red Dots
Red dot sights that are small and tough enough to be installed on a pistol are a relatively recent innovation; competitive marksmen have been using red dots on their handguns for quite some time, but until recently, the sights were nearly as large as a rifle red dot and required a special non-reciprocating mounting system bolted to the frame.
In the last decade, we've seen a massive increase in the popularity of pistol-mounted red dots like the Trijicon RMR, spurring a rash of innovation. The market is now awash with tough, tiny red dots suitable for mounting to a handgun slide.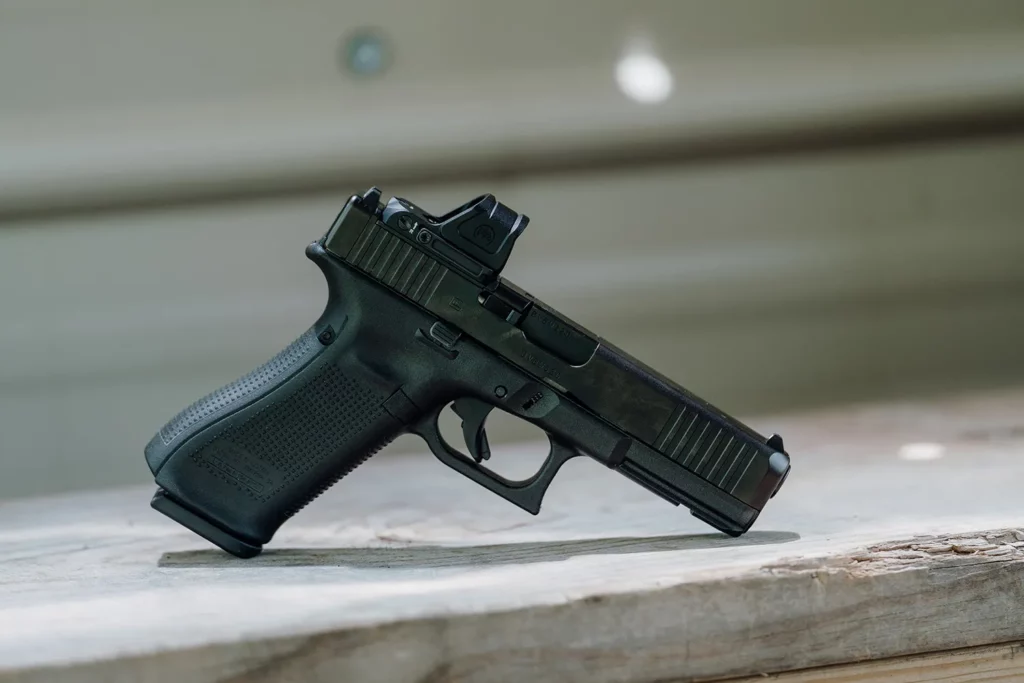 Duty Pistol Red Dots
Just a few years ago, the idea of a red dot on a duty or service pistol would have drawn quite a bit of debate. Now, though, as red dot technology has progressed, these mini reflex sights have gotten tougher, smaller, and better to the point that the military's most recent handgun trials specifically requested optic compatibility.
For a duty pistol red dot, you'll want many of the same qualities we talked about with duty rifle dots. Durability is, of course, paramount. We'll want the same balanced red dot size for speed and precision and good battery life.
For a pistol red dot specifically, you'll also want to consider secondary factors like iron sight compatibility. No matter how much confidence you have in your red dot, most authorities would agree a duty handgun should have backup iron sights available. Depending on your firearm, red dot sights with large bases or unusual dimensions may not allow you to co-witness with irons.
Trijicon's iconic RMR is an excellent example of a proper duty pistol red dot. It's got an ironclad reputation for durability and uses one of the most common footprints in the industry, making it easy to find a mounting system or adapter plate for your pistol. The open-bottom design is something of a double-edged sword, allowing the sight to sit very low to your slide, but also leaving it exposed to liquid or dust incursion.
The drawbacks can be eliminated with a sealing plate, though, and the low profile makes it easier to find sights that will properly co-witness. RMRs are offered with a vast assortment of reticles, so you'll have no problem finding one that suits your preference.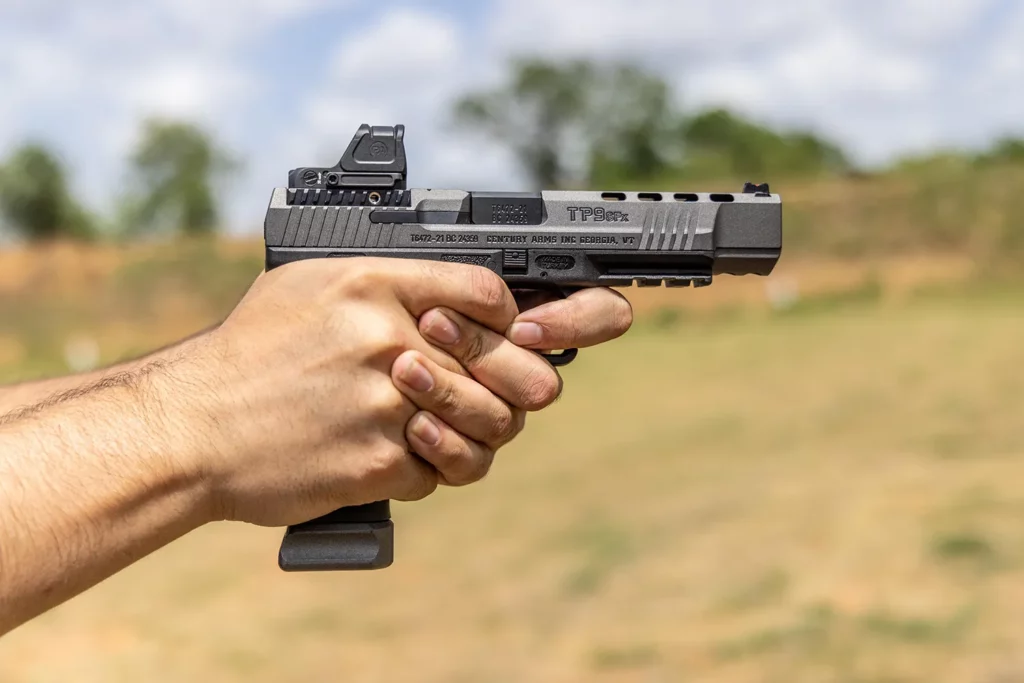 Affordable Pistol Red Dots
Of course, not every user wants or needs to shell out for the most expensive optic they can get their hands on. As with all things in life, the most expensive red dots tend to come with diminishing returns; a $500 dot might offer features or durability a $250 optic doesn't, but it's probably not twice as much.
If you're looking to get the most bang for your buck, we wholeheartedly recommend our SLx RS-10 red dot. It's a feature-rich optic that won't break the bank but is still tough enough to earn a Silver-Tier rating from the National Tactical Officer's Association. The NTOA tests optics in the field, not in a lab with controlled or simulated tests, meaning the RS-10 has proved its durability under real-world conditions.
The RS-10 is fully sealed with a side-opening battery tray, meaning you won't have to remove it to replace the battery. It's awfully convenient, since removing the red dot generally means an extra range trip just to re-zero it afterward.
The 3 MOA dot is a good balance between speed and precision for a handgun; since shots over a hundred yards are a rarity with pistols, these types of red dots tend to use slightly larger reticles, as long-range capability isn't a concern.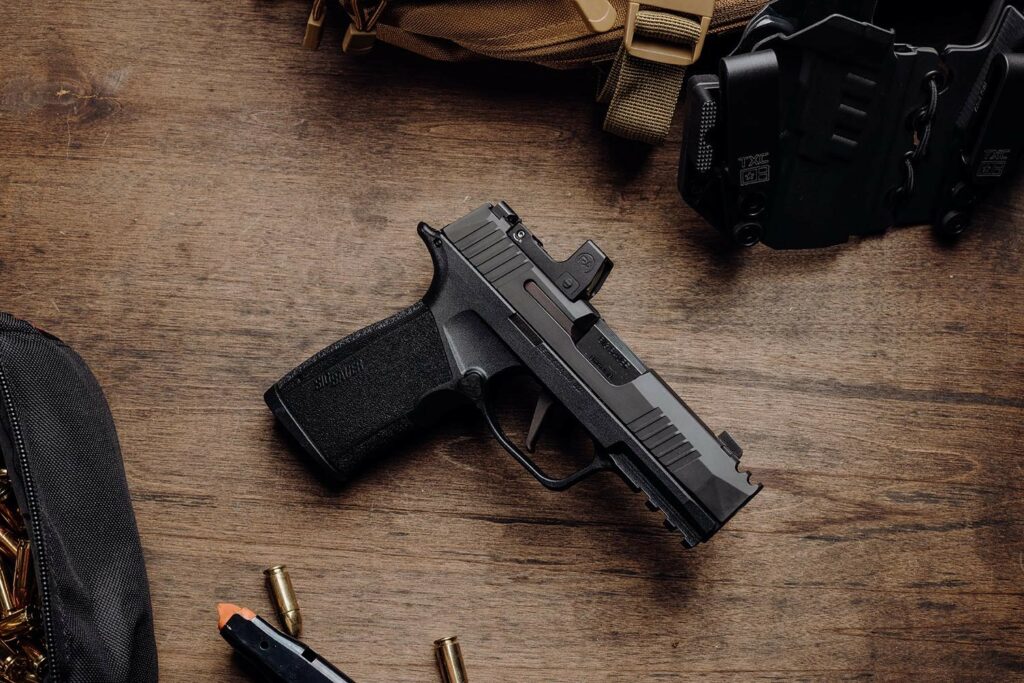 Entry-Level Pistol Red Dots
Maybe you're not yet sold on the idea of pistol red dots and just want to try one out before investing too much cash into it. In that case, you'll want to stick to something entry-level—a dot that's cheap enough that it won't leave a hole in your wallet, but high enough quality that you won't feel the need to immediately upgrade if you decide dots are for you after all.
For that use case, we suggest you take a look at our Classic Series® of reflex sights. They're simple, quality dots available in both micro and mini sizes that offer an incredible amount of value. Like the RS-10, they have a 3 MOA daylight bright dot and tens of thousands of hours of battery life.
Unlike the RS-10, the Classic series dots are offered in RMR and RMSc footprints. Both footprints are exceptionally common, but they do utilize bottom-mounted batteries instead of the side-loading tray found on the RS-10.
Shop All Classic Series Red Dots Buy Now
Like all our optics, the Classic Series dots are backed by our Lifetime Warranty, so you can have absolute confidence in your purchase.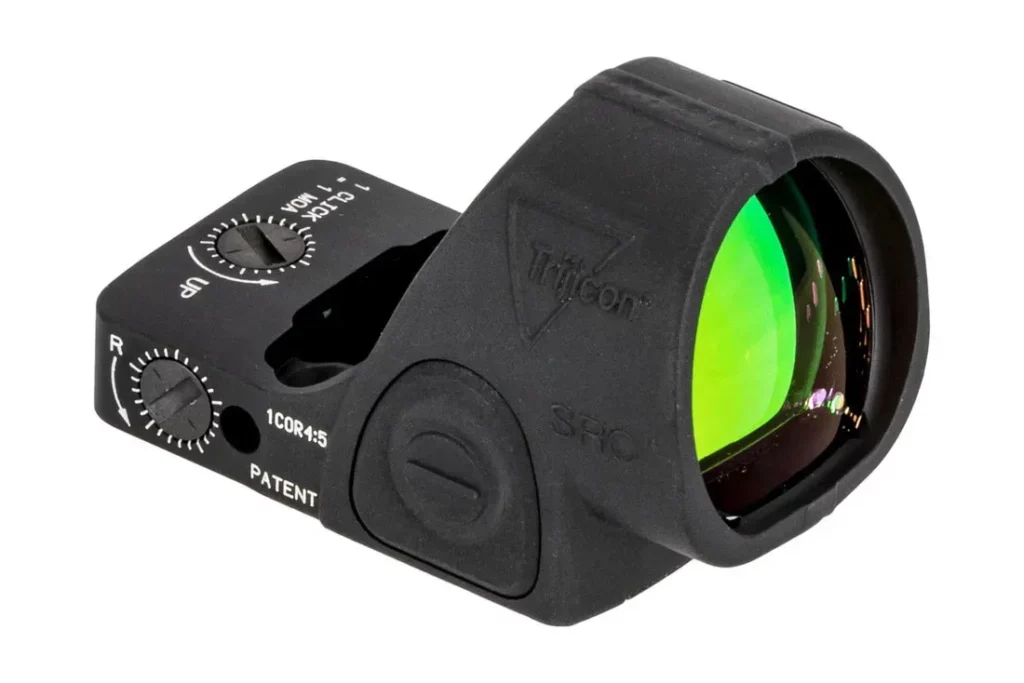 Large-Window Pistol Red Dots
If you're building a pistol for competition or you just want to fastest, easiest-to-use dot possible, you're going to want a dot with a large window. A large window makes it easier to find, acquire, and track the dot during target engagement. They also tend to be more forgiving of misalignment during presentation, since the larger window will allow greater misalignment before the dot disappears outside the window.
Shop All Leupold Red Dots Buy Now
Leupold's Deltapoint Pro sight is one of the oldest large-window dots. It features a top-loading battery and simple single-button controls, making it very intuitive to use. The large optic base can obscure some iron sights, even extra tall ones, but Leupold cleverly designed an optional optic-mounted rear sight to get around this issue.
Another option is Trijicon's SRO. The SRO is newer to the market and features a truly massive optic window. It uses the same mounting system as the RMR, so compatibility won't be an issue with the vast majority of pistols. Like the Deltapoint Pro, it features a top-mounting battery compartment. It also offers user-configurable settings for manual or automatic brightness adjustment, letting you choose the one most appropriate for the task at hand.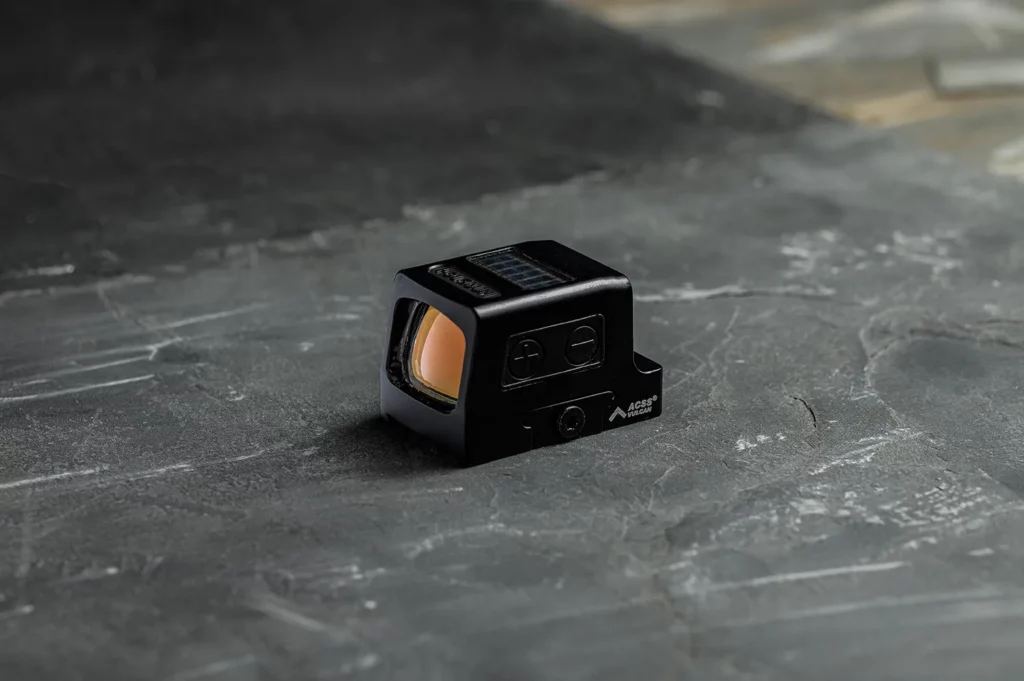 Enclosed (Closed) Emitter Pistol Red Dots
Enclosed-emitter (or closed-emitter, depending on who you ask) optics are a small subset of handgun red dots that are relatively new to the scene compared to open-emitter designs. These sights come with certain benefits, such as massively improved resistance to dust and easier cleaning.
With an open-emitter optic, dust, dirt, or any other particulate can find its way onto the optic body and obscure the emitter, disabling the dot. Restoring the dot is as simple as cleaning the emitter, but that can be hard to do in the field.
Enclosed-emitter dots seal the optic in a manner similar to most rifle red dots. Any dirt or debris that lands on dots will only obscure the lens since the emitter is safely sealed away. Cleaning the lens to restore functionality can be as simple as wiping it with your thumb.
Holosun's 509 series of sights is one of the most popular enclosed-emitter optics currently on the market. This optic is offered with a titanium or aluminum housing, providing premium durability with less weight than steel, and is available with either a red or green dot. It also has a solar backup to augment the battery and supports multiple reticle configurations.
The HE509-RD is also available with our unique ACSS® Vulcan®, which is designed specifically to make up for some of the shortcomings of pistol reflex sights. The Vulcan uses a chevron reticle, providing both an infinitely small aiming point for precision marksmanship and a broader one for close-quarters work.
The most unique feature, though, is the 250-MOA exterior circle. This circle is not an aiming point, but instead shows the user if the optic is misaligned with their eye, and how it is misaligned. This instant feedback allows for faster corrections, especially from unorthodox aiming positions or when firing under stress.
Users should note, though, that closed emitter optics can be slightly more challenging to mount and will often sit higher on the slide than most open emitter optics, potentially precluding users from co-witnessing iron sights.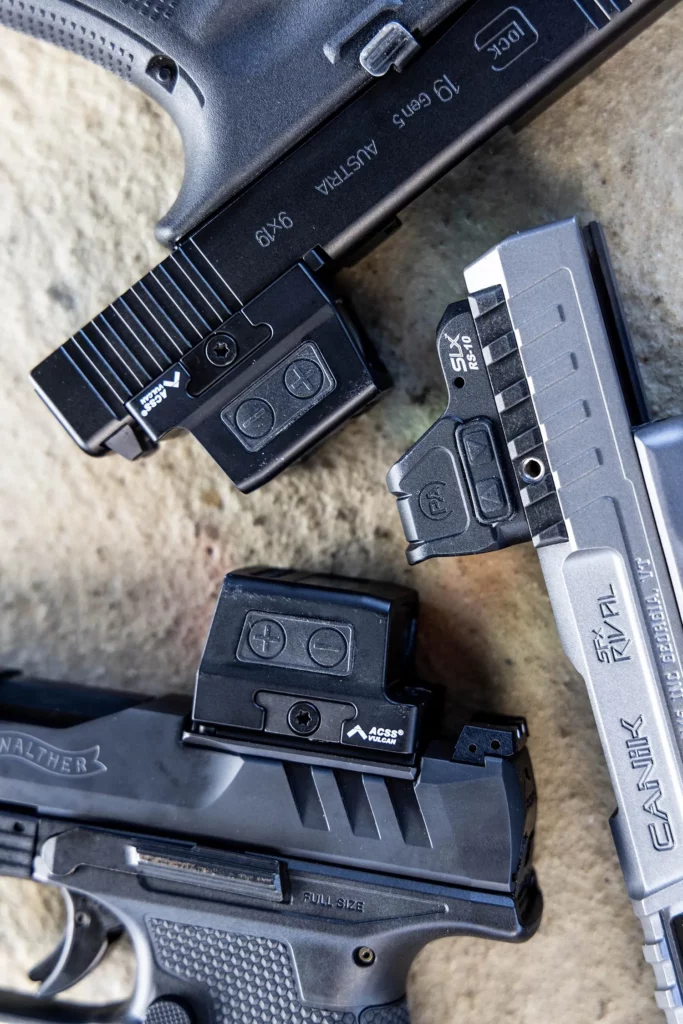 Summary
When it comes to red dots, you've got more than a few options in 2023. The popularity of red dots has led to an absolute explosion in the market over the past decade, creating options for every reticle and feature you could ever want.
All that's left to do is decide what features are important to you. Whether you're shopping for an optic for a rifle or pistol, you really can't go wrong with any of the dots on our list.