October was a big month for us, featuring the release of numerous new products at our Discovery 2022 Part 2 event.
This month, we've split our update into four categories:
– Latest NEW Optics
– Upcoming Releases
– 'Eye-Opener' Mini-Blog
– Upcoming Events
As always, we hope you'll send us your thoughts and feedback on our Facebook or Instagram. Our team will be standing by to answer all your questions (or at least those we can!)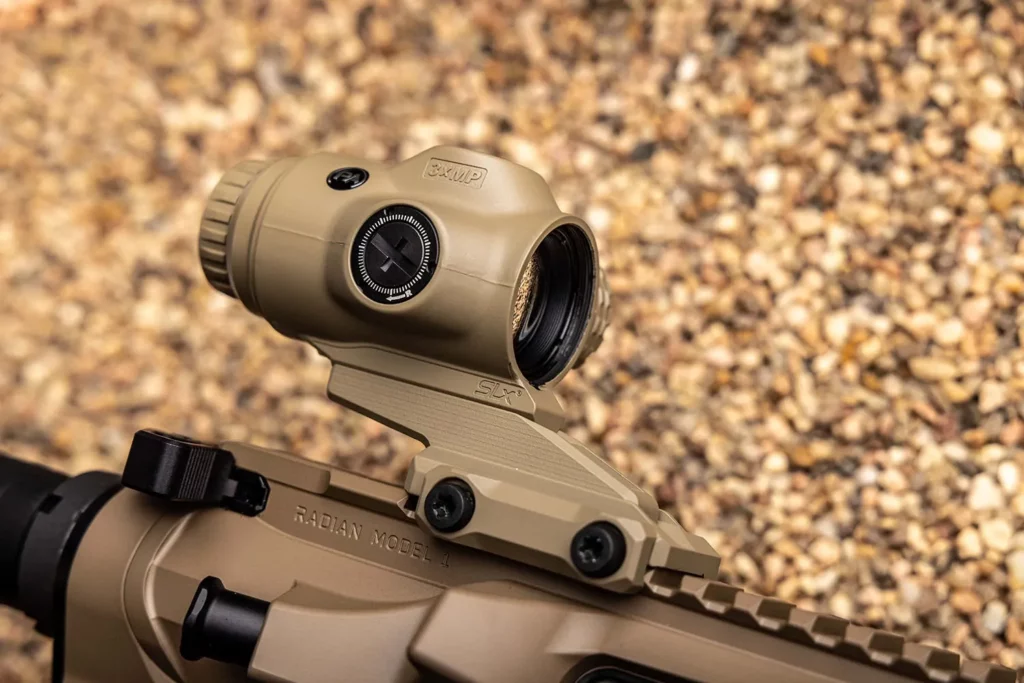 New Optics for October
October brought a wide range of new releases at our Discovery 2022 Part 2 event, both brand-new products and novel configurations of existing best-sellers.
One of our biggest updates was to our line of 3x magnification MicroPrisms. They're some of our most popular optics, and after much anticipation, they are now available with new finish and illumination options. Black MicroPrisms are available with either red or green illuminated reticles, while FDE MicroPrisms are available with a red illuminated reticle only.
We also unveiled a new reticle for our 3x MicroPrisms, the ACSS® Raptor 5.56/.308 – Meter. Enthusiasts who are used to ranging targets in meters will appreciate the familiarity of this reticle's drop compensation subtensions.
Shop All Primary Arms MicroPrisms
This month also saw the release of new options in our premium PLx® mounts, which are now available with a 20 MOA cant for long-distance marksmen.
Lastly, our new magnification ring throw lever for our SLx® 1-8x24mm FFP rifle scopes is now in-stock and shipping. Like our other magnification throw levers, it offers faster and smoother adjustments, especially when users' hands are sweaty or wet or from unconventional positions.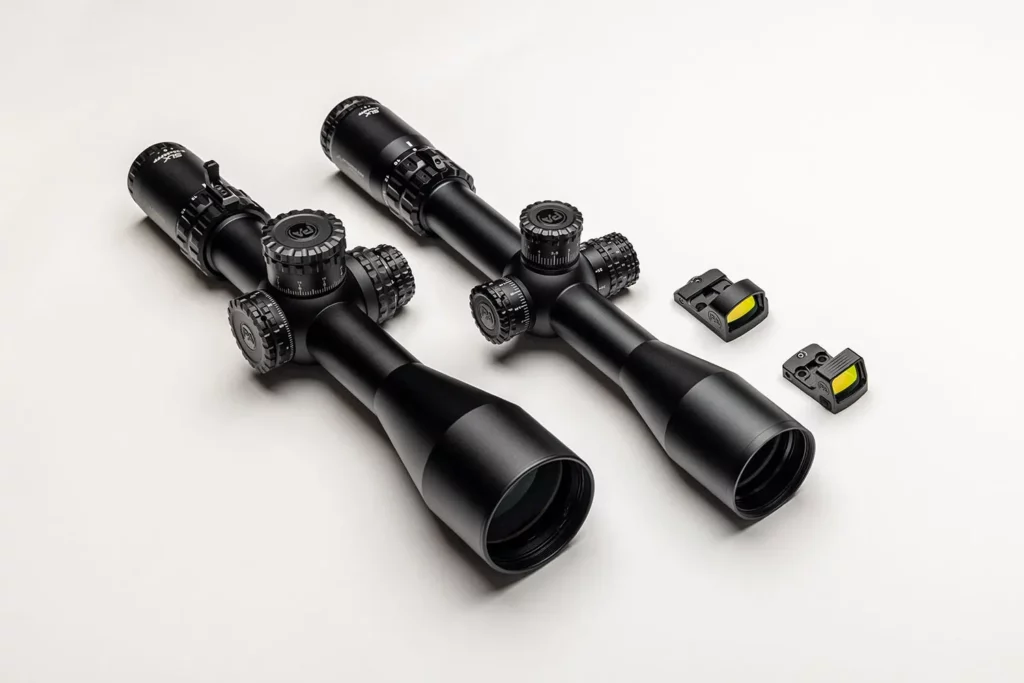 Upcoming Releases in November
Coming up in November, we're looking forward to the release of two new reflex sights as well as a 5-25x56mm rifle scope in our SLx line.
Both reflex sights are part of our Classic Series® line of optics and feature simple and effective 3 MOA dot reticles. The Mini Reflex Sight utilizes the popular RMR footprint for mounting, while the Micro uses the RMSc footprint which has become extremely popular for micro-compact pistols.
Shop All Primary Arms Red Dot Sights
Both reflex sights offer phenomenal value, as users have come to expect from our Classic line. They use standard CR2032 batteries and can provide up to 40,000 hours of usable life. With fully multicoated lenses and 6061 aluminum construction, these dots are a perfect way to enter into the world of red-dot-equipped handguns.
Our new SLx 5-25x56mm FFP Rifle Scope is now available for preorder and will be in stock and shipping in time for the holidays. Designed to offer exceptional long-range performance at an affordable price, this optic is one of our most ambitious additions to our SLx line to date.
The SLx 5-25x utilizes a 34mm main tube and a 56mm objective lens to ensure as much light transmission as possible, as well as a generous eye box for a long-range optic. Image quality is paramount in long-range precision marksmanship, so we took pains to ensure the best possible optical performance for the price was evident in this scope.
In many cases, affordable scopes have to forgo the features of high-dollar optics in order to keep costs low, but we made sure we kept the most useful ones for long-range performance. Integrated return-to-zero makes it fast and easy to get back to zero after dialing for range or wind drift, and the elevation rotation indicators help prevent you from losing track of how many times you've spun the turret while dialing.
The SLx 5-25x is available for preorder now with our ACSS® Apollo® 6.5CR/.224V or ACSS® Athena® BPR MIL Reticles.
Eye-Opener Mini-Blog: Handgun Reflex Sights
Reflex sights are rapidly becoming one of the most popular accessories for handguns, but they've stirred up a fair amount of controversy as well. To some, they're the natural next step in handgun aiming technology, while others claim they're just a fad. We'll let you make that call for yourself, but it's worthwhile to understand the pros and cons before passing judgment.
Red dots make effective marksmanship simpler, easier, and faster. The bright red dot draws the eye better than even a fiber optic sight, making acquisition quicker. An even larger advantage is that red dots only have two points to align, the dot and the target, whereas traditional iron sights have three: the front sight, the rear sight, and the target.
This simplification makes acquiring your sights significantly faster and makes it easier to aim from unconventional positions, such as firing from under an extra-low barrier during a match.
The biggest advantage, though, is a target-focused sighting system.
To achieve a proper sight picture with traditional iron sights, your eye needs to be focused on the front sight, not the target. With red dots, the opposite is true; proper use involves looking through the dot to focus on the target.
This difference is massive in defensive applications. Should you ever need to defend yourself with your firearm, you are going to be target-focused whether you like it or not. If the target is trying to do you harm, it will be extremely difficult to force your brain and eyes away from the threat to focus on your front sight.
This means that with iron sights, you'll likely be forced to take the shot with a sub-optimal sight picture. With a red dot, you can stay focused on the threat without any loss of accuracy.
Still, reflex sights are not all upsides. They can cost as much or more than an average handgun, although more affordable options are available, such as our SLx RS-10 and Classic series sights. They add size to your slide, which can be detrimental to concealment. They also require retraining to use effectively; if you've spent a significant amount of time becoming proficient with your iron sights, it can be difficult to give that up and start from scratch with a red dot.
One of the biggest issues is the lack of alignment feedback. If your iron sights are not aligned, you are generally able to see how they are misaligned. For example, if the front sight is way too high, you adjust your angle down to realign. With red dots, if your misalignment is significant enough to cause the dot to be outside the window of your optic, it can be harder to immediately tell in what way the dot is misaligned.
This can be addressed with either soft skills or hardware. Practice drawing your pistol and assuming a firing position will help you present your pistol in a properly aligned position more consistently. Additionally, a more sophisticated reticle like our ACSS Vulcan® reticle can provide you with feedback to show you how you are misaligned, just as iron sights do.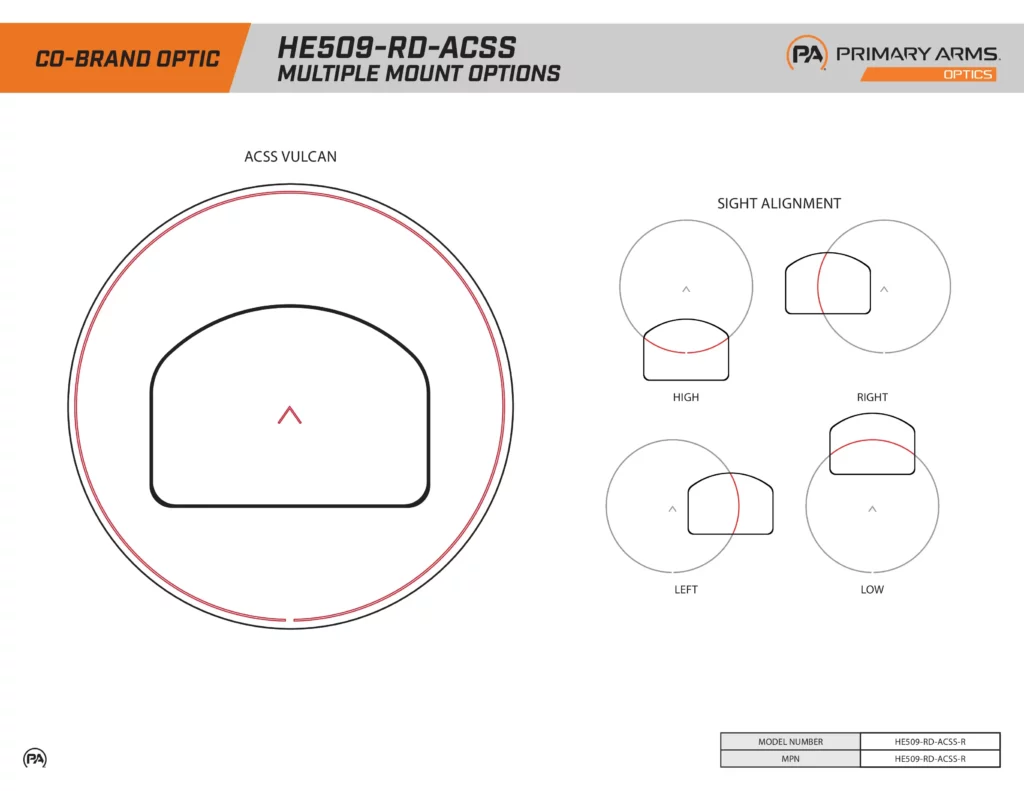 The utility of the Vulcan reticle is hard to overstate. In a perfect world, your sights should be aligned as soon as you assume a firing position, but in the real world, that's not always possible. Firing on the move, with a non-dominant hand, or from unconventional positions makes perfect form and presentation impossible, so having a reticle that provides rapid, constant misalignment feedback is a big advantage.
Another primary criticism of red dots is their frailty. Handgun users have for years been skeptical of these tiny electronic devices, which can lose charge or be deactivated by water or shock. It's a concern that has led many users to dismiss reflex sights and instead stick with infallible iron sights.
The problem with this logic is that iron sights aren't actually infallible, nor are red dots all that frail. Iron sights break, get shifted off center, or have their fiber optic or tritium insert detach at roughly the same rate as top-quality reflex sights fail—this is, rarely.
High-quality reflex sights are not easily disabled by shock or impact, and many sights come fully sealed with IP67 water resistance. This means that the optic can withstand submersion in up to a meter of water for at least 30 minutes, so as long as you don't take your pistol swimming, you'll be fine.
Similarly, many reflex sights boast battery lives measured in tens of thousands of hours. A single battery will last you literal years before a change is required. Simply rotate your batteries once a year, and the risk of sudden battery death becomes vanishingly small.
Pistol reflex sights have followed much the same trajectory as their full-sized counterparts did on rifles some years ago. The firearms community can be notoriously distrustful of new technology, and many clung to iron sights in those days as the superior, more reliable option.
However, time proved that red dot sights provide a massive advantage in speed and ease of use, and gave up little if anything in the way of durability. Now red dots are common on police, military, and civilian rifles alike, and iron sights are slowly becoming less and less ubiquitous.
Pistol reflex sights are going through this process now, slowly disproving their detractors as they are adopted en masse and building their case for reliability through sheer statistics.
While there are very real negatives to mounting a reflex sight on your pistol, most of them, such as the cost and need for retraining, have little impact on the outcome of a defensive use incident. Meanwhile, the advantage of the target-focused approach allowed by reflex sights is hard to overstate.
Ultimately, the choice of red dot or iron sights has to be made by each individual user, but we wholeheartedly recommend mini and micro reflex sights for handguns.
We wouldn't have added them to our lineup if we didn't.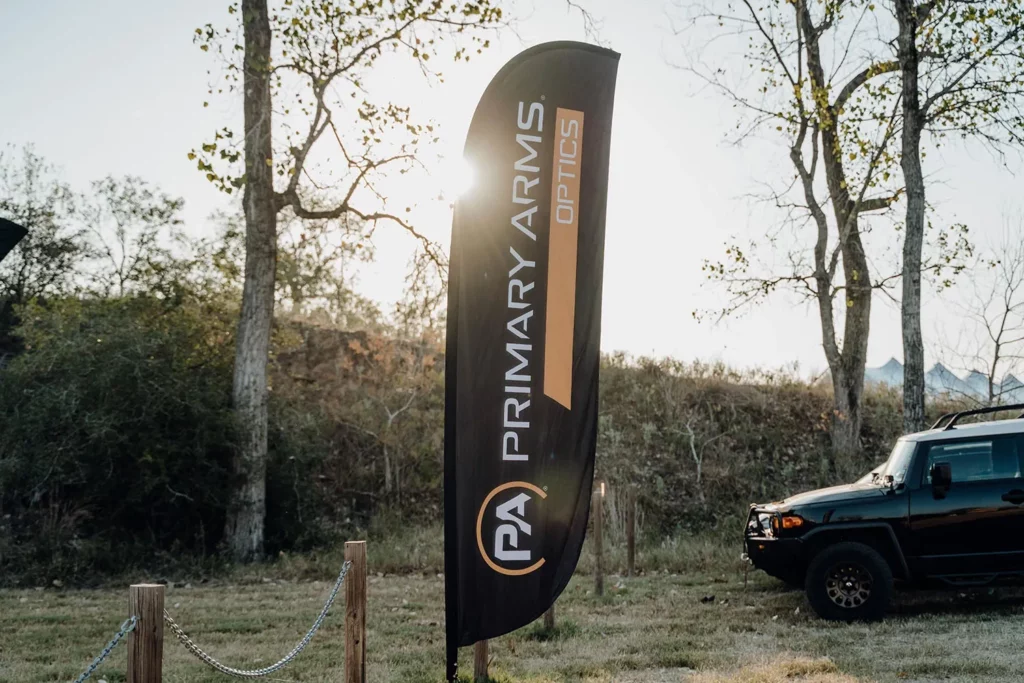 Upcoming Events
We always enjoy any opportunity to interact with our customers, so here's a list of upcoming events where you can find us in the month of November:
November 7th–10th, we'll be at Orlando SWAT Round Up.
November 11th–13th, at Recoil Magazine's CanCon Range Event and Gun Show
November 11th-13th, also at the USCCA Concealed Carry Expo
November 12th-14th, at the Sons of Liberty Gun Works Carbine Series
And finally, on November 25th, at the Collectors Firearms Black Friday Event.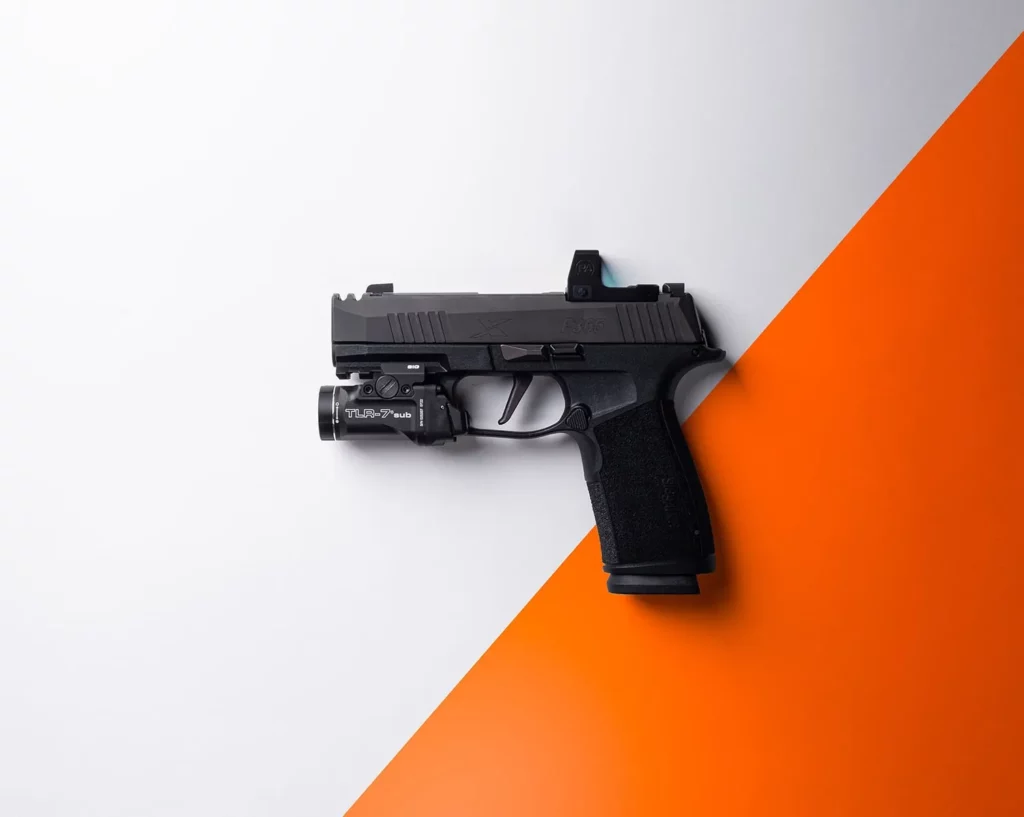 Wrap Up
October was a big month for us, with Discovery 2022 Part 2 bringing one of our largest mass product announcements to date. For the upcoming month, we're excited to bring many of the products announced at Discovery 2022 Part 2 to market.
If you haven't already, be sure to follow us on Facebook and Instagram! That's where we get to hear your feedback and implement it for all our future updates (and releases.)