Welcome, one and all, to the June Edition of our monthly Primary Arms Optics Update!
In case you're new here, we follow the same format every month:
– New Products
– Upcoming Products
– Major Announcements
– Our 'Eye-Opener' Mini-Blog
Hopefully, you come away learning more about us—or just about optics in general.
As always, we hope you'll send us your thoughts and feedback on our Facebook or Instagram. Our team will be standing by to answer all your questions (or at least those we can!)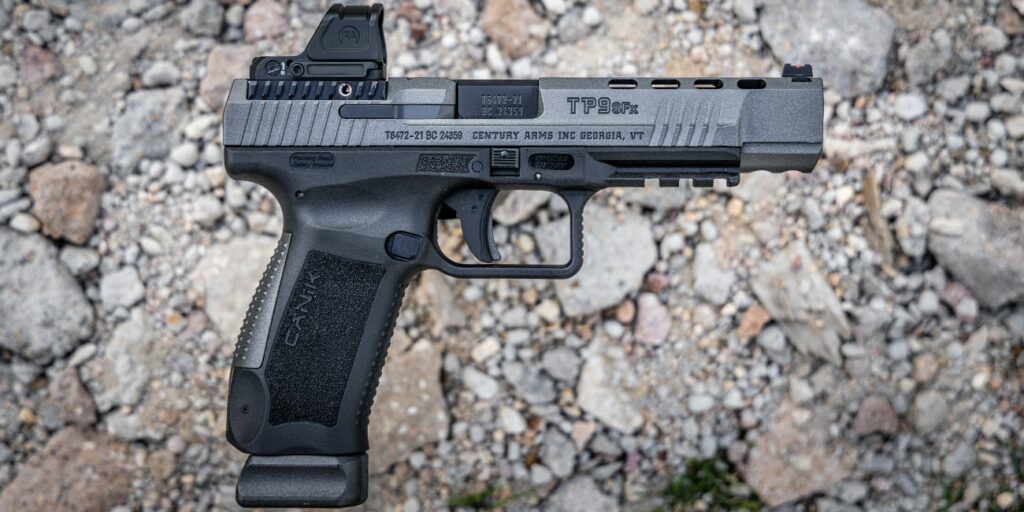 New Optics for June
June brought a few new optics from our initial 2022 catalog: the SLx RS-10 Mini Reflex Sight, the SLx® HUNTER™ 3-9x40mm/3-9x50mm SFP Rifle Scopes, and the SLx 3x MicroPrism™.
SLx RS-10 Mini Reflex
Priced for any budget, the new SLx RS-10 Mini Reflex Sight is an unmistakable milestone for Primary Arms Optics.
It's our first pistol-ready reflex sight, embodying the SLx product tier by combining relentless innovation and testing with unbeatable value. To get this optic ready for release, we tested it with tens of thousands of rounds—and not just on pistols either. The RS-10 stood up to the abuse of a SCAR 17, a rifle notorious for killing even the most hardened military optics.
Primary Arms SLx RS-10 1x23mm Mini Reflex Sight – 3 MOA DotBuy Now
Combine that reliability with a side-loaded battery compartment, night vision compatibility, Daylight Bright® illumination, and a fully multi-coated lens, and you can see how the RS-10 is a game-changer for the budget-friendly price point.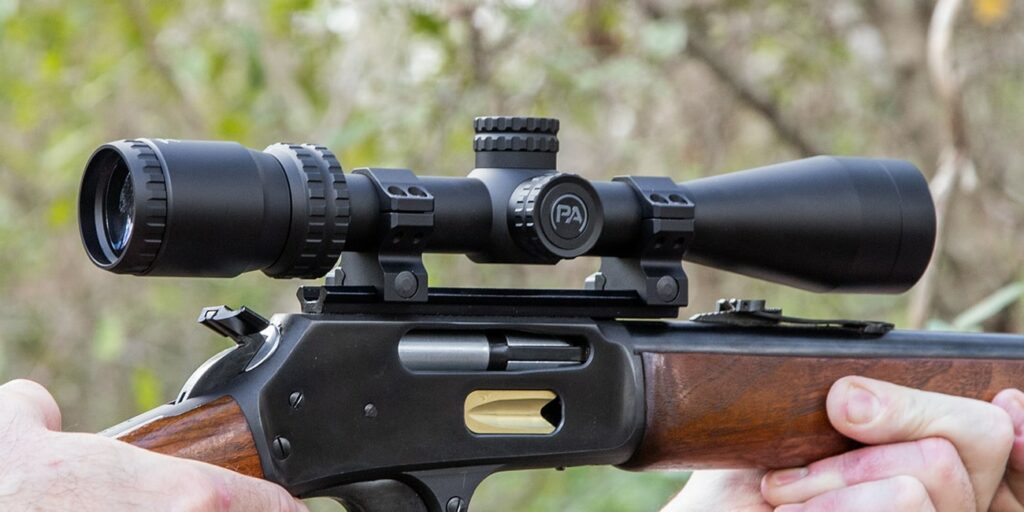 SLx HUNTER 3-9x40mm/3-9x50mm SFP Rifle Scopes
Built for the modern hunter, our new SLx HUNTER 3-9x40mm and 3-9x50mm SFP Rifle Scopes are everything you need—and nothing you don't.
This is our first 'true' hunting scope, featuring a lightweight one-inch tube diameter and two different objective lens options. Priced at $199.99 for the 40mm and $249.99 for the 50mm, these scopes bring a lot of quality and functionality to the still-affordable hunting scope market.
Feature-wise, we wanted to emphasize the essentials: great glass, low weight, and ample durability for those rough mountain hikes. Given their placement in our SLx optics line, you can trust that they've been tested relentlessly in the field, which is why we back them with our extensive lifetime warranty.
Primary Arms SLx HUNTER™ 3-9x SFP Rifle ScopesPre-Order Now
If you're looking to make an update this season, we recommend checking them out. You will not be disappointed.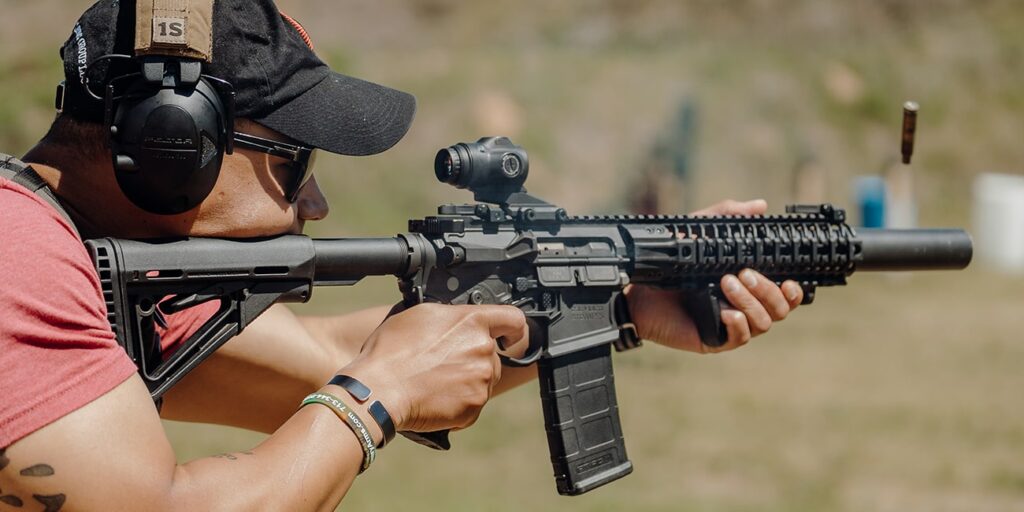 SLx 3x MicroPrism
Our SLx 3x MicroPrisms will make their way to customers soon, and the excitement is unmistakable.
Weighing under 8oz, the SLx 3x MicroPrism is one of the shortest, lightest magnified optics you can get, making it a perfect choice for those looking to save weight on their rifle. That's just scratching the surface, though, as the 3x MicroPrism incorporates all the advanced technologies, materials, and features that define our SLx MicroPrism line.
Primary Arms Optics SLx 3x MicroPrismBuy Now
With this optic, you can expect ultra-clear glass, bright reticle illumination with AutoLive®, night vision compatibility, and an impressive 38-foot Field of View at 100 yards. Combine that with the intuitive ACSS® Raptor reticle series, the SLx 3x MicroPrism will be an instant classic—especially for those who have astigmatism which prohibits red dots.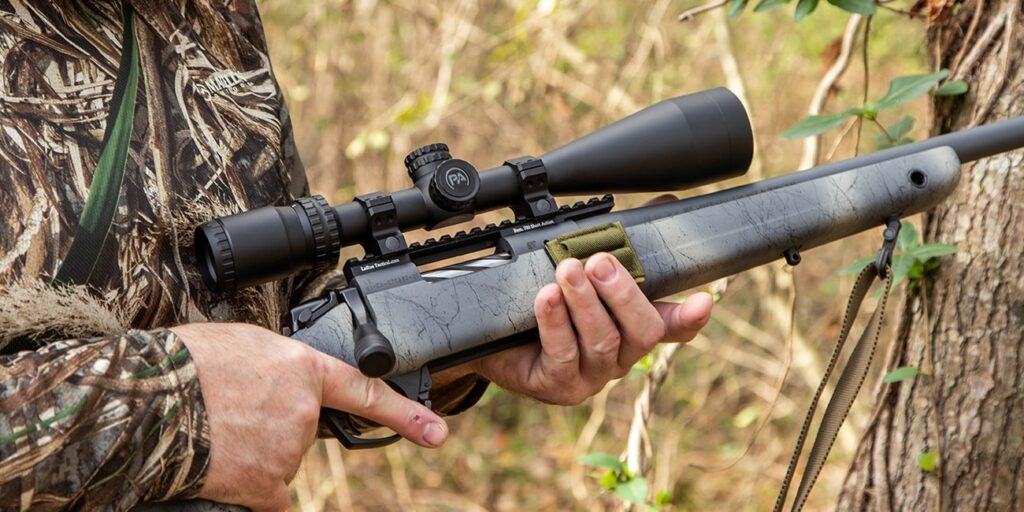 Upcoming Optics for July
July will bring a few new variants and options that people have been asking about. Whether you're a hunter, a competitor, or a tactical practitioner, July should be an exciting month.
SLx HUNTER 4-12x40mm/4-12x50mm SFP Rifle Scopes
An immediate follow-up to our first 3-9x hunting scopes, the new SLx Hunter 4-12x40mm and 4-12x50mm SFP Hunting Scopes provide all the same incredible features and benefits with a slightly higher magnification range.
These are the perfect choice for those who hunt on longer sightlines, giving you additional flexibility to choose the best optic for your environment. If you're someone who always hunts in the backwoods, where every shot is within 50 yards, the 3-9x scopes are slightly more affordable and slightly lighter. But, if you often take shots at 100 yards and beyond, the 4-12x40mm and 4-12x50mm scopes might be the right options.
Primary Arms SLx Hunting 4-12x SFP Rifle ScopesPre-Order Now
Being able to choose between a 40mm and 50mm objective lens also offers additional flexibility for those who need it. In this month's eye-opener, we'll be talking more about 'eye box' and its components, but what you need to know is that a bigger objective lens generally makes scopes easier to use. That benefit comes at the cost of weight, though, so you'll want to pick the right layout for your individual needs.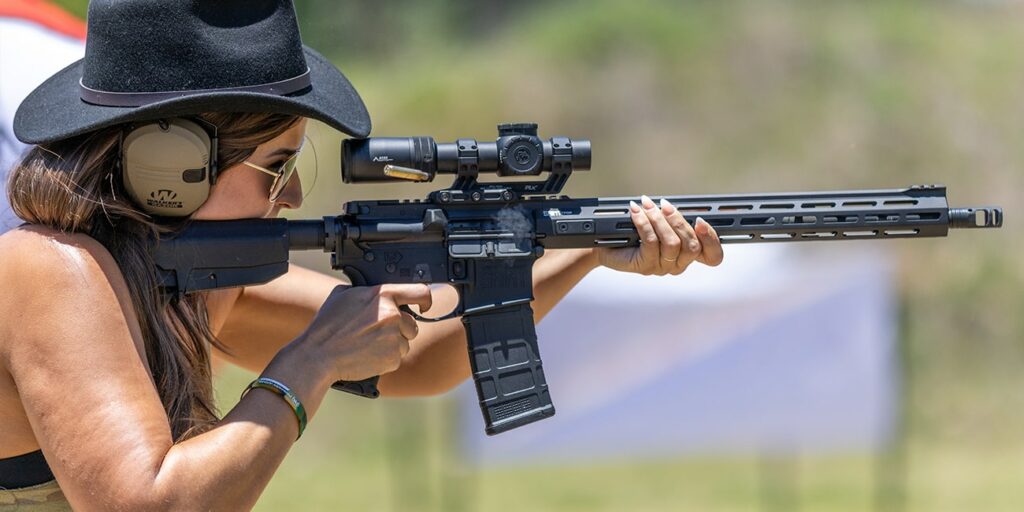 ACSS® Raptor M8 Meter Reticle (PLx® 1-8x24mm FFP Compact Rifle Scope)
Our PLx 1-8x24mm FFP Compact Rifle Scope has quickly become one of our most exciting releases to date, and this month, we're proud to say its next variant is right around the corner.
The ACSS Raptor M8 Meters reticle is a new metric variant of the Raptor series, featuring auto-ranging crosshairs with a bold center horseshoe and BDC holdovers.
At minimum magnification, the brightly illuminated horseshoe draws the eye for split-second acquisition at close quarters.
At maximum magnification, the full features of the ACSS reticle become available, providing auto-ranging and bullet drop compensation for 5.56 and .308 to 800 meters.
The ACSS Raptor M8 Meters also features moving target leads, a precise center chevron aim point, and dual-sided wind holds at 5 mph intervals out to 20 mph.
Primary Arms Compact PLx-1-8x24mm FFP Rifle Scope – Illuminated ACSS Raptor M8 Meter 5.56 / .308 ReticlePre-Order Now
If you're a fan of the new PLx 1-8x, this new reticle variant should be an exciting addition to our available options. Even if you're not normally a metric-user, the ACSS Raptor M8 Meter gives you intuitive tools and holds to make units feel completely natural.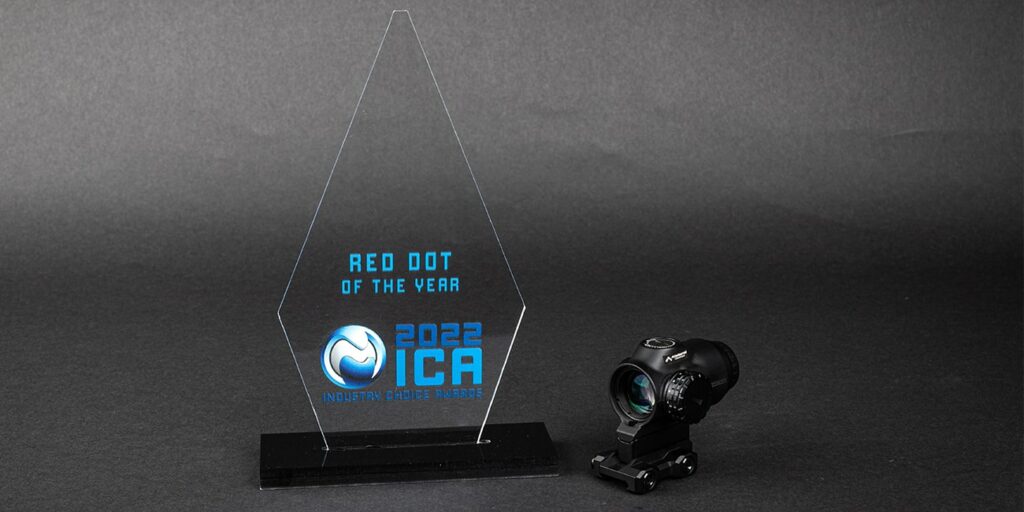 Winner, Winner: SLx 3x MicroPrism named 'Red Dot of the Year'
Right in time for it's global release, the new SLx 3x MicroPrism was just named 'Red Dot of the Year' in the 2022 Industry Choice Awards.
Primary Arms Optics SLx 3x MicroPrismBuy Now
The annual Industry Choice Awards bring together dozens of independent evaluators from all corners of the firearms industry, including competition shooters, Law Enforcement, military, gunsmiths, range owners, manufacturers, and other firearms product enthusiasts.
In this year's optics evaluation, Primary Arms Optics took the award for 'Red Dot Optic of the Year' with our SLx 3x MicroPrism Scope.
As some of you may recall, this is the second year in a row that we've taken the coveted title of 'Red Dot of the Year'. Last year, the Primary Arms SLx MD-25 ACSS® Red Dot Sight claimed the top spot with its unique 25mm aperture and bevy of premium features.
Primary Arms SLx MD-25 Rotary Knob 25mm Microdot with 2 MOA Red Dot ReticleBuy Now
We've already discussed in this article what separates the 3x MicroPrism from other optics of its category.
And speaking of categories, we should probably address the elephant in the room.
While it's not technically a red dot, the SLx 3x MicroPrism occupies a similar performative role: close- to mid-range dominance for lightweight carbines. Plus, there wasn't a specific Prism Scope category, so we figured it's a better comparison than stacking it up against 5-25x precision rifle scopes.
We've always said that MicroPrisms could be the death of the red dot. Between their ultra-compact footprint, lightweight body, and exceptional CQB performance, both the SLx 1x and 3x MicroPrism scopes are suitable contenders for the industry's leading red dots.
Of course, there is one major difference: the eye box. It's a term that's often used—and often misused. So, we figured we'd talk a bit more about it in this month's Eye-Opener.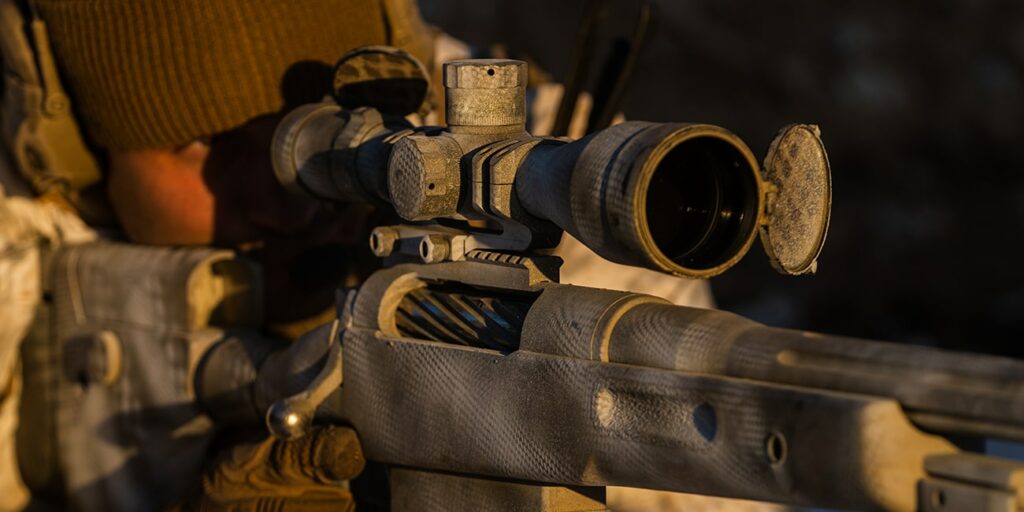 Monthly Eye-Opener: What exactly is Eye Box?
Eye box. You'll hear people talk about it in scope reviews, but it's always in vague, non-specific terms like small, restrictive, or forgiving. You won't find it listed on any spec sheet (at least not as one unit), but it's often one of the most beloved—or reviled—feature of any magnified optic. So, what exactly is the eye box, and why is it so important when shopping for a new rifle scope?
Shop Primary Arms Rifle ScopesBuy Now
Basically, 'eye box' is the amount of usable space behind an ocular lens within which you can see the scope's image. To use any magnified optic, your pupil must be within the scope's eye box or else the image will appear blacked out.
If you're purchasing a rifle scope or prism scope for close quarters, you want as big of an eye box as possible. CQB shooting is fast-paced and highly mobile, so you never want to be 'searching' for your eye box because any hesitation could be costly.
So, with that said, how do you calculate the size of a scope's eye box?
Many optic manufacturers will advertise 'eye relief', which is a key important component of an eye box but not the only contributor.
Your eye box is not actually a box, per se. It's closer to a cylinder which extends outward from the center of your eyepiece. To calculate the volume of a cylinder, you would use this formula:
Eye box (Volume) = length * π * radius2
The length of an eye box comes from the eye relief.
Pi is a constant: 3.14.
The radius, however, comes from your scope's Exit Pupil—the true diameter of the usable eye box.
Exit pupil comes from the scope's magnification, objective lens diameter, and optic design. Bigger lenses and low magnification usually mean bigger exit pupil. Smaller lenses and high magnifications usually mean smaller exit pupil.
But even with the same magnification and lens diameter, two scopes may have different exit pupils. This is because some scopes have designs which reduce exit pupil in favor of a better image. If you want the actual exit pupil of an optic, always refer to a scope's published exit pupil specification and not some optimal diameter/magnification formula, which is unrealistic to how rifle scopes truly perform.
Regarding eye box, exit pupil is generally more important than eye relief, both mathematically and practically.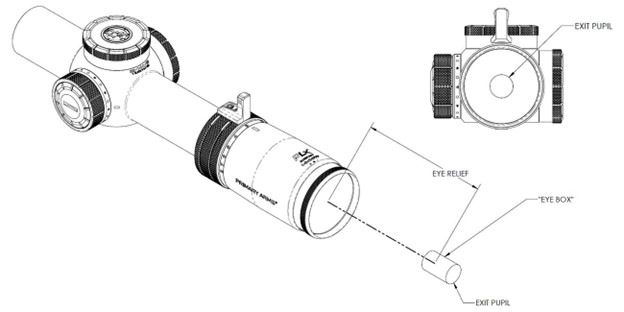 The radius of a cylinder exponential to volume, so even a slight change in exit pupil can translate to a large change in the eye box. For example, a scope with a 10mm exit pupil has a 56% larger eye box than a scope with an 8mm exit pupil, all else equal.
Also, it's easier to compensate for eye relief with cantilever mounts and adjustable stocks. Exit pupil has no such workaround. All you can do is practice until you develop a perfectly consistent cheek weld, which can be much harder than it sounds.
So, in summary, if you want a scope that's easy to use under duress, really consider that exit pupil. Eye relief is also an important factor, but exit pupil is the main factor in the 'feel' of a scope's eye box.
And if you really don't want to deal with eye box issues, we recommend either a red dot sight or one of our SLx 1x MicroPrisms, which will give you as close a feeling to a red dot as possible with an etched reticle.
Shop Primary Arms SLx 1x MicroPrismsBuy Now
Wrap-Up!
That's it for this month! We hope this update has some exciting news for you, and we look forward to writing more about these exciting optics (and concepts) soon. Be sure to share questions or feedback from this month's update! We're happy to hear your thoughts so that we can improve our future updates. We like to stay connected with our community, so if there's anything else you'd like to see, please let us know. Until next time!