A New Generation
At Primary Arms, we don't settle when we know something great could be even greater. We go for it. Our line of prism scopes have become very popular because we build them tough, we test them hard, and we don't compromise — so you won't have to either. Combine that level of quality craftsmanship with the ACSS reticle system, and we are able to bring you an incredibly versatile and powerful optic solution at a price that's nearly impossible to beat. It's easy to see how some people would look at all that and think "job well done." But when we see room for improvement, we simply cannot ignore it.
The Primary Arms Gen II 3X and 5X prism scopes are prime examples of our drive to go for it. This new generation of Primary Arms prism scopes provide more utility, flexibility, and more of the features you love. We achieve these improvements all while keeping the price the same – insanely competitive – the form factor familiar, and we back it with our lifetime warranty. We are so confident in the quality and toughness of these Gen II prism scopes, we stand behind them for life. If anything were to cause them to fail, send it back to us and we will repair it or replace it. No questions asked.
Shop All Primary Arms Prism Scopes
The Upgrades
The Primary Arms Gen II prism scopes feature some serious upgrades, let us run them down for you before we get into the specifics: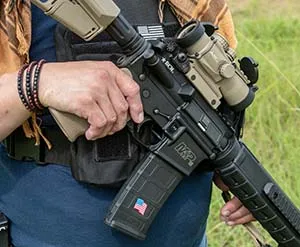 Improved Mounting System
We've maximized the compatibility of our Gen II prisms to allow you flexibility when mounting the optic to your rifle. The attached mount is compatible with any 1913 MIL-STD Rail system but is removable via the thumbscrews for mounting on any mount that accepts AR-15 carry handle-type optics.
Modular Base for Flexibility
The mounting base features modular spacers, which can be removed or added to customize the height of the optic on your rifle. This allows the optic to be utilized on a wider variety of firearms including AR-308 and AK-47 pattern rifles.
Upgraded hardware
For the Gen II prism scopes, we've upgraded the quality and durability of the cross bolt and nut for an even more superb fit to your rifle that will keep your scope holding zero for thousands of rounds.
Removable 1913 MIL-STD Rail
One important improvement for the Gen II prism scopes was the top-mounted accessory rail. We've made it removable, giving you the option of piggybacking a reflex-style red dot sight for CQB applications or removing the section of rail to make the optic even more lightweight. The choice is yours.
Primary Arms Lifetime Warranty
We're so confident in the quality and durability of the Primary Arms Gen II prism scopes, we're standing behind them for life. If your optic should ever fail, for any reason, send it back to us and we will repair or replace it for free.
Gen II Prism Scope Mounting Options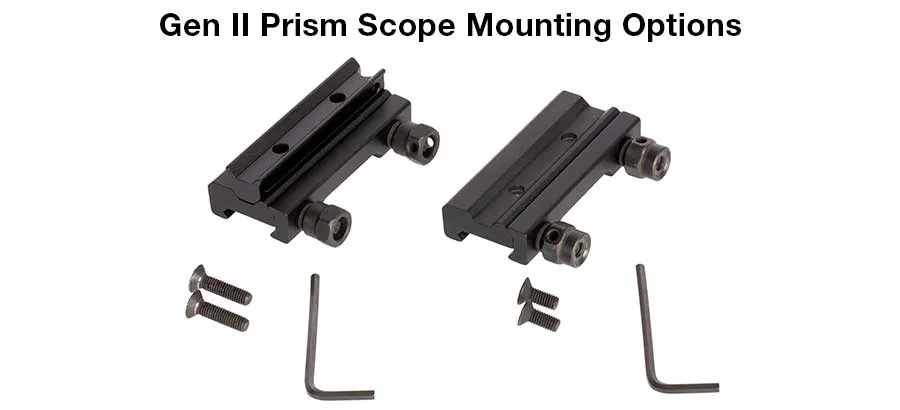 Shop All Primary Arms Optic Mounts
The Details
Each of the Gen II prism scopes are Type II hardcoat anodized in black, with a flat dark earth ceramic top coat available as a secondary color option. Each of the new prism scopes feature a fast focus eyepiece on the ocular end of the unit to custom-tailor the reticle's focus to your unique vision requirements and come with flip caps included. Eye relief for the Gen II scopes is slightly different for every shooter but are between 2.5 and 3.0 inches. Each is waterproof to the IP67 standard rating, which means they can withstand total submersion in up to a meter of water for 30 minutes without failing. They are nitrogen purged and fog resistant and have fully multi-coated lenses. Each is powered by an included CR2032 battery.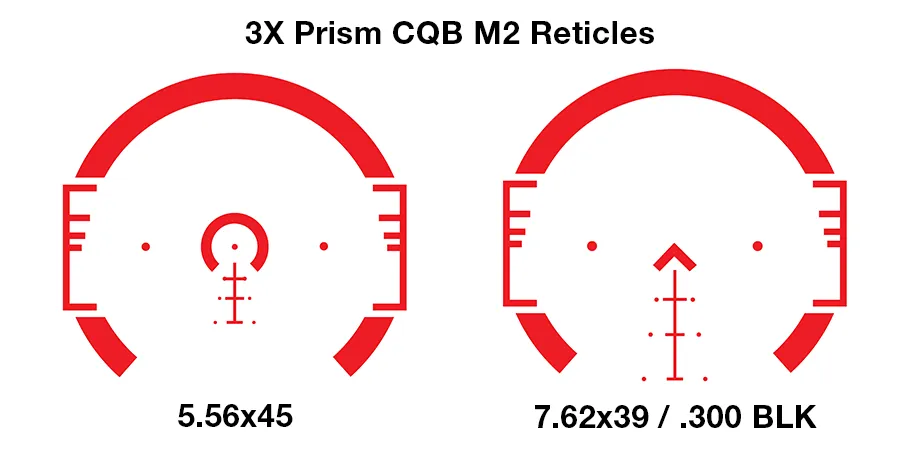 The Gen II 3X Prism Scope
The new Gen II 3X prism scope comes in two iterations. One version is equipped with the ACSS CBQ-M2 5.56 reticle, which features the large CQB outer horseshoe, an inner horseshoe surrounding the central aiming dot, a bullet drop compensation ladder that allows for accuracy and horizontal range estimation out to 600 yards, vertical ranging brackets built into the outer CBQ Horseshoe, wind holds, and moving target leads. The second iteration of the 3X Gen II prism features the ACSS 7.62×39/300 Blackout CQB reticle which retains all the advanced features of the CQB-M2 reticle, but replaces the inner horseshoe and dot with a chevron tip calibrated to the ballistics of the heavier 7.62 or 300 BLK loadings. The 3X weighs in just at 16 ounces. It provides an 18.8 ft field of view at 100 yards, and has windage and elevation dials that are adjustable at 1/4 MOA.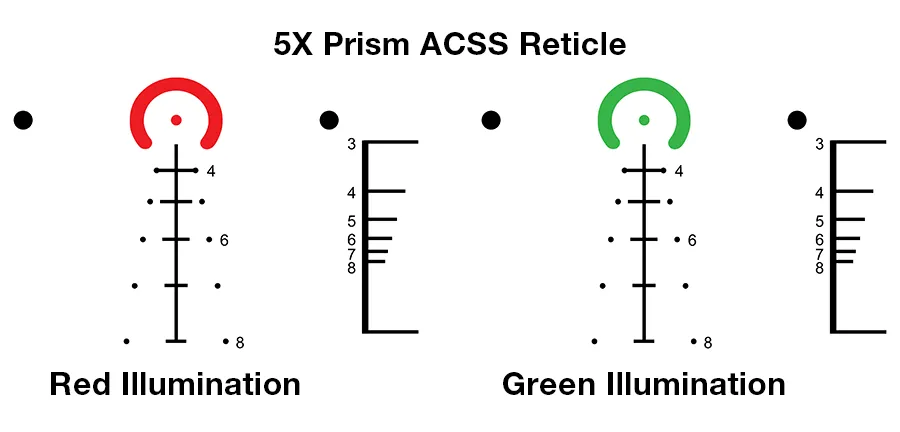 The Gen II 5X Prism Scope
The Gen II 5X prism scope features our patented .223/5.56, 5.45×39, .308 ACSS reticle, which packs many of the same features as the CQB reticles in a more streamlined design, giving you a more unobstructed field of view for the higher magnification setting. In this reticle. The outer CBQ horseshoe is removed. A smaller horseshoe which draws the eye to the target is placed around the center dot. The vertical ranging bracket is present to the right of the main BDC and horizontal ranging ladder, and wind holds and moving target leads fall similarly alongside the bullet drop compensation. The 5X Gen II provides the same field of view as the 3X at 100 yards, weighs in at 18.4 ounces, only 2.4 ounces more than the 3X, and is windage and elevation adjustable at 1/3 MOA. The 5X's ACSS reticle also features both red and green illumination.
We are excited to announce this new generation of Primary Arms prism scopes. All these improvements have allowed us to take what were high-quality, durable, and versatile prism scopes and make them even better. Prism scopes are some of the most popular optics solutions for AR-15 and AR-308 style rifles, so look no further than the new Gen II 3X and 5X scopes from Primary Arms for your next prism scope.