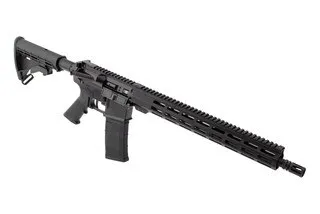 AR-15 Rifle
Click Here

For those of us who are already eagerly awaiting opening day of hunting season, these early fall days are often filled with planning and preparation of the season to come. Hanging tree stands, checking trail cameras and tending to bait piles are all essential pieces of the puzzle.
Perhaps in all your frenzied preparation, you've forgotten about the fact that while your blind is ready, your Phones camera is full with pictures of big bucks, and your salt licks are becoming whitetail highway pitstops, your gear is in desperate need of an upgrade.
Or perhaps you are like many of us here at Primary Arms, and you are constantly on the lookout for that piece of gear that's going to give you the Apex Predator advantage you want. Regardless of why you might be in the market for a new scope this fall, Primary Arms has rifle scopes with precision-built ACSS reticles that are custom designed to maximize hunting success.
Pick up one of these high-performance optics, and you'll still have enough cash to afford plenty of ammo and handwarmers this fall.

Primary Arms 1-6x24mm Scope with ACSS Predator Reticle
The ACSS Predator reticle and the Primary Arms 1-6x24mm SFP scope are made to simplify your hunt. Rugged enough to stand up to the demands of the field and packed with features designed to dramatically increase your success rate, this scope and ACSS reticle are built to deliver when it counts.
No more relying on guesswork and counting clicks to get on target quickly to take the shot you're presented with. The ACSS Predator gives you confidence in every squeeze of the trigger, allowing you to quickly, consistently, and ethically harvest game.
The Advanced Combined Sighting System, or ACSS, is purpose-built from the ground up to give the shooter more information faster than any other reticle system in the world. Using that information puts you in the best possible position to take an accurate shot on target at any range, even when distances are unknown.
The cornerstone of the ACSS system is the familiar chevron tip, and horseshoe combination. The chevron's tip doesn't obstruct your view of the target, but rather directs your eye to an infinitely precise point, making fast and accurate shot placement easier than it could ever be with standard crosshairs.
In the Predator, it can be illuminated in either red or green up to daylight bright to suit the requirements of just about any scenario you'd encounter in the field. Around the chevron, the surrounding horseshoe is intuitive. It works to draw your eye, frame your target, and help you take precision shots with the chevron tip even faster.

The hallmark of ACSS reticles are the advanced features, expertly calibrated to work together to provide range estimation, bullet drop compensating points of aim, and wind holdovers in one system. The ACSS Predator reticle is not any different. We've included the information you need to select a popular hunting load in .223 Remington, .308 Winchester, or 6.5 Grendel and zero properly to take advantage of all the reticle's features.
The difference in the ACSS Predator is how the system presents the shooter with the information derived from the reticle's features, which in the Predator is specifically tailored for hunting.
Drawing on experience in the field and extensive research, the design of the ACSS Predator converges on a magic number of sorts that comes up over and over in hunting applications… 10 inches. It's the average size of the vital area on most deer and large game, as well as the average size of a wild hog's head and the body of an average coyote from belly to backbone.
The ACSS Predator reticle uses this magic number as the delivery method for the advanced features that have made the ACSS system so effective. Estimating the distance to game with the ACSS Predator is as easy as fitting your target inside the appropriate ranging circle, each of which correspond to 10 inches at the given distance – 300, 400 and 500 yards.
When you've accurately ranged your target, you have also appropriately compensated for the bullet drop at that distance, no guessing or counting clicks required.
At low power, easily identify targets and maintain excellent situational awareness – a crucial capability when hunting predators. The clarity and field of view at 1x power is as true to your unmagnified vision as we can engineer, so shooting reflexively with both eyes open feels natural.
Increase magnification to 6x power to accurately estimate your target's distance downrange and take the perfect shot. At full magnification power, you are still seeing nearly 20 feet of visible area at 100 yards, and eye relief is well over 3 inches, giving you incredible flexibility for any situation.
The Predator reticle also features 5-mph full value wind holdover bars extending from the sides of the ACSS horseshoe as well as from each ranging circle. Using the bars, you can effectively estimate the distance your shot will be pushed by the wind at a given distance and adjust your aim accordingly. The wind hold bars can also serve as moving target leads, making shots on running coyotes or scattering hogs much easier.

Ranging with the Predator reticle is based around a 10-inch circle at a corresponding distance — or about the size of a hog's head, and a coyote's body from belly to backbone.
The Primary Arms Gen III scope body is a proven-tough form factor capable of standing up to abuse in the field. It is 30mm in diameter, features finger-adjustable low-profile turrets with 0.5 MOA adjustments, and illumination control.
In a second focal plane configuration, the reticle retains its size through all magnification ranges which provides a consistent, clear sight picture. The chevron is illuminated using a standard CR2023 battery, and the inside of the windage turret cap features a spare battery storage compartment with extra battery included, so there's no need to ever worry about being stuck on a hunt without the ability to power the reticle's illumination.
Part of being successful on a hunt is being confident in your gear, knowing it will perform in harsh conditions. Things go wrong, and stuff gets ruined, no matter how ruggedly it is constructed. Mother Nature is a heartless thing.
We know you want confidence in your gear, but you also don't want to be left holding the bag if the worst were to happen. That's why we cover the 1-6x24mm SFP Scope with ACSS Predator reticle with our Primary Arms Lifetime Warranty. What we make is built to stand the test of time and keep delivering on your hunts.
If your scope is damaged to the point of failure, simply return it to us and we will repair it or replace it for you, for life.
Primary Arms SLx 1-6x24mm SFP Rifle Scope Gen III – Illuminated ACSS-PREDATOR
Primary Arms has always made it our mission to bring the absolute best in value to our customers. At a price point under $300, with all the features and capabilities of the ACSS Predator reticle and a lifetime warranty, the value is unmatched. Put the Predator 1-6x scope to work on your rifle and you'll understand the power that the ACSS system places in your hands.
Primary Arms 4-14x44mm Scope with ACSS Orion Reticle
When you need serious magnification with accurate bullet drop compensation at every power, and wind holds to achieve precision on those long-range shots, step it up to a 4-14x44mm FFP ACSS Orion. In a hunting application, the more information you can process about a shot you are presented with, and the faster you can apply that information, the greater your chances of success.
That basic formula – information plus speed equals success – is what the ACSS system is built upon. Add magnification out to 14x power and a first focal plane configuration that keeps the advanced reticle features true at all magnification ranges, and you've got a seriously powerful optics system for your hunting rifle.

Just like the ACSS Predator reticle, the ACSS Orion is built specifically for the hunter, and powered up with features that make long-distance shots more possible. Designed for use with .308 Winchester, 30-06 Springfield, and .223 Remington hunting loadings, the Orion provides bullet drop compensation, auto ranging, and wind holdovers out to 600 yards, making you even more lethal at the longest of ranges by combining accuracy with speed and ease of use.
The ACSS Orion makes estimating the range of deer, coyotes, and hogs incredibly easy. Using vertical lines located to the right of the chevron and horseshoe that correspond to 18-inches at 300, 400, 500, and 600 yards, estimate your range to a target by bracketing its body with the lines — or, for coyotes, measuring them from their feet to their back.
At 200 yards, a target that is 18-inches in height will fill up the horseshoe that surrounds the center chevron. A bullet drop compensation ladder extends down from the open horseshoe with holdover points at each distance. As distance increases, so does the effect of wind forces acting on the bullet. To account for that, the Orion reticle features wind holdoff points of aim for 2.5-, 5-, and 10-mph full value crosswinds.

Ranging medium-sized game like whitetail deer is as easy as matching the corresponding ranging bar to the animal's height — belly to backbone.
The Orion packs more flexibility than the Predator's reticle system. While the reticle was designed for .308, 30-06, and .223 in specific factory hunting loadings, the Orion's system also seamlessly incorporates standard MIL measurement points into the reticle without over-complicating the design or crowding your field of view through the system.
Doing so allows you to use the reticle with any ammunition and any caliber you wish, making it a perfect optic solution for anyone, anywhere.
Primary Arms SLx 4-14x44mm FFP Rifle Scope – ACSS-Orion Buy Now
The Primary Arms 4-14×44 FFP Scope with ACSS Orion reticle has a 30mm tube, capped low-profile turrets that are finger adjustable at ¼ MOA, and a forgiving eye box. It's ruggedly built and comes in at a price that is unbeatable for a first focal plane scope – well under $300.
That combination of utility and value is why people give the 4-14x44mm FFP ACSS Orion 5-star reviews. hear thoughts from verified purchasers for yourself:




What Hunting Scope Is Best For You?
Primary Arms is proud of what we build and confident that, no matter which ACSS Hunting reticle you choose to take with you into the field this fall, our scopes will get the job done and help you bring home that trophy or just fill the freezer for another season.
If you ever have any questions about how to use your ACSS optic, or about any other firearms product available at PrimaryArms.com, our in-house team of firearms experts and customer service specialists is standing by to help answer your questions.
Just send us an email at Info@PrimaryArms.com or give us a call at 713-344-9600. Best of luck this fall, from all of us at PA!