Introduction to Long Range Rifle Scopes
Long range rifle scopes play a critical role in the marksman's toolkit when engaging targets at extended distances. With high-power optics, users can identify, range, and engage targets that would be otherwise unreachable. For targets within medium range, long range rifle scopes also provide visibility and precision to hit smaller targets with greater ease.
If you're new to long range marksmanship, scope selection can be a real challenge. Nowadays, the optics market is very diverse, and with hundreds of scopes to choose from, many newcomers struggle to understand the differences between each model.
This guide will help you understand the basic considerations when shopping for a long range rifle scope. We'll identify the most important factors and features to consider for long range rifle scopes, so you can be certain that you're looking at the right products when making a purchase decision.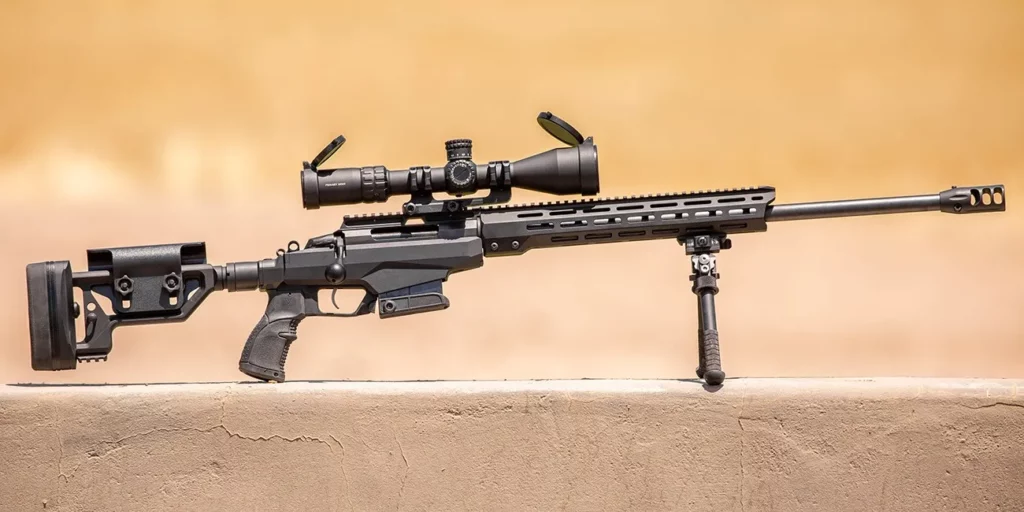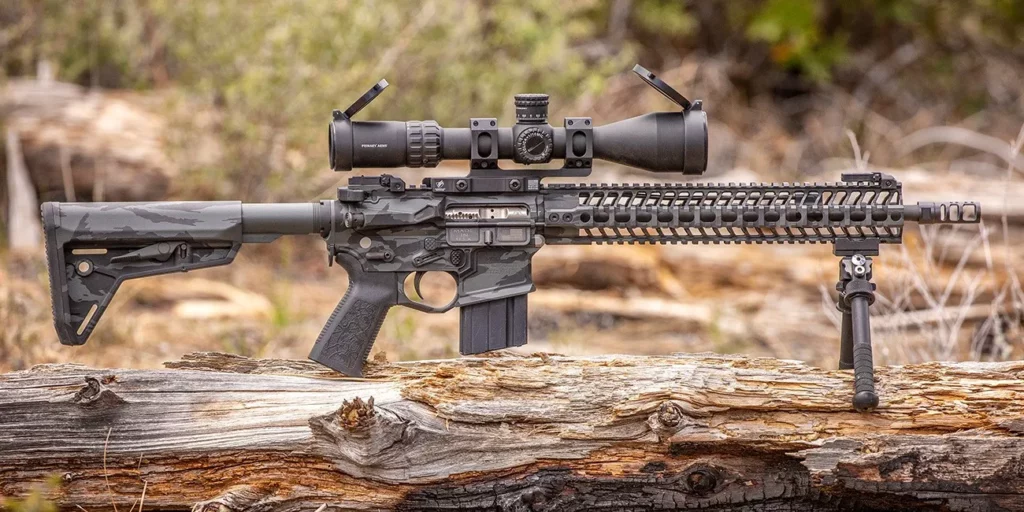 Key Factors of Long Range Rifle Scopes
Before you start shopping, you'll need to determine the requirements for your ideal optic. These requirements will vary based on your own personal needs and preferences, but some factors can be make-or-break when it comes to long range rifle scopes:
– Budget
– Magnification Range and Focal Plane
– Lens Diameter and Quality
– Turret Quality
– Total Elevation Adjustment
– Reticle Selection
– Additional Features
– Weight/Size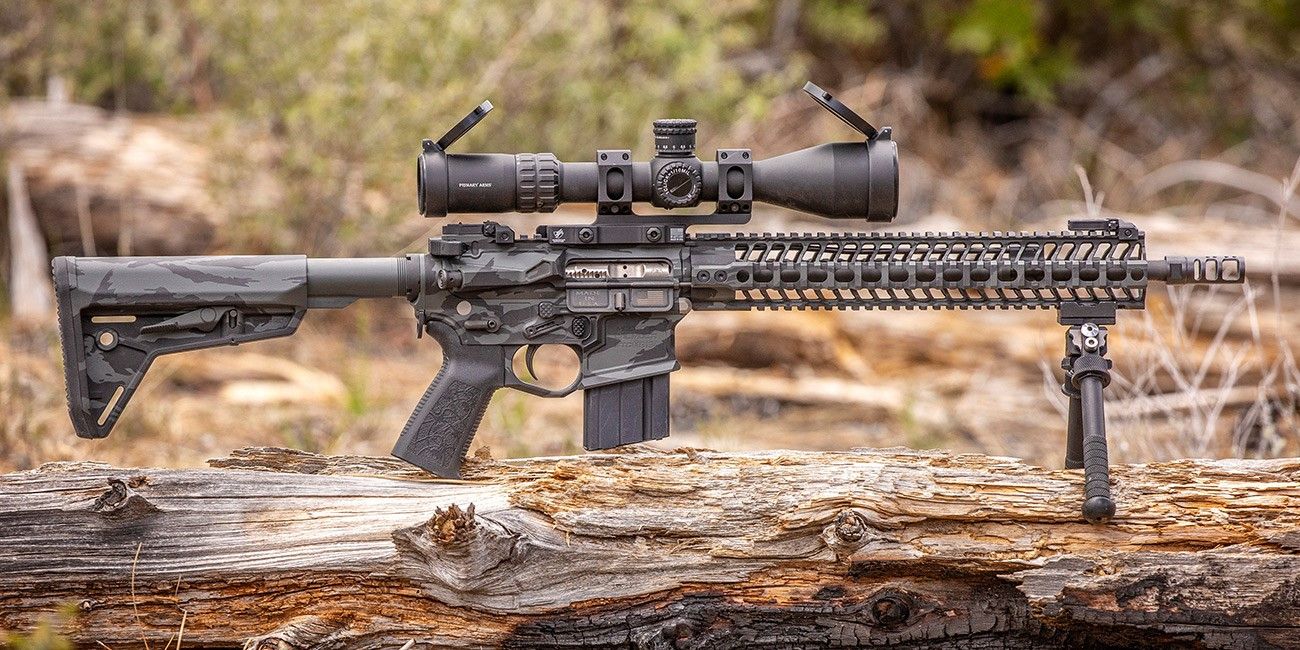 Budget
Long range rifle scopes have a broad pricing spectrum, ranging from $500 to $5,000 and beyond. Before you consider any other feature, we recommend that you allot a reasonable budget for your optic and optic mount.
Many experts recommend that you spend at least 50% of the value of your rifle on optics, and we can understand their logic. Optics are the most important accessory on any precision rifle, and you'll only be as accurate as the scope allows. Even if your rifle is shooting Sub-MOA, that accuracy is meaningless if your optic is off-target.
If you can't afford the 50% guideline, no sweat. Just set a realistic price according to your available budget, and always remember to factor in the cost of a scope mount. Your optic mount is just as important to precision as the optic itself, and quality doesn't have to break the bank. Our US-made GLx rifle scope mounts feature top-quality materials at a very approachable price point.
Shop All In Stock Scope Mounts HereBuy Now
Magnification Range and Focal Plane
Once you have a budget in mind, you'll need to determine your magnification range and focal plane.
Despite what you might have heard, more magnification isn't always better. A high-quality 10x magnification can be more effective than a lesser 15x, even when you're shooting at long distance.
For targets within 1000 yards, look for scopes with at least a 15x maximum magnification. A 4-16x or 3-18x scope will provide plenty of visibility out to those distances.
If you plan to shoot beyond 1000 yards, we recommend that you scale up to a scope with a maximum magnification of at least 24x. Depending on mirage and environmental conditions, you may not always use that maximum power, but it will still help you identify targets at a distance.
We recommend first focal plane (FFP) for long range rifle scopes. With first focal plane rifle scopes, the reticle scales with magnification, so your reticle's stadia and holdovers are always consistent on every magnification setting. Second focal plane (SFP) reticles are only true at maximum power, so your holdovers will be completely different at every other magnification setting. First focal plane scopes tend to be a little more expensive, but that price bump is absolutely worth it for long range shooting.
Shop All In Stock FFP Scopes HereBuy Now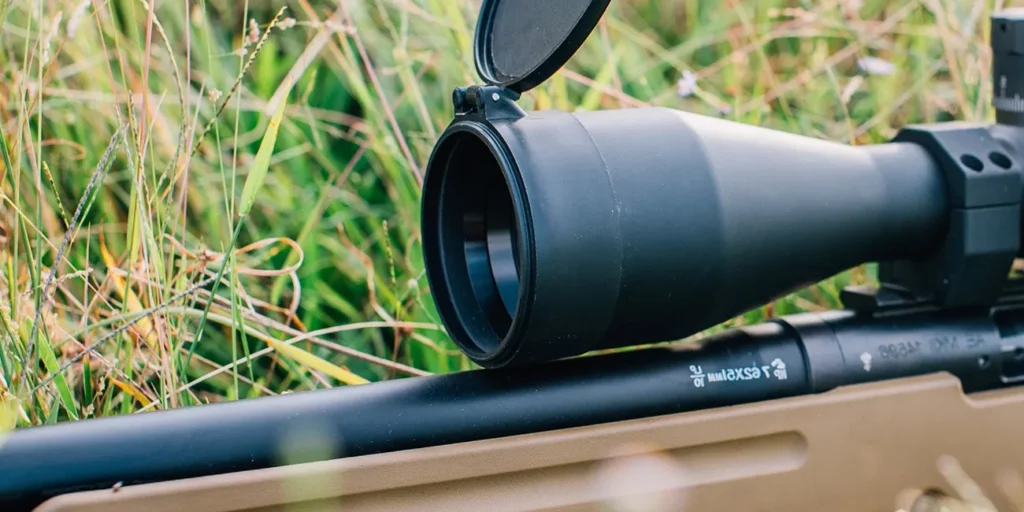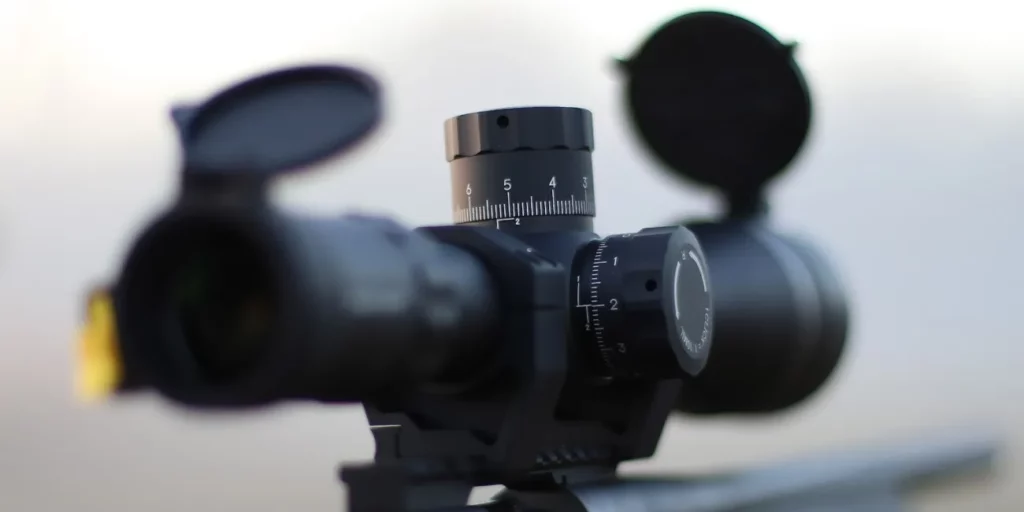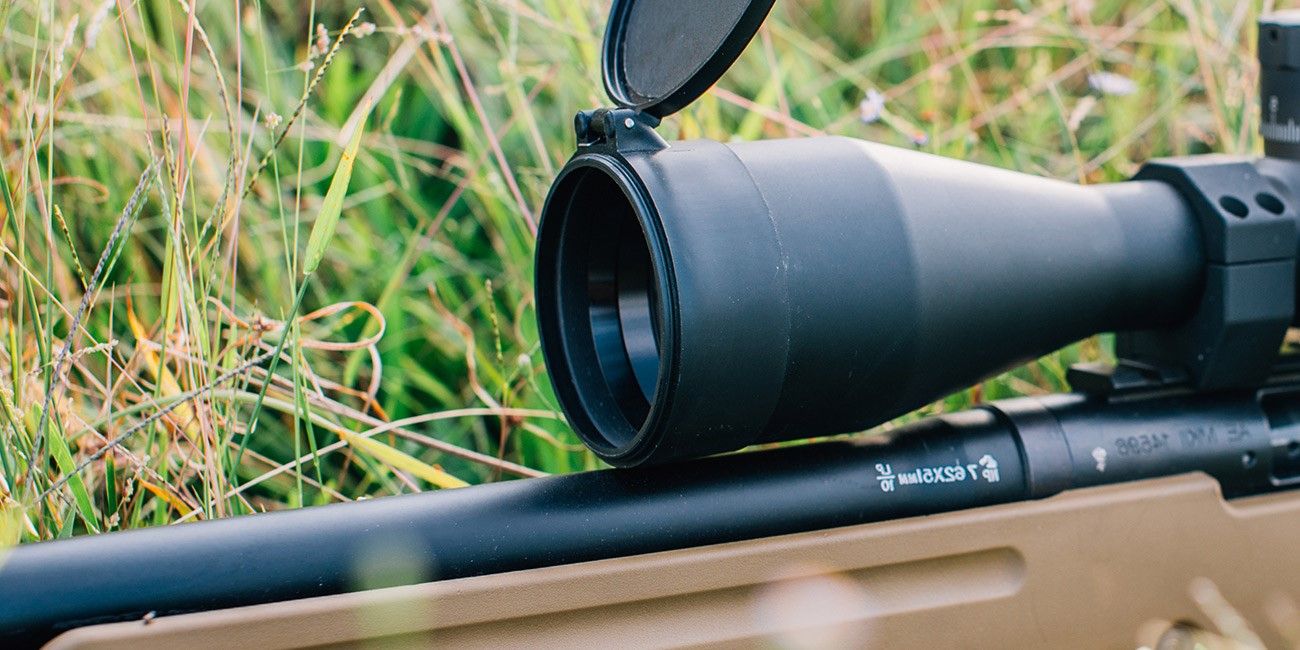 Lens Diameter and Quality
Your optic's image comes from the size and quality of its lenses.
Your objective lens is responsible for collecting light, so larger objective lenses generate a brighter image. This benefit is especially important at dawn and dusk, where smaller lenses can struggle with downrange visibility. For long range rifle scopes, we highly recommend you limit your search to 50mm and 56mm objective lenses.
While price and manufacturing location are an important indicator of lens quality, the optics market is highly competitive, and manufacturers are constantly releasing new scopes that push the boundaries of each price point.
For objective comparison, optical quality is difficult to describe. Scope lenses are very complex, and without digging into the nitty-gritty of coatings and glass types, every scope will have pros and cons depending on its design. If you can't test a scope firsthand, optical differences are difficult to conceptualize. Fortunately, optics are one of the most hotly discussed subjects in the firearms community, and the internet provides plenty of resources on forums and blogs comparing the performance of similarly-priced optics. By reading a few of these types of reviews, you can usually draw a general conclusion on the relative quality of a scope compared to other prominent options on the market.
Turret Quality
Turrets are one of the most important features of a long range rifle scope, as you'll probably be making elevation adjustments to correct for your target's distance.
Like optical clarity, turret quality is difficult to describe in objective terms. 'Tracking' accuracy is a good starting point, since it describes the mechanical accuracy of each click. When researching a scope, check to see if customers had inconsistencies or deterioration in their scope's turret adjustment. If turret adjustments aren't exact, the scope will have problems at long range, where minor errors are magnified.
When comparing two scopes with accurate tracking, then you'll be comparing them by the tactile sensation. Good turrets offer crisp clicks that can be both felt and heard while adjusting. Bad turrets can feel mushy, making it difficult to determine how far you've adjusted without watching at the turret's numbering.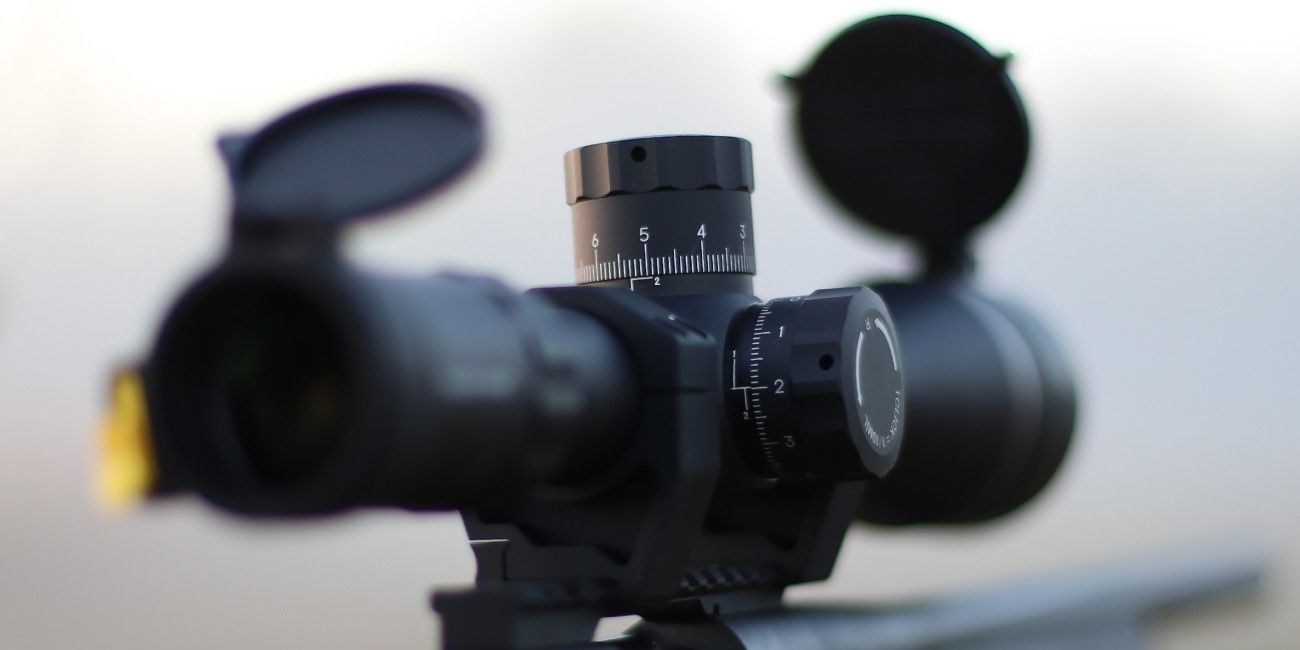 Total Elevation Adjustment (and Tube Diameter)
Beyond turrets, total elevation adjustment is critical to determining a scope's maximum range with a given cartridge.
For example, let's say you're shooting at a target 1000 yards away, and you know that your bullet will drop 10 MIL to the target. If your scope only has 15 MIL of total elevation adjustment, you'll only be able to adjust about 7.5 MIL if you zero near median elevation. In this case, you would have two options: use holdovers for the remaining MIL or change to a canted mount to move your zero.
Depending on how far you're shooting, you may also want a 34mm scope body. Typically, 34mm rifle scopes offer more adjustment than 30mm scopes, though the amount will vary from one manufacturer to another. Likewise, 34mm scopes usually weigh more than comparable 30mm scopes, but this is not always the case. Be sure to check the manufacturer's published specifications before drawing any conclusions about a scope's total adjustment or weight.
Shop All In Stock 34mm Scopes HereBuy Now
Best Long Range Scope Reticles
A scope's reticle selection can also play an important role in the purchasing process.
Nowadays, most major optics manufacturers will offer a comprehensive reticle selection for long range rifle scopes. We recently discussed MIL vs MOA vs BDC reticles in comprehensive detail, so if you need a refresher, just read the previous blog.
The main factor with reticle selection is that many reticles are proprietary. If you're drawn to a particular reticle system, you may need to focus your search on one brand. When designing our own long range rifle scopes, we try to offer a diverse selection of both ACSS® and non-ACSS reticles, so customers can choose a system that matches their shooting preferences. These reticles are tailored to the scope's expected use-case, so our long range rifle scopes all feature reticles that give the best performance for engaging targets at further distances.
Shop All In Stock ACSS Optics HereBuy Now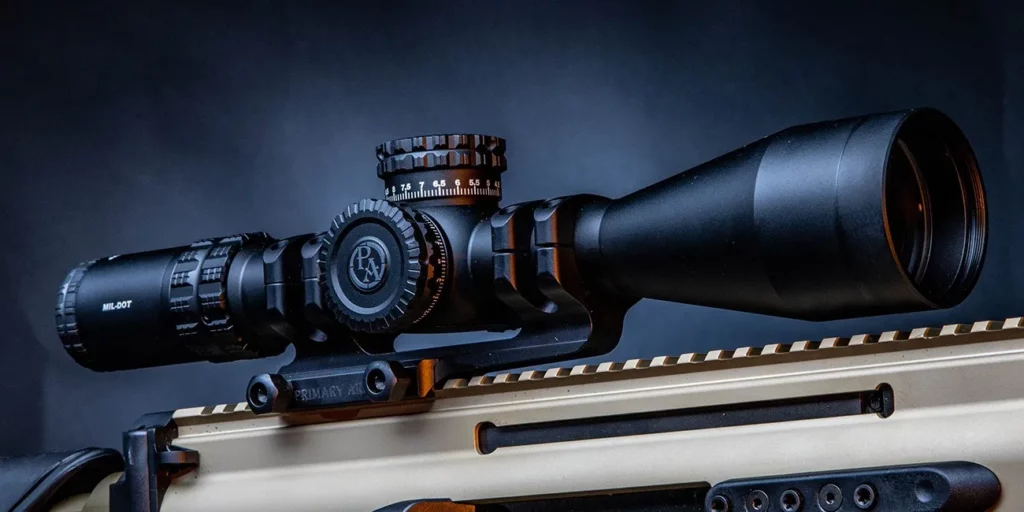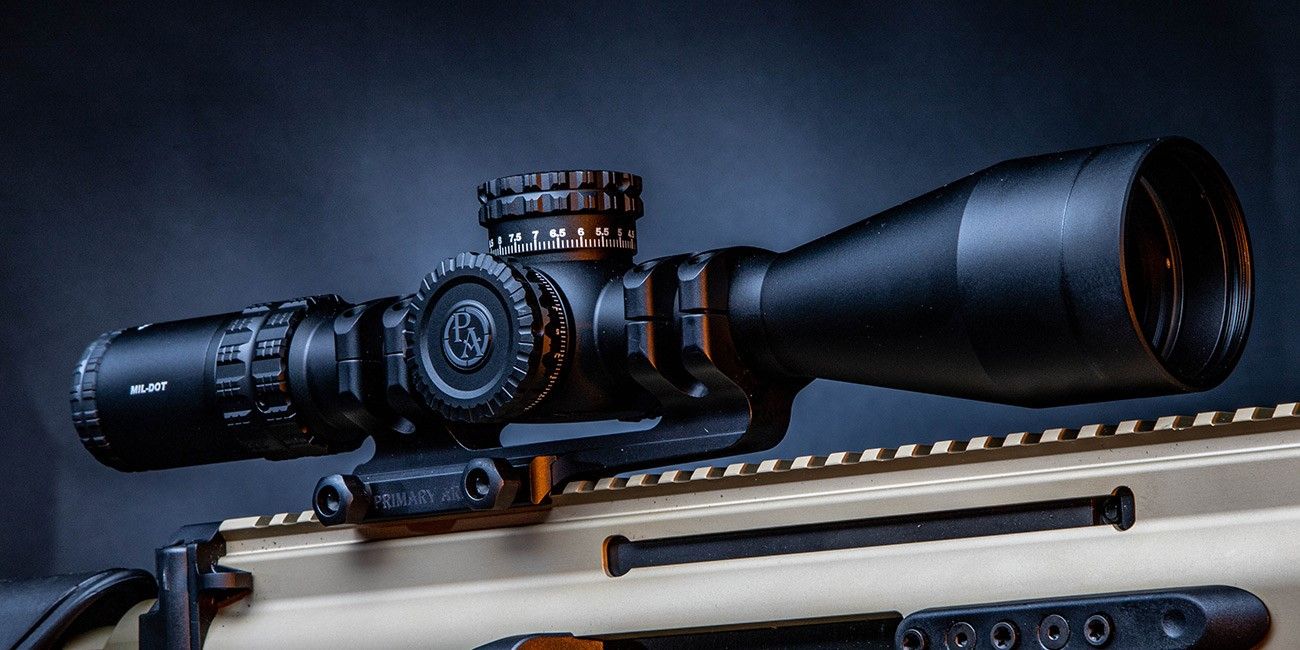 Additional Features of Long Range Rifle Scopes
Year by year, scopes become more advanced in their technology and engineering, which has opened the door to some very attractive (and proprietary) features.
Some scopes feature special locking turrets that prevent the turret from incidental adjustments. Some locks also engage when you return to your zero, making it much faster to return to origin without overtravel. These features are more valuable if you are moving around a lot and making quick adjustments for targets at varied distance.
Reticle illumination is another area of constant innovation. The most advanced scopes have daylight-bright illumination and night vision compatibility, plus a long battery life and a motion-sensing sleep mode. These features are more valuable if you are shooting in adverse or transitional lighting conditions, where a black reticle will not stand out against the target.
When evaluating the additional features of rifle optics, you must consider your use case and desired application. If you're going to a flat range and only shooting at bright targets during the day, advanced illumination and turret locks may be less critical. But if you want a more versatile optic, these enhancements are definitely well-worth the added cost.
Weight and Size
For long range rifle scopes, a scope's weight and profile are a mostly subjective concern.
Many long range precision rifles weigh more than 10lbs without optics, and that isn't necessarily a bad thing. For magnum-caliber rifles, that weight is crucial to absorbing the shock of each fired shot. Weight can also come in the form of a larger barrel profile, which helps disperse heat and improve rigidity for improved accuracy.
In short, many precision rifles are already heavy, and a scope's weight might be negligible for the intended application, such as benchrest precision. As a result, many long-distance marksmen aren't overly concerned about optic weight, especially if the scope has a great feature set and quality materials. The Vortex Razor HD Gen II 4.5-27×56 FFP Rifle Scope is one of the most popular high-end rifle scopes on the market, and it weighs a staggering 48.5oz.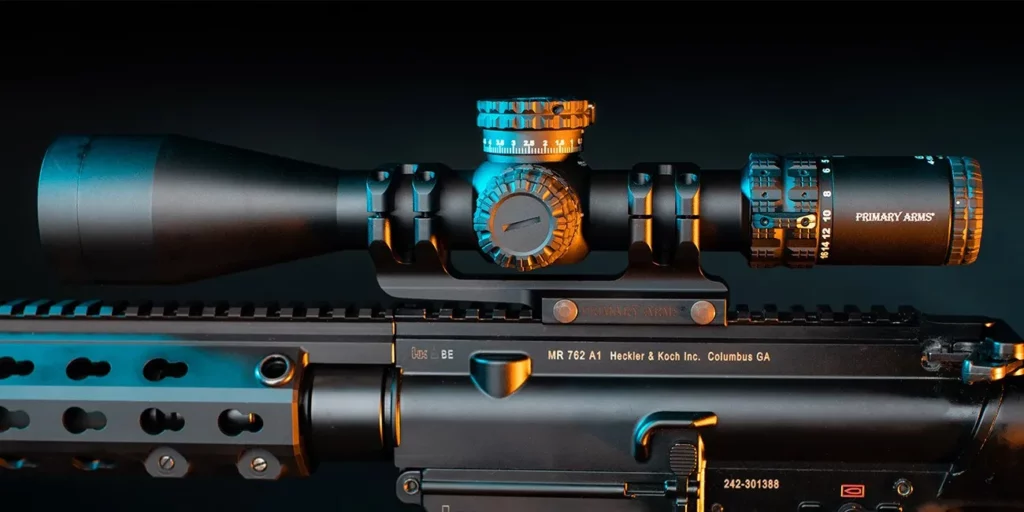 Vortex Optics Razor HD Gen II 4.5-27x56mm Rifle ScopeBuy Now
That said, if you are shopping for hunting or tactical purposes, weight can be an issue. If you have to carry your rifle for an extended time, a heavy scope will inevitably create discomfort. In this case, your best tactic is to plan a total weight for your rifle with all accessories and shop around that.
Primary Arms' Long Range Rifle Scopes
As an optics manufacturer, we have an inside perspective on scope design. When you're shopping for a new scope, you usually don't have to memorize every model. Most manufacturers divide their products up in different product families, which will target specific price points and include common feature sets. For Primary Arms optics, we group our top products among three main tiers: SLx®, GLx®, and PLx®.
Our SLx optics built our reputation for innovation, reliability, and value. All SLx Optics undergo rigorous field-testing during development to best serve users in any environment. With SLx optics, we're trying to get the absolute best performance for the price, so we focus on the essentials: good glass quality, first-focal plane reticles, and durable construction to take the abuse of heavy-duty usage. As a result, we're able to create optics like our SLx 3-18x50mm First-Focal Plane Rifle Scope—a capable 1000-yard contender for under $500.
Shop All In Stock Primary Arms SLx OptcsBuy Now
As we move up to our GLx line, our commitment to value stays the same. GLx is all about bringing premium technology and materials into an approachable intermediate price range. Our GLx scopes feature low-dispersion glass with cutting-edge turrets, utilizing steel-on-steel adjustment rings for a lifetime of accurate tracking and crisp clicks. GLx scopes also incorporate AutoLive illumination, a motion-sensing illumination system that drastically improves battery life for always-on use. Even though GLx scopes are all priced under $800, the emphasis on technology and materials allows them to compete well above their price point. For long range, our GLx 4-16×50 and 6-24×50 Rifle Scopes will give you that added edge in glass clarity and adjustment to really shine in landing challenging shots.
Shop All In Stock Primary Arms GLx OptcsBuy Now
Finally, PLx remains our most premium line, driven by delivering the best craftsmanship for the truly dedicated marksman. Our PLx 6-30x56mm FFP Rifle Scope is the epitome of what we value in long range rifle scopes. The wide magnification range is ideal for identifying targets outside the 1000-yard line, while the glass and turret quality make it easy to hit with exceptional consistency.
Personally, I use this scope on my own precision rifle. The center chevron of the Athena BPR MIL reticle is great for long distance shooting because it provides a precise point of aim and an unobstructed view of the target, which is especially helpful if you're trying to hold over 6" plates from a kilometer away.
Shop All In Stock Primary Arms PLx OptcsBuy Now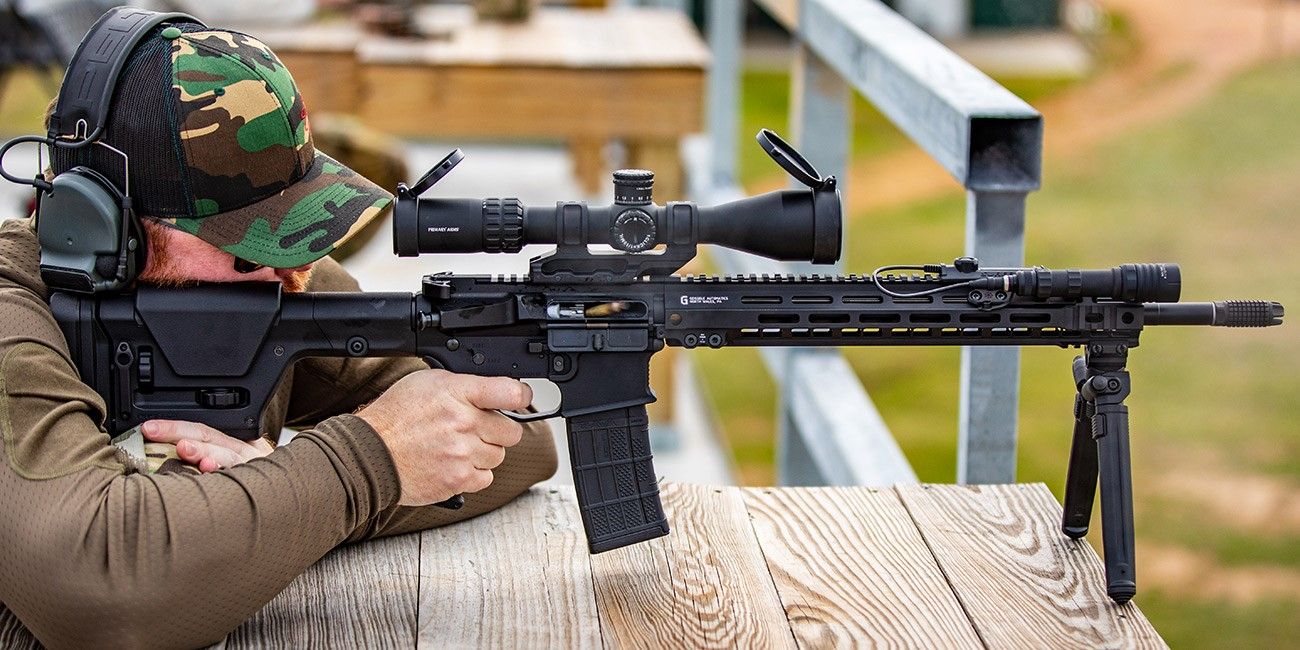 Long Range Rifle Scopes: Final Thoughts
When you're shopping for long range rifle scopes, keep those key factors in mind. With the optics industry continuing to grow, we're seeing dozens of new releases every year that continually push optical innovation upward. Even today's budget-friendly rifle scopes can be very capable to 1000 yards and beyond. As long as you can set a fair budget, prioritize your needs, and do some deep research, you'll be able to find a long range rifle scope that perfectly suits your needs.
Of course, if you have any questions about long range rifle optics—or any optics in general—feel free to send us a message on Facebook, Instagram, or Twitter! We've always happy to help enthusiasts find the right piece of gear, especially when it comes to optics.