Shooting targets up close is sometimes called reflexive — or "snap" — shooting, because the shooter is holding the rifle in a ready position while scanning the surrounding area for targets. When a target appears at close range, the shooter must instantly snap the rifle into a good firing position and score a hit as quickly as possible.
Even in competitions where the location of the targets is known in advance, time is the ultimate enemy—the competitor must get the target in sight as fast as possible when the timer beeps, then recover from recoil and drive the gun from target to target.
Traditional red dot optics excel at rapid target acquisition in close quarters. However, red dots begin to experience limitations at distances beyond 100 yards, particularly if you have vision problems or if you have astigmatism.
Many shooters who prefer the small size and light weight of a red dot but want to engage targets or game at longer distances, struggle with a difficult choice of switching to a heavier variable-power scope. Throw in the fact that these shooters need to retain the ability to engage targets at close range, like an angry hog that suddenly charges, and the decision becomes harder.
Primary Arms solves this problem with the innovative Advanced Combined Sighting System® Close Quarter Battle (ACSS® CQB™) reticle. The ACSS CQB reticle bridges the gap between up-close effectiveness and capability at longer ranges, allowing for rapid target acquisition up close and precision at medium range.
The reticle's performance capabilities and flexibility are unmatched and have led to collaborations with leading optics manufacturers, Trijicon® and Holosun®.

The ACSS CQB is a game changer that removes the guess work from your optic system and provides you the confidence you need to take the shot. With several ACSS CQB reticle versions available in multiple fixed magnification scopes, which reticle and optic combination is right for you? Do you shoot recreationally? Are you a Hunter? A 3-Gun competitor?
Or, will this optic be on your personal defense weapon? We will walk you through the options, explain how to use each optic's features, and provide recommendations to help you choose which optic is best for you.
HOLOSUN HS503G ACSS CQB
Primary Arms and Holosun have collaborated to create one of the world's smartest red dot sights, the HS503G ACSS CQB. Looking through the Holosun for the first time feels like playing a video game, but nothing here is for show. Every element provides you with more information than you can get with an ordinary red dot.
The first thing you'll notice is a large horseshoe (A) calibrated to approximate an average shotgun pattern at 25 yards. The ACSS horseshoe grabs the eye instantly for unbeatable sight acquisition in closequarters. Up close, roughly center it over your target and fire immediately.
Mounted on a shotgun, the horseshoe allows you to devastate rows of stationary clay targets or steel plate racks at ranges out to 25 yards. You can select whether the horseshoe appears in the reticle or not by pressing and holding the (-) brightness button on top of the HS503G.

For precision shots with a rifle, the center aiming point is a chevron instead of a dot (B). The chevron is larger than a normal red dot, so your eye finds it more quickly. It is also more accurate, because the tip forms an infinitely small aiming point that never obscures the exact part of the target you want to hit.
What sets the ACSS CQB reticle apart from the traditional red dot is that it provides the shooter with the ability to accurately engage targets out to 600 yards. The chevron itself has bullet drop compensation (BDC) incorporated into the design. When the tip of the chevron is zeroed at 100 yards on a 5.56 NATO AR-15, the bottom legs provide a BDC marking for 300 yards.
Below the chevron are three 1 MOA BDC dots (C) calibrated to 400, 500, and 600 yards. In a 9mm pistol caliber carbine, the BDC marks extend your capability to 200 yards.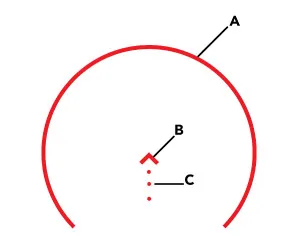 The ACSS CQB advantage gets even bigger when a 3x or 6x magnifier is mounted behind the Holosun HS503G. Running a magnifier behind a traditional 3 MOA red dot at longer distances becomes less precise as the magnified dot begins to obscure smaller targets.
The aiming point of the ACSS CQB is above the tip of the chevron, the 100-yard target is not obscured. The 1 MOA BDC dots are significantly smaller than a standard red dot increasing accuracy at all distances.
Recommendation: The Holosun HS503G ACSS CQB is recommended for shotgun and rifle shooters that need a non-magnified red dot for target shooting at the range, small and medium game hunting or lawful personal defense. Shooters that want the flexibility to accurately engage targets out to 600 yards with an optional magnifier will love this optic too by adding a magnifier.
The HS503G ACSS CQB is ideal for 3-gun competitors that want the same optic on their shotgun and rifle. With platform specific markings for 25-yard shotgun pattern and long distance BDC markings for the AR-15, this ACSS CQB reticle will give you an edge over the competition since you only have to learn one reticle.

TRIJICON TA44 ACOG® CQB M5 1.5X SCOPE
Trijicon and Primary Arms joined forces to produce a unique variant of their world famous TA44 ACOG Compact. Featuring dual illumination (no battery required), legendary toughness, and at only 4 inches long and just 5.1 ounces in weight, this tiny little scope punches well above its weight class when combined with the ACSS CQB M5 reticle.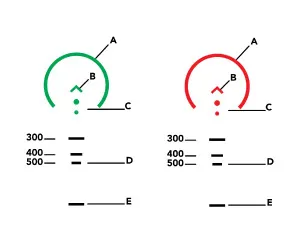 From edge to edge, the sight picture is so incredibly clear and sharp that you would swear you are looking through an optic with more than 1.5x magnification. You can see every detail so well. The field of view is magnificent, and acquiring the etched ACSS reticle is instant when shooting with both eyes open like a red dot.
The ACOG ACSS CQB illuminated reticle section is much like the Holosun, with a center chevron (B) and two BDC dots (C). The large horseshoe (A) is no longer calibrated for a shotgun load, but its edges serve as moving target leads for a target traveling at 6.1 mph.
Using the edge of the horseshoe as your holdover point of aim puts the center of the reticle well in front of the target, like a quarterback throwing a football, leading his running receiver. ACSS CQB moving target leads work great from 100-300 yards in hunting or competition applications.
Underneath the main reticle are four nonilluminated bars, etched black (D). These form a ranging ladder which works in two ways. To find the range to a standardized target, line up the bottom of the target with the bottom bar (E) and range upwards—the ranging line that coincides with the target's top indicates the distance to the target.
For example, if the top of the target touches the second ranging line from the top, the target is 400 yards distant. A standardized target, such as an IPSC target or whitetail deer, with its top midway between the top two ranging lines will be approximately 350 yards away. The black bars are also different lengths, each corresponding to the width of an 18" target at the indicated range.
Horizontal ranging is useful for targets that are partially hidden by tall grass or other obstructions—just match the width to the appropriate bar. Once you've confirmed range to target, select the correct bullet drop compensation dot as your point of aim, and you are ready to shoot!
Shop All Rifle Scopes with ACSS
Recommendation: The Trijicon TA44 ACOG CQB is priced higher than other optics in the same magnification range, but the quality and sharpness of the glass is legendary. Life is just better looking through an ACOG.
If the TA44 fits into your price range, we highly recommend this scope for recreational, competitive and defensive shooters looking for a slight increase in magnification while still retaining the ability to aim with both eyes open. We also recommend the TA44 for shooters with an astigmatism that cannot clearly see a traditional red dot.
PAC2.5X ACSS CQB-M SCOPE
If you want an etched, illuminated ACSS CQB M reticle setup for your AR-15, but a Trijicon TA44 doesn't fit your budget, Primary Arms offers the PAC2.5X ACSS CQB-M at $199. It proves that an accurate, high quality, durable, compact prism scope can be affordable. PAC2.5X comes with an integrated 1913 MIL STD Picatinny mount, placing the optic at the ideal height over AR-15 flat top receivers.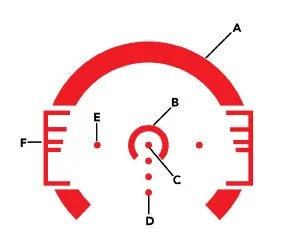 PAC2.5X is super tough, with a relatively wide field of view, thanks to its compact design, generous lens sizing and low magnification. The eyebox is extremely forgiving for a scope of this magnification and price, which makes PAC2.5X fast enough to deserve the ACSS CQB-M reticle.
The large horseshoe (A) in PAC2.5X dominates the reticle. As soon as you snap your 5.56 NATO AR-15 up from low ready, your eye finds that horseshoe and you are ready for fast close quarters engagement. If you need a balance of precision and speed, a smaller horseshoe (B) is useful for fast and accurate engagements to 100 yards.
Primary Arms SLx 2.5 Compact 2.5×32 Prism Scope – ACSS-CQB-M1
When there is no time to spare, just center your target in the appropriate large or small horseshoe and break the shot. A center dot (C) is used to sight in at 50 yards using a "battle sight zero" concept where the round will impact just slightly high at 100 and 200 yards before dropping back down to the center dot again at 300 yards.
Three additional BDC dots (D) extend the effective range of the ACSS CQB-M reticle to 600 yards.
ACSS CQB-M's moving target lead dots (E) are calibrated for a target moving at 8.6mph, and two ranging ladders (F) are built into each side of the large horseshoe—they range vertically and horizontally just like the TA44 ACOG. The entire reticle can be illuminated in red through 11 brightness settings or used as a black reticle with the illumination off.
Recommendation: PAC2.5X's build quality, fast glass, and ACSS CQB-M's advanced features combine to make it one of the best $199 AR-15 rifle optics in the world. The scope is ideal for shooters who require some magnification to properly see targets at 100 yards and beyond but need rapid target acquisition at close range.

Primary Arms 3X ACSS CQB SCOPE
If you're looking for a scope that can do it all from 0-600 yards and strike a perfect balance between close quarters and medium range shooting, the 3X Compact Prism Scope with ACSS CQB reticle from Primary Arms just might be your solution. Relatively small, light, and simple, it delivers the most magnification of the ACSS CQB optics, trading just a bit of speed up close for increased confidence in medium range shooting.
The PAC3X ACSS CQB reticle is available in two variants. The 5.56 NATO calibrated version is similar to PAC2.5X, with large horseshoe (A), small horseshoe (B), center dot (C), moving target leads (E), and ranging ladders (F) all functioning as described above with the PAC2.5X. The 7.62×39/300BLK calibrated version replaces the center dot and small horseshoe with a center chevron for a balance of fast acquisition and the accuracy of the smaller chevron aiming point.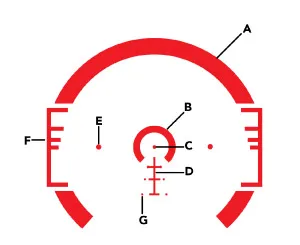 At 3x magnification the ACSS CQB reticle appears a bit larger compared to the other optics discussed above. The increased size creates the opportunity to include some very detailed features used at medium range. The bullet drop compensation dots are replaced with solid BDC bars (D) corresponding to the horizontal ranging technique.
As you find the range to that 18" wide target by matching its width to the correct BDC bar, you are simultaneously compensating for bullet drop at that range, and you can fire as soon as you've ranged accurately. We call this BDC auto-ranging correlation—it's the fastest method possible for determining range to target and engaging immediately.
Also, wind hold dots are placed next to the BDC bars (G), representing holdovers for a 5mph crosswind at each BDC range. Wind will cause the bullet to drift to the left or right, depending on wind direction. As range to target increases, wind has more time to push on the bullet.
Adjusting for wind correctly becomes very important, as even a 2mph wind can drift a bullet over 10 inches at 600 yards. The ACSS wind hold dots compensate for this by aiming the rifle just slightly into the wind. For a wind blowing left to right, use the right-hand wind dots, and for a wind blowing right to left, use the dots on the left. This ensures you're compensating for the pushing effect the wind will have on your bullet.
Primary Arms SLx 3 Compact 3×32 Gen II Prism Scope – ACSS-5.56-CQB-M2
Recommendation: The Primary Arms 3x Compact Prism Scope with ACSS CQB reticle has proven popular with recreational shooters and hunters alike. For those target shooters that want the maximum magnification while still being able to engage targets quickly at short distances, the PAC3X is the scope for you.
For hunters who are targeting game animals like deer or hogs at hundreds of yards away in windy conditions, but which may appear suddenly at close range, the PAC3X ACSS CQB is ideal.
REDEFINING CQB
No matter which optic you decide is best for you, the versatility of the ACSS CQB reticle is a game-changer for your shooting performance. At short to medium ranges, from rapid target acquisition to supported precision shooting, the ACSS CQB removes the guess work from your optic and provides you the confidence you need to take the shot. Shoot safe, see you on the range.