Getting Started in 3 Gun
In the world of shooting sports, nothing is quite as dynamic and exciting as 3 Gun competition. Shooting high-power or your local bench rest competition is great, don't get us wrong. It's fun to test the limits of your own precision, and that of your rifle, and all competition with firearms is a good, fun time. That said, for many younger shooters and a new generation of shooting sports athletes, the combination of speed, precision, and action that 3 Gun brings to the world of shooting competitions is the ultimate thrill.
What is 3 Gun? Well, as the name implies, it's a shooting sport that tests your prowess with a a shotgun ,a pistol, and a rifle. Under the pressure of the timer, competitors move through unique and challenging courses, trading one firearm for another as they go, engaging specific targets at each stage. Every 3 Gun course is a little different, designed at the discretion of the match director. Shooters move through the course engaging both static and dynamic moving targets. Common set-ups might include shoot and no-shoot targets, traditional steel targets, pop-up targets, Texas Star targets, stationary clays, flying clays, and pretty much anything else the director might dream up. Some penalties or deductions can come into play as well. Fastest time through the course wins. Simple enough, right?
So, what is it about 3 Gun that has caused it to explode in popularity over the few years? Easy: excitement. Pure, adrenaline-pumping excitement. There's nothing else quite like it in the shooting sports. It's been called the "X-Games" of shooting sports and when you watch the top competitors sprinting through a course from target to target, executing accurate, blazing-fast shots, it's easy to understand why.
If you weren't intrigued before, I would bet you are now.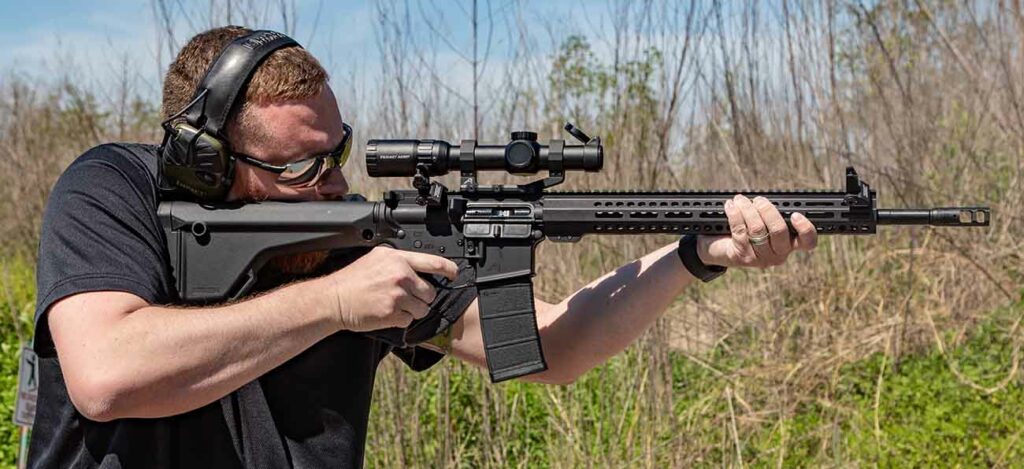 Many people are intimidated by events like 3 Gun because of the perceived barriers to entry. Even worse, some people feel the need to go out and spend a boat load of money on gear before attempting to break into the sport. Don't do this! Aaron, an avid 3 Gunner and a friend of Primary Arms, is well-known amongst other competitors around these parts. We asked him what he thought was the biggest mistake people make when trying to get started in 3 Gun. His reply was "Just shoot what you've got." We agree.
One of the other factors that's lead to the rise in popularity of 3 Gun events is the flexibility. Many 3 Gun events will have divisions intended for newcomers, giving a first-time competitor the flexibility to use the AR-15, shotgun, and side-arm they may likely already have. In fact, because each event director has flexibility on their end to decide how to run the competition, many matches will have a division with certain requirements that help even the playing field for those shooting what's already in the gun case. Certain limitations like not allowing an optic or an extended magazine for shotguns, requiring largely un-modified or stock handguns, or limiting rifle optics to unmagnified prism scopes or red dot sights will really help to keep you feeling like you're in the hunt and not automatically at a disadvantage as the newcomer.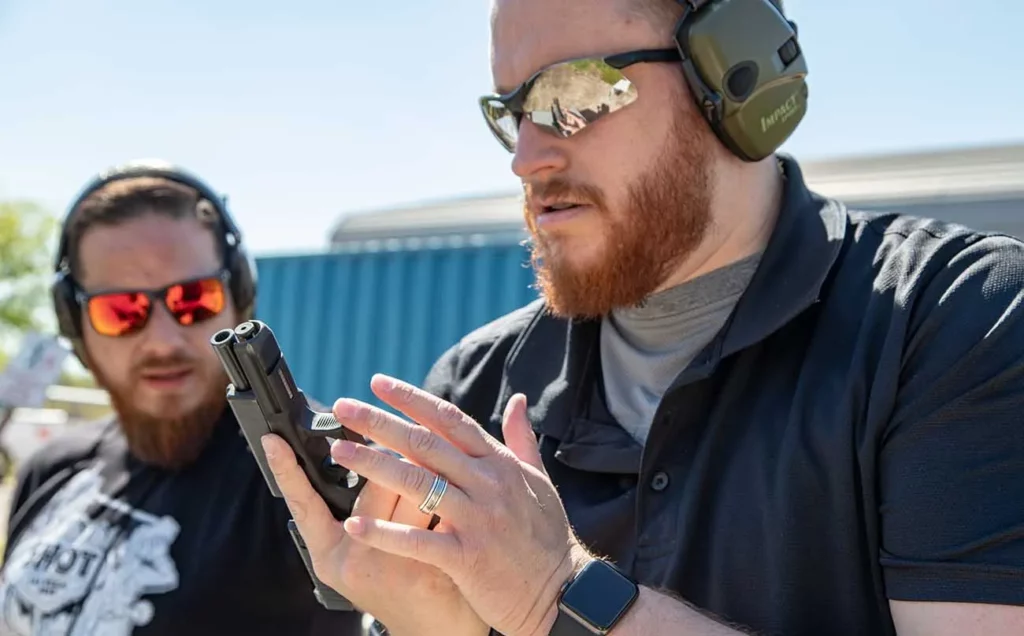 The "big boys" will likely compete in an "Open" division, with their purpose-built firearms, jerseys with sponsors plastered all over them, and split times that'll make your head spin. Other common specialty divisions like Tactical or Heavyweight can help to add some different variety for those who want it. A division or class like Heavyweight will give shooters a chance to play with some larger calibers and might require a rifle chambered in .308 – or something similar – and necessitate a pistol chambered in .45 ACP or larger. Additional optics restrictions or magazine capacity regulations are always potentially in play – however the match director decides to lay out the event.
Still on the fence about trying your hand at these exciting shooting sports events? Our 3-Gunning friend Aaron also gave us another great piece of insight and perspective into the culture of 3 Gun that might put your mind even more at ease. The 3 Gun community, like most any other segment of the shooting sports and firearms enthusiast crowd, is incredibly inviting. It's all about growing the sport. A lot of folks will opt to come and spectate their first time and get an idea of how events are run for familiarity's sake. Observers are almost always welcome, so long as they abide by all safety instructions and any commands from the Range Safety Officers on-site. If you want some exposure to the sport even before that step, 3 Gun Nation is a nationally televised series that has a YouTube channel and plenty of action to watch. For those who catch the itch and want to try for themselves the next time, but perhaps don't have one or two of the necessary firearms, many competitors will gladly offer a spare or back-up firearm to a new 3 Gunner for their first competition. When you're there as a spectator that first time, make some connections and see if someone would offer their extras the next time so you can actually compete. Tons of these guys are out at competitions every weekend and keep a spare or two of each firearm just in case they run into issues with their primary. If you're lucky enough to know someone who's into 3 Gun, that's the most obvious place to start. Tag along and spectate for a match.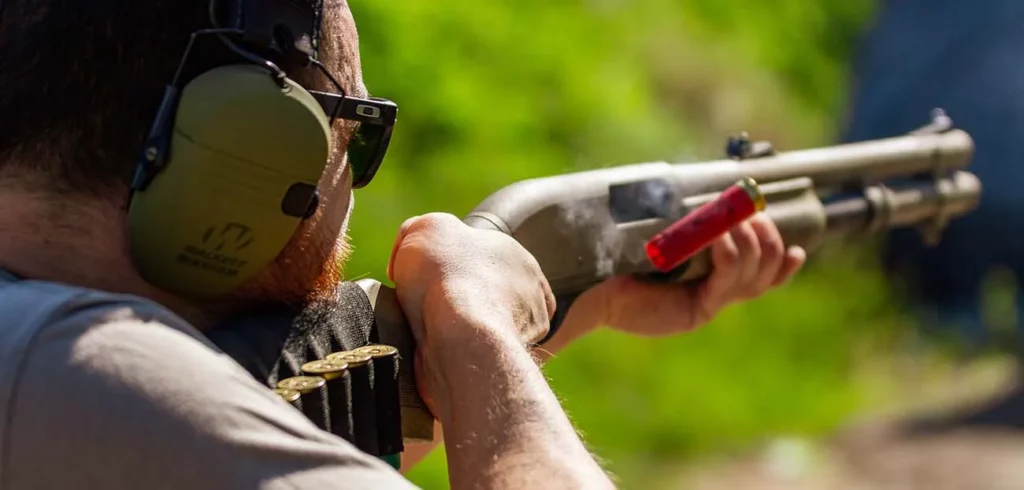 The perceived hurdles on the way to competing in 3 Gun are non-existent if you're already a firearm owner with a rifle, pistol and shotgun. Find a match with a beginner-friendly division and shoot what you've got. It'll be a great time, you'll learn a lot, and if you want to invest in gear, you can do it down the road. You can be sure there's plenty of stuff to buy, but don't let anyone tell you any one accessory or piece of kit is absolutely a must-have to get started.
What if you've got a rifle, but need to round out your set-up with a pistol or a shotgun? Buy something practical just in case you compete once and hate it (however unlikely that may be). If you need a pistol, you can't go wrong with something like a Glock 17 or 19, Sig Sauer P320 or P226, a Smith & Wesson M&P9 or 9C, or any other full-framed or compact pistol with a capacity of 15 rounds or more. That'll give you the best capabilities for 3 Gun and can always serve as a carry gun or home defense firearm as well.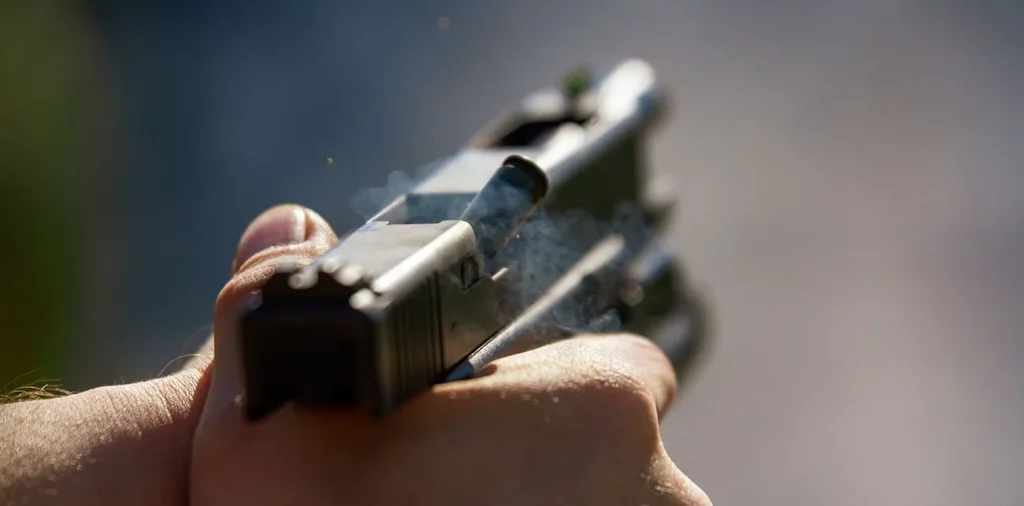 If you're in need of a shotgun, something semi-automatic would be more advantageous than a pump action, but it isn't a requirement. Pick a brand name you trust and find what's going to fit your budget. The Remington 870, Mossberg 500 or 590, and Winchester SXP are all affordable options and will serve as a great hunting shotgun or home defense gun in addition to their use in your 3 Gun set up. Treat it well and it could even become a family heirloom like this old Browning shotgun did. If you want something a little more special-purpose for capacity and speed, new magazine-fed models are available on the same tried and true platforms like the Remington 870 and Mossberg 590. If you really want to limit your need for reloads during a match, the Kel-Tec KSG bullpup pump action shotgun sports two 12-round tube magazines. If you want to keep that familiar feel and ease of operation between your rifle and shotgun, The UTAS Defense 12-guage is built like a modern sporting rifle and operates in basically the same way.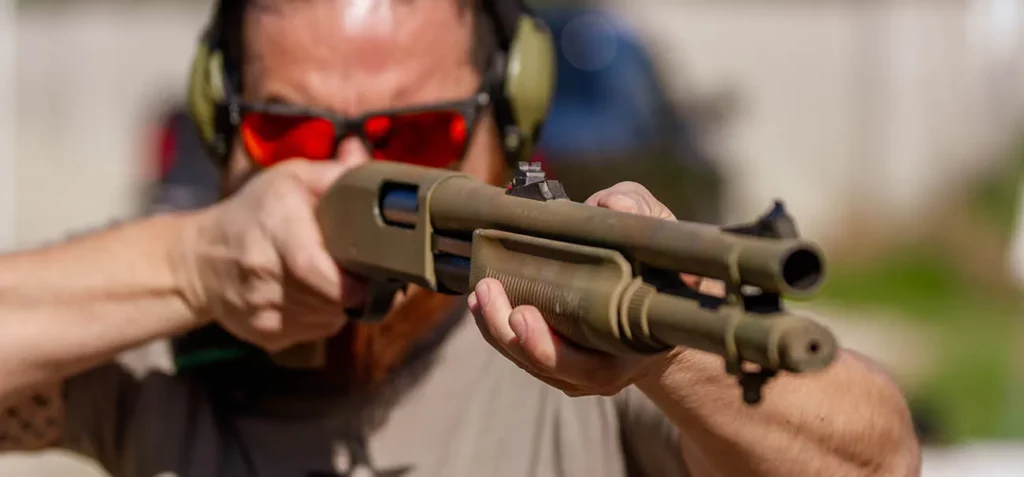 If you're looking for a good quality AR-15 that can handle 3 Gun, won't break the bank, and can serve some other practical purposes outside of competition, then decide on a budget and build one. That way you can prioritize the parts of the rifle you don't mind spending a little more for, like a high-quality trigger and an accurate, high-quality rifle barrel. If you'd rather go and buy a rifle off the shelf, you do still have some excellent options. You can't hand-pick your custom parts upgrades without spending some more cash, but you can get a great value in a high-performance rifle for a reasonable price. A complete rifle like the Aero Precision AC-15 carbine is a MIL-SPEC AR-15 from a company known for its quality in materials and workmanship and it'll run you about $700. Other well-known manufacturers like Ruger and Smith & Wesson offer complete rifles at a slightly lower price point.

On a rifle being used for 3 Gun, do you absolutely need an optic? Not necessarily. Some people like the challenge of shooting for speed with iron sights. But if you want performance and precision in a 3 Gun match with your AR-15, you've got some great options to choose from. The red dot sight is popular with 3 Gunners, for obvious reasons. Fast target acquisition, unlimited eye relief, precise, compact and light – a great choice. Add a red dot magnifier, you can take on the 100-yard line without a problem. If you're like me, though, and you have an astigmatism or other eye issues… not quite so great. All I see when I look through a red dot sight is a big blob. Anything resembling precision is just not possible. I need an etched reticle to get on target with accuracy. The other benefit of an etched reticle is even with no illumination you can still see a high-contrast, black reticle, which can be even more ideal than illumination for bright and washed-out shooting settings. A prism scope with a fixed, low magnification is another good choice. The Primary Arms SLx1 1×20 Prism Scope with ACSS Cyclops reticle gives you a great combination of speed and precision with ranging capabilities for added performance potential.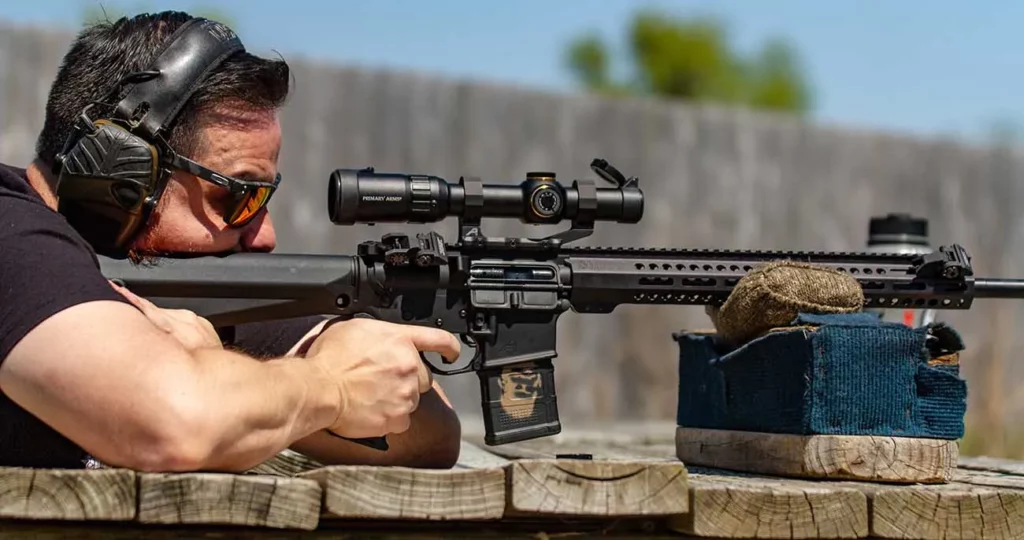 For the most versatility in a 3 Gun match, a low power variable optic is the optimal choice. It takes some training to achieve the kind of speed that a red dot allows when using a low power variable scope, but it can be done. It also takes some training to be able to adjust magnification quickly, which is a necessity when running through a 3 Gun course. However, the benefits are significant. At low power, you get a wide field of view for fast target acquisition, while at the 100-yard line you get more magnification and precision. Our Primary Arms SLx6 1-6x FFP scope with ACSS Raptor reticle is a highly capable and affordable option with a smart reticle that gives you the best performance at both low and high magnifications by utilizing a first focal plane construction. Other popular low power variable optics include options like the Vortex Strike Eagle, Leupold VX-Freedom, and Trijicon AccuPoint. What you're looking for here is something that will get you on target fast when you're in the more dynamic sections of the competition, with the addition of a magnification for higher first-hit probability when shooting at distance. If you're really hard-core, though, and looking for a challenge, there's nothing wrong with iron sights in 3 Gun. Especially if that's what you've already got and you're itching to get started. Some events will even score your times separately if you go with only iron sights, so you're only competing against other's who are doing the same.
The bottom line is, you just have to take the dive. 3 Gun is a fast-paced, exciting form of shooting competition and if you're a firearms enthusiast, you're bound to get hooked. It doesn't take any particular set of skills or expertise beyond being able to safely, responsibly use your firearms and it doesn't have to be expensive. Most competitions are between $20 and $50 to enter and will tell you up-front how many rounds are needed to complete the match, so you can plan ahead. The thrill of competition alone is often enough to entice people to get started in 3 Gun and other shooting sports. It's a way to work on practical skills, better yourself, and exercise your Second Amendment right to gun ownership. Sounds like a pretty good Saturday to us.
If you ever have any questions about any firearms products, don't hesitate to give us a call at (713)-344-9600 or send an email to info@primaryarms.com. Our team of in-house customer service and product specialists are standing by to help. Stay safe, have fun, and shoot 3 Gun!