Introduction
Your home is your refuge, and if you've got to defend it, you deserve every advantage that a rifle can offer.
With a wide aftermarket and broad variety of ammunition, AR15s are a top choice for any kind of personal defense. Despite rumors, the 5.56×45 cartridge is not too powerful for home defense. With purpose-made ammunition, you can achieve low interior penetration—even lower than pistols or shotguns. When you factor in the AR15's low weight, excellent balance, and simple manual-of-arms, its effectiveness shines when navigating corridors.
But to get the most out of an AR, you must configure it to meet the challenges of its environment. Defensive carbine setups are often more complex than they appear, as the intricacies of close-quarters maneuvering require a keen eye to parts selection and arrangement.
The table below includes all the parts we used for this build. If you'd like to learn more about them, you can click the table to see each item, or you can continue reading below, as we discuss our process for setting up this Home Defense rifle.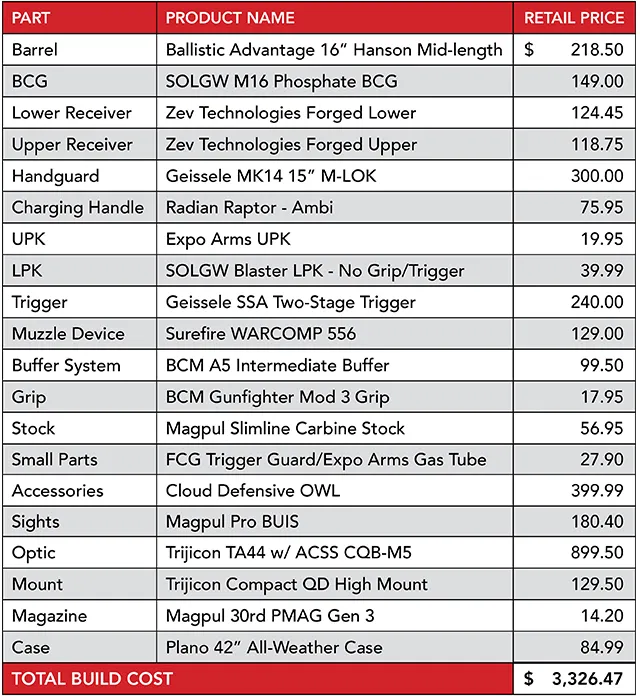 Building a Defensive Carbine
There are a few guidelines when setting up a defensive carbine. Every setup will be slightly different, given the variability in user budgets and preferences, but some setups are a natural fit for home defense. While we all love a good M16A2 clone, that 20" barrel is a poor fit when you're taking tight corners. Here are a few considerations when thinking about a home defense rifle:
First, reliability is everything. This is true of pistols, rifles, and shotguns alike: never accept spotty reliability when it comes to personal protection. In the pressure of self-defense, nothing ever goes according to plan, so if something can fail, you should expect it to. A quality BCG will go a long way in improving a firearm's reliability, but there are plenty of malfunctions and mishaps that can happen elsewhere on the rifle. For more information, check out our recent blog on fixing AR15 malfunctions.
Second, when you're on the defense, your main advantage is knowledge of the environment. If you reveal your position, you've given away your greatest asset. That's why your rifle's handling is critical. When you're working in close spaces, you are always controlling your exposure. Every movement is a potential hazard, as any shadow or stumble can give away your position. That's why we usually stick to shorter barrels, preferably 16" and shorter. The advantages of a long barrel disappear in a 10-foot hallway, but its size will cause problems when taking corners.
Third, think about your toolset. Functional accessories like your weaponlight and optic are an import aspect of any carbine, but they'll be your lifeline in the dark. If you've ever shot at night, you know that muzzle smoke can be a huge barrier to visibility. A weak flashlight won't penetrate the smokescreen, so you need a high-output light to break through the haze. Optics are very similar in that respect. A subpar optic won't give a good image in the dark. If you want to see your target, you'll need an optic that can make the most of the available light—even in the middle of the night.
With the right selection of parts, your home defense carbine will check all three boxes, ensuring that you maintain the advantage when you need it most.
So, with all that said, let's get right into our setup.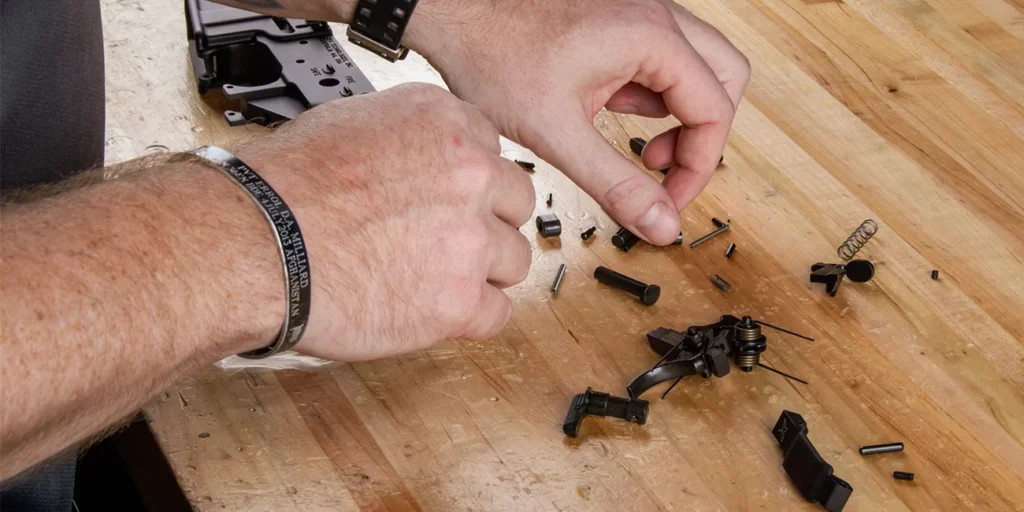 Building the Lower Receiver
We started with a Zev Technologies Forged AR-15 lower receiver, ensuring a tight adherence to MIL-SPEC. Everyone knows Zev for their Glock parts and OZ9 pistol, but if you hadn't heard, they also make some of the best AR15 forgings in the industry. With a flared magwell, 'Gator Grip' front texturing, and a nylon receiver screw, this lower has a lot of bang for the buck.
To complete the lower, we added a lower parts kit from Sons of Liberty Gunworks. The SOLGW Blaster Starter Kit has all the essentials with exceptional quality, and the fitment on the Zev lower was spot-on. We opted for the No Grip/Trigger version, because we wanted to include a few added enhancements, such as a Geissele Automatics Super Semi-Automatic 2-Stage AR15 Trigger. Geissele's triggers are all exceptional performers, but the SSA is community favorite for custom-grade carbines.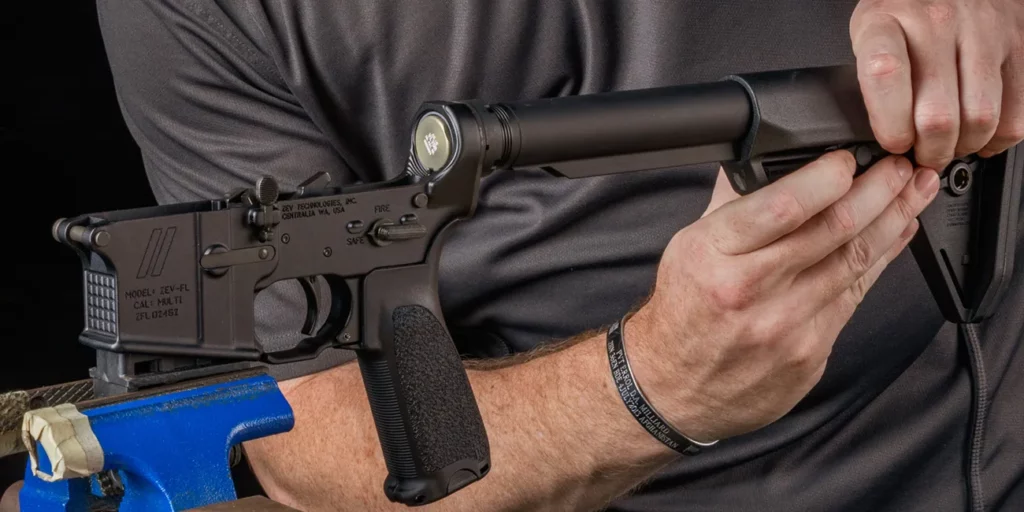 The buffer assembly is another important choice, as it contributes to your rifle's reliability. For a smooth, consistent bolt function, the A5 system is hard to beat. BCM's A5 intermediate buffer system is the perfect match for our purposes, refining the rifle's recoil impulse for quick follow-ups.
To get the best handling, we attached furniture from Magpul and BCM. Our BCM Gunfighter Mod 3 Pistol Grip has a reduced angle, which allows for a tighter stance. When navigating hallways, a shallow grip keeps your elbow closer against your side, reducing your exposure on corners or side-cover. For the stock, the Magpul MOE SL Carbine Stock provides a great balance of support and balance. In a home defense scenario, you'll want your best cheekweld to ensure that your rifle is always quick on point, so the SL stock's cheek placement is near perfect.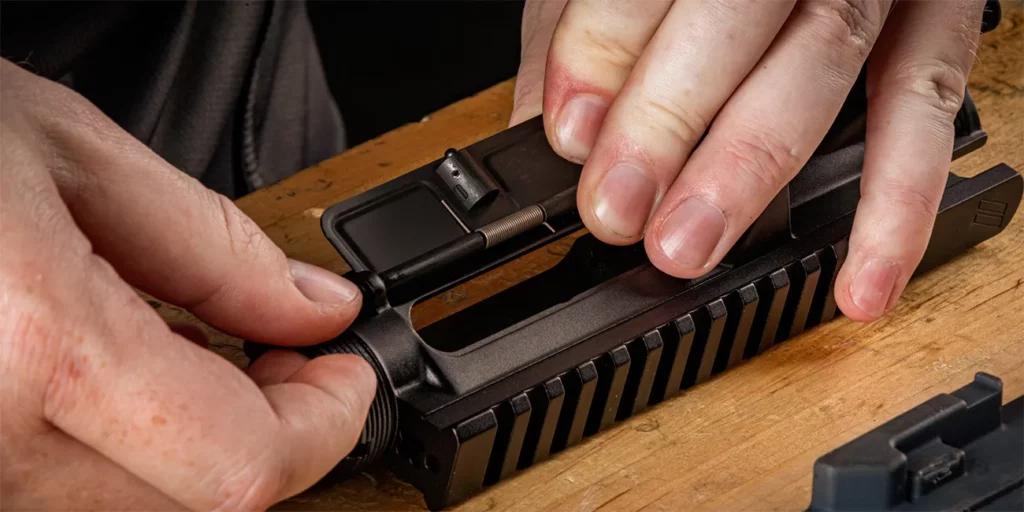 Building the Upper Receiver
Like our lower receiver, our upper receiver comes from Zev. The Zev Technologies AR15 Forged AR15 Upper Receiver has all the same benefits that the lower does, plus it matches the fitment of our lower. Since it's a stripped upper, we needed an upper parts kit from Expo Arms for full assembly.
There are a lot of options for barrel length. Because we're using a stock, we could only go as short as 16", so we added a Ballistic Advantage Performance Series 16" 5.56 Hanson Mid-Length Barrel with a pinned gas block. Not only is this barrel accurate at range, but its optimized balance and pinned gas block add to the handling and reliability of the rifle.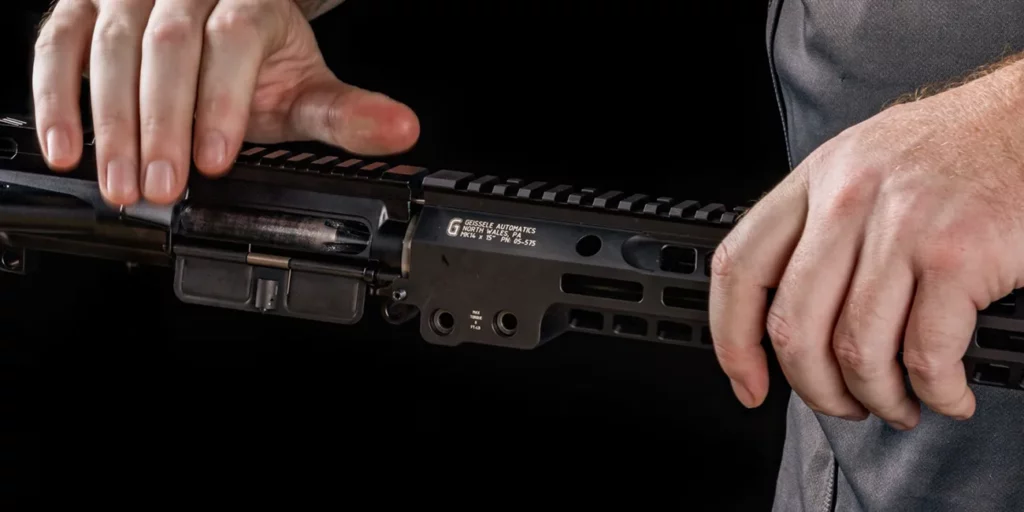 For AR15 handguards, preference is everything. With countless M-LOK, KeyMod, and Quad Rail options available, we could make a long list of suitable candidates, but in the end, we chose the Geissele Super Modular MK14 15" M-LOK Handguard. The robust, free-floated design feels slim in the hand, offering its user even more leverage when shouldering the rifle. With the handguard installed, we could finally attach our SureFire WARCOMP. The WARCOMP provides both flash reduction and compensation, striking a great balance for any defensive carbine.
To finish the build, we needed a BCG and charging handle. SOLGW's M16 Bolt Carrier Group uses superior materials and machining to ensure a long, reliable life and function, plus the phosphate treating makes for consistent cycling. We matched this BCG with a Radian Raptor Ambidextrous AR-15 Charging Handle. This charging handle is great for clearing stoppages, as it allows the user to leverage either hand for remediation. Plus, if you use a suppressor, this charging handle reduces gas blowback.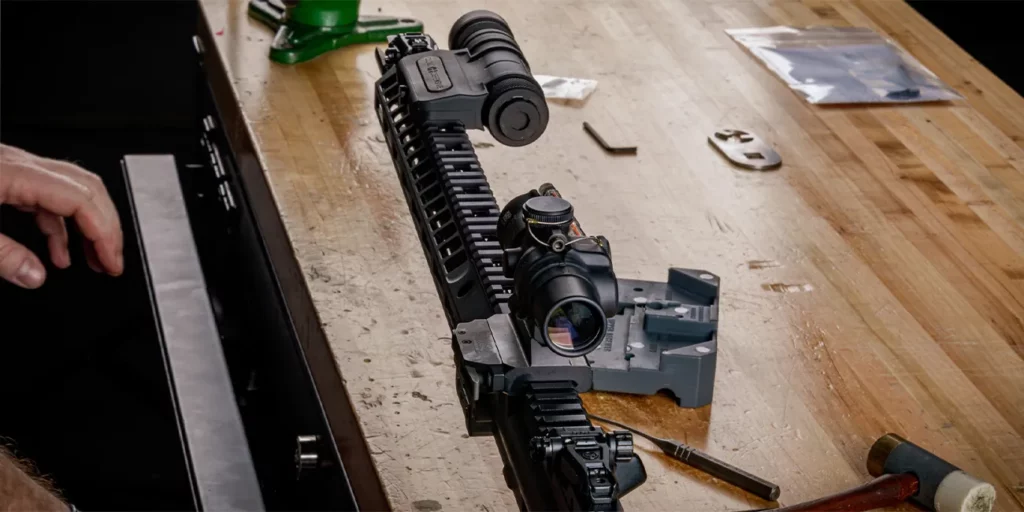 Choosing Accessories
The final step is accessorizing the rifle.
Given the close-quarters nature of home defense, your optic should be quick in target acquisition with minimal magnification. While a Red Dot Sight or Holographic would fit the bill, a low-magnification Prism scope can offer its own advantages. The Trijicon TA44 1.5x ACOG is a perfect example of a low-magnification prism that thrives in confined spaces, but with the added power of the ACSS® CQB-M5 reticle, this optic is a stellar option across most ranges. With an enormous eyebox and lightweight design, this optic is just as quick as a reflex, but the ACOG's etched reticle and dual-illumination system make this optic uniquely reliable. But just in case, we added a quick-detach mount from Trijicon/Bobro and Magpul MBUS Pros for backup sighting.
For home defense, no accessory is more important than your weaponlight. Many overlook the value of a weapon-mounted flashlight, sometimes suggesting that they'll turn on the houselights. This is a mistake.
We'll cover a lot more of this in an upcoming blog on white light and illumination, but here's the summary: if you want to use a firearm at night, it should have a weaponlight. If you want the best performance in the dark, you want a light like the Cloud Defensive OWL. The OWL is undoubtedly one of the most effective rifle-mounted weaponlights on the market, projecting a scorching bright light that fills a room. You'll be hard-pressed to find a better performer anywhere on the market, so it was our top pick for this home defense rifle.