You may be familiar with Expo Arms® from their line of affordable, high-quality AR parts. From big-ticket items like barrels and BCGs down to their precise small parts kits, Expo Arms® offers American-made AR15 components you can rely on.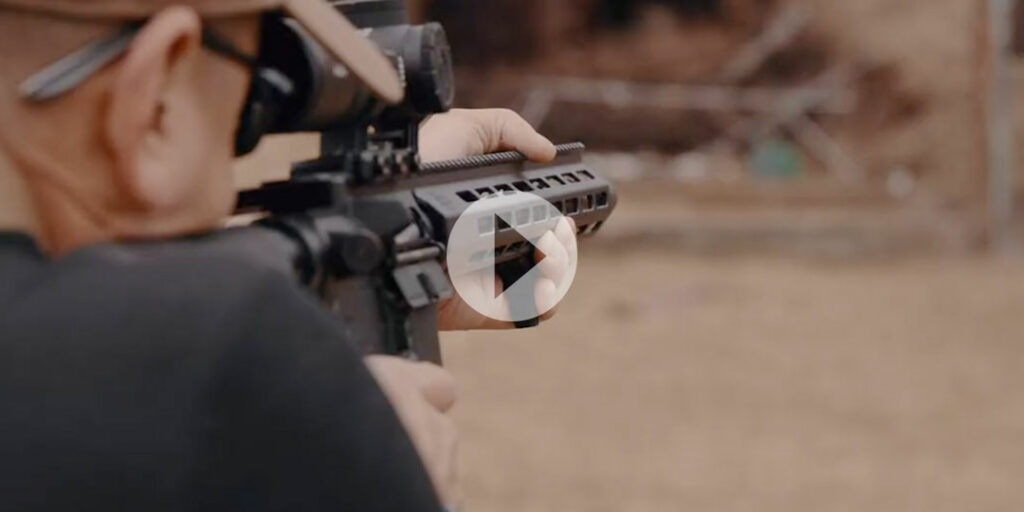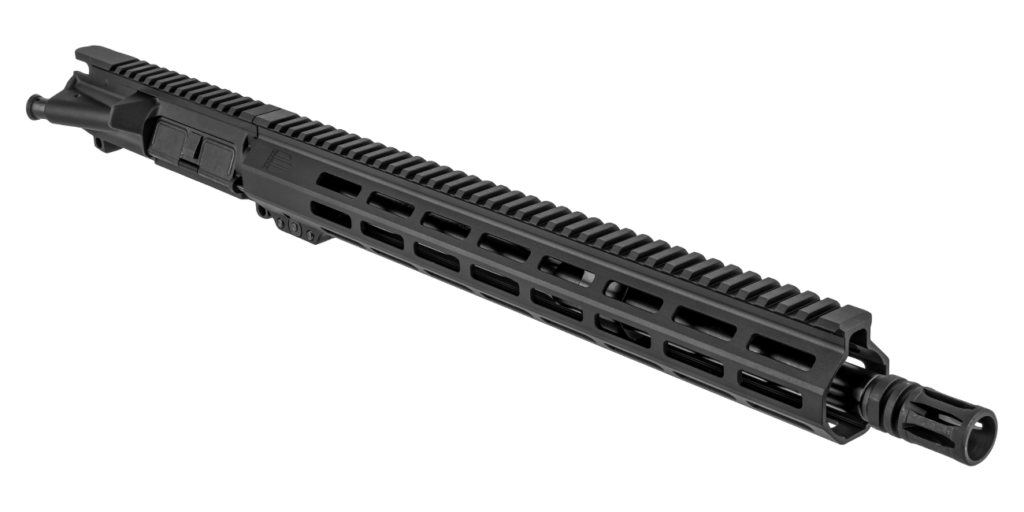 New for 2022, Expo Arms® is now offering fully assembled barreled upper receivers. These uppers are ready to go from the manufacturer; just add your choice of bolt carrier group and charging handle, snap it onto your favorite lower, and you're ready to go.
Expo Arms® Upper Review – 16″ Patrol Series
16″ barrels are the most common length on AR15 uppers for a reason. They're tried and true, highly reliable and extremely versatile, perfect for an all-purpose carbine. The Expo Arms® Patrol Series Upper capitalizes on this with a precision-machined barrel finished with a salt bath nitride.
Barrel profile essentially boils down to two things: weight and rigidity. A full bull barrel profile is very rigid and doesn't whip under rapid fire or change point of impact much when hot but weighs a ton. A pencil-thin barrel, on the other hand, allows for a lightweight and quick-handling rifle, but users commonly see groups open up during rapid fire, sometimes drastically.
The Government-profile barrel in this upper offers a nice balance between the two, allowing for a rifle that's not a burden to carry but won't overheat after a mag dump either. A 1:7 twist handles most common 5.56 and .223 loads well and can stabilize even heavy 77-grain bullets.
Expo Arms Patrol Series AR-15 Barreled Upper Receiver – Flash Hider – 16″ Buy Now
The nitride finish defends against corrosion and wear without the accuracy-reducing effects that sometimes occur with chrome-lining. An 11-degree crown at the muzzle helps make the most of this and wring every last drop of accuracy out of your upper. The upper comes stock with an A2 flash hider but is 1/2×28 threaded so users can change it out for the muzzle device of their choice if they prefer.
Like many modern AR15s, the Patrol Series upper utilizes a mid-length gas system. This minimizes recoil and excess wear, providing enough gas to keep the system running reliably without overworking the bolt carrier or recoil springs.
A slick MLOK handguard offers plenty of real estate for mounting weapon lights or bipods. Seven sides of MLOK slots allow users to precisely control the placement of their accessories, even in 45-degree positions. The anti-rotational tabs lock on to the receiver, preventing the handguard from twisting, which is great news for anyone planning to mount a laser or IR illuminator.
The upper receiver itself is precision-machined from 7075 aluminum and hardcoat anodized. T-marks are included on the upper rail, allowing users to easily swap and remount accessories in the exact same locations.
Like everything from Expo Arms®, this upper is 100% made and assembled in America. Loaded with features typically reserved for high-dollar rifles, this upper is the perfect starting point for a do-all carbine or recce rifle.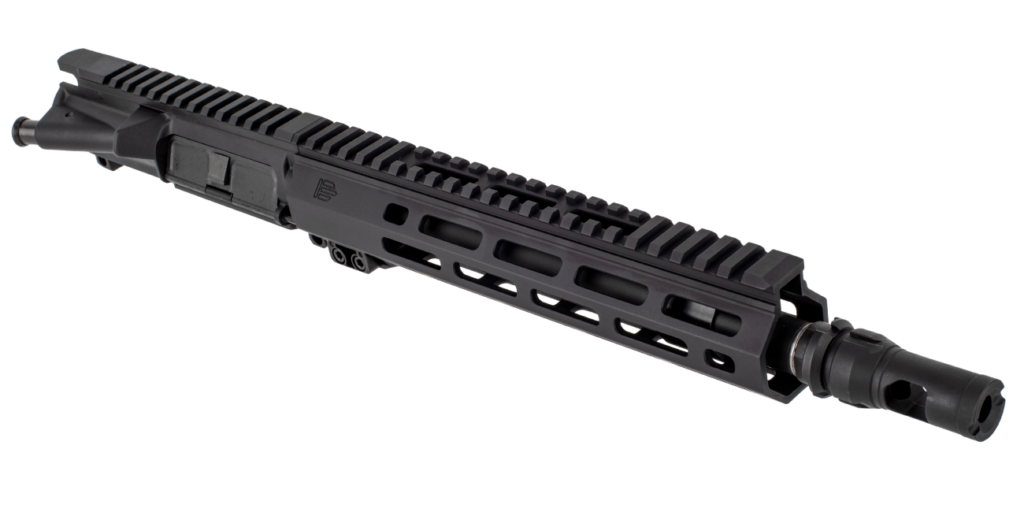 Expo Arms® Upper Review – 10.3″ Combat Series
16″ barrels may be the jack of all trades, but this 10.3″ is a master of one. Widely considered to be the minimum effective length for 5.56×45 ammunition, a 10.3″ barrel is perfect for a close-quarters AR. First popularized by the military's MK18, 10.3″ barrels offer maximum maneuverability, which is important in a home defense rifle. It's possible to navigate tight hallways with a 16″ barrel, but it's a lot easier with a 10.3″.
The Expo Arms® Combat Series upper uses a SOCOM profile made from Mil-Spec 4150 chrome-moly steel with a chrome-lined bore and phosphate finish. The SOCOM profile is heavier than most, ensuring there's enough metal around the bore to handle rapid fire without overheating or losing accuracy. While a SOCOM profile is heavier than a Government or pencil profile, with such a short barrel, the extra few ounces won't slow you down.
These uppers are built to last, so the bore is chrome-lined to provide the longest possible service life. The phosphate finish on the exterior protects against rust and corrosion.
Expo Arms 10.3″ Combat SeriesBuy Now
For the best reliability, a carbine length gas system and Crane-Spec .70″ gas port was used. This gas port provides consistent operation with 5.56 ammunition, both suppressed and unsuppressed.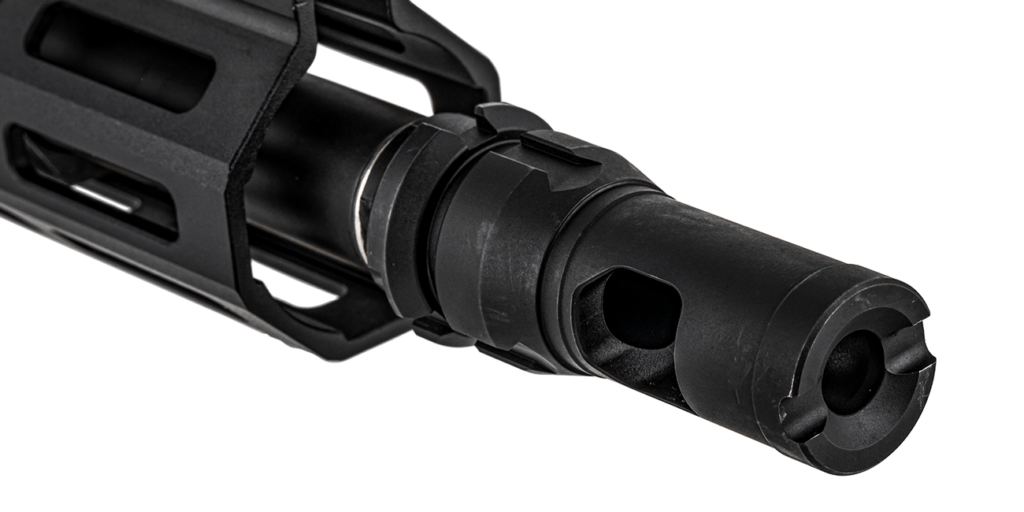 This upper comes with either an A2 flash hider or our exclusive Expo Arms® XP-1215KM single-chamber KeyMo-compatible muzzle brake.
Developed in cooperation with Forward Controls Design, this muzzle brake acts as a sacrificial baffle for your choice of Dead Air suppressor. This extends the life of the suppressor by bearing the erosion from any unburnt powder during firing, which is especially important with short barrels like this 10.3″. The single-chamber muzzle brake works well alone, too, significantly reducing recoil while minimizing the amount of muzzle blast perceived by the shooter.
Like the 16″ Patrol Series, the Expo Arms® 10.3″ Combat upper uses a 7075 anodized aluminum upper, T-marked for your convenience.
Unlike the Patrol Series, this upper uses Expo Arm's enhanced Combat handguard. This handguard features the same anti-rotational tabs and precision manufacturing as the Patrol version but is improved with a staggered MLOK slot design to increase durability. It also features lightening cuts in the top rail, allowing it to shed a few ounces without compromising strength.
These 10.3″ uppers are perfect for a home defense build or truck gun.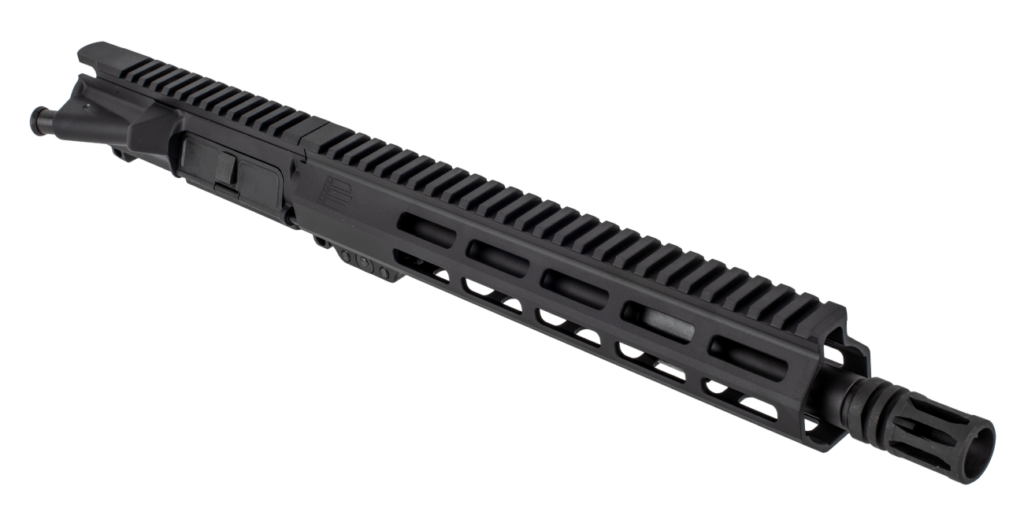 Expo Arms® Upper Review – 11.5″ Patrol Series
Last but most definitely not least is Expo Arms®' new 11.5″ Patrol Series upper. If you're looking for a short, handy upper like the 10.3″ but don't want to compromise on range, an 11.5″ barrel might be perfect. These barrels aren't quite as compact, but offer an excellent balance of ballistics, making them a favorite for AR15 pistols.
This Patrol Series upper uses a SOCOM profile, much like the Combat Series above. The slightly increased length offers the extra velocity needed to really capitalize on mid-range ballistics offered by 5.56 and .223 ammunition. This allows for a light, maneuverable firearm that's still capable out to intermediate ranges.
It's similarly chrome-lined and phosphate treated as well, with a 1:7 twist rate and M4 feedramps for improved reliability. Both A2 flash hiders and Expo Arms®' KeyMo muzzle brakes are available as muzzle device options.
Built with a carbine gas system and fixed, low-profile gas block, this upper is designed to take a beating.
The Patrol Series rail is almost identical to its longer counterpart but measures 10.5″, giving users maximum rail space but still leaving enough clearance for a suppressor or other KeyMo muzzle device on braked models.
Expo Arms 11.5″ Patrol SeriesBuy Now
If you're looking for a short AR that can still ring a steel gong at 200 yards, an Expo Arms® 11.5″ Patrol Series upper may be just the ticket.
Expo Arms® Upper Review- Wrap Up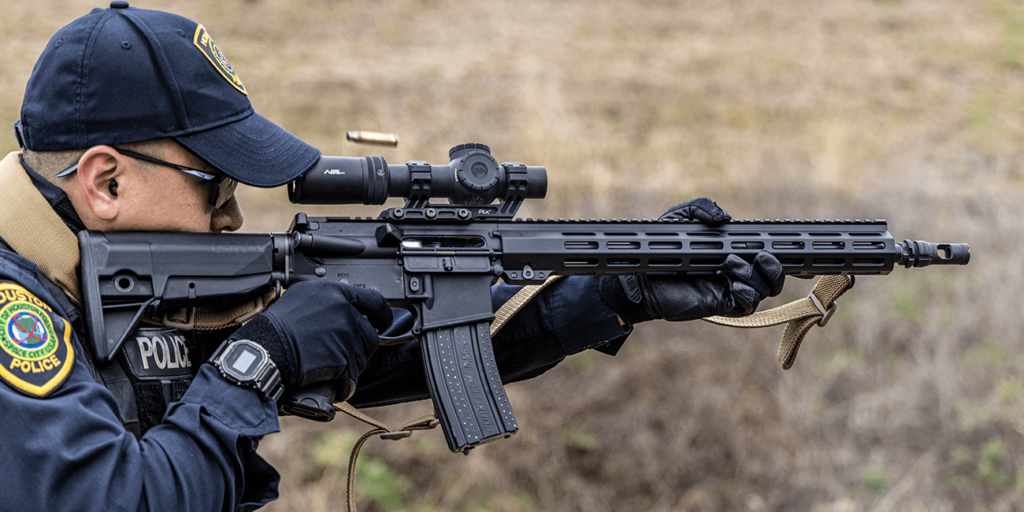 With five different configurations to choose from, Expo Arms®' new uppers offer something for everyone:
• Expo Arms 16" Patrol Series Upper Receiver with A2 Flash Hider
• Expo Arms 11.5" Patrol Series Upper Receiver with A2 Flash Hider
• Expo Arms 11.5" Patrol Series Upper Receiver with XP-1215KM Muzzle Brake
• Expo Arms 10.3" Combat Series Upper Receiver with A2 Flash Hider
• Expo Arms 10.3" Combat Series Upper Receiver with XP-1215KM Muzzle Brake
Shop All Expo Arms Barreled Upper ReceiversBuy Now
From the top-notch barrels to the little details like t-marks and anti-rotational tabs, they're packed with features rarely seen in cost-effective uppers. The optional KeyMo muzzle devices make these uppers ready to go with a wide range of suppressors.
Starting at just $349.99, you'll be hard-pressed to find a better value on the market.