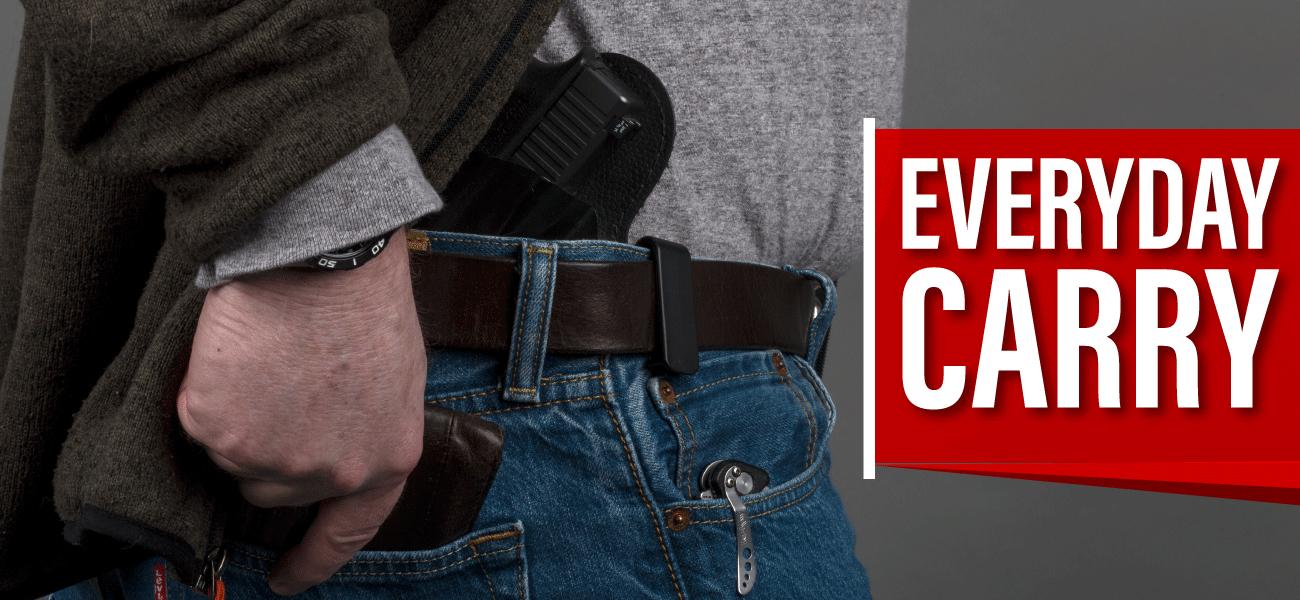 EDC LOADOUTS
You don't have to stuff your pockets full of gear, or wear loose, baggy clothing.
However, if you go looking for ideas about what you should be carrying on your person every day on Instagram, you might get overwhelmed by all the "EDC Lifestyle" posts. Some people do carry a lot of stuff in their pockets. A lot of stuff. Some of what you'll see is practical gear that's useful in every day applications. Like knives, multi-tools, flashlights, firearms, and simple first aid.
Some of it is fidget spinners and a wallet the size of Wisconsin.
We believe that if something is going to take up real estate on your person at all times, every day, then it should probably have a practical purpose. – Like a pocket Constitution.
As you may expect, at an office like ours there are loads of people walking around with a lot of stuff in their pockets, or on their belts. What you choose to carry every day is completely personal to you and based on your needs. That said, it's important to keep in mind what the "essentials" are.
We asked for a few volunteers here at the Primary Arms corporate offices to step up and showcase their EDC gear. Each has their own philosophy of what makes what they carry essential to their daily life. Our hope is that you'll find yourself in a better position to make an informed decision about what you want to carry every day yourself.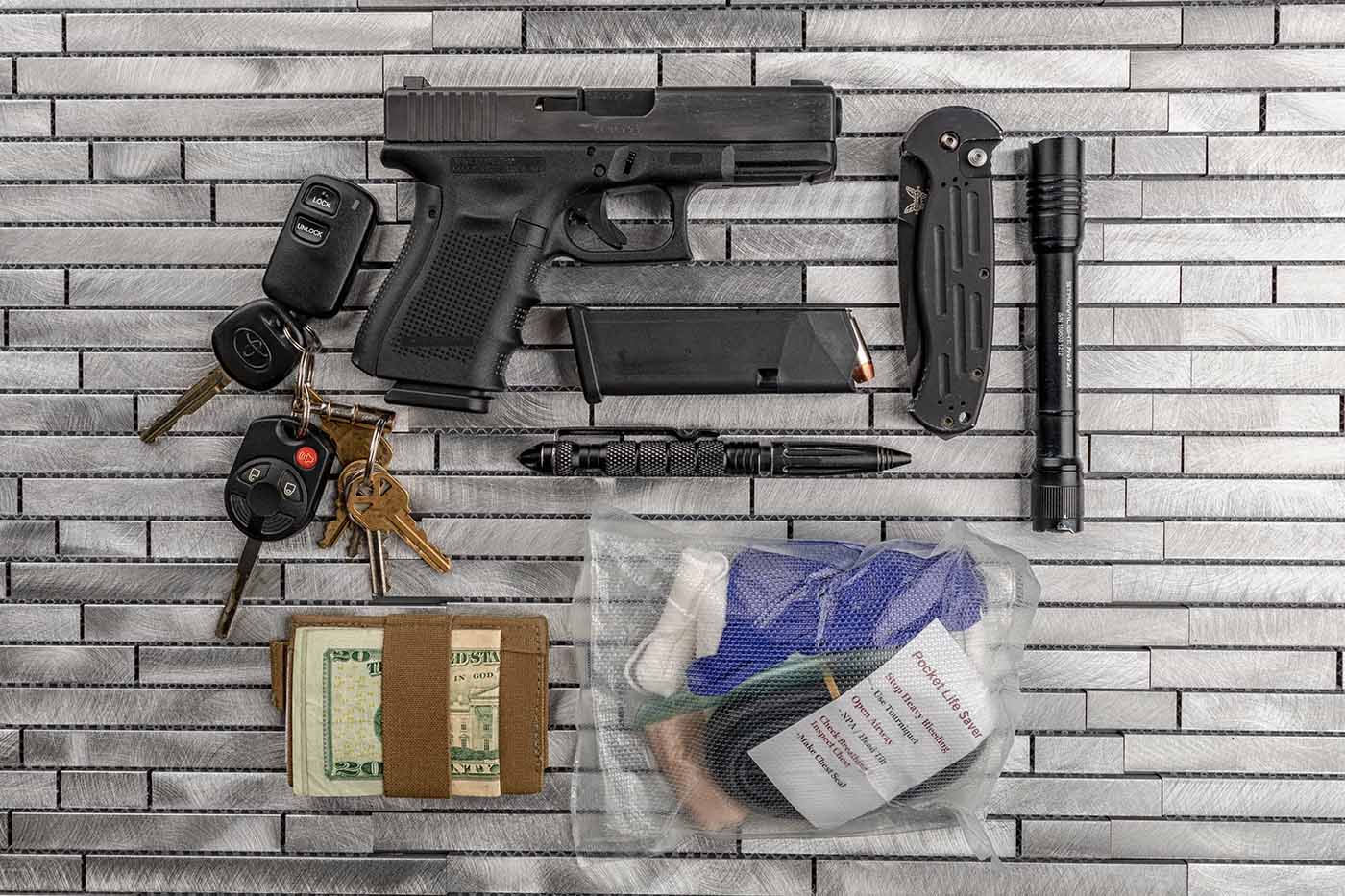 DAVID K — PRIMARY ARMS DATA ANALYST
Words to EDC by: "Something Lethal, Something Sharp, Something Bright, and Something Medical"
I wish I were clever enough to be the originator of the above mantra for my every day carry. But I'm borrowing it from a blog post by Paul G. Markel – Founder and President of Student of the Gun – "4 Items Every Armed Citizen Should Carry". The gist of Markel's post hinges on the idea that there are four main categories of items that will provide the maximum benefit and usefulness to both the user and those around them. Also, the assumption is that things which can be carried directly on your person are infinitely more beneficial than having to retrieve the necessary tools from a vehicle or go-bag in an emergency situation.
MEDICAL
Statistically speaking, I'm more likely to encounter a situation where I, or someone I am around, will need my medical kit than my firearm. So, we'll start there. I carry a kit called the Pocket Life Saver from studentofthegun.com. It contains a Rapid Application Tourniquet System (RATS) Tourniquet, medical gauze, duct tape, nasopharyngeal airway, combat blood soaker, and non-latex gloves. And the plastic packaging can double as chest cavity seal (along with the duct tape). Of course, a lot of this stuff would be useless without training. I've taken 2 active shooter training classes with tactical combat casualty care (T-triple C) components as well as an American Red Cross certified general first aid course.
SHARP
I've got sharp covered primarily with my Benchmade AFO folding auto knife and my UZI Tactical Pen. My knife has a 3.5" tanto style blade that's tough enough to open cardboard boxes and cut through ropes and cords of varying material and thickness – and holds an edge like nobody's business. My tactical pen backs up my sharp category in that it can be used to break glass or as a stabbing implement in a less than ideal circumstances type of emergency. And the pen can generally go with me where a knife or EDC gun may not be permitted.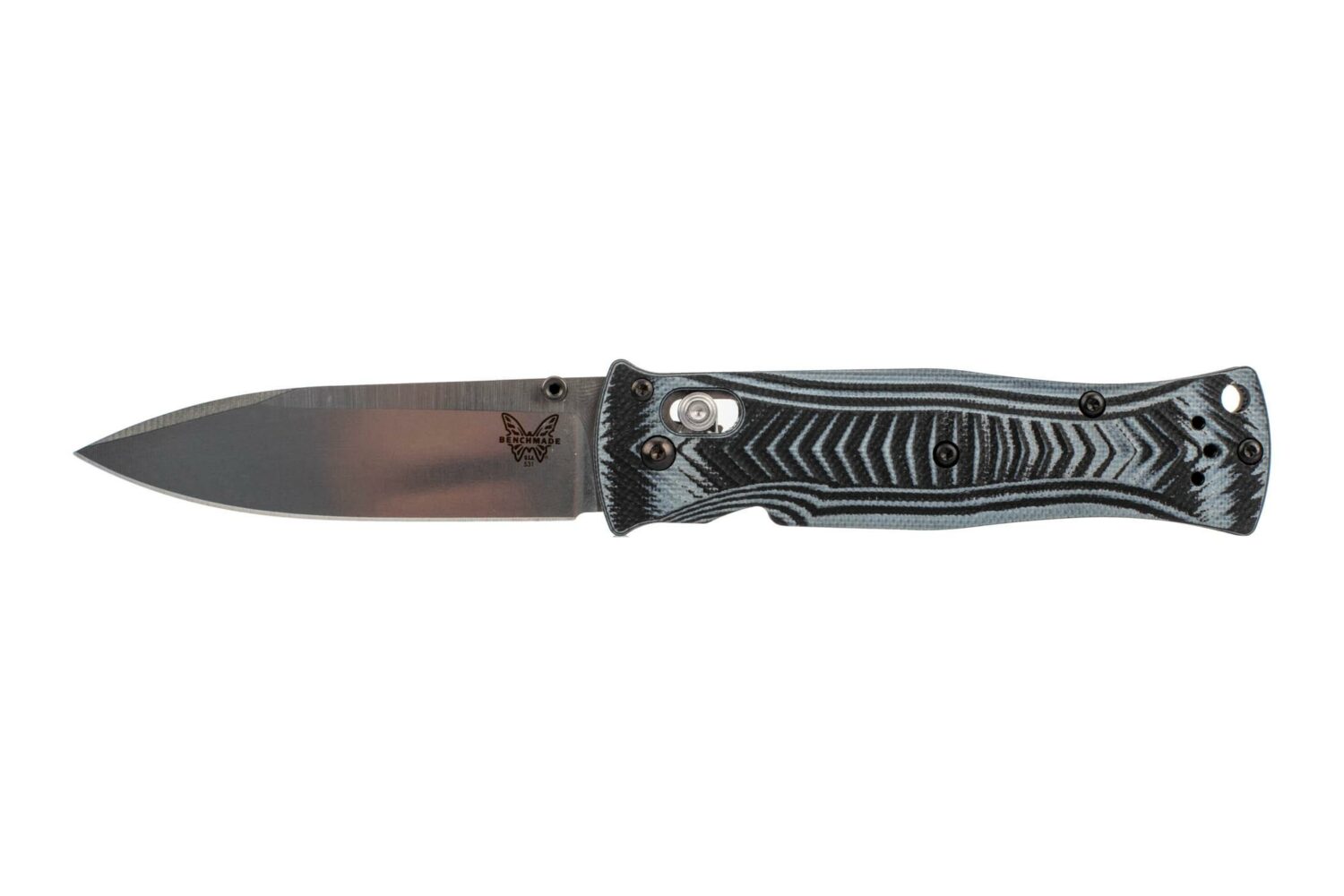 BRIGHT
Out of everything that I carry on a daily basis, my Streamlight ProTac 2AA is what I've been carrying the longest. There are bigger, brighter, and newer Streamlight models on the market now. But this guy is big enough to hold comfortably while not taking up too much room in my pocket. As is the case with any tool, the one you have with you when you need it is infinitely better than the one you have find or go get.
LETHAL
It's likely that a lot of you skipped right down to this section. Fine. Read on. But do yourself a favor and go back to read the rest. It's really some good stuff.
Theoretically, almost anything you can hold in your hand could be used in a manner to deliver lethal damage to a critical threat. For that matter a simple empty-handed punch or strike could be lethal under the right circumstances. But in terms of EDC for me, the lethal category is filled by my Glock Pistol. I have a Glock 23 gen4 – chambered in .40 Smith and Wesson. Onboard the Glock is a full load of Speer Gold Dot hollow-point ammunition – that's a full magazine plus one in the chamber plus a fully loaded spare magazine. I've found Glock pistols to be extremely reliable, durable, and more accurate than I would be in a self-defense situation. Glocks are truly the farm pick-up truck of EDC guns – they aren't pretty, but they'll work when you need them to.
A quick note to the caliber warriors out there. I know that 9mm ammo is softer-shooting and cheaper, and modern 9mm performs extremely well these days. But I just don't want a really bad day to go even further south than it's already gone. I'm more confident that .40 S & W's ammo performance won't be impacted as much by clothing, barriers, or bone. Hopefully, I'll never have to find out.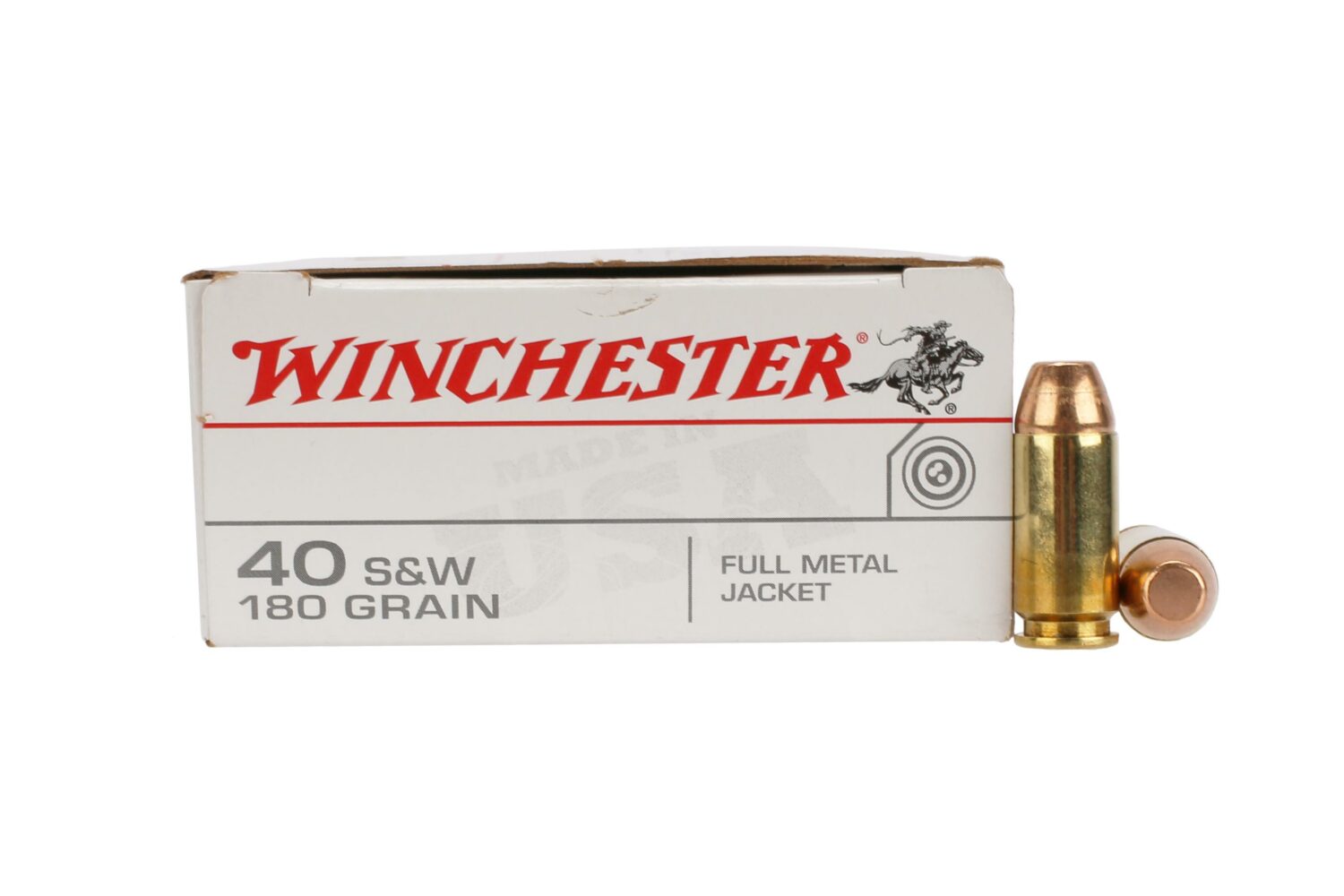 EVERYTHING ELSE
My day-to-day life isn't just watching and waiting for an emergency to happen. Everyone needs to carry a wallet, so, my EDC is rounded out with an Oscar Mike wallet from Black Rhino Concealment and my car keys.
I'll be the first to admit that I carry a lot of stuff. But I manage to carry it all without looking like Batman. I carry my Glock in an appendix style inside-the-waistband holster. My wallet, Glock spare mag, and flash light go in my left front pocket. My knife and tactical pen are clipped to the top of my right front pocket while my keys sit inside that same pocket. The med kit goes into either rear hip pocket. That leaves me with one jeans pocket left open (three or more if I'm wearing cargo pants) for somewhere to quickly put something when I need a free hand.
By keeping that simple mantra in mind, I manage to carry the tools that I may need with me practically everywhere I go. In doing so I believe I'm better prepared for most curveballs, slings and arrows, or shenanigans from that mischievous guy by the name of Murphy that might come my way. Are you???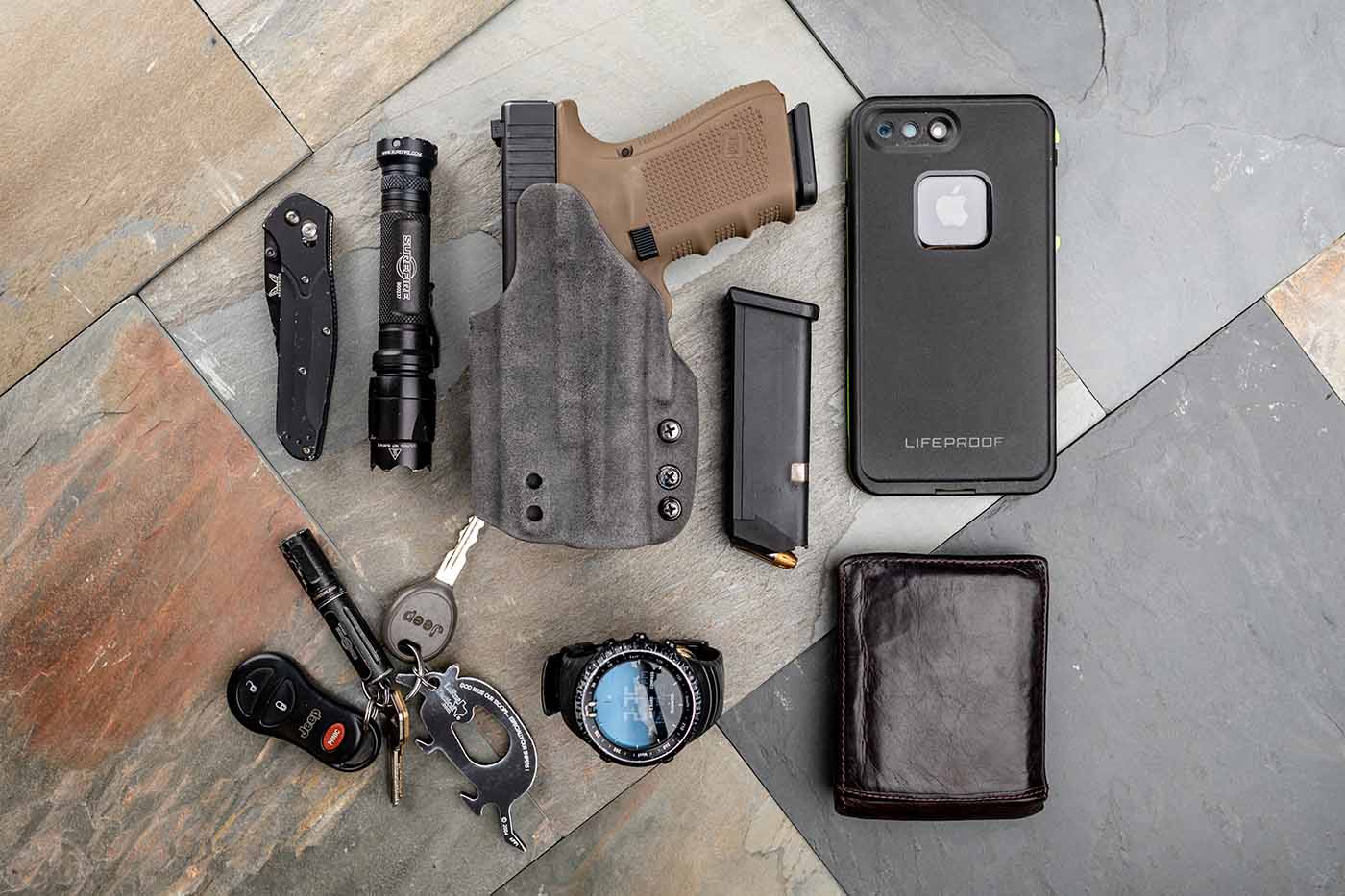 NATE M — PRIMARY ARMS ASSOCIATE BUYER
My EDC set up is pretty simple, I focus on personal defense and add some things that are useful to me in most of my every-day situations.
First off, my knife. Everyone can make use of a good blade every single day, and when it comes to knives, you get what you pay for. Benchmade knives, and specifically the 943, are widely known as EDC essentials. It's the best EDC knife for easy carry, and the clip-point blade is useful for more than just cutting things (although it does that very well). I use the spine of the blade as an improvised pry tool or screwdriver all the time. The only thing I use more often is my EDC flashlight…
For my light, I carry an older SureFire E2D Defender. Whether I'm looking under the hood of my jeep or looking in a gear box for something I need, my motto is "have more light, see more things". This Surefire has 1,000 Lumens of output, a good hotspot, and a useful high/low setting for flexible options. For the power, it's small and lightweight, and on the high setting it'll run constantly for almost 3 hours using 123A batteries.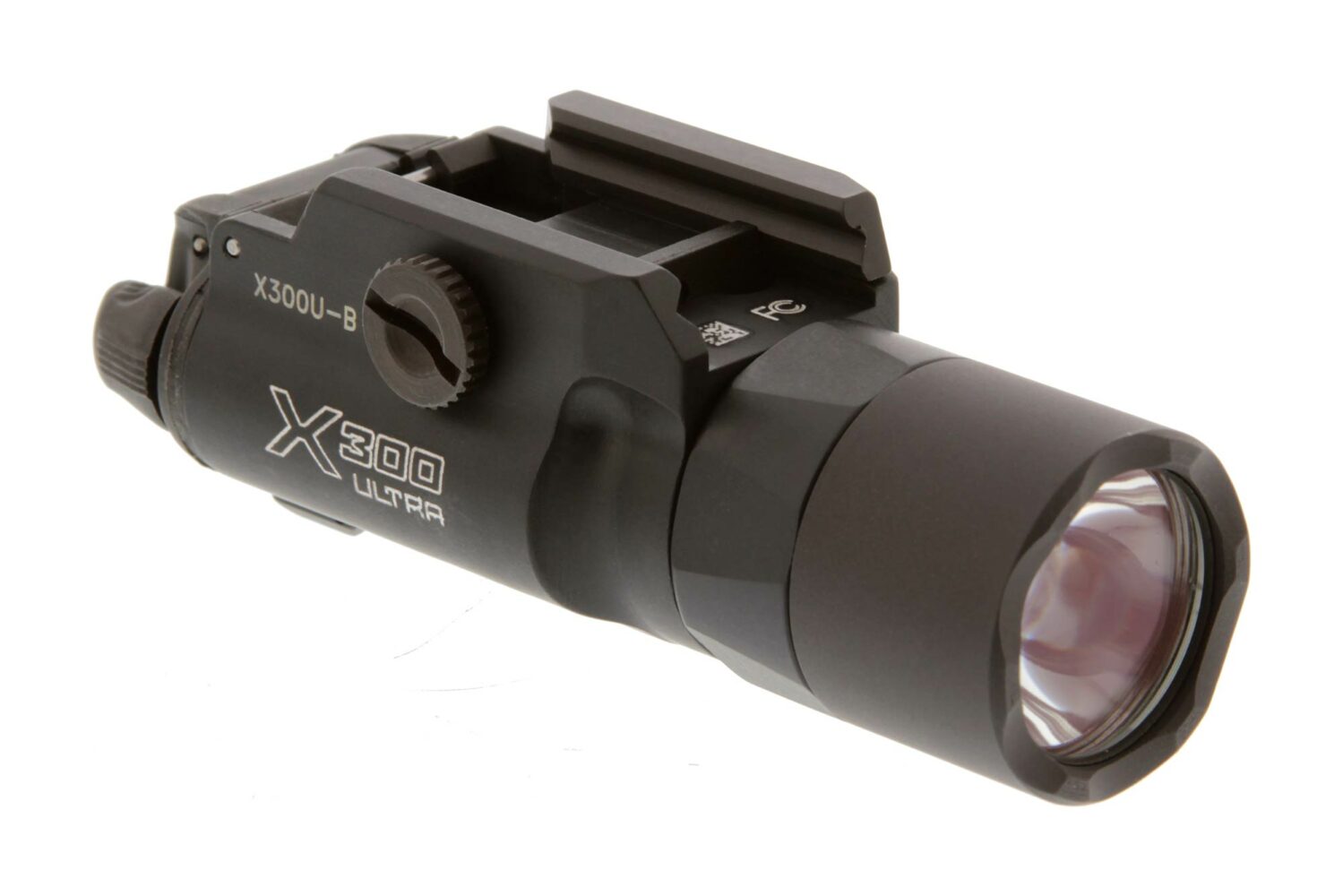 My EDC pistol is a Gen4 Glock 19. To me, the G19 is the best EDC gun out there. Compact enough to conceal, large enough to be shootable, with the reliability and capacity you want in an every-day carry firearm. If I need more ammo, though, I have it in a spare mag for a total of 31 rounds of Federal HST 147g defense ammo, because you can never forget about the one in the chamber.
Riding on my pistol is a SureFire XC1 weapon light. I like this light because it packs 300 Lumens in a compact size that doesn't extend beyond the muzzle of the compact G19. The low-profile light takes AAA batteries too, so I can always have those on hand for cheap. I keep my EDC pistol in a G-Code INCOG shadow eclipse holster, which is an IWB holster with "tactical fuzz" for comfortable carry inside the waistband. It's a kydex design, so the retention is good, and the clip design keeps it close to the body.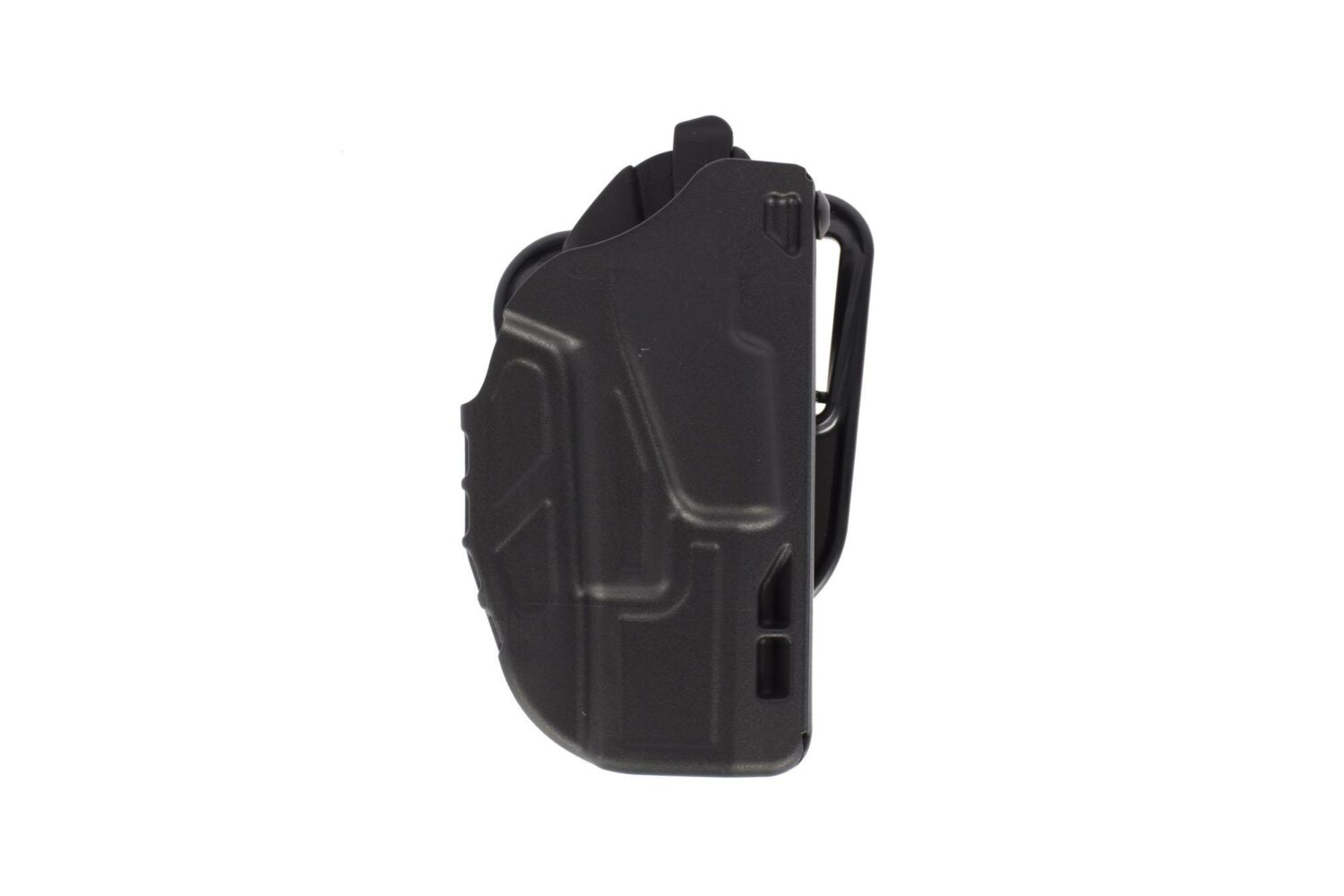 Rounding out the few items I carry on me every day are my wallet, watch, keys and phone. My wallet is nothing special, just a leather billfold, but I keep it on me so I can buy more gun stuff. Naturally. My watch is a Suunto Core watch, which is very reliable and keeps me on time for things, usually. On my key ring, I keep a small Surefire back-up flashlight, just in case, and a bottle opener for happy hour after work. Lastly, my phone is an iPhone in a LifeProof case, so it's always safe.
Carrying certain items with you at all times is a good place to start, but anything you carry is only going to serve you well if you train to use it effectively. That's not just regarding a firearm, either. Carrying common first aid items like a tourniquet could save someone's life, but only if you know how to use it properly. So, don't just carry the items, educate yourself on how to use them responsibly and properly.