Welcome to the Builder's Corner where we discuss custom firearms builds by Primary Arms employees. At any given time, many PA employees are building or working on a firearm. This series will showcase custom builds and detail the reasoning behind the chosen parts and modifications which can inspire you as you work on your own builds.
Build #1 – The Lightweight Personal Defense Weapon (PDW)
Builder: Chris M.
Department: Marketing
Build: Lightweight PDW Style AR-15
Caliber: 5.56×45
Barrel Length: 16.1" total (14.5" with pinned and welded 2" flash suppressor)
Weight (empty): 5 lbs 11 oz
Weight with optic: 6 lbs 1 oz
Overall Length (collapsed): 28"
Overall Length (extended): 32"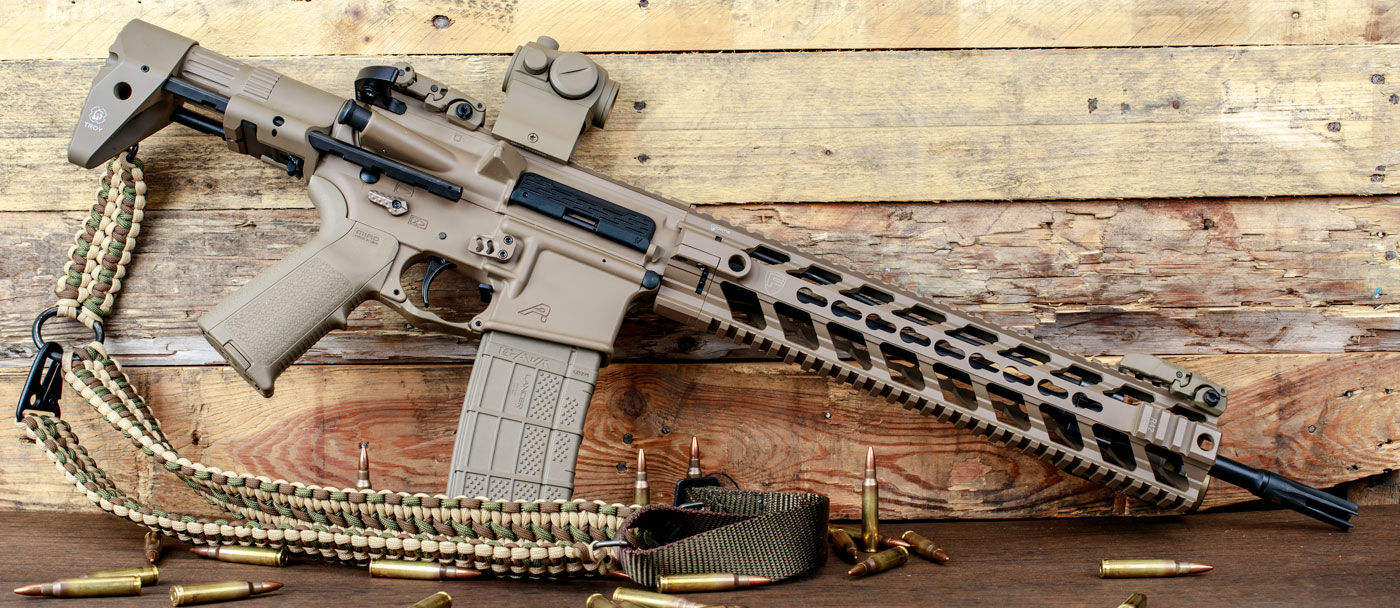 I love to build AR-15's and have completed many for my personal collection. I am always looking to do something unique and one day while visiting a friend, he offered to sell me his unused Troy PDW Stock at a price I couldn't refuse. The stock, however, sat on a shelf in my gun room until I received one of Primary Arms' sales emails with an amazing deal on a matching FDE receiver set from Aero Precision. That deal pushed me over the edge to get my build underway.
I decided that if I was going to build a PDW, it needed to be small and lightweight, while still retaining all the features I wanted for a defensive rifle. When you start talking about reducing length in a rifle, you need to pay close attention to the laws so that you do not inadvertently create a Short Barrel Rifle (SBR), which is a firearm that is strictly regulated by the Bureau of Alcohol, Tabaco, Firearms & Explosives. The penalties for an unregistered SBR are severe. You could serve up to 10 years in prison, so don't do it! A rifle becomes an SBR if it has an overall barrel length less then 16" OR an overall length less than 26". If you want a smaller AR without the going through the NFA process, consider building a pistol instead.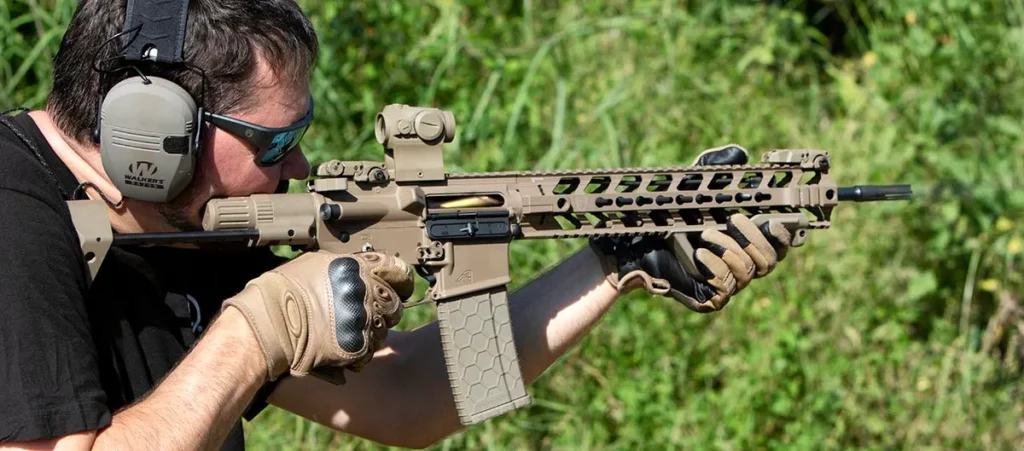 For this build I chose a pencil barrel that was 14.5" with a 2" factory permanently welded flash suppressor to bring the overall barrel length to 16.1". As a bonus, the bulk of the weight savings was also achieved through barrel choice. Your average stock AR-15 weighs between 6 ½ to 7 pounds and is 39 ½ inches in a standard configuration. This PDW Style AR-15 weighs 5 lbs. 11 oz. with an overall length of 32 ¾" with the stock extended and 28" collapsed.
As my build progressed I purchased most of my parts from Primary Arms (took a few parts off existing rifles that I had because they suited this build much better than the rifles they were on already). Let's take a look at my Lightweight PDW Recipe.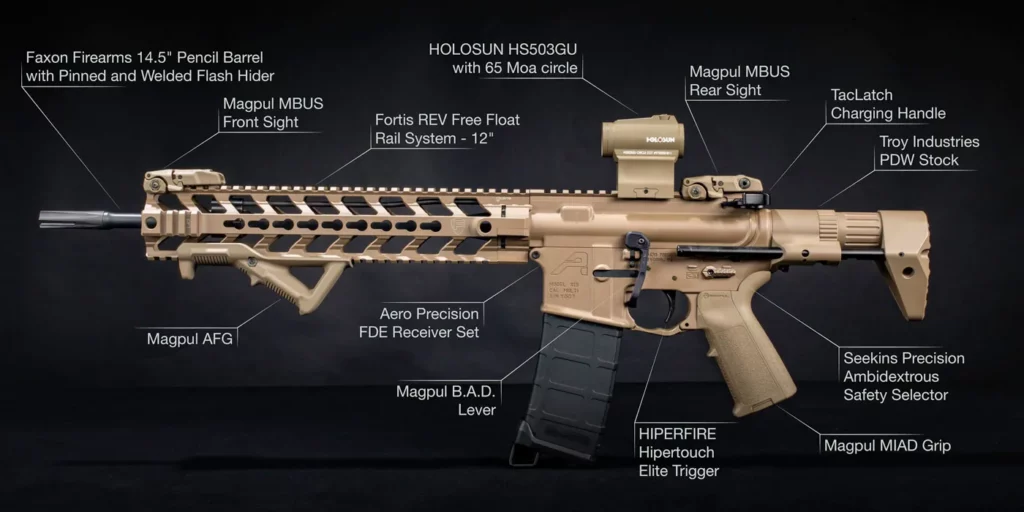 The Custom Parts
Builder's Corner is not only about letting you see cool builds from other shooters, but also to explain why the builder chose to put this particular combination of parts together. To help you with your build, all parts referenced (or similar replacements) in this article that are carried by Primary Arms are linked below the descriptions.
The Lower
Troy Industries PDW Stock FDE
Since this gun was built around the stock, might as well start here. The Troy PDW stock is a pretty interesting design. The buffer tube extends from the rear of the receiver only 3 ¾". A standard carbine buffer tube extends nearly twice as much to around 6 1/2" from the end of the receiver. This short buffer tube poses a problem for a standard AR Bolt Carrier Group (BCG) and buffer combination as there is not enough room to include both components. Troy solves this problem by redesigning the BCG into a one piece BCG/Buffer. The BCG fits right into the buffer spring as you combine the upper and lower. The stock has a push button on the bottom that allows you to extend and retract the stock.
Aero Precision X15 Stripped Lower Receiver – FDE
I like Aero Precision receivers, they are a quality product at an affordable price. I chose this receiver because the quality met my standards, the price was great and I wanted the FDE Cerekote finish.
HIPERFIRE Hipertouch Elite AR-15 Trigger
I do not enjoy shooting MIL-SPEC triggers, so I run a variety of upgraded triggers in my various ARs. For this build I wanted to try something different and installed the HIPERFIRE Hipertouch Elite. It is a single-stage trigger with a pull weight of 3 ½ lbs. The HIPERFIRE trigger assembly is noticeably different than other triggers due to the incorporation of a pair of springs between the hammer assembly and the trigger frame. Replacing these springs is how you adjust the pull weight on a HIPERFIRE trigger. The HIPERFIRE is a single-stage trigger with an exceptional reset for follow-up shots

.
Magpul MIAD (Mission Adaptable) Grip
As hard as I try, I simply can't build a rifle without some Magpul parts. I am a big fan of the MIAD grip with interchangeable front and rear straps. I also like the storage compartment with the lubrication bottle. I feel that the grip, once customized, is very comfortable. It is a little more pricey than the MOE grip, but I prefer the added features.
Seekins Precision Ambidextrous Safety Selector – FDE
I wanted to upgrade my safety selector and figured I would give Seekins a try. This safety selector is truly ambidextrous, great for lefties, and finished in a nice FDE. It is configurable as a standard 90-degree safety or a 60-degree short throw.
Magpul B.A.D. Lever – Battery Assist Device
After working for a tactical training company and having been through numerous carbine classes, I am fanatical (much to the dismay of my former military instructors) about the BAD Lever. The ability to use my trigger finger to release the BCG after a mag change is simply faster for me than to insert mag, slap the side of the receiver and then move the hand forward to the handguard. It eliminates a complete step. The BAD Lever also makes holding the bolt open an easy trigger finger manipulation without having to take your hand out of shooting position. The only negative is that on this rifle, the bad lever gets in the way of the stock rails and does not allow a fully closed position. I opted to keep the stock at the 1st position and retain the functionality of the BAD Lever.
Odin Works XMR3 (Extended Mag Release)
Similar to my love for the BAD Lever is my favoring of an extended mag release. I love the enhanced functionality it offers as it makes mag changes easier. And, let's face it, the Odin Works XMR3 looks really cool (and that is a perfectly fine reason for choosing an AR part).
Expo Arms AR-15 Lower Parts Kit with no Trigger Group
Since I already had the HIPERFIRE, I wanted to find a parts kit sans trigger and save the expense (I already have a bin full of MIL-SPEC triggers). I went with Expo Arms, sold only by Primary Arms. Expo is a solid brand and I have used their parts in several builds.
LWRC Advanced Trigger Guard – FDE
While I don't have anything against a MIL-SPEC trigger guard, I wanted one that was FDE. I took a break from Magpul to try the LWRC trigger guard. It is a little wider and shaped to allow easy operation with gloves.

The Upper
Faxon Firearms 14.5″ 5.56 NATO Pencil Barrel – Slim 3 Prong Flash Hider
We discussed the barrel a little earlier. The 14 ½" barrel with the permanently attached flash hider gives the appearance of a shorter barrel while remaining at legal length. The barrel also comes with a skeletonized gas block, bringing the weight of the whole set up to less than 1 ¼ lbs. That is about a half pound lighter than a comparable barrel, gas block and flash hider combination. The barrel is 1:8 twist. The only odd thing is that when fired, there is a distinctive ping sound that resonates from the flash hider.
Aero Precision Stripped AR-15 Upper Receiver – FDE
Like the matching Aero Precision lower, the upper is a quality affordable receiver. The Cerekote matches all of the other FDE perfectly and the overall finish is great.
Fortis REV II Free Float Rail System – 12" KeyMod Handguard – FDE
I like Fortis parts and use them on many of my rifles. It is a great company that designs functional and aesthetically pleasing AR parts. I had this 12" FDE rail on another rifle and decided it was the perfect rail for my PDW build. It is lightweight and easy to install with a standard AR-15 barrel nut. Total weight is 9.2oz.
TacLatch Oversize Charging Handle
The TacLatch charging handle is a rarity on this gun. They are not easy to find and are a little clunky in appearance. But they work great. Originally designed for competition shooters, the ambidextrous handles are easy to grab and manipulate quickly or with gloves on. There is a good likelihood that a BCM Gunfighter ambidextrous large charging handle will find its way onto this rifle soon.
Magpul MBUS Sights
Magpul backup sights are my go-to backups for my rifles. For my primary defensive rifle and my DMR I like the MBUS Prosights, but for everything else the MBUS line is adequate for backup purposes. They are becoming the standard on many builds and are good quality and look great. Some shooters do not like the polymer construction, if that is you, try the MBUS Pro.
HOLOSUN HS503GU with 65 MOA Circle
My first CQB optic, bought long enough ago I do not want to admit I'm getting old, was an EoTech Holographic Weapons Sight. I always had a fondness for the large "CQB" circle around a center red dot. It makes close in target acquisition very fast as the large circle frames the target easily. HOLOSUN seized on this concept with the HS503GU. It has a 2 MOA red dot surrounded by a 65 MOA circle. It has digital controls and Shake Awake™ auto-on/off features. As a bonus, it's Cerekoted FDE! It is a great, full-featured red dot.
We hope you enjoyed learning about this build and seeing some of the different things you can add to a rifle. Let us know what you think! If you have any questions about the parts or technical build questions, contact our firearms specialists on our customer service team at info@primaryarms.com or 713-344-9600.